How to Reduce Video File Size | Shrink HD/4K/8K Video Files on PC/Mac
Here're tips of how to reduce video file size without losing quality, for example to shrink big-sized videos MKV, MTS, HEVC, AVI, MP4 etc on PC/Mac.
Have the following troubles happened? It's too slow to upload a high definition video to YouTube/Facebook or even goes to failure; fail to send via emails because it exceeds the attachment file limitation, storage of hard drive or phone is almost occupied by big-sized video with no space to save one more. Instead of giving up video upload or deleting valuable videos from collection, to reduce video size is seemingly a better solution for a favorable result. How to reduce video file size without losing quality? Is a video size reducer in need? Read on to get answers.
Reduce/Compress Video File Size without Quality Loss
Reduce file size of video HD/4K/8K (MKV, M2TS, AVCHD, MEVC, VP9) or big-sized H.264, AVI or other videos to save hard drive storage, play on portable devices, upload to YouTube/Facebook, send via email or Skype using the best video size reducer/compressor – WinX HD Video Converter Deluxe

How to Reduce Video File Size
In terms of factors to influence video size, compression format, parameters and length, we can pick to convert video for compression, modify parameters and shorten video duration for video size reducing.
Answer 1. Convert Video to Shrink Video File Size
HD/4K videos are commonly used nowadays for the popularity of HD/4K TV and screens, but their big size and formats bring matters to share on web or transfer to portable devices. For instance, a 1920x1080 full HD M2TS or MKV video cannot be supported by YouTube and nearly all smartphones/tablets. What's more, it is necessary to compress video size for sending via email or Skype in order to fit for size limitations or fasten transmission speed. It is recognized as the easiest way to reduce video file size to convert those HD/4K videos to best codec keeping file sizes small. >> Related: 4K Video Formats, 8K Video Formats
What are the best formats can output small video size?
• MPEG-4 – It achieves a high compression ratio to deliver compact file size, lower data rate but a level of quality.
• WMV – A video compress format is originally designed for internet streaming applications and features tiny size and good quality.
• FLV – It is also known as Flash video and used to deliver video over the Internet using Adobe Flash Player.
MPEG-4 is the best choice for users who want to store video with smaller size on Mac or mobiles, while WMV is recommended for Windows users. FLV has smallest video size suitable for video-sharing websites but the quality is lowers than MP4 and WMV.
How to Convert HD/4K Video for Reducing Video File Size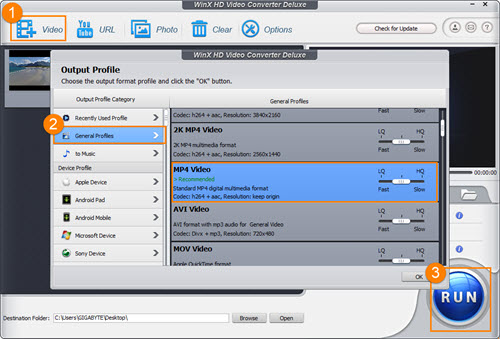 WinX HD Video Converter Deluxe is a very easy-to-use tool capable of converting any videos (MKV, MTS, AVCHD, H.265/HEVC etc.) to MP4, WMV, MOV and delivering crisp images and lossless audios. Thanks to Hyper-threading technology, Multi-core and Hardware Encoder (Intel & Nvidia) support, it can achieve a super fast video converting speed.
Step 1. Import HD/4K Video that you want to compress
Launch WinX HD Video Converter Deluxe and tap +Video button on navigation bar.
Step 2. Select Output Format
The Output Profile dialogue box pops up the moment the target HD/4K/8K video is added. Get PC General Profiles category and select MP4 video, WMV video or FLV video as output format.
Step 3. RUN to Compress Video
Tap browse button to save video and RUN button to reduce video file size without losing quality.
Related: Compress 4K UHD Video, Reduce MP4 File Size, MKV to MP4, MKV to WMV, 4K to MP3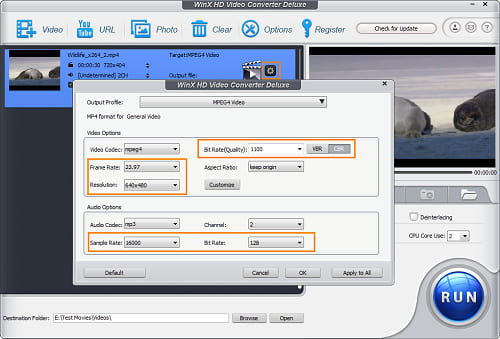 Answer 2. Reduce Video File Size by Adjusting Parameters
Resolution, frame rate and bit rate are three keys to affect video file size mostly. If you have gotten some big-sized AVI or H.264 files, you can reduce video file size by rearranging those parameters using WinX HD Video Converter Deluxe.
1. Add video you want to reduce file size by clicking +Video button and select output format. You can choose original H.264/AVI format or output MPEG-4/WMV/FLV videos.
2. Tap setting button to access parameters dialogue. Change frame rate and resolution to a smaller value, for example 23.97 fps, 640x480. When adjusting video bit rate, select CBR and decrease the number. Also, you can set less sample rate and bit rate of audio to get a more reduced video file size.
3. Click RUN button to reduce video size.
Answer 3. Cut Video Clips to Compress Video File Size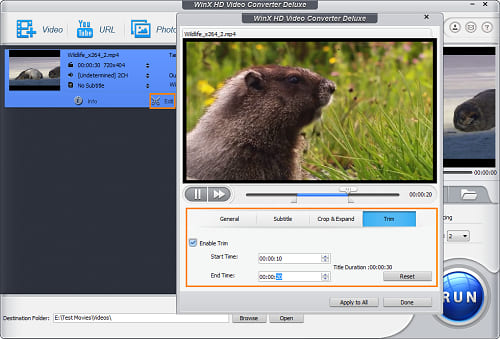 Not every frame of video should be preserved. You can discard title sequences/epilogue which presents movie title, production, casting or filming titbits, and About Author segment of videos downloaded online. This versatile video size reducing software – WinX HD Video Converter Deluxe enables you to trim video by setting start time and end time to capture the most valuable clip to make video size smaller.
1. Tap +Video button to add target movie/video and select output format which can be original video format or more compressed video formats.
2. Tap Edit button. Choose Trim tab from the popping-up windows. Check Enable trim. Next, set start time and end time by manually inputting certain numbers or dragging progress bar. The built-in monitor can help to pick out the wanted clip.
3. Tap Run button and you can get a trimmed video clip with shrink file size.
Tip: If you want to reduce video file size on Mac, please take advantage of WinX HD Video Converter for Mac.
Still have trouble on how to reduce video file size, just Mail Us >>
Best Video File Size Reducer/Compressor - WinX HD Video Converter Deluxe
• Compress HD/4K videos to MPEG-4, WMV, FLV or other compression video formats occupying less storage of hard drive and portable devices or uploading to YouTube faster.
• Offer adjustable parameters (resolution, frame rate, bit rate) and trimming option to reduce video file size in a pretty simple way.