[iMovie Tutorial] How to Compress Video in iMovie
You're not alone if you find the iMovie exports too large in size. There are tons of iMovie users rushing to discusions.apple website to complain about this. How to make iMovie file size smaller? Darn simple: compress video in iMovie before exporting.
You have never used iMovie compression feature? No biggie! This guide will walk you through the iMovie compressing video process step by step, with an aim to help you get an iMovie export with size and quality well-balanced.
Jump to the part you need if time is limited:
Part 1. iMovie Tutorial: How to Reduce Video Size Using iMovie
Before we get into the subject, please have a check on your iMovie version. Some minor differences exist among different iMovie versions during the actual compressing procedure. Afterwards, let's cut to the chase.
Step 1. Check your original video size.
Step 2. Load video file to iMovie. It slightly varies among different versions of iMovie.
Hit the button with downward facing arrow on the upper left corner of iMovie window. Or click "Import media" button for some versions.
Double-click the video footage you want add or, alternatively give it a single click and tap "Import All" option.
Drag your video to the editing area with extensive gray area on the bottom of the iMovie interface.
Step 3. Split or cut your video to compress file size in iMovie.
iMovie offers you the editing features split and cut for compressing video. Split a long video into clips with average length and you can just pick up one or some clips. Cut the unwanted footages from your video to reduce video file size. Skip this step if you want to keep the complete video.
Step 4. Select resolution, quality and compress option before exporting video.
At the upper right corner of iMovie main panel, find out the icon with a upload icon and click it. Or in other versions of iMovie, go to the menu bar of your MacBook/iMac, tap "File" > "Share" > "File...". Then, adjust the settings on the pop-up File window.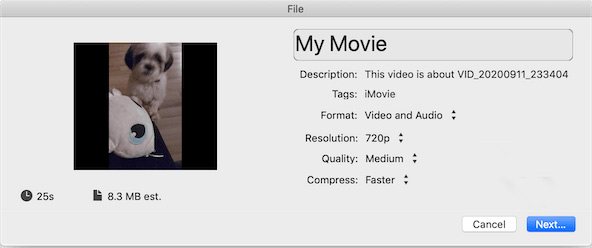 Resolution: 720p or 1080p is recommended. Downscale 4K/8K Ultra HD resolution if necessary.
Quality: 3 options are available: Low, medium and high. Generally, medium is advised.
Compress: Faster or Better Quality. For high-end computer and video input with short length (less than 1 hour), you're suggested to prefer Better Quality. As for large-sized yet hi-def 4K/8K video in long length, faster is preferred.
High resolution and high quality are inversely propotional to video size. But highly compressed video file will result in poor quality. Thus, strike a balance between file size and quality when adjusting these settings.
Step 5. Save your file.
Tap "Next" after the settings are done. Name your resulting file and find a place to save your file. When everything is ready, click "Save".
Find out your iMovie exporting file and compare its size with the previous size. If the video compression ratio doesn't make you happen or the output quality is distorted, you can consider to resize your video using other iMovie alternatives.
Related: How to Compress Video Media File Size in PowerPoint
Part 2. iMovie Alternative to Compress Videos without Losing Quality
Resort to WinX HD Video Converter Deluxe, with 98% quality kept and 50% - 80% size off!
90% compression ratio thanks to intraframe and interframe coding algorithms and entropy encoding.
No noticeable quality loss with the support of HQ engine and de-interlacing engine.
Shrink 8K/5K/4K/2K video with 50% size off and ZERO quality loss once you transcode video from H264 to H265 (HEVC) codec.
Trim videos, crop to remove black borders, lower resolution/frame rate/bit rate, etc. to further compress HD/Ultra HD videos.
[Tutorial] How to Compress Video without Losing Quality
Step 1. Free download this video compressor and install it on your macOS or Windows. It's 100% safe, clean and virus-free, no bundled 3rd party software, plugins or adware.
Step 2. Click "+Video" button at the upper left corner of the home screen and opt for the video file to load into this tool. Bulk compression is available. An expansive library of input formats are supported, MP4, M4V, MKV, MOV, AVI, FLV, WMV, MTS, HEVC, VP9, H.264...
Step 3. Choose a high compression codec HEVC as output codec. When the video is loaded, an Output Profile window appears, choose MP4 Video (HEVC, AAC), and click OK. HEVC will compress your resulting file with at least 50% size off while keeping intact quality loss. It's a lossless compression. If your ultimate device or platform doesn't support HEVC codec, pick up H264 with best compatibility.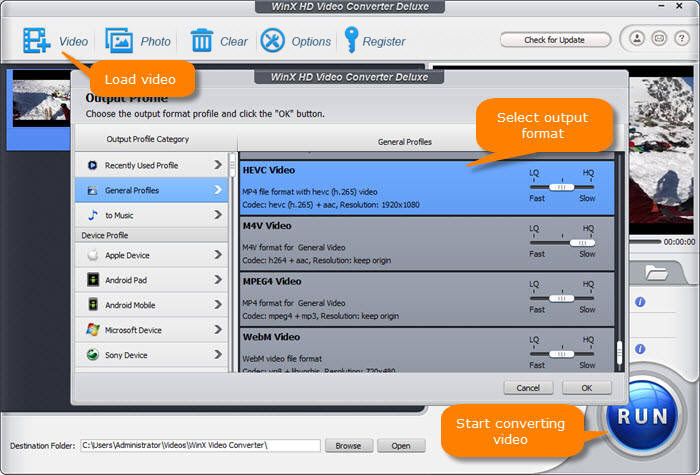 Step 4. Cut video length (lossless compression, as well). Click Edit button with a scissor-shaped icon under the video info part > Enable Trim to freely set the start time and End Time to shorten your video length, or drag the slider to the video section you want to keep.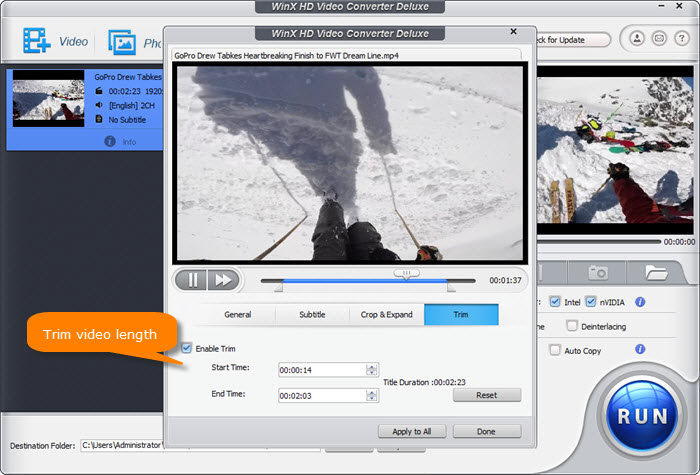 Step 5. Adjust video resolution, bit rate, frame rate, etc. (lossy compression). On the video info window, tap the gear-shaped Settings button to get more options to tweak your video parameters for smaller file sizes. Generally speaking, compress 4K to 1080p, lower frame rate from 120FPS/60FPS to 30FPS, and adjust bit rate. These will further compress your video at high compression ratio. Keep in mind that do not lower down them too much. Or the small size will come at the price of poor quality.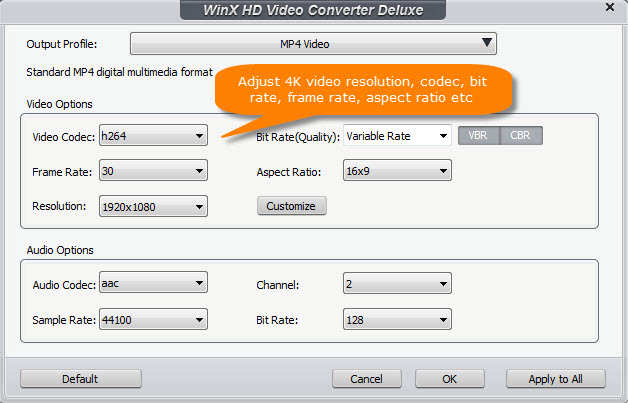 Step 6. Click the RUN button to start reducing video file size even from GB to MB with virtually no quality loss (High Quality Engine support).
Warm prompt: for iPhone iPad users who demand to compress videos, are high suggested to transfer iPhone iPad videos to computer and use the above video reduce software to do the shrinking task. iMovie for iOS can make video size smaller, but it doesn't you the file size and aspect ratio after using cropping feature. What's worse, the cut feature will result in some clips being deleted by mistake because of the small-sized iPhone or iPad screen. Desktop video compressor program is much better than iMovie for iPhone iPad esp. for integrated video editing with long duration.
=> How to Crop A Video in iMovie [iMovie Tutorial]
Related: More video compression software >>