How to Compress Videos to Smaller Size in Premiere Pro
Adobe Premiere Pro always exports large videos that are way too big for web viewing. The maximum video file size allowed to be sent through WhatsApp is 16MB. The maximum video size Instagram allows to be uploaded from mobile devices is 650MB, Vimeo limits video file size to 500MB per week for Basic Plan members. Can Premiere Pro compress videos? The answer is yes. Follow to guide to exporting video in smaller file size in Premiere Pro if you get too large a video file from the video editing program.
Premiere Pro Doesn't Show Good Compression Performance?
Try a more professional video compression software, WinX HD Video Converter Deluxe
Reduce video size up to 90% off thanks to intraframe and interframe coding algorithms and entropy encoding.
No noticeable quality loss with the built-in HQ engine and de-interlacing engine.
Change codec formats, cut videos, resize video frame, lower resolution/frame rate/bit rate, etc. to compress HD/Ultra HD videos.
Blazing fast compression speed with the support for hardware acceleration.
Part 1. [Tutorial] How to Compress Video in Premiere Pro without Losing Quality
Step 1. Open the export window. In Premiere Pro, click file > export > media. The Export Settings window should appear. In the window, you can do export settings to compress video file size in Premiere Pro.
Step 2. Use one or more of the following ways to export smaller file sizes in Premiere Pro.
1. Choose a more efficient codec format. H.264 format keeps a good balance between file size and quality and has great compatibility. H.264 is recommended for video exports through Premiere Pro.
2. Set the bitrate to VBR, 2 pass. Adobe uses 1 pass VBR by default. The 2 pass VBR enables Premiere Pro to reduce video size without losing quality. The export process might take a longer time to complete using 2 pass VBR. CBR option has the fastest speed but the lowest quality.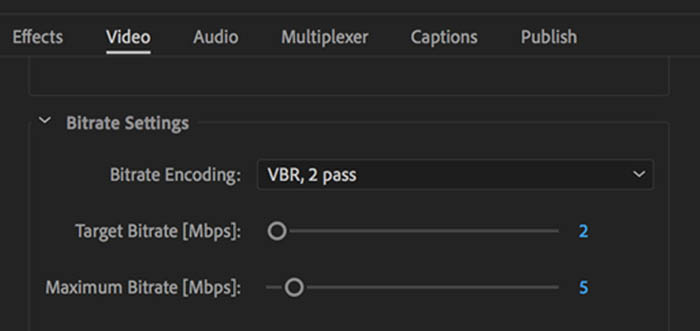 3. Lower the bitrate. The lower the bitrate, the smaller the file size the video will have. On the export settings, there's a Target Bitrate slider. Adjust the target bitrate gradually and check the estimated file size at the left bottom of the window until the file size is around what you want. The estimated file size changes as you adjust the bitrate.
4. Reduce video resolution or change video size. Reduce the resolution or resize the video to get a smaller file size in Premiere Pro. Go to Sequence > sequence settings, you should see Frame Size under Video section, and Width and Height under Video Previews. Set width and height to resize video for smaller file size according to your needs.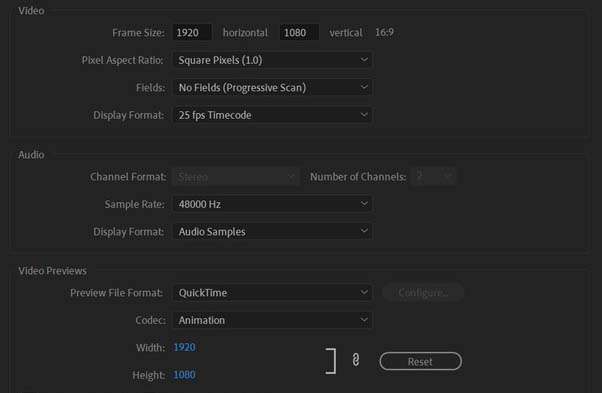 Step 3. Export compressed video files from Premiere Pro. After you've all set, click Export. The video in a smaller file size will be created. If you want to upload the compressed video to social media platforms, click the Publish tab, choose the platform you'd like to upload to, such as YouTube. Enter Tags and Descriptions as you wish, click Export. And the compressed video will be uploaded to YouTube, Vimeo, Instagram, Facebook, or other social media platforms from Adobe Premiere Pro.
Related: More video compression software >>
Part 2. People also ask - Compress Video in Premiere Pro
1. Can Adobe Premiere Pro compress video?
Yes. Adobe Premiere Pro can export video in smaller file size for email or web sharing such as uploading to YouTube, Instagram, Facebook, and other social media sites. Though Premiere Pro is a professional video editing software, the program can reduce video size in export settings.
2. How do I reduce the size of a video in Premiere Pro?
To reduce video size in Premiere Pro, you can set Premiere Export settings, including bitrate, video frame size, change video codec format, etc. The estimated video file size is displayed at the bottom of the Export Settings window in Premiere Pro.
3. How do I compress video size without losing quality in Premiere Pro?
You can try the Bitrate Settings under Export Settings in Premiere Pro. The 2-pass VBR ensures the best video quality. However, the export speed will be slow. On the other hand, scale video frame size also helps export smaller file sizes without losing quality in Premiere Pro.