Compress MP4: 4 Ways to Reduce Video File Size with High Quality
Before MP4 compression, simply see the table below which is about the maximum file size some services accept when uploading MP4 to them.
Obviously, there is a file size limit. We can upgrade our hardware like computer, external hard drive or iPhone to get more storages by paying some money, however, platforms like Instagram and TikTok won't give you any upgrade plan chance. Based on the fact, you'd better compress MP4 videos to smaller sizes for uploading, emailing or space saving on PC. Accordingly, excellent and affordable MP4 video compressor is hand-picked to help compress MP4 video file size with highest quality reserved.

Best Way to Compress MP4 File Size by 90% - from GBs to MBs
Free Video Converter, a professional MP4 video compressor, is able to reduce the file size of any 1080p/4K/8K MP4 fast and in high quality. Be it H.264/AVC MP4, GoPro, DJI, Camera HEVC/H.265 MP4 or so, it easily compress MP4 by 40%-90% without visual quality loss.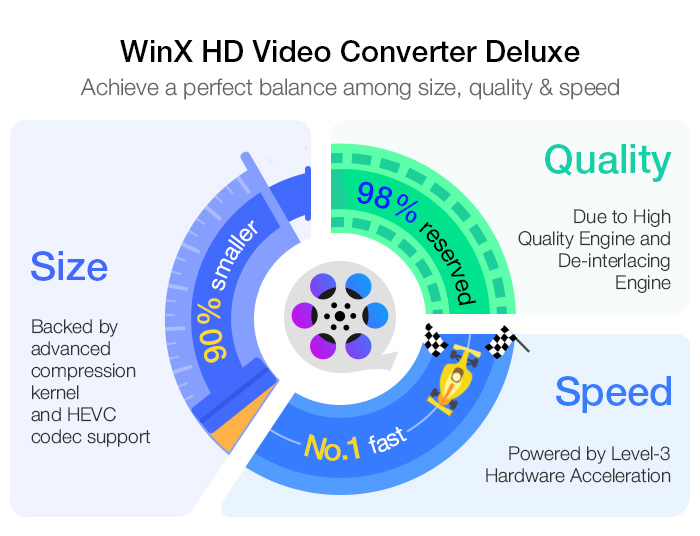 Video Tutorial: Compress MP4 to Reduce File Size Step by Step
Of course, WinX Video Converter is the optimal but not only choice to make MP4 video smaller on Windows 10/8/7. Guessing you may want to freely compress MP4 online or Mac desktop platform for uploading, sharing, collection, emailing or any other purposes, we provide this overall guide, along with the best free video compression software and online tool, to help downsize MP4 including the 4K MP4 files to smaller size. Simply read our review about all possible MP4 video compressing ways ranking top out the market and choose the one you prefer below.
Table of Contents:
Part 1. Why You Need to Compress MP4 Especially the 4K MP4 Files?
In reality, no matter you use MP4 or any other format like MKV, MOV, WMV, AVI, etc. to format videos, you may face over-sized video problems and have to reduce large video file size. Why is MP4 compression in high demand? Simply because MP4 format is the most popular and widely-used video format as of now. MP4 used to be the best video format with best balance between file size and video quality. However, with video resolution going higher and higher, and video length longer and longer, the file size of an MP4 gets bigger and bigger. To make it clearer, you can check the MP4 file size generated from our daily used devices here.
iPhone 12/Pro/Max - a 1080P HD video at 60fps in H.264 MP4 is 175MB per minute, and a minute of 4K UHD video at 60fps takes up 400MB.
GoPro HERO 8 camera - a 4K UHD video at 30fps in H.264 MP4 is 480MB per minute;
DLSR cameras - a 4K UHD video at 24fps in H.264 MP4 is about 1.1GB to 2.2GB per minute.
In conclusion, large sized MP4 videos especially in 4K/8K resolution will take up too much storage space on your computer, external hard drive or handsets, the heavy files will make the speed too slow or choppy when uploading, sharing or streaming, and more importantly they will cost you much money to store in the cloud service. That's why you need to reduce MP4 file size for both space saving and money saving.
Part 2. 4 Ways to Compress MP4 File Size in GBs/MBs Easily
Method 1. Compress MP4 on Windows 11/Mac with WinX Video Converter
Supported OS: Windows 2000/2003/XP/Vista/7/8/8.1/10 (32 & 64 bit)/11, Mac OS X 10.6 or above
Compression Rate: Up to 90%
WinX Video Converter is 100% clean and safe software to fullfill common video compression and conversion needs, especially for those newbies who are not skilled with software or computer. It is simple in interface but comprehensive in functionality. Here, as a superb MP4 video compressor for Windows and Mac, it can help downsize MP4 videos up to 4K quite easily by changing the 3 elements, say adjusting video parameters, converting coding format and cutting unwanted parts being the factors that determines the size of an MP4 file. Which makes it better than other MP4 video compressors out the market including HandBrake and VLC. So, let's take a look at how it shrinks MP4 file size.
Step 1. Free download WinX Video Converter, install and launch it on your computer.
Step 2. Click on "+ Video" on the main UI to add an MP4 video you want to reduce the file size.
Step 3. Set the parameters that determine the size of an MP4 video.
Choose "HEVC Video (HEVC H.265+AAC)" from "PC General Video" as HEVC coding format has higher compression ration. Also, place the scroll bar to "LQ/Fast" as high quality always means large size.
Open "Setting" window to adjust the listed video audio parameters like resolution, aspect ratio, bitrate and frame rate to a relatively lower level to help reduce MP4 file size.
Click "Edit" button to crop and trim video, delete the unwanted video contents or black bars from the sides to make the file smaller.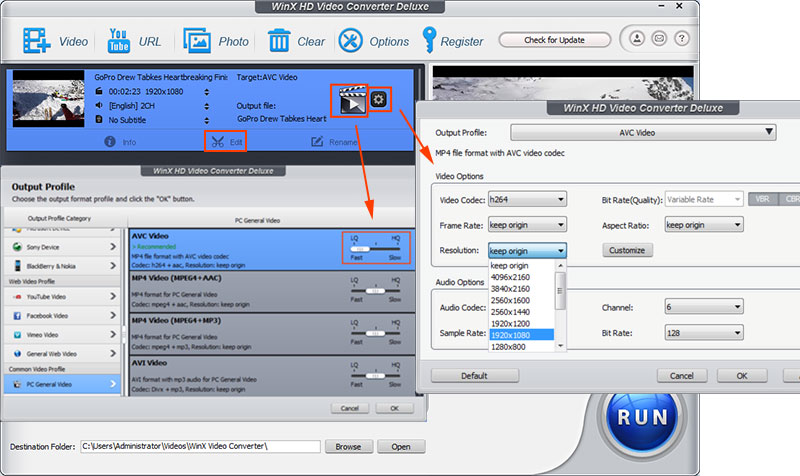 Step 4. After that, simply hit "RUN" button to start compressing your MP4 video with this MP4 compressor.
Method 2. Compress MP4 File Size Online with Clideo
Supported OS: Windows, macOS, Android, iOS
Compression Rate: About 40%
Actually there are many free online video compressors offering easy access to downsize MP4 videos. Clideo has clean interface and is recommended here as the best tool to compress MP4 video online. You can upload MP4 video you'd like to compress from Windows, macOS, Android, iPhone, Dropbox, or video URL, and the MP4 video size will be shrinked automatically by this online MP4 video compression software.
Step 1. Go to Clideo "Compress MP4" page: https://clideo.com/compress-mp4, and click "Choose file" button to add your MP4 video.
Step 2. After uploading, Clideo will automatically process and compress your video. For example, I upload a 4.33MB 1080p MP4 video to it, and it compresses the video by 28% and gives me a 3.12MB MP4 video with high quality.
Step 3. When everything is done, you can click on "Download" button to save the compressed MP4 video to your PC, Google Drive or Dropbox for further usage.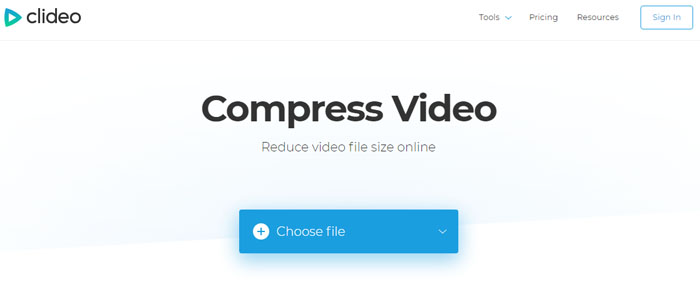 However, such online services are recommended if your source MP4 video size is not that large. Often the case, the maximum size of a video won't be over 1GB for free if you use such a online MP4 compressor while you need to pay at least $9/month for more storages. Besides, the upload and download process of the long 1080p and 4K videos might take a very long time as the whole process requires an extremely good internet connection and server. What's more, the online way may not that safe as your personal videos may face privacy leak. So, pick it based on your needs.
Method 3. Compress MP4 Free with HandBrake
Supported OS: Windows 7 to Windows 10, Mac, Linux
Compression Rate: Up to 80%
Free ways to compress MP4 videos are diverse. Though they have difficulties to compress large-sized MP4 videos like 4K MP4 videos, they are still good choices for standard MP4 files compression. After comparison, the open-source HandBrake is the most used free tool to help reduce MP4 file and other video size.
HandBrake is a totally free open-source video transcoder, that you can turn help for compressing MP4 on Windows and Mac/Linux. After opening the source MP4 file, you just need to choose "Presets" in the right drawer and then resize the resolution, or crop video under "Dimensions" option, set the video frame rate/quality under "Video" option and optimize video to define the video size. Definitely the lower quality/faster converting speed you set, the smaller MP4 video size you'll get. Check it below to see how it works.
Step 1. Free download HandBrake on your Windows 10 or Mac computer, install and launch it.
Step 2. Drag and drop an MP4 file to it.
Step 3. Based on the 3 elements that determines an MP4 file size, you can click on "Dimensions" option to set the width and height of the video. Click "Video" option to choose video codec with higher video compression efficiency, lower frame rate, lower video quality and lower bite rate to downsize an MP4. Or directly choose "Presets" to choose the best size for Discord, Gmail, Vimeo/YouTube, and play on Android, Apple devices, PS, Roku, Xbox.
Step 4. Choose a destination folder and click "Start Encode" to compress your MP4 with this MP4 compressor.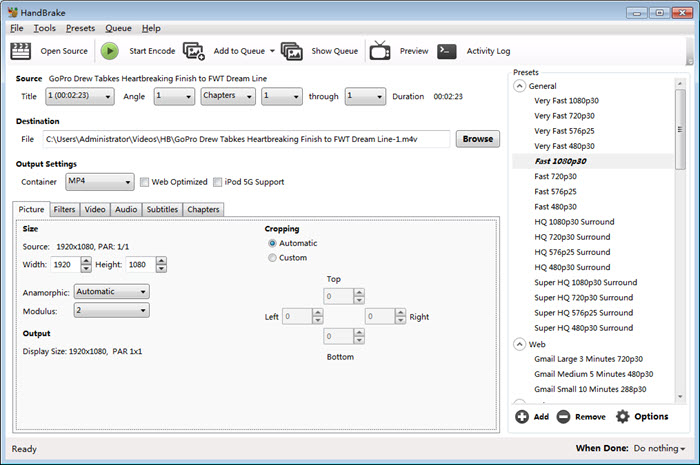 Note: If you want to compress MP4 to FLV or other formats or you need full pre-settings about video quality, resolution and bit rate, which will save you much time, but Handbrake is not a good choice for you.
Method 4. Downsize MP4 File with VLC for Free
Supported OS: Windows, macOS, iOS, Android
Compression Ratio: 20.0:1
VLC, known as an open-source media player, has a bonus feature of compressing video size. VLC allows users to reduce MP4 video file by lowering video resolution, changing video and audio encoding parameters. Its recording feature can also be used to get the video clip you want and cut down MP4 video length for smaller file size. Here is how to use VLC media player to make MP4 video size smaller.
Step 1. Free download, install and launch this MP4 file compressor on your computer.
Step 2. Click "Media" on the menu bar and choose "Convert/Save".
Step 3. Click "+ Add" button to add your MP4 video and then click "Add/Save" button to go on.
Step 4. Choose profile and do settings by clicking on "Create a new profile" icon. Here, you can adjust bit rate, quality, frame rate, etc.
Step 5. Set the Profile name at the top and then click on "Create".
Step 6. Click on "Browse" button to choose a destination folder to save your compressed MP4 video and click on "Start" to compress MP4 in VLC.
There's no file size limit when you use VLC to compress MP4 video file size. However, some users report VLC stuttering/crashing during large 4K MP4 video size compression. Anyway, VLC is only an possible way as VLC is not designed for reducing video size.
Summary: If you have common MP4 videos to compress occasionally, free online MP4 video compression services like Clideo are good choices. Handbrake or VLC can be used when you don't care much about compression speed and output quality. WinX Video Converter shows greater compression ability and outputs the highest quality especially when you compress and convert heavy 4K MP4 files.
Free Video Converter is the most ideal MP4 compressor emphasizing privacy safety being the top priority. You can rest assured to add any personal home videos to it to process or input a gigabytes of 4K movie to compress, for free up storage space on hard drive or memory card, to upload to web, to send to friends via email, or just for playing on portable devices more smoothly.
Part 3. Frequently Asked Questions
1. Can MP4 files be compressed?
Yes, you can compress MP4 video files. By adjusting the video parameters like resolution, frame rate and bitrate, convert H.264 MP4 to H.265 (has higher compression ratio) MP4, or trimming out the unnecessary parts, you can get a smaller MP4 video for collection, uploading, sharing or transferring.
2. How do I make a MP4 file smaller?
There are many options for you to make MP4 videos smaller. For example, you can adjust the video resolution, lower down the bitrate, change video frame rate, shorten the MP4 video length with an MP4 cutter. And the task of downsizing MP4 can be down with many desktop software WinX Video Converter, online tool Clideo and open-source methods HandBrake and VLC.
3. How to compress a 4K MP4 video?
To compress a 4K MP4 video in gigabytes size to a smaller file with super high quality, downsize 4K to 1080p is suggested. To achieve that, you need a real 4K video compressor that supports 4K video processing and conversion with best quality reserved, and WinX Video Conveter is the only tool you can choose.
4. How do I compress a 1GB MP4 file?
To compress a GBs, 1 GB or MBs MP4 video without visual quality loss, Winx Video Converter can help.
Free download WinX Video Converter.
Click "+ Video" button to add an MP4 video you want to shrink the size.
Click "Settings" to set the compression ratio, change codec format or bite rate, and click "Edit" icon to cut unnecessary parts.
Hit "RUN" button to compress GBs/1 GB MP4 video to MBs.
4. What is the best MP4 compressor?
Hundreds of offline and online MP4 video compressors out the market are provided for you to choose from, and among them WinX Video Converter is thought as the the best due to the highest compression ratio up to 90%. You can use it to compress an MP4 video from 1GB to 100MB with highest quality reserved.
There are some popular MP4 video compressors chosen to compress a MP4 video, and the test results are as follows.
| | | | |
| --- | --- | --- | --- |
| MP4 Compressor (Software) | Compression Ratio | MP4 Compressor (Online) | Compression Ratio |
| WinX Video Converter | Up to 90% | Clideo | 40% |
| VideoProc | 60% | FreeConvert.com | 40% |
| Freemake Video Converter | 50% | VEED.IO | 30% |
| Movavi Video Converter | 50% | PS2PDF | 65% |
| Free Video Compressor | 40% | Mp4Compress | 9.3% |