Top 7 Free Online Video Compressors [No Watermark]
Changes are inevitably acted on raw videos. Stock video footage coming from HD/4K camcorders produces troubles when either to upload for sharing on YouTube, Facebook, Instagram…sending to your friends via email, or to transfer to portable devices for movable playback because of undesired giant size. We have to compress original video making it fit network transportation or better play on more screens.
Online video compressor is recognized as the most convenient solution to compress and reduce video file size. It is limited free, effective and easy to use. But how to judge whether a video compression site is serviceable or not? Here, we review top 7 free online video compressors.
Download the Best Free Video Compressor (No File Size Limit, No Ads)
Free Video Converter brings a great experience of video compression without ads, malware, file size limit, and even no network required.
Compress 8K/4K/HD videos to 90% smaller - from 1GB to 10MB.
High quality engine and hardware acceleration ensure high quality and 47x fast speed.
No file size limit that free online video compressor services have, 1GB, 2GB, 4GB, 1TB, and more.
Support MKV, MP4, AVI, MOV, WMV, FLV, 3GP, MTS, MOD, HEVC, H.264, VP9, you name it.
List of Top Free Online Video Compressors
2023 Top 7 Free Online Video Compressors [No Watermark]
#1. Clipchamp – Top 1 Online Video Compressor
Clipchamp is a rising star which aims to offer the easiest solution to convert/compress videos and record webcam videos free. It supports a large range of input video formats like MP4, AVI, WMV, FLV, MKV and more. Instead of specific output video formats, it gives 4 profiles, Web, Windows, Mobile and Animation (GIF), which include the optimal video formats which deliver smaller size of original video but keep good quality. Besides, users are allowed to set video resolution, quality and trim videos to shorter length to reduce video file size. After the compression process is done, user can directly upload to YouTube/Facebook and share online or save to hard drive.
Pros
It is easy, free and fast. No ads on page.
It provides customize settings and editing tools for further video compression.
Cons
Video formats are limited.
User must log in with an account to access to video compression.
Related: Free online 8MB Video Compressor for Discord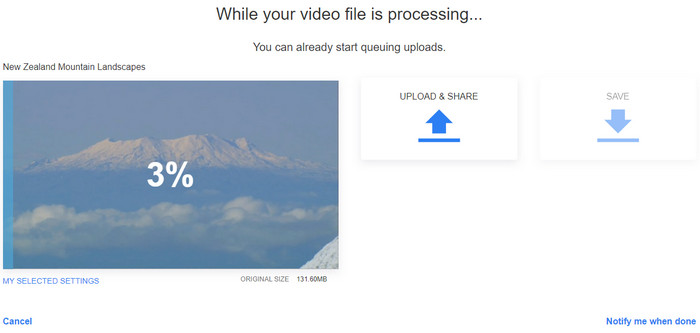 #2. Convert.Files – Top 2 Online Video Compressor
Convert.Files is a web-based application to convert and compress videos free online from GB to MB without registration. Like Clipchamp, it is available to input and output almost all mainstream video formats like MPEG4, H.264, AVI, WMV, MOV, MKV, FLV, 3GP. It also enables to extract audio tracks from video files. Apart from compressing local video, it enables users to download from online and shrink it to other formats for mobile playback, email delivery or other purposes. Not only working as an online video converter and compressor, it is an all-in-one file converter which can perform conversion between audios, e-books, images, documents and more.
Pros:
No account is needed! Free and easy-to-use!
Abundant video formats allow us to select the best format to compress video to.
Cons
So many ads adhere to the page. Some confusing one may mislead us.
The resulting video file may be corrupted and cannot be opened.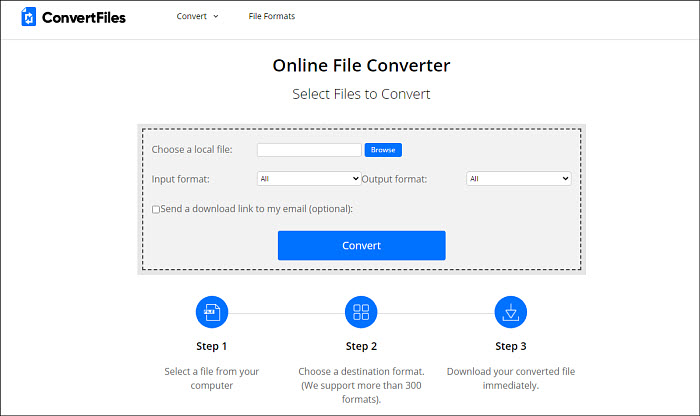 #3. Zamzar – Top 3 Online Video Compressor
Zamzar integrates with hundreds of converters to support various conversions, including video, audio, image, e-book, document etc. It is definitely an online expert on video compression. It embeds much more video formats (codes) than other two free online video compressors, not only containing general video formats, H.264, MP4, AVI, WMV, MOV, FLV, 3GP, WebM etc, but devices profiles iPhone, iPad and iPod. It also offers an URL converter helping users convert and compress online videos to other video/music formats.
Pros:
It is easy-to-use.
It supports most output video/audio formats and additionally provides devices profiles.
Cons
Ads on page are quite annoyed.
It is only free for compressing videos smaller than 50MB.
It requires email address for compressed video download. And, you cannot receive email immediately but wait for several hours even more.
It delivers slowest conversion speed among top 3 free online video compression software.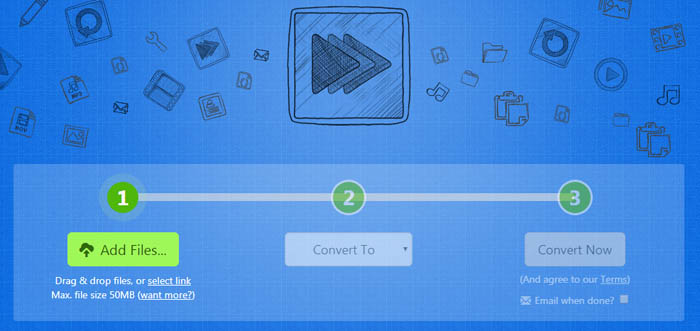 #4. VideoSmaller – Top 4 Online Video Compressor
VideoSmaller is a free online video compressing service that allows you to downsize video file online free, compress video file size online free to make video file smaller with least quality loss. Reduce MP4/AVI/MPEG/MOV video size. Select the video file from computer and click "Upload Video" button to shrink video size.
Pros
Cons
Only support MP4, AVI, MPEG, MOV video formats. The video uploading speed is a little slow. The input maximum video size is 500MB. Lack many other video editing features.
Sometimes it can't compress the video size, in the contrast, make the output video larger than the original video. For instance, I upload a source 3.9M video but it outputs a 4.8M video.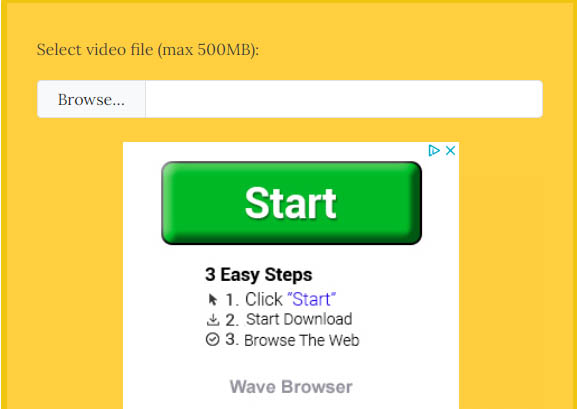 #5. Freeconvert – Top 5 Online Video Compressor
Freeconvert has web video compressor service. It's one of the few free online video reducer services that offer max 1GB file size for free members. Most free service have max 200 or 500MB file size limits. 1GB file size limit for free is a big pro. It's also quite convenient to set the target video file size or target video quality. It's a pity that the free online video reducer is full of ads and adware.
Pros
Max 1GB for free.
Set "Target a file size" and "Target a video quality". Auto compression. Very easy to use.
Support various video formats, vob, wtv, mpg, mov, xvid, rm, m4v, m1v, flv, divx, mp4, 3gpp, mkv, avi, etc.
Cons
Ads, adware.
Interface is misleading. #6. VEED.IO – Top 6 Online Video Compressor
VEED.IO offers a free online video size reducer that supports commonly used video formats, such as MP4, MOV, MKV, WMV. VEED.IO free online video compressor has no ads, no redirects, it's interface is quite clean and user friendly. The web service automatically selects the best quality to file size ratio for email, YouTube, Instagram, Facebook, etc. However, the video uploading is very slow. We tested the service with a 30s 8K video - it took more than 10 minutes to finish the uploading process.
Pros
Clean interface. No ads, no redirects.
Ease of use. No sign up, no email required. Auto set compression ratio.
Cons
Supported file types MP4, MOV, MKV, AVI, WMV, FLV.
Uploading and processing speed is slow. Get stuck when reducing 4K and 8K videos free online using VEED.IO.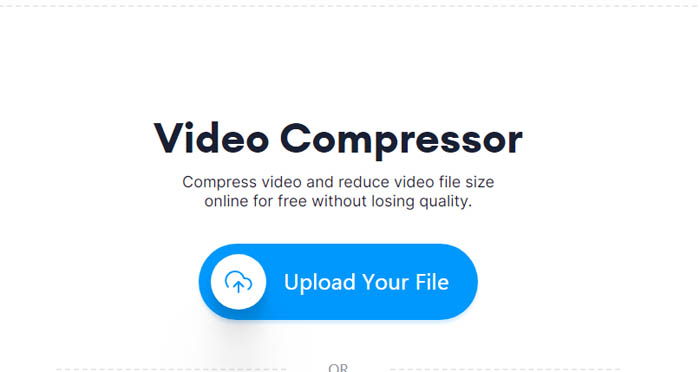 #7. Online Converter – Top 7 Online Video Compressor
Online Converter is free limited online video compressor, converter, and basic editor. It supports compressing MP4, MKV, AVI, MOV, WMV, etc. videos in 720p, 1080p, and 4K UHD. You can compress videos free online by changing video codec format, cutting. Max 200MB for free is a big disadvantage. For more videos, you have to upgrade.
Pros
Support a wide range of video formats, including MP4, AVI, FLV, MOV, 3GP, MKV, WMV, etc.
Cut videos to compress videos to smaller file size free online without losing quality.
Edit videos, merge, cut, rotate, add watermark, repair videos, stabilize and deshake shaky videos.
Cons
Max 200MB, which only equals 2 minutes 1080p video.
Interface is not well-designed.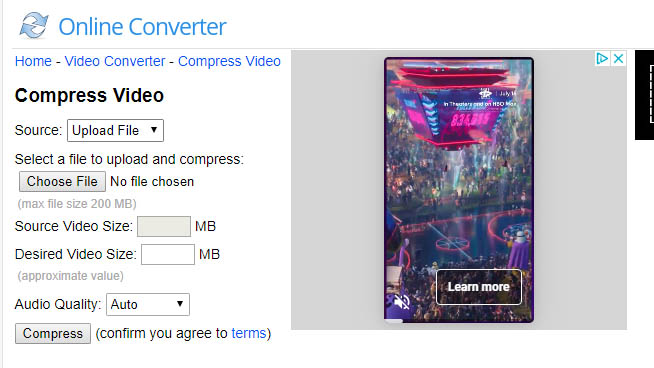 Note: Common Free Online Video Reducer Limits/Disadvantages
Merits of online video compressor are apparent. Firstly, users can complete video compression online without downloads and installation. To some extent, this kind of video compression can save us much time and space on computer. Secondly, all online video compressors have straightforward UI and even on-page guide so that every user can quickly get how to use. On the other hand, disadvantages cannot be ignored.
Online video compressor relies on networking and bandwidth. The compression speed will be badly influenced by poor network condition. Certainly, it is completely useless if there is no network.
Most online video compressor sites put lots of advertisements on pages. Some ads are safe but suck while some ads are very dangerous with virus affected.
The free services always require something, like registration, email address, limited file size (usually <500MB), making it impossible to compress 4K or large-sized HD videos.
Resulting file may be broken or unaccessible for failed compression but we cannot be aware of that until an output is given.
Online video compressor only compresses videos only through conversion or small editing, which cannot achieve a best compression.
Best Desktop Software - Alternative to Online Video Compressor
Comparing to online video compressors, desktop free video compression software has more powerful functions and stable performance beyond doubt. Free Video Converter is the best free video compressor we pick out from the market through several times of tests.
Compress 8K/4K/HD videos to MP4, AVI, WMV, MOV, FLV, 3GP, WebM etc, for YouTube/Facebook uploading, online sharing, Emailing...
Parameters, like bitrate, resolution, frame rate, aspect ratio, can be adjusted for reducing file size to smaller.
Unwanted parts can be cut/cropped off from video to compress videos from GB to MB without losing quality.
It is as easy-to-use as online video compressor but much safer without malicious stuff bundled. It requires no networking.
10x faster and output much better quality than free online video reducer services.
External Sources from Wiki:
• Video Compression uses modern coding techniques to reduce redundancy in video data. Most video compression algorithms and codecs combine spatial image compression and temporal motion compensation. Video compression is a practical implementation of source coding in information theory. In practice, most video codecs also use audio compression techniques in parallel to compress the separate, but combined data streams as one package....