[Solved] How Do I Reduce the Size of A Big Video for Facebook
To upload a video to Facebook that's too big, you can upload it first to YouTube and then share the link on Facebook. Another way that makes sense is to reduce the video size down. Shortening the video length is a key to compress videos for Facebook without losing quality. You can also lower the resolution, bitrate, and frame rate down to successfully make your video smaller. You need a solid tool such as WinX HD Video Converter Deluxe. Use the steps below to make the job down easily.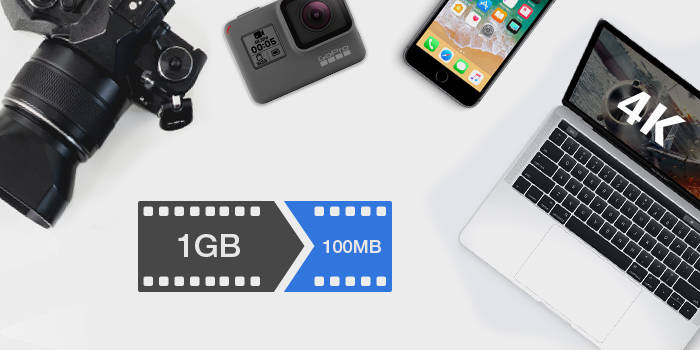 • No video size limit, 1GB, 3GB, 1TB, and even larger.
• 90% compression ratio thanks to intraframe and interframe coding algorithms and entropy encoding.
• No noticeable quality loss with the support of HQ engine and de-interlacing engine.
• Blazing fast processing speed with fully Intel/Nvidia/AMD GPU acceleration enabled, at least 5x faster than online tools.
• Trim videos, convert video formats, adjust video audio frame rate, bit rate, etc. to fit Facebook uploading.
[Tutorial] How to Compress Video Size for Facebook Sharing
1. Free download the software and follow its on-screen instructions to install it. There are no ads, redirects, or additional programs. Run the program on your computer.
2. Click the "+Video" button on the top right and select the source video you want to shrink for Facebook. You can add multiple files at a time to process. It supports a wide range of video formats (MP4, MKV, MOV, AVI, HEVC, VP9, H.264, to name a few) and 8K, 4K, HEVC footages.
3. Select an efficient video and audio codec format for a smaller size. When the video is loaded, an Output Profile window appears, choose MP4 Video (H.264, AAC), and click the OK button to save the setting and close the window.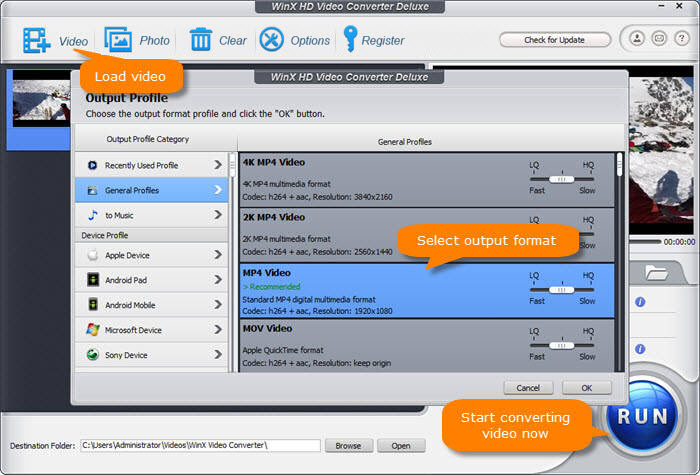 4. Cut video length. Click the Edit button under the video info part, Select Trim to get video trimming option. Select "Enable Trim", set the start time and End Time, or drag the slider to the video section you want to keep. Click the Done button to save the change.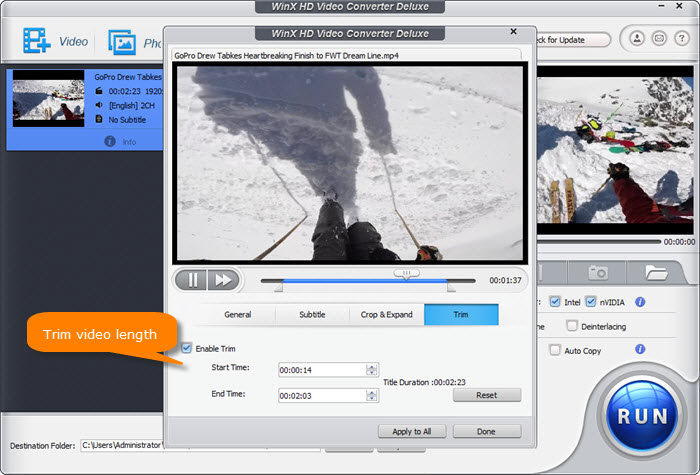 5. Lower down video resolution, bitrate, etc. On the video info window, click on the gear-shaped Settings button to get more options to adjust video and audio parameters for smaller file sizes. Also, set your video to fit Facebook uploading recommendations.
• Lower down video resolution. Click the Resolution drop-down icon and compress 4K to 1080p, 720p, etc.
• Decrease the video bit rate and frame rate. If you don't set the bit rate and frame rate properly, your video will be ruined. We don't suggest you to do so. Lowering down video resolution always affects video bit rate and frame rate. Click the OK button to save the settings.
6. Click the RUN button to start reducing video file size for Facebook sharing. In this way, you can even compress a 4K size video from GB to MB.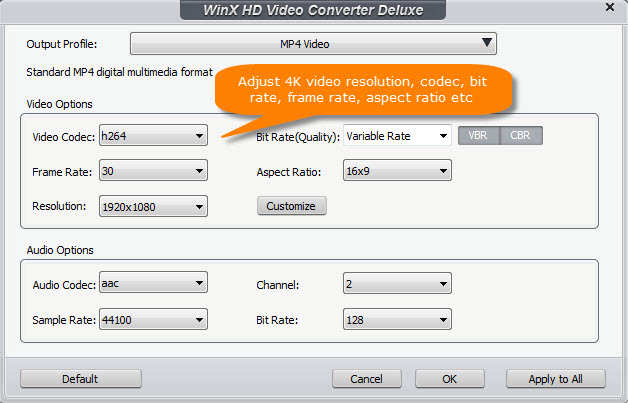 Recommended Settings for Facebook Uploading
Video audio format: MOV, MP4, H.264, AAC.
Max frame rate: 30fps.
Aspect ratio: 16:9 (horizontal) to 9:16(full portrait).
Max video length and size: 240 minutes, 4GB large.
Why Don't We Compress Large Videos Online for Facebook?
There are tons of online services offering ways to reduce video size free online for Facebook. However, we don't recommend you to do so if your video size is bigger than 500MB. Most online tools limit the source file size to 500MB and processing speed is deadly slow.
clideo: max 500MB, 10 mins required for uploading a 100MB clip.
clipchamp: unlimited 480p exports with a watermark.
youcompress: max 500MB for MP4/MOV/AVI, 15 mins required for uploading a 100MB video, ads.
Check more detailed review of top 3 free online video compressors.