Compress Video for Instagram: Get You Out of Uploading Troubles
It's almost a knee-jerk to upload video to Instagram for sharing when you have an amazing video. While scores of users reported that they got stuck in video uploading owing to the strict Instagram size limit, especially for 4K UHD and high frame HD videos, and sometimes Instagram ruined video quality after uploading.
- "I've been recording my screen at 1920x1080 60fps mp4 and the video files are quite large. I wanted to share some clips from these videos but the video size is too large, even with short 30 second clips. I tried to change the Output Dimensions from the Export menu but it doesn't seem to reduce the overall file size. Is there something I'm doing wrong? Is there a guide on how to compress a video file size?" - Jader7777
Therefore, to successfully upload your video to Instagram, compressing 4K/HD videos and optimizing them perfectly fit on Instagram are of great necessity. For that, a solid Instagram video compressor is highly in demand both for reducing 4K/HD video size and changing video parameters (bit rate, frame rate, codec, resolution, aspect ratio etc.) to the ones Instagram recognized.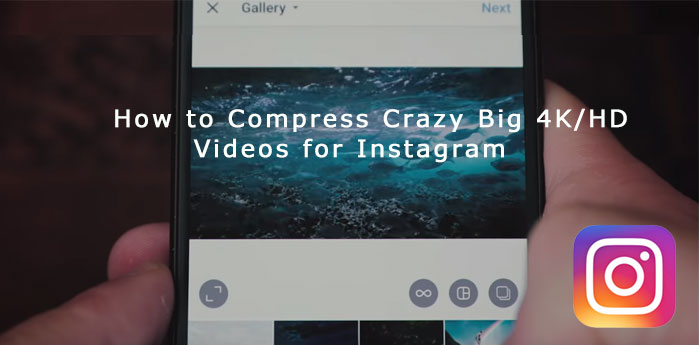 How Can You Post a Large Video on Instagram?
WinX HD Video Converter Deluxe is the way to go! It is an excellent 4K video compressor, which compresses 4K video maximally without losing quality for Instagram feed, story or IGTV. It's able to convert oversized 4K/HD video to Instagram compatible size and format, change video resolution, bitrate, frame rate, aspect ratio etc., and trim long videos to shorter than 60 seconds to perfectly cater to Instagram size limit. Besides, with fully GPU acceleration and high-quality engine enabled, this video size reducer can zoom out video size by up to 90% but no quality loss at No.1 fast speed.
How to Shrink Oversized 4K/HD Videos for Instagram Feed, Story, or IGTV
Before everything, what's the best video settings for Instagram?
Instagram has a set limit to the size, time, and other parameters for the videos that can be added to the site.
A maximum of 60 seconds videos can be added to Instagram. As a story, the video length has to be between 3 to 15 seconds.
There is no limit to the height of the video, but the maximum allowed width size is 1080 pixels. Max Instagram file size is 4GB.
Recommended Instagram Stories video formats are .mp4 and .mov.
Landscape (1.91:1), Square (1:1), Vertical (4:5) are all available. 1:1 Square video at 1080×1080 pixels is commonly used.
Now, you're free to go with the following steps to compress crazy large 4K/HD videos to Instagram!

Free download WinX HD Video Converter Deluxe on Windows 10/8/7


Free download WinX HD Video Converter for Mac on Mac OS X 10.6 or later
Step 1: Add oversized source video to the 4K video compressor.
Launch WinX Video Converter, click the "+Video" button on the top and select the source video you'd like to compress to load. It allows you to add more than one video for batch compression.
Step 2: Select output format.
After your video loaded, an Output Profile window pops up automatically. Go "General Profiles" > "MP4 Video (h264+aac)" > "OK" to convert videos to MP4, for example MKV to MP4. Of course, you're able to choose "MOV Video" as output format as well, since Instagram recommends .mp4 and .mov video format.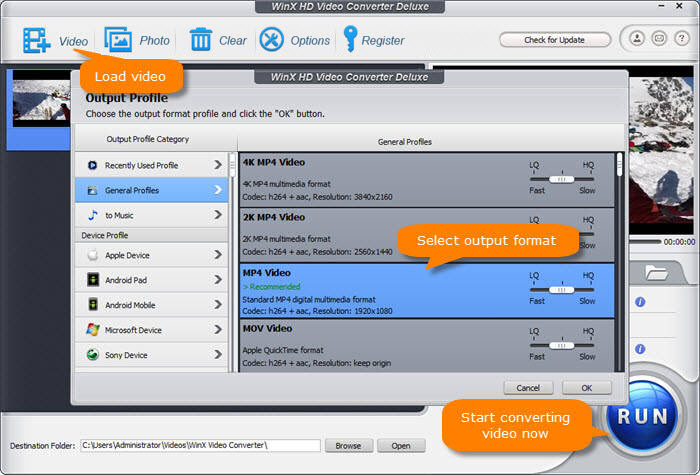 Step 3: Change video parameters to the ones Instagram recognized.
Click on the gear-shaped Setting button to get an access for parameters setting interface. And tweak resolution, frame rate, bitrate, aspect ratio etc. from the corresponding drop-down menu for uploading video to Instagram.
Downscale your 4K UHD resolution to 1920 × 1080 pixels.
Generally, 8 megabits per second for 1080p and 4 megabits per second for 720p output decent video quality in Instagram.
Lower the frame rate to 30fps if you have some high frame rate videos. Certainly, 24fps video is also acceptable by Instagram.
Crop the aspect ratio to 1:1, and always make sure your audio is in aac and 128kpbs.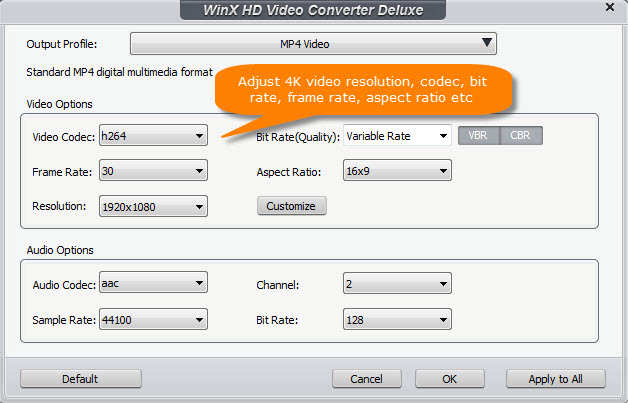 By the way, if you'd like to upload huge 4K/HD videos to other video sharing sites, you're able to compress video for YouTube, Facebook, Whatsapp etc. referring to the specific social media video specs.
Step 4: Compress video for Instagram now!
Back to the main interface, you're able to tick on Use High-Quality engine and Deinterlacing to enhance the output video quality, and enable Intel/nVIDIA Hardware Accelertor option to boost 4K video compression to 47x real-time faster (on condition that your computer is configured with GPU accelerated graphics).
Tap "RUN" button to start resizing the files for Instagram feed, story, or IGTV. Once done, you're able to post high quality 4K/HD video to Instagram without any uploading troubles.