Top 3 Ways to Compress Video for Instagram Story/Reels/IGTV
When I upload a video to Instagram it comes out very poor quality and blurry. Before I post it, it is in high quality on my phone and is perfectly clear.
Shot a video on a DSLR camera and edited it within Final Cut Pro. No issues in the camera roll after I airdropped it to my iPhone. But when I upload it to Instagram it plays back in really bad quality.
I upload a lot of videos to Instagram in different export settings, but nothing really works. Besides the 100 MB limitation which already is a lot of trouble, even very short clips that are smaller than 100 MB get blurry after uploading to Instagram.
While Instagram allows you to upload up to 4GB of videos, you may still find that the uploaded Instagram videos are very bad in quality. In this case, you're suggested to convert/compress the Instagram upload videos first. Why and how to compress videos to post videos on Instagram without losing quality? Let's keep reading.
Best Instagram Video Compressor for Small Size & High Quality
WinX HD Video Converter Deluxe is the best Instagram video compressor you can rely on. It will compress GoPro, Drone, iPhone, and other videos in SD, HD, and 4K for Instagram feed, story or IGTV maximally without losing quality.
Compress large 4K/HD video to the Instagram size limit by up to 90% but no quality loss.
Trim long videos to clips shorter than 60 seconds, downsize resolutions, change codecs, frame rate, etc.
Convert videos from any other formats to Instagram MOV and MP4 (420+ others) easily.
Resize video aspect ratios to Instagram 1.91:1, 1:1, and 4:5, or others you need.
Part 1. Top 3 Ways to Compress Videos for Instagram without Losing Quality
#1. How to Compress Videos to Instagram on Desktop
Get reliable free video compressor software for Instagram to compress videos on Windows/macOS. Our top recommendation is WinX HD Video Converter Deluxe. It fast compresses 4K UHD/HD videos for Instagram with good balance between file size and quality. The software has preset profiles tailored for Instagram, YouTube, Whatsapp, etc. With support for GPU acceleration and advanced compression engine built-in, it can fast compress iPhone, GoPro, drone, and other videos for Instagram Story/Reels/IGTV without quality loss, from GB to MB.
Steps to Compress 4K/HD Videos for Instagram Feed, Story, or IGTV
Now, follow the steps below to make file size smaller for Instagram with the best quality.
Step 1: Add source video. Launch the Instagram video compressor, click the "+Video" button on the top and select the source video you'd like to compress for Instagram. It allows you to add more than one video for batch compression.
Step 2: Select output format. After your video is loaded, an Output Profile window pops up automatically. Go "General Profiles" > "MP4 Video (h264+aac)" > "OK" to convert videos to MP4, for example MKV to MP4. Of course, you're able to choose "MOV Video" as the output format as well, since Instagram recommends .mp4 and .mov video format.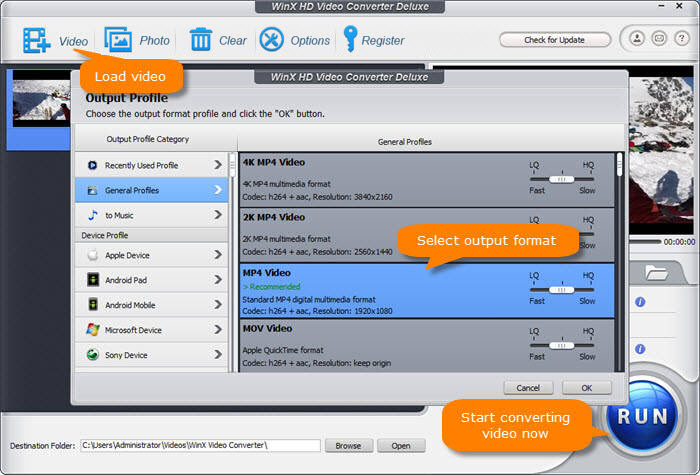 Step 3: Make videos smaller for Instagram. Click on the gear-shaped Setting button to adjust the parameters settings. Tweak the resolution, frame rate, bitrate, aspect ratio, etc. from the corresponding drop-down menu.
Downscale your 4K UHD resolution to 1920 × 1080 pixels.
Generally, 8 megabits per second for 1080p and 4 megabits per second for 720p output decent video quality in Instagram.
Lower the frame rate to 30fps if you have some high frame rate videos. Certainly, 24fps video is also acceptable by Instagram.
Resize videos for Instagram IGTV/Story/Feedand change the aspect ratio to 1:1, 16:9, etc. and always make sure your audio is in aac and 128kpbs.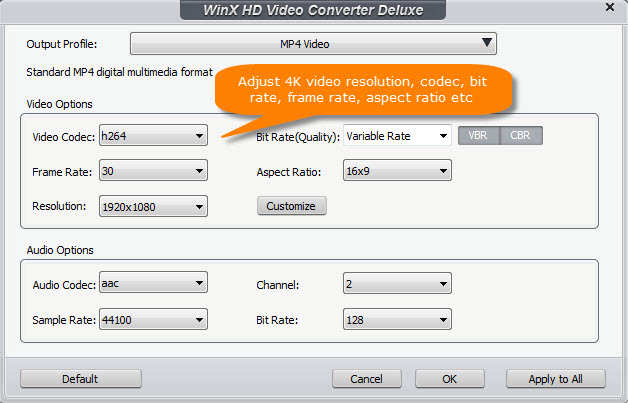 Step 4: Compress video for Instagram now!
Back to the main interface, you're able to tick on Use High-Quality engine and Deinterlacing to enhance the output video quality and enable Intel/NVIDIA Hardware Accelerator option to speed up compressing HD or 4K videos for Instagram. Then click the "RUN" button to start reducing the file size for Instagram feed, story, or IGTV. Once done, you're able to post high-quality video to Instagram without losing quality.
#2. How to Compress Video for Instagram on iPhone/Android
If you want to skip desktop software, there are apps to compress videos for Instagram upload from iPhone & Android. For example, the app Video Compress - an Instagram video compressor app for iPhone, iPad, and iPod to compress massively oversized native iPhone videos before uploading to Instagram, Whatsapp, or send to email. It's able to compress 4K & HD videos to 1080P, 720P, 540P, etc., adjust the bitrate, customize the strength of compression, and check the output compressed image quality. The compression is rather easy:
Download the app from Apple Store and open it. Then tap the + button to load the videos from your camera roll.
You can select a single or multiple videos from your local iPhone.
Then it will bring you to the Preset window. Click the Choose Preset dropdown menu and select the output quality you want. You can drag the bitrate bar to further make the video smaller.
After the settings, click Continue and it will start to compress. The compressed video will be stored automatically in your camera roll.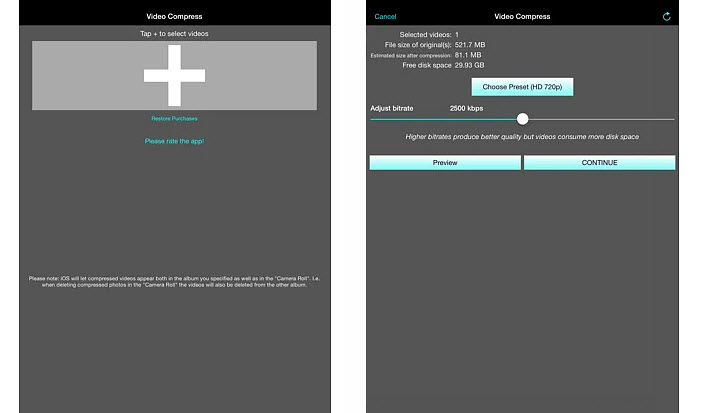 That's pretty much how you can compress iPhone videos for Instagram. Though apps don't have many compression options, they provide a fast and convenient way to make Instagram videos smaller. There are some other Instagram video compressor apps for Android and iPhone.
| | | | | |
| --- | --- | --- | --- | --- |
| Apps | Videos & Movies Compressor | Resize Video | Video Dieter 2 | Video Compressor by Sunshine |
| System | Android | Android | Android | Android |
| HD Compression | Yes | Yes | Yes | Yes |
| Format Support | MP3, MP4, FLV... | Popular video file formats | MP3, MP4... | MP3, MP4... |
| Cost | Free/ In-app purchases starting from $3.41 | Free | Free | Free |
#3. How to Compress Videos for Instagram Free Online
Online compressors are free and easy to use. You don't need to install third-party software or apps on your device. Simply search on Google, you can find many free online video compressors, including Veed, Clideo, FreeConvert, Online Converter, etc. If the video you want to post to Instagram isn't very big in size, online tools are a good choice since they have a limit on how big video you can upload and compress. For example, Veed allows 50MB with a watermark on the output and Clideo allows up to 500MB. The uploading speed is another factor to consider. Below is how to reduce video size for Instagram online.
Open the site, here we take Clideo as an example. It's able to compress the
Click Choose File button and select the video from your local computer.
The site will take some time to load the video. Once uploaded, it will automatically adjust the parameters to make the video smaller for Instagram without losing quality.
Wait and once it finishes, it will bring you to the download page with the final video size and the compression percentage. Check if you're satisfied with the output quality and then download the compressed video to your local device and upload it to Instagram.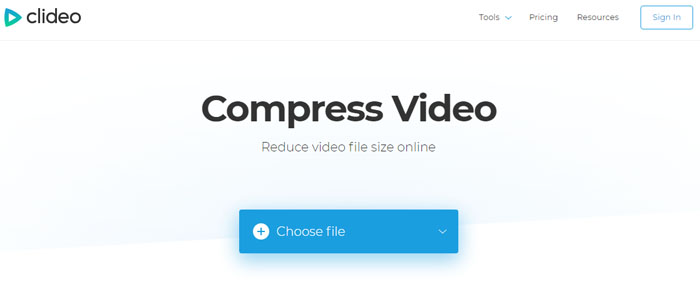 Part 2. Does Instagram Compress Video Quality During Uploading?
Instagram has less strict requirements on how big a video you can upload: the maximum file size of Instagram Feed, Stories, and Reels is 4GB. So you should be able to upload HD and even 4K videos to Instagram without problems. Make sure your video meets the following upload requirement. Otherwise, the video is possibly compressed severely during the uploading process.
The maximum Instagram video length is 60 seconds. The video length of Instagram Stories is between 3 to 15 seconds.
The maximum allowed width size is 1080 pixels.
The maximum Instagram file size is 4GB.
The recommended Instagram video formats are .mp4 and .mov.
The aspect ratio: 1.91:1, 1:1, and 4:5. 1:1 Square video at 1080×1080 pixels is commonly used.
But why the picture quality on Instagram is still so bad? One word: compression. Don't forget the fact that Instagram is designed for viewing predominantly on mobile devices. It has its own compressor that will downgrade the image quality on purpose so as to make video smaller in size load things faster on almost any mobile connection. The higher resolution of the source video, the more compression is needed to size it down to the specifications of Instagram's servers. So HD and higher resolutions can result in grainy and blurry looking.
To avoid the aggressive file size compression algorithm of Instagram, you'd better compress the video for Instagram in advance.
Part 3. FAQ about Compressing Videos for Instagram
1. How to stop Instagram video compression?
Instagram bad compression can ruin a video. But fortunately, a YouTuber named Daniel Schiffer has shared his method to avoid Instagram video compression effects and upload high-quality videos to Instagram.
Create videos in 4k or upscale 1080p into 4k to force Instagram to use a much higher bit rate.
Reduce the contrast and lift the shadows before you grade.
Export as 4K UHD h.264 to your hard drive.
Transfer the edited video to your phone using a method that doesn't recompress the video.
Post to Instagram as normal. Upload it to IGTV from your desktop can get the best results.
2. How do I make my Instagram videos less MB?
There are several ways to make Instagram videos less MB, to shorten video length, to lower down video bit rate/quality, to resize video. It won't lead to quality loss if you cut video length without re-encoding for smaller file size. Instagram can also automatically compress the video you upload to save bandwidth.
3. How do you change video quality on Instagram?
Instagram allows high quality uploads (larger file size), or Use Less Cellular Data (lower video quality). This can be done via Instagram settings.
Launch the Instagram app on your device and tap on the profile tab.
Tap on the three little dashes at the top right hand corner.
Tap on Settings. Select Account and tap on Data Usage.
Select the High Quality Uploads or Less Cellular Data on the Data Usage settings.