Required YouTube Shorts Video Length and Size Ratio
YouTube Shorts, the new type of short-form video content from YouTube, is similar to TikTok, Snapchat, and Instagram Reels. Now, over 1.5 billion YouTube users, nearly 75% of the entire user base, watch YouTube Shorts content every month. YouTube Shorts encourages users to upload video clips. As with all social media platforms, there are still limitations in place on Shorts videos. In this section, we'll go over all of the video file size and length restrictions you need to be aware of before sharing.
Part 1. YouTube Shorts Time Limits | Video Length
Maximum 60 seconds.
YouTube Shorts requires videos not to exceed the 60 seconds time limit. A 60-second YouTube Short video can be made with several 15-second clips. The video can use YouTube's library audio or other clips for up to 15 seconds. The default YouTube Shorts recording length is 15 seconds. To change 15 seconds to 60 seconds, tap on Number 15 above the recording button and select 60 seconds.
Part 2. YouTube Shorts Size Ratio|Vertical Size
Here are YouTube Shorts' basic technical video size requirements.
Aspect ratio: 9:16 (vertical format)
Resolution: 1920 pixels by 1080 pixels (standard size ratio for vertical videos)
The vertical 9:16 aspect ratio(size ratio) is the best for viewing on mobile. Such vertical size for YouTube Shorts makes it easier for users to shoot and upload videos on their mobile devices with built-in video tools.
You can make a square YouTube Shorts video that leaves the bottom of the screen empty to make viewers focus on the channel name, title, and subscribe button. However, the Square video will have a black bar at the top and bottom of the video frame. When you create a video with a 1:1 aspect ratio and dimensions of 1080 pixels by 1080 pixels, YouTube will sort it as Shorts.
Part 3. How to Make YouTube Shorts with A Right Size
You can create YouTube Shorts within the YouTube app on your smartphone. YouTube Shorts allows you to add personalized Shorts titles, thumbnails, emojis, and hashtags. Use the following steps to make YouTube Shorts. Make sure your clip meets the YouTube Shorts file size limit and size ratio requirement. If not, please refer to how to resize videos for YouTube Shorts.
Step 1. Open YouTube and sign in with your Google account.
Step 2. Tap Create icon and select Create a Short. To set the 15 seconds YouTube shorts time limit to 60 seconds, tap 15s in the upper-right corner and select 60.
Step 3. Tap the Capture icon to start recording and tap it again to finish the recording. You can tap the Undo icon to remove the previously recorded video and tap the Redo icon to get the clip back.
Step 4. Tap the Done button to preview and edit your clip. Tap NEXT and add a title, and choose settings. The title should be under 100 characters. Video privacy settings are public by default. You can set your video to public, private, or unlisted.
Step 5. Tap Select audience, "Yes, it's made for kids" or "No, it's not made for kids".
Step 6. Tap UPLOAD SHORT to publish your YouTube Short with the right size and length.
Related: How to Resize Videos for Instagram without Cropping/Watermark Part 4. How to Upload Large/Long Videos to Google Short?
Long or large video files are not good for YouTube Shorts. If you want to upload videos longer than 60 seconds to Shorts, here's the tool you need, WinX HD Video Converter Deluxe. It is an easy-to-use video compressor and converter to resize and compress videos for YouTube Shorts.
Compress 4K/HD video file size 90% off for YouTube Shorts with a good balance among size, quality, and speed.
Convert videos to YouTube Shorts supported WMV, MP4, FLV, MP3, AAC, etc.
Edit videos basiclly, such as cutting the video length to 15s or 60s, cropping the frame size, and more.
Resize clips to 9:16 vertical size ratio for YouTube Shorts in a click.
Customize video parameters like resolution, frame rate, bit rate, aspect ratio, add watermark to your clip.
Follow the below steps to convert, compress, and resize large videos for uploading to YouTube Shorts:
Step 1: Free download the video file resizer tool for YouTube Shorts on your computer and launch it. Click the "Add Video" button to import a clip for YouTube Shortse.
Step 2: Choose an output format from the popped up profile window. MP4 H.264 is recommended for YouTube Shorts. Go to the General Profiles > MP4 Video (h264+aac), and click the OK button.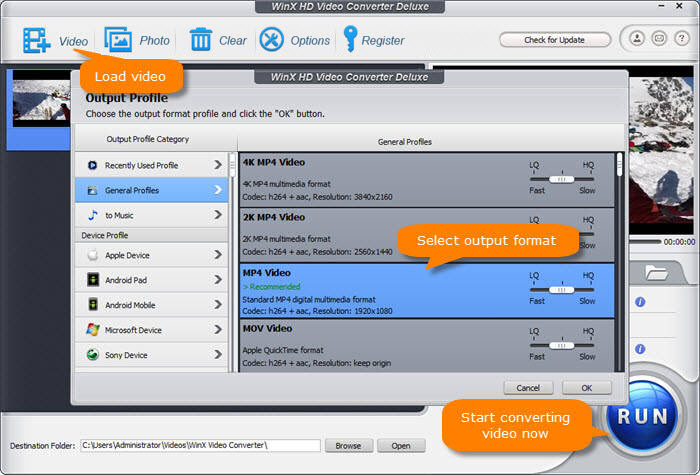 Step 3: Click on the "Settings" button to get more video settings. You can change video resolution to YouTube Shorts size 1920x1080p , frame rate, bit rate, aspect ratio 9:16 vertical (the best YouTube Shorts size ratio). Then click the "OK" to save the settings.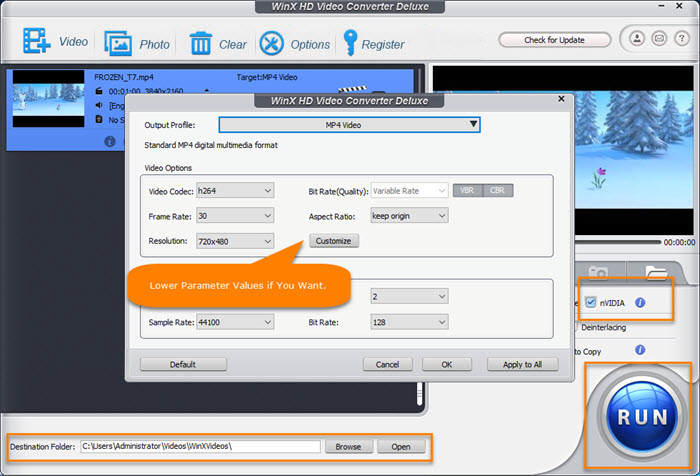 Step 4: Click the "Edit" button to cut the video length to meet YouTube Shorts video length requirements (15 seconds or 60 seconds) or crop the video to remove the black bars if you need.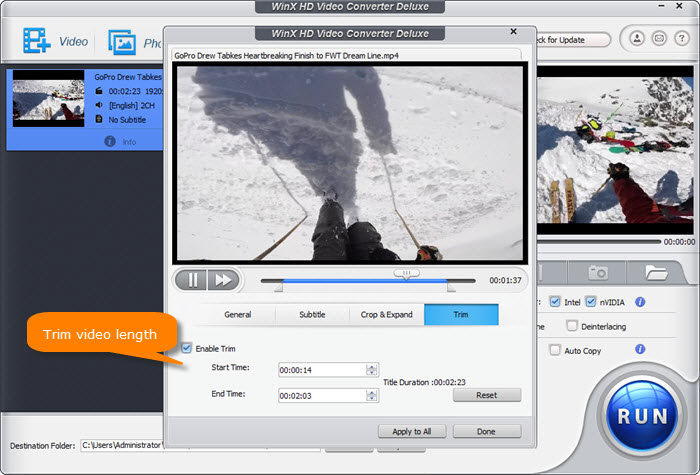 Step 5: Tap the "RUN" button to start making large/long videos for YouTube Shorts. Then go back to YouTube app, log in with your account, and follow the guide above(part 3) to upload your long videos to YouTube Shorts.