Does Google Drive Compress Video/Reduce Video Quality?
I uploaded the videos to Google Drive but the player only lets me play them at 360p. Is there any way to get it to play at the full 1080p I put them in, or have they been compressed permanently? – from Reddit user.
When previewing videos you uploaded to Google Drive, often the case you will see video playback is low-quality and blurry. Then, you may ask: "Does Google Drive compress video or reduce video size?" Certainly, Google Drive does not reduce the video quality. It just provides different resolutions like 360p, 720p, 1080p, etc. for your video and then you can preview it smoothly and speedily without costing much bandwidth. To get more details, you can go on reading.
Compress Video for Google Drive | 4K to 1080p/720p, GB to MBs
HD Video Converter Deluxe is a 4K video converter and compressor that can convert the high-resolution and large-sized videos to Google Drive best formats.
Convert 4K to 1080p/720p/360p for uploading to Google Drive.
Compress 4K/2K/HD video from 1GB to 10MB with high quality.
No file size limit. Compress 1GB, 2GB, 4GB, 1TB, and larger.
Convert videos to Google Drive supported formats.
Table of Contents
Part 1. Why Does Google Drive Seem to Compress Video?
Google Drive maximum playback size is 300MB. By default, video resolution like 4K higher than 1080p will be resized to 1080p, and a video with 1080p or less will look close to the original. But when you download the file to your computer to play offline, the video resolution keeps the same as the original. Why does Google Drive seem to reduce video quality when previewing in the Dirve? Simply, Google Drive is saving bandwidth for you, the video recipients and itself. For you and the video recipients, there will be a seamless and low-bandwidth video playing experience. For Google, the video compression will help Google spend less bandwidth to data transfer so as to reduce pressure on the server.
Commonly, there are several transcoded versions of your video in Google Drive for your convenience. When you use the YouTube-like viewer to play the video, there are list of video resolutions like 360p, 720p, 1080p, etc. for you to choose for playback. However, there is a case that you need to notice. When you upload 1080p video to Google Drive, there may be only a 360p choice, as Google Drive is still processing your video that probably more options are available in the following days.
So, it seems that the video quality has been reduced, the fact is that you are playing the same video file without compression.
Part 2. How to Compress Videos to Bypass Google Drive 15 GB of Free Storage?
Based on the fact that Google Drive preview only accepts video resolution up to 1080p and playback size up to 300MB, you are highly suggested to upload a 300MB 1080p video or lower to Google Drive if you or the video recipients want to preview the original video file on any devices with the best quality and without Google Drive video compression problem.
What's more, large file size costs much cloud space and you have to pay more for more storages. So, a budget-friendly plan is to convert large videos especially convert 4K to 1080p before uploading so as to reduce the file size to bypass Google Drive 15 GB of free storage and also keep the high definition video quality as much as possible.
Here we will introduce HD Video Converter Deluxe to help reduce file size so that you can upload videos to Google Drive as many as possible with the limited cloud space. Born to be a 4K video converter, it helps downscale 8K/5K/4K to 1080p/720p with lower bitrates without obvious quality loss and also convert video to Google Drive supported formats. For example, convert HEVC, VP9, AV1, etc. to MP4, WMV, AVI, FLV, etc.
Step 1. Free download HD Video Converter Deluxe, install and launch it on your computer.
Step 2. Click "+ Video" button on the main UI to add your large 4K video file, and choose a output video format when the "Output Profile" pops up and then click "OK". Note, Google Drive only supports WMV, MTS, OGG, MP4, 3GPP, MOV, AVI, FLV, WebM and MPEGPS files.
Step 3. Click on the "Settings" button and customize the video resolution and bit rate, then click "OK".
Step 4. Now, choose a destination folder to save your converted file by clicking on the "Browse" button.
Step 5. Hit "RUN" to start converting video for Google Drive.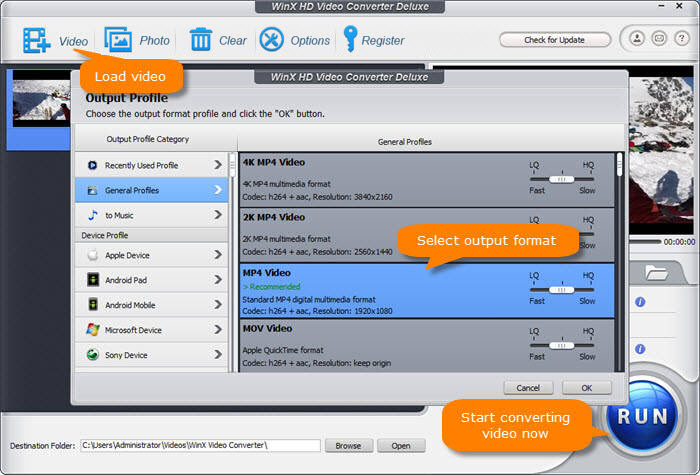 Part 3. Google Drive Compress Video FAQs
1. Does Google Drive compress media?
No. Google Drive actually does not compress your video. When you upload a video to Google Drive, Google Drive only process it into different versions with different resolution. For example, you will see 360p, 720p or 1080p from 4K video, which may mislead you into thinking that the video is compressed. But when you download the video from Google Drive, it is still a 4K video.
2. Does Google Drive compress 4K video?
No. But you can choose to convert 4K to 1080p for uploading to Google Drive as 4K videos need much more bandwidth and storage space.
3. Why does Google Drive reduce video quality?
When you preview a video in Google Drive, the video may look poor in image quality compared to the original one you uploaded. That's because Google Drive has processed your video into a version with lower resolution for smoother playback on any devices including mobile devices and desktop computer.
4. How do I reduce the size of a video in Google Drive?
Google Drive won't reduce the file size of your video, but you can use it to compress video in a zip file.
In Google Drive, select the files/folders you would like to include in your compress file.
Once your files/folders are selected. Right click and click Download.
You can see the progess on the bottom right side of your browser. After it's done, a compressed .zip file will be downloaded to your computer.
When you unzip the file, the video is still the original one with no quality loss.