How to Convert/Compress 4K to 1080p at Highest Quality
We've been familiar with 1080p resolution for quite a lot of years. While everything is evolving, including the image video quality, which has a leap forward from 1080p to 4K, and even 8K or higher resolution. The problem is that sometimes you figured out that you are unable to play 4K video on a certain device or computer. Given that, many people hope to convert 4K to 1080p, not only for a wider compatibility, but also saving up much of disk space.
Best 4K Video Converter to Downscale 4K to 1080p without Losing Quality
WinX HD Video Converter Deluxe - a feature-packed 4K to 1080p converter with file size and quality well-balanced!
Downscale 4K to 1080p to make video smaller bu up to 60% size off. Any video format is supported, be it MP4, MKV, H.264, HEVC...
Still too large? Edit and adjust 4K video: Cut, crop, merge video clips; lower bit rate, frame rate 120/60FPS to 30FPS...
Highest quality guaranteed after 4K to 1080p conversion that the naked eyes can't tell the difference.
3 steps to make all done: Load 4K source video > choose output format of 1080p > tap the RUN button to start convert 4K video to 1080p.
Part 1. 4K vs 1080p - Which Is Better?
Before everything, you need have a certain understanding of 4K and 1080p resolution and know which is better on different scenarios.
The term 4K stands for videos in such premium quality, which is a resolution processing over 4,000 pixels in the horizontal direction. In television and consumer media, 3840 × 2160 (4K UHD) is the dominant 4K standard, whereas the movie projection industry uses 4096 × 2160 (DCI 4K).
1080p, also know as Full HD or FHD is a set of HDTV high-definition video modes characterized by 1,920 pixels displayed across the screen horizontally and 1,080 pixels down the screen vertically.
As for which is better, it depends. 4K absolutely provides better image video quality than 1080p on big screens. Whereas in small screens like mobile or handheld device, you can hardly distinguish the difference of 4K and 1080p. Conversly, 4K takes up larger space on your hard disk. It puts a higher demand on the graphics card, giving rise to laggy or stuttering playback issue on elder computers or laptops. In this regard, it's deemed as indispensible to download a trustworthy 4k video converters.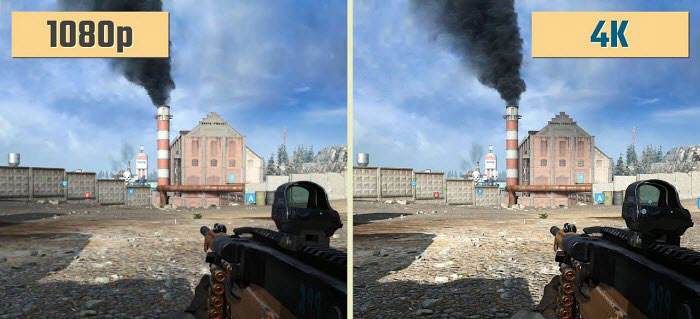 Part 2. Top 7 4K to 1080p Converter to Downscale 4K Videos to 1080p
#1. WinX HD Video Converter Deluxe
With WinX HD Video Converter Deluxe, you can convert 4K to 1080p, 720p, 480p, and more other resolution easily with high quality reserved. Also, this software lets you convert 4K videos to any formats like MP4, MOV, AVI, MKV, HEVC, H.264, VP9 etc. Moreover, 4K video processing is a compute-intensive task, easily causing CPU overload, app crash issue. WinX' Intel/Nvidia/AMD GPU hardware acceleration is the cure to this problem, offloading 4K compression task from CPU to expert GPU to fix laptop lagging, CPU overuse issues.
Now let's dive in and find out how to convert 4K to 1080p.
Free download

WinX HD Video Converter Deluxe - top-notch 4K to 1080p downscaler on your Windows (10) PC. If you are running macOS, the Mac version

is also avaliable.
Step 1. Add a 4K video.
Run the video compression software. Directly drag or click "+Video" button to import the 4K video. Bulk compression is available, as well. Do this task on a slightly higher configured computer with Intel QSV, Nvidia NVENC or AMD GPU hardware acceleration supported, for this will guarantee you a smooth yet 5X faster 4K to 1080p compressing speed.
Step 2. Set the output format and 1080p resolution.
Here you could choose to downscale 4K video to 1080p HD in the universal MP4 video format and select "1920 x 1080" resolution from the video audio parameters setting window by clicking gear-shaped Setting icon. (MP4 video is widely used for flawless playback on nearly all media players and devices, uploading on social sites like YouTube, Facebook, Twitter, etc, sending via emails, etc. Except MP4, you can make 4K video smaller by converting format to AVI, FLV, WMV format and more.)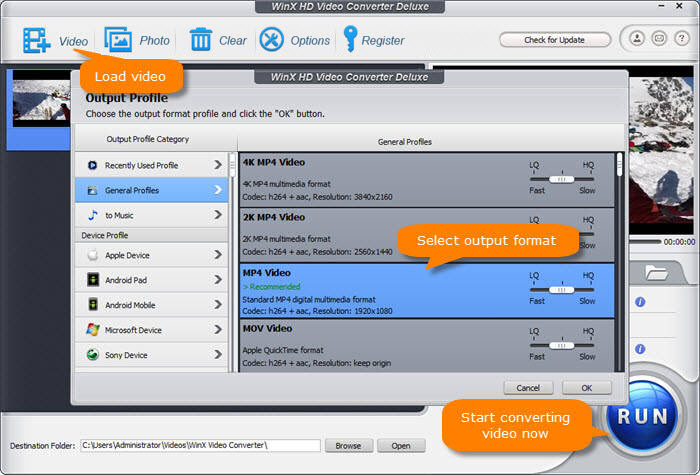 Optional:
1. Bit rate and frame rate also count a lot on account of video size, esp. for hi-def 4K resolution. If needed, you're at full disposal to lower frame rate from 120FPS to 60FPS, 60FPS to 30FPS or tweak bit rate from CBR to VBR.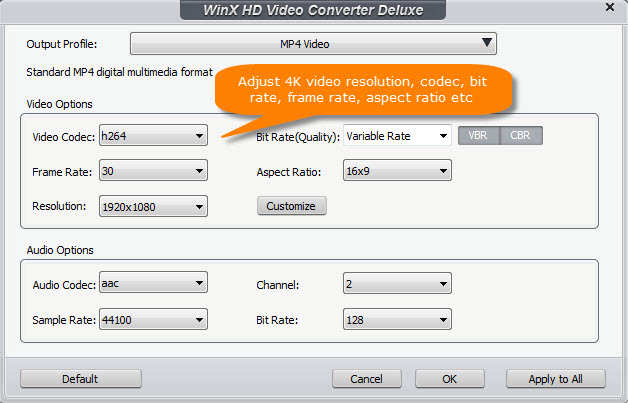 2. To get rid of unnecessary clips from 4K video, tap "Edit" and enable Trim feature to shorten your 4K video length. This conduct not only enables you to whopping downsize 4K video, but also leave you more room for video customization.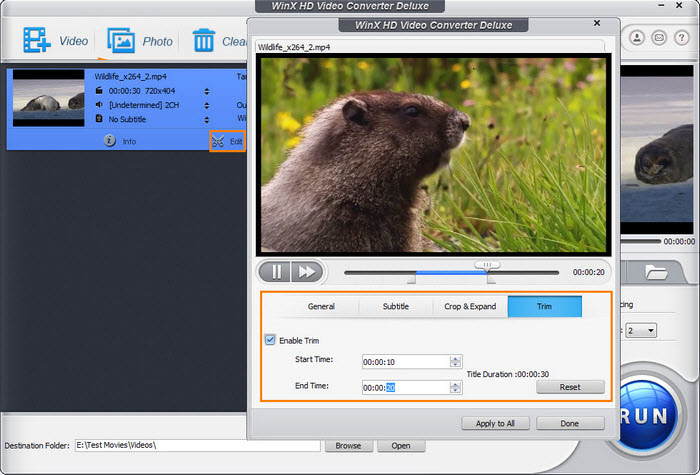 Step 3. Click "Run" to start compress and convert 4K to 1080p.
Set an output destination folder by clicking "Browse" button. When all things done, right click "RUN" button to start to compress and convert 4K Ultra HD to 1080p video. The whole process only costs you few minutes.
Related: 5 ways to change video resolution effectively
Tip: video size reduction comes at the cost of quality loss? Yes, it would be. But different software brings different resulting quality. Luckily, WinX HD Video Converter Deluxe, engined by constantly optimized compression kernel, alongside with powerful High Quality Engine, can bring you a resulting 4K output file with visually no quality loss. You can give it a whirl and test it on your own to reach conclusion!
Video Tutorial: How to Downscale 4K to 1080p HD using WinX HD Video Converter Deluxe
#2. HandBrake
Honestly speaking, Handbrake is much of muchness to WinX in video compression means. For instance, what handbrake adopts for 4K video compression also concludes deduction of resolution, frame rate, bit rate and video codec conversion. What omissions Handbrake has are trimming, High quality engine and inferior GPU acceleration (only Intel QSV decoding supported for Windows version).
The shinning part of Handbrake is for novices who know little about video parameter settings adjustment. Handbrake offers you an expansive library of pre-programmed profiles with speed, resolution and frame rate tagged. You just select what you need, no manual adjustment.
How to Downscale 4K to 1080p using Handbrake
Open up HandBrake on your computer. Click the File button to load your source 4K video.
Drop down the list of Preset to choose an output format in 1080p, for example, Fast 1080p30.
Or you can click the Dimensions tab and then manually set the width to 1920px and height to 1080px.
When you're done, click on the Start Encode button to start converting to 1080p.
Learn more details on how to convert 4k to 1080p with HandBrake >>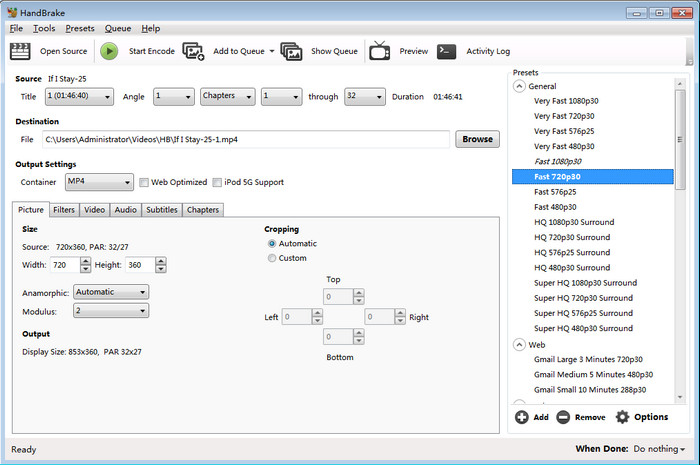 #3. Premiere Pro
Adobe Premiere Pro is another choice to downscale any UHD 4K footage to 1080P resolution suitable for playable on most of the devices. Even better, it's available of kinds of video editing options that let you tweak 4K video in any format, camera, platform, in addition to native file support and lightweight proxy workflows. Most importantly, break the "it's complicated" stereotype in your head. It can be really easy with the following steps.
How to Convert Video Resolution from 4K to 1080p with Premiere Pro
Launch Premiere Pro, create a project and click on the "Import media to start" panel to import your 4K video.
Simply drag and drop the imported video file into the "Drag media here to create sequence" panel to create a sequence.
Adjust the sequence setting to apply the downscale parameters. In the pop-up window, input 1920 and 1080 as the horizontal and vertical "Frame Sizes" respectively. And enable the "Maximum Bit Depth" and "Maximum Render Quality" for the best output results and click "OK" to apply the changes.
From the "File" menu, select the "Export" option and from the side-kick menu, choose "Media…" to export the downscaled video.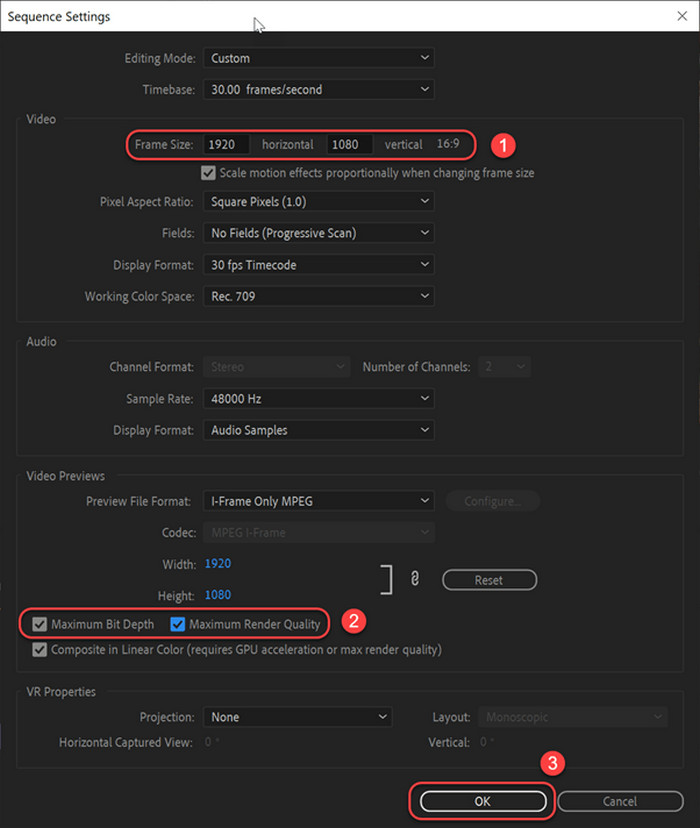 #4. VLC Media Player
You know what, besides playing media files, VLC is also available to convert videos, not only the video format transcoding, but also 4K to 1080p changing. Better yet, it is free, open-source and works on all the popular platforms (Windows, MacOS, Linux, iOS, Unix, Android). There are no limitations whatsoever and your downscaled video will not have any intrusive watermark.
Tutorial for Downscaling 4K to 1080p with VLC Media Player:
Open up VLC Media Player on your computer. Click Media menu and select the Convert/Save... option.
Click on the File tab, then hit the Add... button to import the source 4K video you want to downscale. Click on the Convert/Save button at the bottom.
Expand the drop-down list of the Profile option. Choose your preferred output frormat.
Click on the wrench-shaped settings button next to the profile you selected to open the Profile edition dialog. Head over to the Video codec tab, then Resolution. Type in 1920 as the width and 1080 as the height. Hit the Save button once done.
Choose your preferred destination and filename for the downscaled video and then hit the Start button to commence the downscale task.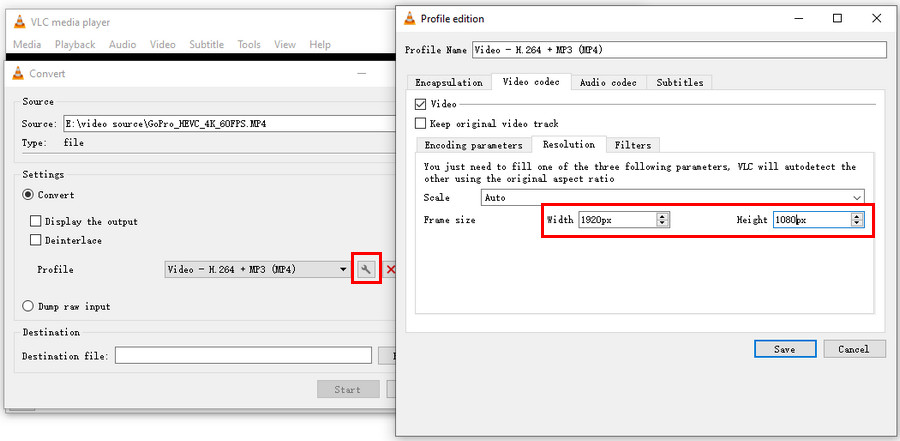 #5. FreeConvert
Of course, you can also take advantage of online video compressor to convert 4K to 1080p such as FreeConvert. It never requires you to install any third-party software or plugins. But the problem is that it depends more on network bandwidth. And 4K video file size is usually huge, which requires you to log in and even buy an advanced account for more space. FreeConvert maximumly allows 1GB video for uploading.
Easy Steps for Reducing 4K Resolution to 1080p
Click "Choose Files" button to upload your 4K video online.
Click the gear-shaped Setting button to enter a window for parameters adjustment.
Choose "Target a video resolution" in Compression Method, "By Width & Height" in Change Resolution, and type in your specific resolution (1920 × 1080) to customize your video resolution. Then hit "Apply Settings" to save the changes.
Tap "Compress Now!" to start shrink 4K video to 1080p.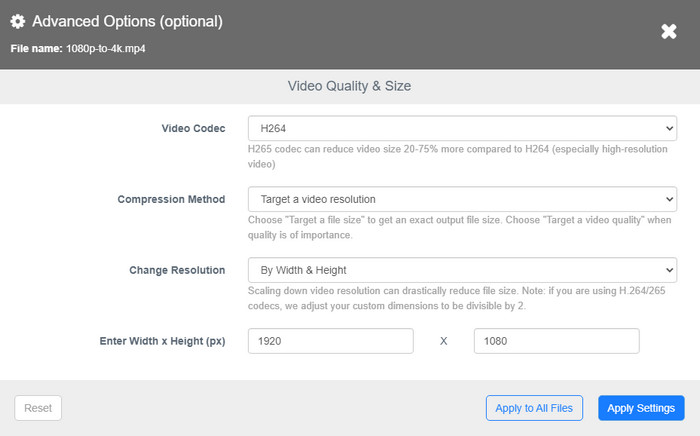 #6. HDConvert
HDConvert is another online video converter that's available to convert video format from one to another, and compress video to Full HD and 4K quality with an incredible conversion speed up to 60 times faster. Better yet, there is no file size limit, software, or plug-ins needed for installation. Moreover, as a fully cloud-based online video converter, it firstly upload files to the cloud servers and then converted at high speed in the cloud without allocating resources on the client's side.
HD Convert has two main options: FREE and PREMIUM. With the premium option ($4.99/mo), you can convert videos without a watermark and save these in higher-quality. Quality includes 2k, 4k, ultra HD quality, and an audio bitrate of up to 40 MB/s.
Learn How to Compress 4K to 1080p Online with HDConvert
Navigate to HDConvert official page. Then import new or select recently uploaded files.
Select an output format. MP4 is always recommended among MOV, AVI, MKV, FLV and 3GP.
Select output quality. Here you can directly select Full HD 1080p for downscaling 4K to 1080p or customize the output quality as you need.
Optionally, make advanced video settings, such as change video codec, adjust video and audio bitrate, remove audio track.
Convert for free or with Premium.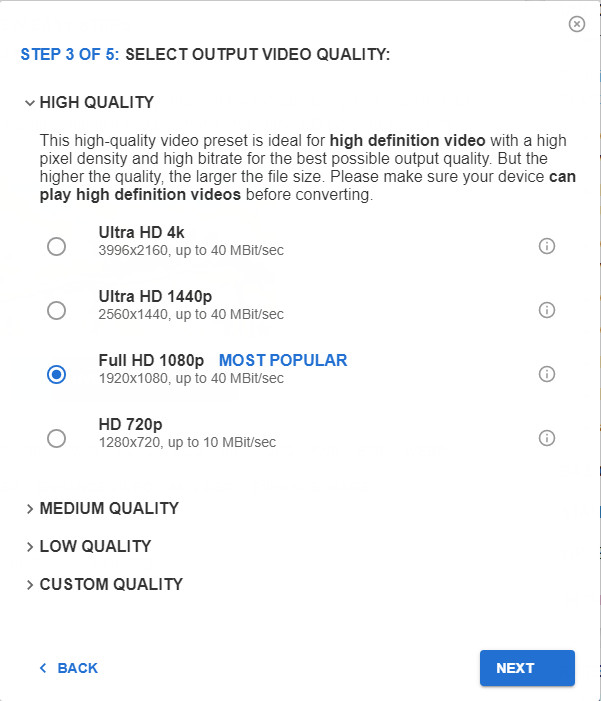 #7. Apowersoft Free Online Video Converter
As a web-based video converter application, Apowersoft Free Online Video Converter supports 4K videos and it will not cost much of your network traffic flo. But you need to download and install Launcher for the first time before converting. It's absolutely safe and small, which only takes little space on you disk.
Check How to Convert 4K to 1080p Online with Apowersoft
Go to the site of Apowersoft Free Video Converter.
Press the "Select files to start" button and then browse the local 4K video.
Press the button of "Settings" and then drop down the menu of "Resolution".
Choose the option of "1080P 1920*1080 (16:9)" and then click "OK" to confirm changes.
Return to the main interface and then hit the "Convert" button and select a local directory for placing the converted files.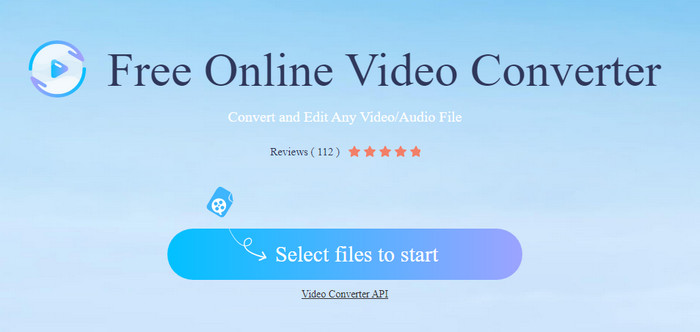 Part 3. What You Can Benefit from 4K to 1080p Conversion?
Once the 4K to 1080p conversion is finished through the above 4k video converters, you can get a lot of benefits that 4K doesn't have, from the devices compatibility to software compatibility, transmission speed to space usage.
1. Different from 4K video file incompatible with most media players and mobile devices, the converted 1080p HD works fine and can be widely played on VLC, Windows Media Player, iPhone, iPad, Samsung, etc. Besides, 1080p video is also able to be decoded or played based on hardware acceleration without crashing issues.
2. In the editing software, 1080p video will be less likely to encounter problems that can not be imported or exported.
3. 1080p enjoys faster speed for uploading videos to video sharing sites like YouTube, Facebook, etc. (esp. on phones) compared with 4K.
4. 1080p occupies less space on mobile, hard drive, and iCloud etc, making it possible to be sent by email or instant message.
Part 4. FAQs
1. How do I change 4K to 720p?
It's the same with 4K to 1080p downscaling. With any of the above software, choosing 720p when adjusting the video quality, you can convert 4k to 720p easily.
2. Can you improve the video quality?
Yes, you can improve your low quality video to high quality by adjusting a few settings, such as 1080p resolution to 4K, upscale the video bitrate, frame rate etc. with the above mentioned video converters. By the way, some of video converters like WinX HD Video Converter Deluxe are built with high quality engine to enhance the video quality further.
Last but not least, you're warmly welcomed to share with us about your effective yet simple solution to compress 4K to 1080p. Contact us via Email

or official Facebook, YouTube, Twitter account. We'd like to hear from you!