How to Convert/Compress 4K to 1080p at Highest Quality
As technology advances, we're experiencing a remarkable shift in video quality, with 4k now available. Yet this progress brings forth a set of dilemmas that cannot be ignored, urging indivisuals to consider converting 4K to 1080p. Here are the practical challenges that 4K presents.
For example, the sheer size and quality of 4K videos demand substantial computing power, resulting in slow performance and frustrating lag when elder devices and software struggle to handle 4K. Furthermore, 4K videos are space hogs, making it imperative to invest in capacious hard drive or cloud service unless you downsizing 4K content to a smaller 1080p file. In addition, since 4k displays are not yet ubiquitous, the true 4K viewing experience may not always be attainable.
In response to the challenges, many individuals are opting for a 4K to 1080p converter designed to downscale 4k to a more compatible and compact 1080p file.
Top 7 Best 4K to 1080p Video Converters

Tools

Best for

Rating

Best overall. Converting 4K to 1080p without losing quality.

Windowsreport:

4.8

Two-in-one free 4k video player and converter.

CNET:

4.2

Open-source 4k to 1080p transcoding.

G2:

4.1

Editing 4k video content after downscaling.

Capterra:

4.7

Online 4k to 1080p video file conversion.

Trustpilot:

4.5

Easy 4k 2160p converting without downloading third-party software.

Trustpilot:

2.3

Speedy video conversion from 4k to 1080p.

64
Part 1. Top 7 Best 4K to 1080p Converters
Numerous solutions are available for those seeking to convert 4K to 1080p or other formats like 720p, making their videos compatible with HD TVs, more PCs, and mobiles. Below, we've highlighted some of the top-rated 4K to 1080p converter tools. Scroll down.
#1. WinX HD Video Converter Deluxe
WinX HD Video Converter Deluxe is a reliable choice for anyone seeking efficient 4K to 1080p converter. It excels in simplifying the conversion from 4K to 1080p, 720p, and 480p, all while maintaining exceptional video quality. This software goes beyond video resolution conversion, offering an array of formats such as MP4, MOV, AVI, MKV, HEVC, H.264, VP9, and more, ensuring better compatibility with a wide range of devices and platforms.
What sets WinX apart is its intelligent use of Intel, Nvidia, and AMD GPU hardware acceleration, which efficiently offloads the demanding task of 4K video processing from your CPU, thus elemating the risk of application crashes and ultimately delivering a seamless experience, even on laptops, where CPU resources are typically constrained. Whether you're downsizing 4K videos or exploring different formats, this software suits your needs.
WinX HD Video Converter Deluxe - a feature-packed 4K to 1080p converter with file size and quality well-balanced!
Downscale 4K to 1080p by up to 90% size off. Any video format is supported, be it MP4, MKV, H.264, or HEVC.
Edit, cut, crop, merge 4K video clip; lower bit rate, or frame rate from 4K 120/60FPS to 1080p 30FPS.
Highest quality guaranteed after 4K to 1080p conversion.
3 steps only: Load 4K source video > choose 1080p video resolution > tap the RUN button.
Now let's dive in and find out how to convert 4K to 1080p.
Free download

the top-notch 4K to 1080p downscaler on your Windows (10/11) PC. If you are running macOS, the Mac version

is also avaliable.
Step 1. Add a 4K video.
Run the video compression software. Directly drag or click "+Video" button to import the 4K video. Bulk compression is available, as well. Do this task on a slightly higher configured computer with Intel QSV, Nvidia NVENC or AMD GPU hardware acceleration supported, for this will guarantee you a smooth yet 5X faster 4K to 1080p compressing speed.
Step 2. Set the output format and 1080p resolution.
Here you could choose to downscale 4K video to 1080p HD in the universal MP4 video format and select "1920 x 1080" resolution from the video audio parameters setting window by clicking gear-shaped Setting icon. (MP4 video is widely used for flawless playback on nearly all media players and devices, uploading on social sites like YouTube, Facebook, Twitter, etc, sending via emails, etc. Except MP4, you can make 4K video smaller by converting format to AVI, FLV, WMV format and more.)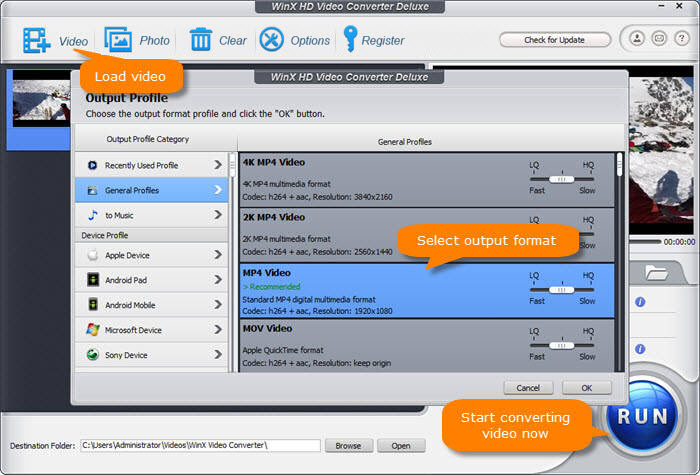 Optional:
1. Bit rate and frame rate also count a lot on account of video size, esp. for hi-def 4K resolution. If needed, you're at full disposal to lower frame rate from 120FPS to 60FPS, 60FPS to 30FPS or tweak bit rate from CBR to VBR.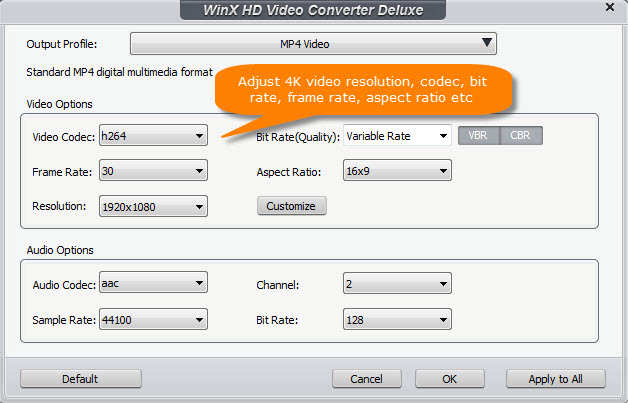 2. To get rid of unnecessary clips from 4K video, tap "Edit" and enable Trim feature to shorten your 4K video length. This conduct not only enables you to whopping downsize 4K video, but also leave you more room for video customization.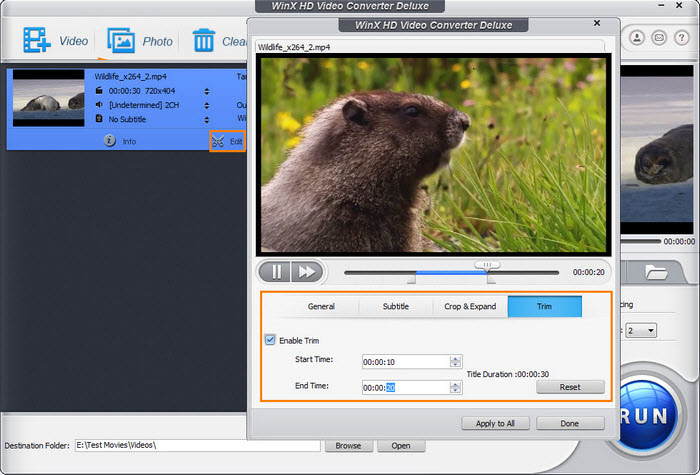 Step 3. Click "Run" to start compress and convert 4K to 1080p.
Set an output destination folder by clicking "Browse" button. When all things done, right click "RUN" button to start to compress and convert 4K Ultra HD to 1080p video. The whole process only costs you few minutes.
Related: 5 ways to change video resolution effectively
Tip: video size reduction comes at the cost of quality loss? Yes, it would be. But different software brings different resulting quality. Luckily, WinX HD Video Converter Deluxe, engined by constantly optimized compression kernel, alongside with powerful High Quality Engine, can bring you a resulting 4K output file with visually no quality loss. You can give it a whirl and test it on your own to reach conclusion!
Video Tutorial: How to Downscale 4K to 1080p HD using WinX HD Video Converter Deluxe
#2. VLC Media Player
VLC, a renowned media player, extends its capabilities beyond just playing media files to include video conversion, encompassing tasks such as format transcoding and the downsizing of 4K to 1080p content. Remarkably, VLC offers this functionality completely free of charge and boasts compatibility across a wide spectrum of popular platforms, including Windows, MacOS, Linux, iOS, and Android.The conversion process doesn't impose any limitations on users, ensuring that your downscaled video remains unmarred by intrusive watermarks.
However, when it comes to converting 4K to 1080p, VLC does come with a few caveats. Firstly, the conversion speed for 4K content can be relatively slow compared to professional video conversion software. This might prove somewhat cumbersome for users looking to swiftly process a large volume of high-resolution 4K videos. Additionally, VLC offers fewer customization options for users who require precise control over their output parameters. Despite these drawbacks, VLC remains a versatile and accessible choice for basic video conversion needs, especially for those who prioritize its strengths in media playback and wide platform compatibility.
Tutorial for Downscaling 4K to 1080p with VLC Media Player:
Open up VLC Media Player on your computer. Click Media menu and select the Convert/Save... option.
Click on the File tab, then hit the Add... button to import the source 4K video you want to downscale. Click on the Convert/Save button at the bottom.
Expand the drop-down list of the Profile option. Choose your preferred output frormat.
Click on the wrench-shaped settings button next to the profile you selected to open the Profile edition dialog. Head over to the Video codec tab, then Resolution. Type in 1920 as the width and 1080 as the height. Hit the Save button once done.
Choose your preferred destination and filename for the downscaled video and then hit the Start button to commence the downscale task.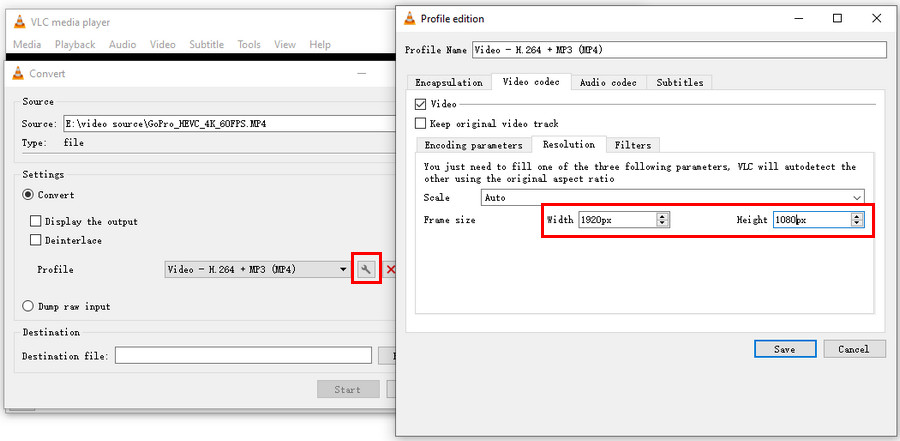 #3. HandBrake
Handbrake is a popular and robust video transcoder that excels in converting high-resolution 4k videos into crisp1080p without compromising on quality. It supports a wide range of input formats such as DVD, VOB, MP4, MKV, WMV, AVI, etc, making it versatile for various multimedia needs.
One of Handbrake's standout features is its strong customizable settings. Users have the flexibility to fine-tune their video conversions to meet their exact needs. Its wealth of advanced options ensures that you can tailor the output to your specific requirements, whether it's adjusting bitrates, frame rates, or applying filters. This level of control is especially valuable for professionals who require precise adjustments for their 4K content.
However, Handbrake may pose some challenges for beginners due to its somewhat complicated interface. While it offers powerful features, newcomers might find it overwhelming initially. Additionally, in our test of converting 4K to 1080p, Handbrake's speed can be relatively slow, especially on less powerful hardware. This aspect may be a drawback for users who prioritize quick conversions. Nonetheless, for those willing to invest the time in mastering its capabilities, Handbrake remains a solid choice for high-quality 4K to 1080p video conversions.
How to Downscale 4K to 1080p using Handbrake
Open up HandBrake on your computer. Click the File button to load your source 4K video.
Drop down the list of Preset to choose an output format in 1080p, for example, Fast 1080p30.
Or you can click the Dimensions tab and then manually set the width to 1920px and height to 1080px.
When you're done, click on the Start Encode button to start converting to 1080p.
Learn more details on how to convert 4k to 1080p with HandBrake >>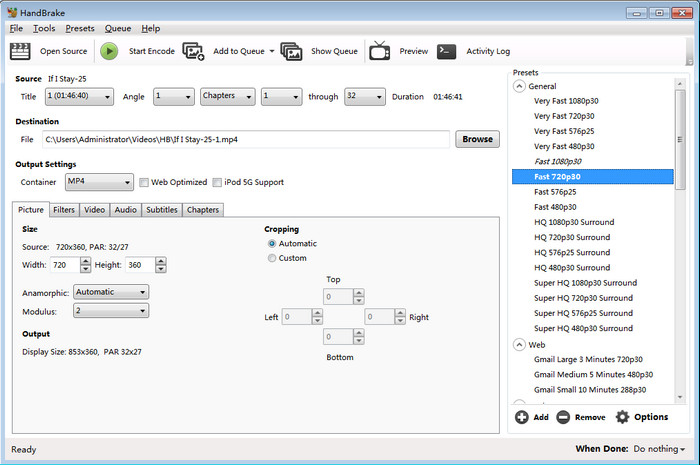 #4. Premiere Pro
Adobe Premiere Pro is another choice to downscale any UHD 4K footage to 1080P resolution suitable for playable on most of the devices. Even better, it's available of kinds of video editing options that let you fine-tune your 4K video in any format, camera, platform, in addition to native file support and lightweight proxy workflows. Most importantly, break the "it's complicated" stereotype in your head. It can be really easy with the following steps.
How to Convert Video Resolution from 4K to 1080p with Premiere Pro
Launch Premiere Pro, create a project and click on the "Import media to start" panel to import your 4K video.
Simply drag and drop the imported video file into the "Drag media here to create sequence" panel to create a sequence.
Adjust the sequence setting to apply the downscale parameters. In the pop-up window, input 1920 and 1080 as the horizontal and vertical "Frame Sizes" respectively. And enable the "Maximum Bit Depth" and "Maximum Render Quality" for the best output results and click "OK" to apply the changes.
From the "File" menu, select the "Export" option and from the side-kick menu, choose "Media…" to export the downscaled video.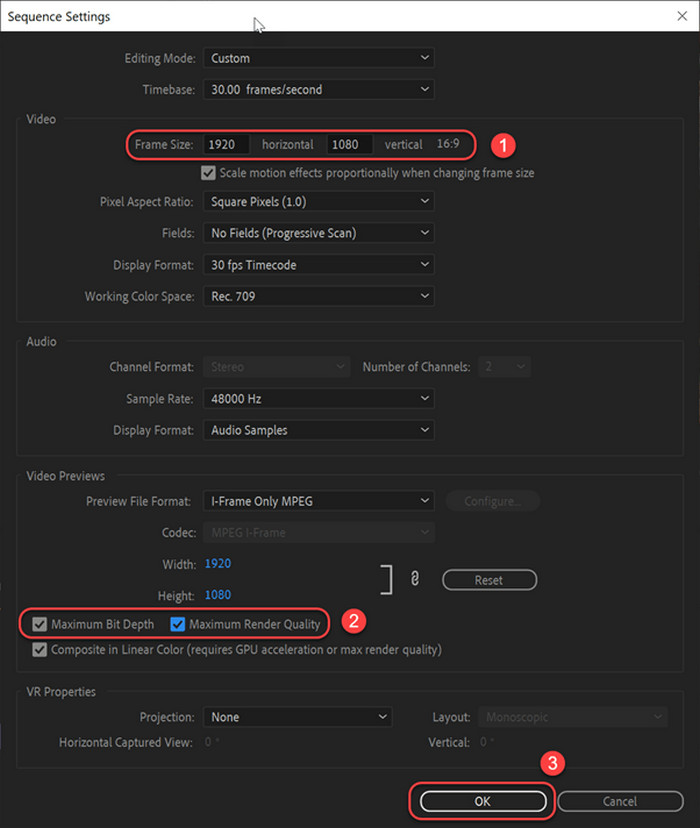 #5. FreeConvert
Of course, you can also take advantage of online video compressor to convert 4K to 1080p such as FreeConvert. It never requires you to install any third-party software or plugins. But the problem is that it depends more on network bandwidth. And 4K video file size is usually huge, which requires you to log in and even buy an advanced account for more space. FreeConvert maximumly allows 1GB video for uploading.
Easy Steps for Reducing 4K Resolution to 1080p
Click "Choose Files" button to upload your 4K video online.
Click the gear-shaped Setting button to enter a window for parameters adjustment.
Choose "Target a video resolution" in Compression Method, "By Width & Height" in Change Resolution, and type in your specific resolution (1920 × 1080) to customize your video resolution. Then hit "Apply Settings" to save the changes.
Tap "Compress Now!" to start shrink 4K video to 1080p.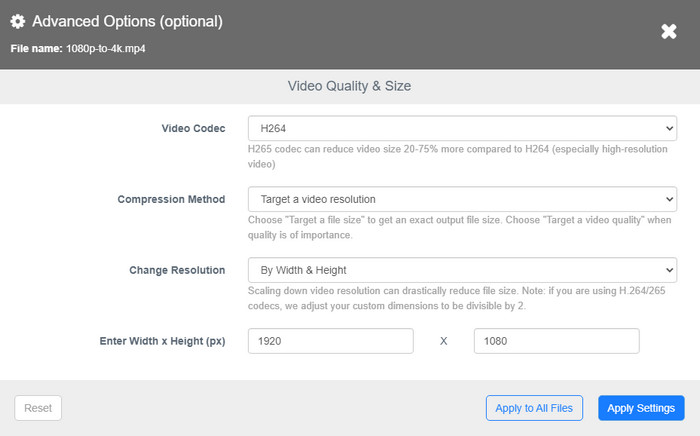 #6. HDConvert
HDConvert is another online video converter that's available to convert video format from one to another, and compress video to Full HD and 4K quality with an incredible conversion speed up to 60 times faster. Better yet, there is no file size limit, software, or plug-ins needed for installation. Moreover, as a fully cloud-based online video converter, it firstly upload files to the cloud servers and then converted at high speed in the cloud without allocating resources on the client's side.
HD Convert has two main options: FREE and PREMIUM. With the premium option ($4.99/mo), you can convert videos without a watermark and save these in higher-quality. Quality includes 2k, 4k, ultra HD quality, and an audio bitrate of up to 40 MB/s.
Learn How to Compress 4K to 1080p Online with HDConvert
Navigate to HDConvert official page. Then import new or select recently uploaded files.
Select an output format. MP4 is always recommended among MOV, AVI, MKV, FLV and 3GP.
Select output quality. Here you can directly select Full HD 1080p for downscaling 4K to 1080p or customize the output quality as you need.
Optionally, make advanced video settings, such as change video codec, adjust video and audio bitrate, remove audio track.
Convert for free or with Premium.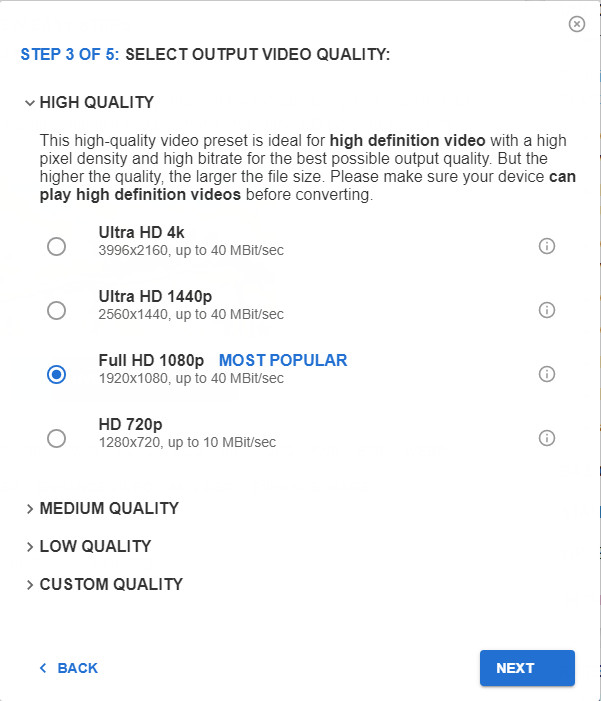 #7. Apowersoft Free Online Video Converter
As a web-based video converter application, Apowersoft Free Online Video Converter supports 4K videos and it will not cost much of your network traffic flo. But you need to download and install Launcher for the first time before converting. It's absolutely safe and small, which only takes little space on you disk.
Check How to Convert 4K to 1080p Online with Apowersoft
Go to the site of Apowersoft Free Video Converter.
Press the "Select files to start" button and then browse the local 4K video.
Press the button of "Settings" and then drop down the menu of "Resolution".
Choose the option of "1080P 1920*1080 (16:9)" and then click "OK" to confirm changes.
Return to the main interface and then hit the "Convert" button and select a local directory for placing the converted files.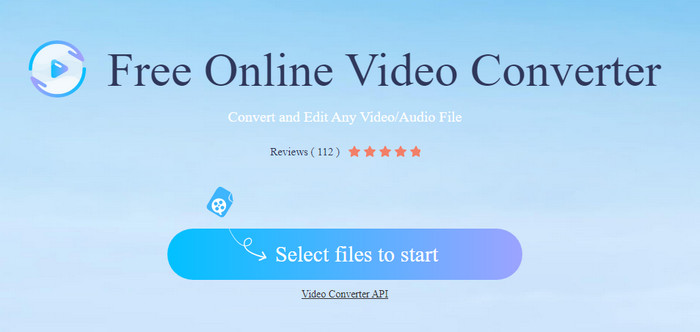 Part 2. FAQs about 4k to 1080p Conversion
1. 4K vs 1080p - Which Is Better?
4K stands for videos in such premium quality, which is a resolution processing over 4,000 pixels in the horizontal direction. In television and consumer media, 3840 × 2160 (4K UHD) is the dominant 4K standard, whereas the movie projection industry uses 4096 × 2160 (DCI 4K).
1080p, also know as Full HD or FHD is a set of HDTV high-definition video modes characterized by 1,920 pixels displayed across the screen horizontally and 1,080 pixels down the screen vertically.
As for which is better, it depends. 4K absolutely provides better image video quality than 1080p on big screens. Whereas in small screens like mobile or handheld device, you can hardly distinguish the difference of 4K and 1080p. Conversly, 4K takes up larger space on your hard disk. It puts a higher demand on the graphics card, giving rise to laggy or stuttering playback issue on elder computers or laptops. In this regard, it's deemed as indispensible to download a trustworthy 4k video converters.
2. What You Can Benefit from 4K to 1080p Conversion?
Once converting the 4K to 1080p, you can get a lot of benefits that 4K doesn't have, from the devices compatibility to software compatibility, transmission speed to space usage.
Better compatibility: Different from 4K video file incompatible with most media players and mobile devices, the converted 1080p HD works fine and can be widely played on VLC, Windows Media Player, iPhone, iPad, Samsung, etc. Besides, 1080p video is also able to be decoded or played based on hardware acceleration without crashing issues.
Smoother post-processing: In the editing software, 1080p video will be less likely to encounter problems that can not be imported or exported.
Save bandwidth 1080p enjoys faster speed for uploading videos to video sharing sites like YouTube, Facebook, etc. (esp. on phones) compared with 4K.
Save space: 1080p occupies less space on mobile, hard drive, and iCloud etc, making it possible to be sent by email or instant message.
3. How do I change 4K to 720p?
It's the same with 4K to 1080p downscaling. With any of the above software, choosing 720p when adjusting the video quality, you can convert 4k to 720p easily.
4. Can you improve the video quality?
Yes, you can improve your low quality video to high quality by adjusting a few settings, such as 1080p resolution to 4K, upscale the video bitrate, frame rate etc. with the above mentioned video converters. By the way, some of video converters like WinX HD Video Converter Deluxe are built with high quality engine to enhance the video quality further.
Last but not least, you're warmly welcomed to share with us about your effective yet simple solution to compress 4K to 1080p. Contact us via Email

or official Facebook, YouTube, Twitter account. We'd like to hear from you!