How to Convert a 1080p or 720p HD Video to a 480p File
While you embrace 4K and 1080p/720p HD video, some devices and players in standard definition are left in place. However, they didn't really go away. Then their owners have to face a new problem - how to convert 1080p or 720p HD video to 480p. In this article, you'll find 6 excellent ways to convert 1080p or 720p HD to 480p videos easily.
Top 6 HD to SD Converters to Downscale 1080p/720p to 480p
#1. WinX HD Video Converter Deluxe
WinX HD Video Converter Deluxe is the best video quality converter in downscaling video resolution. This software has the ability to downscale higher resolutions to a lower one, including 1080p to 480p, 720p to 480p, 4K to 1080p, and 4K to 720p etc. Moreover, you can convert numerous files at once utilizing this software. Also, this HD to SD video converter supports more than 420 widely used formats, including MP4, MOV, AVI, and WMV. Also the built-in hardware acceleration tech and high-quality engine help users finish the conversion 47x real-time faster without losing quality visually.
How to Convert 1080p/480p Videos to 480p with WinX HD Video Converter Deluxe?
Free download and install this HD to SD converter according to the platform you're running. Then you're able to convert 1080p/720p HD videos to 480p freely with the following steps.

Download WinX HD Video Converter Deluxe on Windows 11 or lower


Download WinX HD Video Converter Deluxe on macOS Ventura or lower
Step 1: Launch the program and click button + Video to load your 1080p video. You're allowed to import multiple video clips for batch conversion.
Step 2: Choose output video format from the automatically popped up Output Profiles window. Converting 1080p videos to MP4 H.264 is always praised for its greater compatibility on mobile devices, PCs/Macs, HDTVs, XboX, PlayStation, and other devices.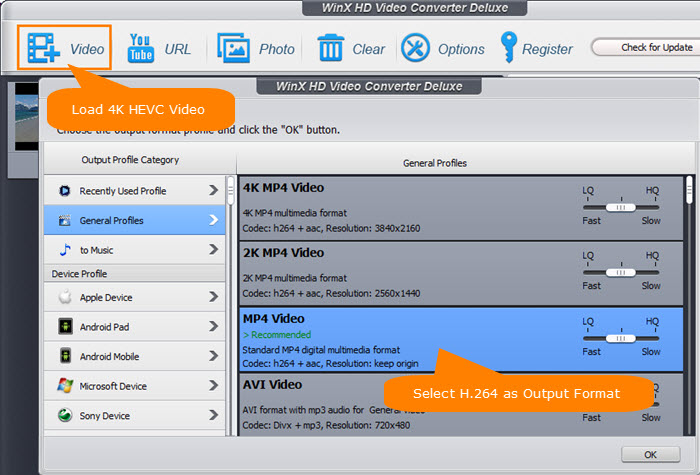 Step 3: Click the Gear Settings button to adjust video resolution. Drop down the resolution option, then choose 720x 480 or 640x480 pixels and tap OK button to make the changes valid. By the way, you're also available to change video codec, frame rate, bitrate, and aspect ratio here.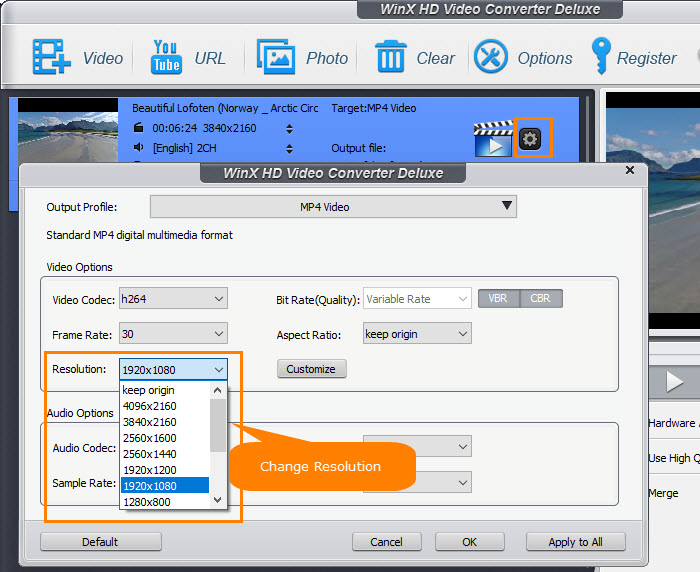 Step 4: Click Browse button to choose a destination folder for the converted file. Then click Run to start converting 1080p to 480p without watermark. That's it! Simple yet effective.
#2. HD Video Converter Factory
WonderFox HD Video Converter Factory Pro is a powerful video conversion program that allows you to easily change video resolution, aspect ratio, frame rate, and other parameters. It is an excellent HD to SD converter that can convert 1080P to 720P, 1080P to 480P, 720P to 480P, and other resolutions. Batch file processing is also supported.
How to Convert 1080p/720p HD to 480p SD with HD Video Converter Factory
Step 1. Download and launch HD Video Converter Factory. Open the "Converter" window, and drag your source video in 1080p or 720p into the program.
Step 2. Click the format image on the right side of the program to open the output format list. Select your preferred output format from the "Video" category. You can either leave it as is or convert it to a different format.
Step 3. Find the "Quick setting" option on the right side of the program. Then move the thumb to "480P". You can also open the "Parameter settings" menu and change the resolution in the Video Settings. If necessary, advanced users can also change other settings such as encoder, bitrate, frame rate, volume, and more.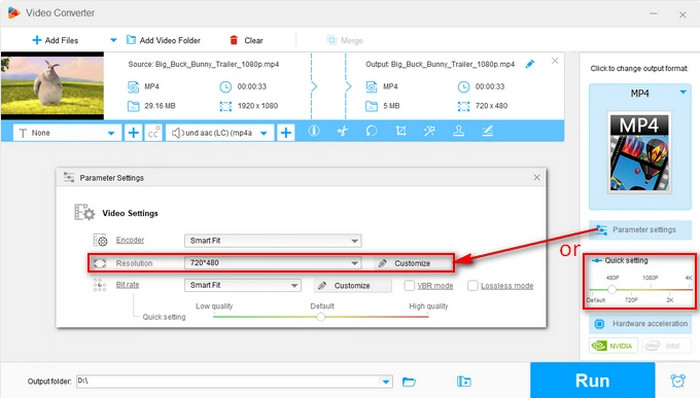 Step 4. Finally, click "Run" to decrease resolution of video to 480P.
#3. VLC Media Player
Besides being a media player, VLC is also able to be used as video converter to change video format, resolution, frame rate and more. Converting videos with VLC media player is quick and has the same quality as most premium video converters. When you need to shrink videos to fit in your mobile devices, you can use it to downscale video resolution from 1080p to 480p or 720p to 480p.
Downscaling 1080p or 720p to 480p with VLC Media Player
Step 1. Open VLC Media Player. Then, click the "Media" menu and select "Convert/Save."
Step 2. Press the "Add" button and find your source video file in HD.
Step 3. Click "Convert/Save" and enter the destination file by clicking "Browse."
Step 4. Drop down the Profile list, then select an output format from the list. Here are some options are preseted in 480p SD, such as "Video for Android SD Low", "Video for YouTube SD", and more.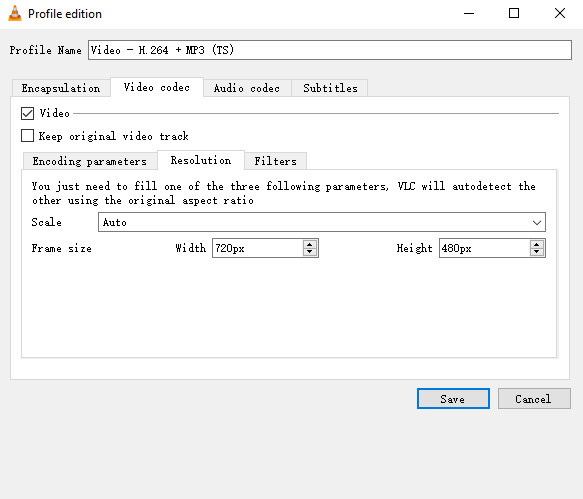 Step 5. Click "Edit Selected Profile" to add custom settings to your file. Navigate to the "Video Codec" tab and enter the 480p pixel value in the Frame size field. VLC will figure out the width automatically based on your file's aspect ratio.
Step 6. Click "Save" and "Start" to begin converting your MP4 to a smaller file.
#4. HandBrake
HandBrake is another tool that can easily convert your video from 1080p to 480p or 720p to 480p. It is an open-source transcoder that you can install and use on your Mac, Linux, and Windows computers for free. Furthermore, this software is excellent for quickly and easily creating and converting videos. Besides that, it offers numerous filters, chapters, dimensions, and subtitles options. In a nutshell, it is a good option if you are looking for a free and open-source tool.
Here are the steps for converting 1080p to 480p using HandBrake
Step 1. Launch Handbrake on your computer device, and upload your video file as it advises upon reaching the inside of the tool.
Step 2. Go to the Preset to see your video's 1080p resolution after it has been uploaded in the main interface, then press the Arrow-Right. Next, select the General option and the Very Fast 480p30 option since the video here is in MP4.
Step 3. After that, you can already hit the Start Encode button located at the top ribbon. Wait until the encoding process completed.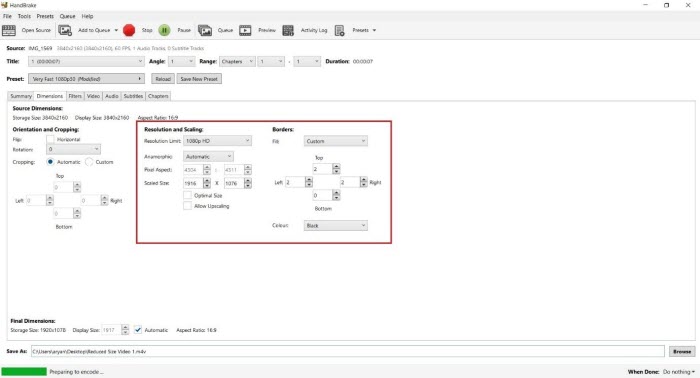 #5. HDconvert
HDconvert can convert 1080p or 720p videos to 480p online without watermark (premium package). It accepts MP4, AVI, MOV, MKV, and other video formats. Free version also allows users to output videos in 720p or lower with watermark on the video. In short, if you don;t want to install any third-party software on your computer, you can choose HDConvert since it can select video quality from low 240p to 720p, 1080p HD and Ultra HD 4k quality.
How to Compress 1080p/720p HD video to 480p online with HDConvert
Step 1. Navigate to HDConvert website on your browser. Clicking on "Convert video to MP4" to get ready for 1080p/720p to 480p conversion.
Step 2. Upload your 1080p or 720p HD video to HDConvert website by clicking on "Select Files" button. All files saved on servers for a limited time, only 24 hours, and will be removed automatically without any notice.
Step 3. Choose an output format for your video. You can choose MP4 video for wide compatibility or other formats as you need. Then click Next.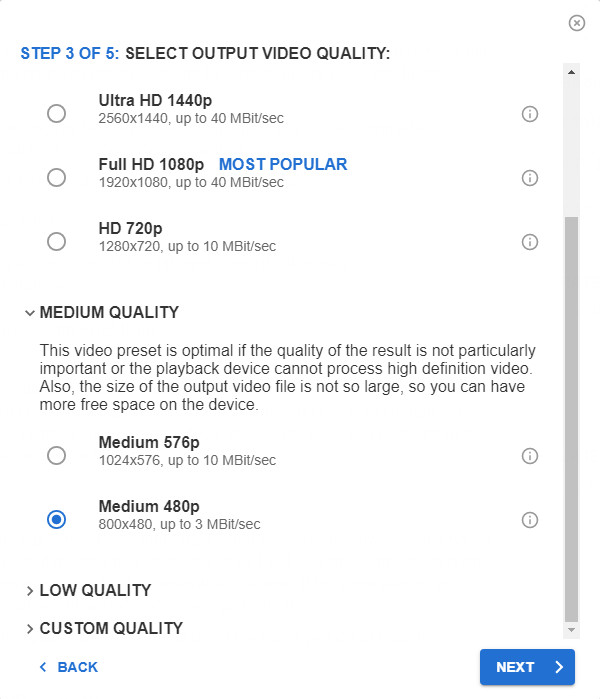 Step 4. Drop down the list of Medium Quality and tick on the option of 480p. This helps you convert HD to 480p SD.
Step 5. Make some advanced settings if needed, such as changing video codec, adjus video/audio bitrate, or remove audio track.
Step 6. Click on the "Convert 1 File" button to start converting 1080p/720p HD to 480p.
#6. ACONVERT
ACONVERT is another video quality converter that supports to convert 1080p to 480p, 720p to 480p as well as convert a wide range of video formats. It can convert 1080p Full HD and 720p HD videos to 480p free online by adjusting video resolution.
Here are the easy steps for converting HD to 480p SD online with ACONVERT for free
Step 1. Go to ACONVERT page, click the FILE button and choose a video to load
Step 2. Click the Options drop-down icon and choose "Change size, bitrate or frame rate"
Step 3. Click the Video size drop-down icon and choose 480p (720x480, 640x480, or 480x480) to convert videos to 480p free online
Step 4. Click the Convert Now button to start converting 1080p/720p to 480p free online.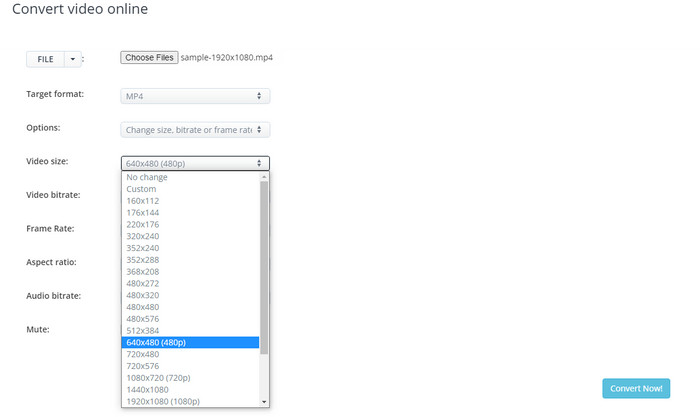 To the Conclusion
From 480P to 720P to 1080P and now 4K, the ideal video resolution has changed significantly over time. For specific playback on particular devices, such as some DVD players, you might occasionally need to convert videos from high resolution to low resolution. Also, you should be able to convert videos to 480P SD quality with no trouble using the methods described in this article. WinX HD Video Converter Deluxe is often more advised if you wish to rapidly lower the resolution of a large number of videos. However, the programs listed above are all appropriate if you only need to change the video quality of a single video. Now, it's your turn to complete your video conversion from 1080p/720p to 480p.