Video Compression: How to Convert 1080p to 720p Video Easily
1080p videos are definitely ubiquitous in our life, no matter you're watching videos from YouTube / Netflix, downloading MP4 movies from online or recording your own footage with mobiles or camcorders. It's only human to pursue better viewing experience. But there are cases that you have to downsize 1080p to 720p for data saving or better compatibility. In this article, you can know more about 1080p and 720p, and also find out how to convert 1080p to 720p easily.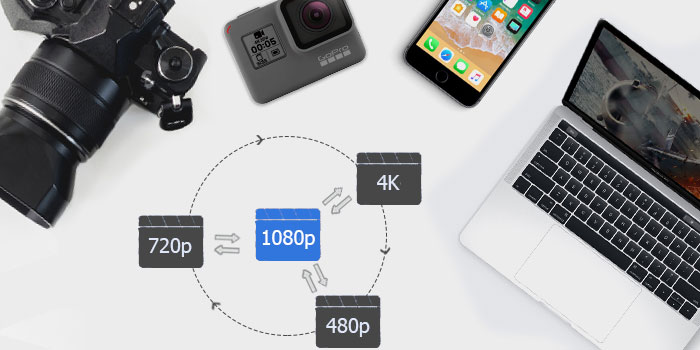 Download A Free Video Converter to Change 1080p to 720p
Free Video Converter - A FREE & FAST video converter that allows you to change 1080p to 720p without losing quality.
Freely change video resolution, such as 1080p to 720p/480p/320p, 4K to 2K, and even 1080p to 4K with high quality.
Reduce large HD/4K video size via trim, crop, split, lower frame rate, bit rate, change aspect ratio...
Convert video to any formats, namely MKV to MP4, MOV to WMV, H.264 to HEVC, camcorder to iPhone/Android mobile etc.
Part 1: Is 1080p or 720p Better?
It depends. They are essentially different progressive video resolutions. To be specific, 1080p video of higher resolution may be more suitable for viewing on HDTV to have more pixel details of image displayed; 720p HD Ready or Standard HD, however, has its advantages:
1. For a slow internet connection, 720p will be a better choice for live streaming since it gobbles up less data and bandwidth, 0.9GB per hour.
2. 720p, as an HDTV signal format, is enough for widescreen HDTV and standard 720p TV. TV broadcasters and cable/satellite providers like ABC and FOX send programming in 720p resolution.
3. Nowadays, most mobile phones have screen resolutions of VGA (640×480), Quarter HD or qHD (960×540), XGA (1024x768), WXGA (1366x768), 720x1280 to Quad HD (1440x2560), Full HD (1920x1080 pixels). And 720p resolution video can be played back clearly enough without noticeable pixel block (depending on pixel density).
The Catch: The best pixel density for phone is about 300 pixels per inch, i.e., the relation between phone screen size and resolution is 300 PPi, which will deliver the best screen resolution for phone.
4. A same video at 720p resolution will yield smaller file size than the one at 1080p. It means faster video transmission (sharing/uploading), less storage consumption and smaller drain on your phone's battery.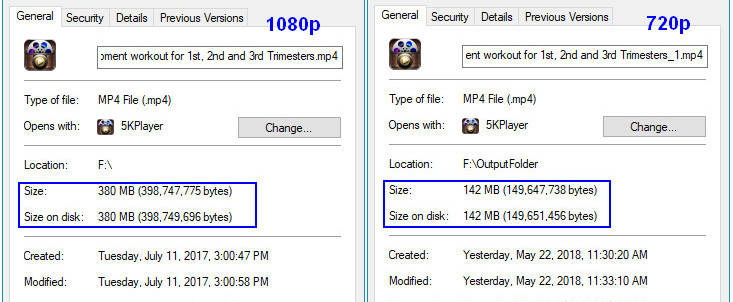 Part 2: Why Do You Need Convert 1080p to 720p?
From the comparison above, we can easily find that 1080p depicts better picture quality than 720p. But 720p helps you save a lot of space and energy consumption and also delivers a smooth playback. As for why do you need convert 1080p to 720p, there are mainly three reasons:
For saving space: Actually, if you're not playing videos on big screens, you can hardly distinguish the differences of 1080p and 720p. While converting 1080p to 720p can save more space when you're watching videos and movies on mobile or handheld devices.
For easy streaming and uploading: Streaming or uploading a 720p video over Internet will be twice faster than a 1080p video. It'll consume half Internet bandwidth and also save the storage.
For better compatibility to play videos on any devices: If you play 1080p videos on under-powered devices, you may get errors like video lag, audio out of sync, or video not playing issue. Comparatively speaking, 720p video has better performance on mobiles or handheld devices.
Part 3: How to Convert 1080p to 720p Fast & Easily?
With WinX Video Converter, you can easily change 1080p to 720p. Here are the step-by-step guide to free compress and convert a FHD 1080p to a HD-Ready 720p video on Windows PC within a few clicks.
All you need:
A desktop or laptop running Windows 2000 - Windows 10.
The EXE file WinX Video Converter installed. Get WinX Video Converter .exe here >>
One or more 1080p HD video files on your hard drive.
Step 1: Load a source 1080p video.
Click "Add Video" button on the top left of the free 1080p to 720p HD video converter, browse in your computer and find the 1080p HD video file. Choose the video file, tap "Open" and add it to the converter. It supports adding video files in batch.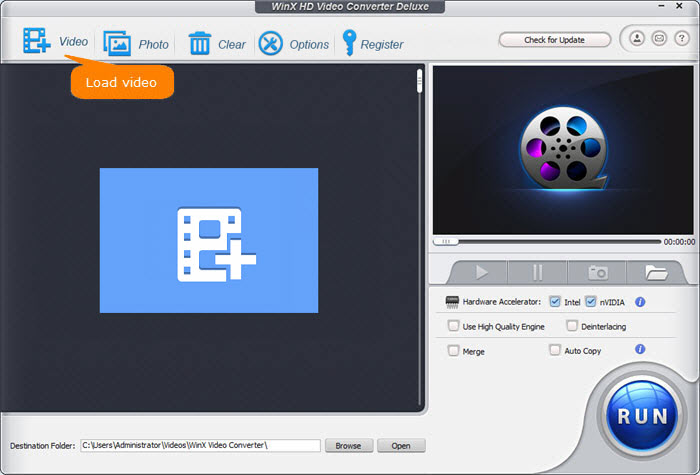 Step 2: Choose an output profile if necessary.
The default output format of WinX Free Video Converter is MP4 Video with H.264 + AAC codec. You can choose any other profiles provided, such as AVC Video, AVI Video, etc. If you are just to change the resolution instead of format, just choose an output format that is the same with your original video. But honestly, MP4 is always recommended for good reasons.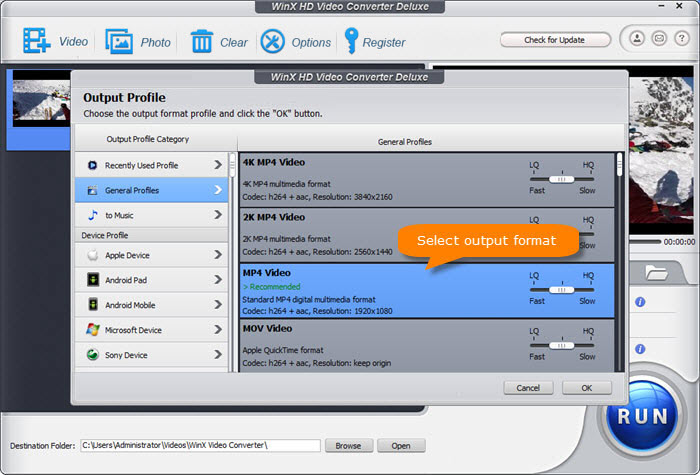 Step 3: Choose 1280x720 resolution.
Click on a gear-shaped setting button, under Video Options hit the drop down arrow and select 1280x120.
Besides resolution, Bit Rate, Frame Rate and Aspect Ratio (4:3; 3:2; 16:9) can be set according to your needs. Video bitrate recommended for 720p is 2000-4000 Kbps, but you don't have to set it by yourself since it is ready-made.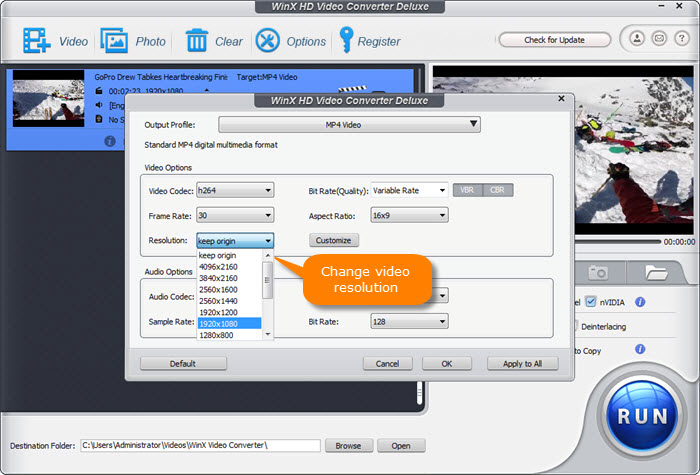 Step 4. Define the output folder.
Choose any folder or hard drive as the Destination Folder to save the output 720p video file.
Step 5. Enable Hardware Encoder.
No matter your computer has iGPU or discrete GPU, this program can invoke it for acceleration if the Hardware Acceleration on your computer is turned on.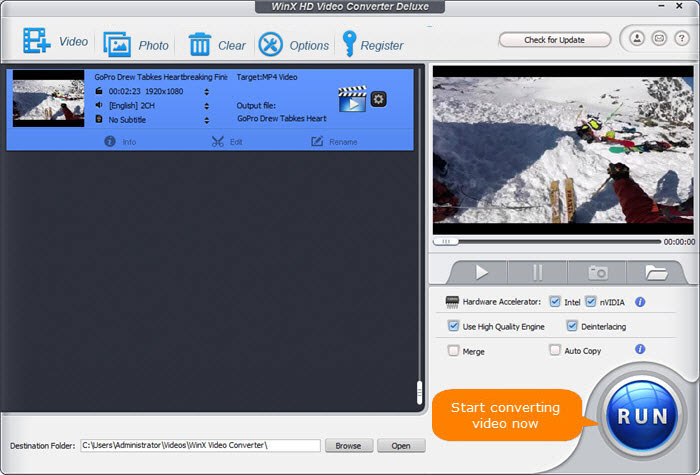 Step 6. Make other settings and start.
You can make any other settings if necessary. After that, click RUN button and start converting 1080p to 720p.
Here we take a small part of the original 1080p video and the downscaled 720p video, played in full screen by Windows Media Player on a 24-inch widescreen Dell Windows 10 desktop as the image quality comparison. As you can see, there is no noticeable difference between the images at 1080p and 720p resolution even on a widescreen computer. The difference will be less on a smaller sized device such as an iPad, iPhone or Android phone.