How to Convert/Downscale 4K Ultra HD Video to 2K/1080p HD Video?
4K content, 4K video and 4K resolution are coming to everyone's daily life since the increasingly number of tablets, mobile phones, computers and TVs are able to play 4K video movies. 4K (2160p) resolution's images are around 4,000 pixels wide and it means more pixels. More pixels means more information and more information means sharper and more clear pictures – but don't forget one thing, the higher resolution also definitely needs more "space" and "time". That is to say, more space to save your 4K movie video and more time to download a 4K video are much-needed.
Therefore, it's not a wise choice for users to watch or download 4K video on portable devices. And now, here is a solution for you – convert 4K to 2K/1080p resolution. 2K resolution is a generic term for display devices or contents having horizontal resolution of approximately 2,000 pixels. Digital Cinema Initiatives (DCI) defines 2K resolution standard as 2048×1080. After downscaling 4K to 2K/1080p, you can enjoy high definition videos on mobile phones and tablets in a hassle-free way and won't be bothered by the insufficient memory error any more.
Best 4K to 2K HD Video Converter to Convert 4K to 2K/1080p
WinX HD Video Converter Deluxe is born to be a 4K video converter to convert videos from 4K to 2K/1080p in any formats, and also reduce file size without visual quality loss.
Convert and compress any video to MP4, FLV, AVI, WMV, MOV, H.264, HEVC, iPhone, iPad, Android, etc.
Compress 4K video to be 90% smaller without compromising image quality.
Simple editing: Cut, crop, rotate, flip, merge video.
Intel/Nvidia/AMD hardware acceleration support, 47X faster speed. Highest quality.
A remarkable 4K video converter is badly needed for converting 4K Ultra High Definition video to lower resolution 2K/1080p HD video, and here WinX HD Video Converter Deluxe is strongly recommended for as one of the best 4K video converter.
This eminent 2160p to 1080p converter can perfectly convert 4K UHD video (4096x2160, 3840x2160) to 2K/1080p with the fastest convert speed due to the support of Intel QSV, Nvidia CUDA/NVENC, and AMD Hardware Acceleration technology, Multi-core CPU and Hyper-threading.
What's more, in addition to downscaling 4K to 2K, the video converter is also able to convert any 8K/4K/HD/SD videos to MP4, AVI, MOV, WMV, MP3, AAC, iPhone ringtone, iPhone, iPad Pro/Air/Mini, Android, Windows phone etc. easily and quickly with zero quality loss.
Software-based video processing is quite CPU-intensive with high temperature, which is not only slow but also harmful for computer hardware. Especially with the popularity of 1080p, 2(.7)K, and 4K videos, the performance requirements for video processing software have increased greatly. Since GPU hardware is a born expert on handling computing-intensive tasks, including media processing, more and more video applications start to add support for hardware acceleration. WinX HD Video Converter Deluxe, as the first to reach level-3 hardware acceleration, applies the advanced Intel QSV, NVIDIA CUDA/NVENC, and AMD technologies to level up the entire video processing speed to the most, while maintaining the high quality still.
How to Downscale 4K Resolution to 2K/1080p with WinX HD Video Converter Deluxe?
Step 1.Free download and install WinX HD Video Converter Deluxe on your Windows PC, or Mac.
Step 2. Click "Video" and "+Video" button to add a 4K Ultra HD video to this 4K to 2K/1080p HD video converter. After a while, an output profile window will automatically pop up.
Step 3. You are able to select output format like Apple Device, Android Pad, Android Mobile and so on. Here we recommend you to choose "2K MP4 Video" under general profiles.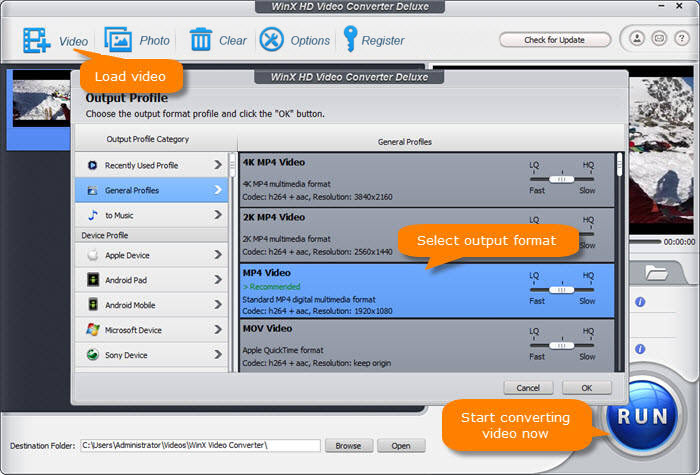 Step 4. And next, if you need to change destination folder, just tap "Browse" button to choose video path. If you choose other video format in step 2, do remember to click gear icon to reset the output resolution to 2K. Many other resolution options are stil here like 1080p, 720p, 960x640 etc.
Step 5. Click "RUN" button to start to downscale 4K to 2K/1080p.
Frequently Asked Questions
1. What is the difference between 2K and 4K resolution?
2K, also known as 1080p, is 1920×1080 resolutions. It is a set of HDTV high-definition video modes characterized by 1,920 pixels displayed across the screen horizontally and 1,080 pixels down the screen vertically; the p stands for progressive scan, i.e. non-interlaced.
4K has 3,840 x 2,160 pixels mainly for Ultra HD television, or 4,096 x 2,160 pixels for digital cinema. 4K Ultra HD is exactly four times of the resolution of HD (1080p).
2. Is 2K or 4K video better?
It depends. A 4K video has better image quality but larger file size. When playing or streaming 4K videos, it requires better hardware and software. While a 2K video has smaller file size and doesn't need much power to stream and play.
3. Can you convert 4K video to 1080p?
Yes. With a 4K to 1080p video converter, you can easily convert 4K to 2K/1080p in a few steps. Take WinX HD Video Converter Deluxe as an example, you can simply throw a 4K video at it, choose 1080p as the output format, and then start converting 4K to 1080p format.