4K Video File Formats Roundup: What's the Best Formats for 4K Video?
This article will introduce you several kinds of 4K video file formats and help you learn how to convert 4K video files to 1080p/720p HD MP4, AVI, MOV, etc. for easier playback.
iPhone supports 4K video recording since iPhone 6; Windows adds new video file format and codec, the MKV and HEVC/H.265 to support 4K video playing since Windows 10; The Gopro, DJI drones, Canon, Panasonic, Sony 4K video cameras and 4K camcorders also enable you to shoot pictures of 4K UHD resolution. To some extent, 4K video is eye-catching now and we can predict it will be applied to many more fields in future. Wonder what the 4K video file formats are and how to convert the recorded 4K Ultra HD video to HD/SD video when needed? Continue to find out.
Get a 4K Video Converter to Convert 4K UHD Videos Among Any Formats
WinX HD Video Converter Deluxe - Enables you to easily convert 4K video file format like 4K HEVC/H.265, AV1, MKV, MTS, AVCHD to HD/SD MP4, H.264, AVI, MOV, iPhone, iPad, Android, etc. at No.1 fast converting speed with highest quality.
Part 1. Roundup of 4K Video File Formats
1. MP4: Numerous emerging stunning 4K Ultra HD videos from the biggest video-sharing site YouTube give us amazing visual feast. You may watch 4K videos online or free download those sharp 2160p videos from YouTube for offline watching to avoid long time buffering. Usually the downloaded YouTube 4K video file format is MP4 (AVC) in 3840 X 2160 pixels. Learn more about 4K MP4 video format >>
Many 4K cameras, 4K drones, 4K IP security cameras can also record 4K resolution videos in MP4 format (some can capture 4K video in MOV), including Gopro Hero6 Black, Gopro Fusion, DJI Phantom 4 Pro, DJI Inspire 2, DJI Mavic Pro, Yuneec Breeze 4K, Yuneec Typhoon Q500 4K, etc.
2. MTS/M2TS: MTS/M2TS is a file name extension used for the Blu-ray Disc Audio-Video (BDAV) MPEG-2 Transport Stream (M2TS) container file format. This container format is commonly used for HD video on Blu-ray Disc and AVCHD. MTS is developed by Sony and Panasonic together as the recording format for the HD camcorders, commonly the 4K video recorded by the trending Sony, Canon, Panasonic 4K cameras or camcorders is in MTS format.
3. AVCHD: AVCHD (Advanced Video Coding High Definition) is a video format designed for high definition camcorder. It uses a disc structure designed for Blu-ray Disc standard compatibility. Sony, Panasonic, Canon, JVC all produced some high-end HD camcorders including some best 4K camcorders enabling you to record 4K UHD video file in AVCHD format.
4. MKV: MKV (Matroska Multimedia Container) is another 4K video file format with HEVC/H.265 codec. It is an open standard free container format that can hold an unlimited number of video, audio, picture, or subtitle tracks in one file. In other words, it is a multi-track video file format. Microsoft Windows 10, iOS 11, macOS High Sierra have already added native HEVC codec support.
5. XAVC: XAVC is a recording format that was introduced by Sony on October 30, 2012. XAVC uses level 5.2 of H.264/MPEG-4 AVC which is the highest level supported by that video standard. XAVC is also a 4K video file format which can support 4K resolution (4096 × 2160 and 3840 × 2160) at up to 60 fps with 4:2:2 chroma subsampling at 600 Mbit/s. On April 7, 2013, Sony announced that it had expanded XAVC to the consumer market with the release of XAVC S. For example, Sony FDR-AX100, FDR-AX33 4K Ultra HD consumer camcorder, Sony HDR-AS100V action camera, etc. all uses XAVC S allowing you to record 4K videos. See how to convert XAVC to MP4 to fix 4K format not supported error.
6. MXF: Material Exchange Format (MXF) is a container format for professional digital video and audio media defined by a set of SMPTE standards. Many HD camcorders like Canon C500, Panasonic P2 can record 4K video files in MXF format.
7. HEVC: High Efficiency Video Coding (HEVC), also known as H.265, can provide 50% bitrate savings than H.264 at the same quality. It supports resolutions up to 8192×4320, including 8K UHD. HEVC codec is mainly used by many modern 4K cameras, mobiles, and platforms.
8. AV1: AOMedia Video 1 (AV1) is a royalty-free codec that can offer 30% better compression over HEVC at the same quality.
9. VVC: Versatile Video Coding (VVC), also known as H.266, is the successor to HEVC. It's 50% more efficient than HEVC.
Hot search: AVI vs VVC, HEVC vs VVC
The video codecs used to encode 4K UHD video are often H.264 or H.265/HEVC. To save bandwith and storage, many producers use HEVC codec in their 4K products since HEVC can record a 4K video in half size of using H.264 while keeping the same 4K image quality.
Part 2. How to Convert 4K Video File Format to 1080p/720p HD/SD Video Like MP4, AVI.
As your ultimate all-in-one HD video downloader and converter, WinX HD Video Converter Deluxe allows you to convert any downloaded or recorded camcorder/drone 4K video to MP4, AVI, WMV, MOV, FLV and many other popular video formats devices in whatever resolution, such as MKV to MP4, MTS to MOV, just to name a few.
This best 4k video converter supports the world's most advanced Intel QSV, Nvidia CUDA/NVENC hardware acceleration, Hyper-threading tech, etc. and can deliver ultrafast video conversion/compressing speed, especially for large 4K HEVC, 4K H.264 videos. 4K output profiles are also available, incl. 4K MP4, 4K MKV, so you can also upscale video to 4K resolution with best output at fastest speed.
Free download, install and run this best hardware accelerated 4K video converter on your Windows (10) PC/Mac, and follow the 3 simple steps below to convert/compress any 4K video to other format, other resolution with ease.
Step 1. Load the 4K video file.
Click "+ Video" button on the tool-bar to import the 4K video in file format like MKV, MTS, AVCHD, MOV you'd like to convert.
Step 2. Select resolution and output file format of the converted 4K video.
For easier playback, sharing or uploading, you can choose to convert the 4K video to the universal MP4 video format. Click "PC General Video --> MP4 Video" in the Output Profile window as output format and select the resolution from the video audio parameters edit window. 1920 x 1080 (1080p HD) or 720p, 360p, 240p, etc. are all available.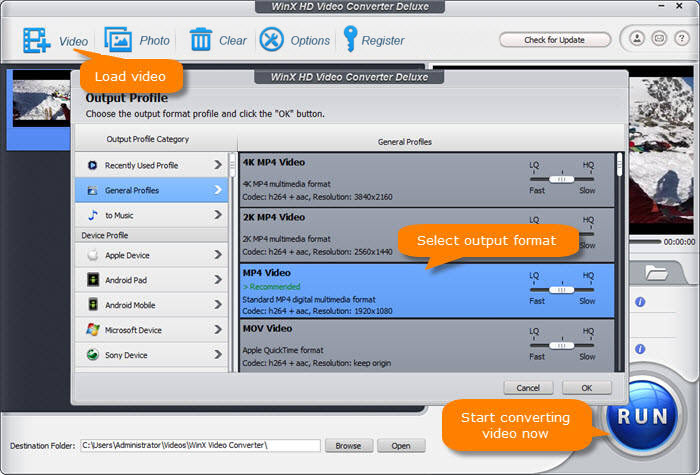 Step 3. Start converting the 4K video file format to other video formats or devices.
Click "Browse" to optionally set an output target folder and click "RUN" button to start converting 4K Ultra HD video to MP4 1080p HD video and many other formats.
Warm tip: Enable Level-3 Intel or Nvidia hardware acceleration to speed the 4K video decoding, processing and encoding at most and release the burden of your computer CPU.
Fastest GPU Accelerated 4K Video Converter - WinX HD Video Converter Deluxe
Easily convert/compress 4K video to 1080p/720p HD, SD with highest quality at an amazing fast speed with hardware acceleration.
Convert any 8K/4K/HD/SD videos to MP4, AVI, WMV, FLV, MKV, etc. and other 420+ profiles as iPhone, iPad, Samsung, HTC on PC/Mac.
Free download any 8K/4K/1080p/720p HD videos, MP3 songs from 1000+ online video sharing sites.
Related External Source:
4K resolution: 4K Ultra HD (4K UHD) video itself refers to the video of a pixel resolution of 4096x2160 (4,000 pixels, 8.8 megapixels, 17:9 aspect ratio) mainly for digital cinema, or of a resolution of 3840× 2160 (8.3 megapixels, 16:9 aspect ratio) mainly for Ultra HD television. It is four times of the resolution of 1080p HDTV...