H.266 VVC vs AV1, Which is Better?
Now that Versatile Video Coding (VVC) has entered the market, we're gearing up for the next fight. This fight isn't going to be between VVC and HEVC, but rather between VVC and another advanced UHD codec, AV1 codec. Released to deal with the rise in 4K and higher-resolution displays and content, both VVC and AV1 provide better compression efficiency than HEVC. But which is better, AV1 or VVC?
VVC vs AV1 Side-by-Side Comparison
1. VVC and AV1 Background Info
What Is VVC?
On July 7, 2020, Fraunhofer HHI just unveiled the adoption of H.266 codec, also known as Versatile Video Coding (VVC). The company, together with several leading industry partners like Apple, Ericsson, Intel, Huawei, Microsoft, Qualcomm, and Sony, spent 3 years to develop the VVC standard, aiming for a 30-50% bitrate reduction for the same quality as HEVC. The format is designed for ultra-high-resolution video content, including 4K, 8K, HDR, and 360-degree video material.
What Is AV1?
Released in 2018, AOMedia Video 1 (AV1) is a new video coding format using VP9 video codec as a base. It is mainly used for transmitting high-quality video efficiently over the internet. It was developed by Alliance for Open Media (AOMedia), a consortium of 48 tech companies including Apple, Facebook, Google, Microsoft, Mozilla, and Netflix.
2. VVC vs AV1 Coding Efficiency
VVC H.266 is claimed to reduce data requirements by 50% compared to the H.265/HEVC standard at the same image quality. To be specific, the results from BBC R&D found that VVC offered up to 27% bandwidth efficiency over HEVC at HD quality and 35% better at UHD quality. For example, a 90-minutes 4K video encoded HEVC may take 10GB, but it now needs only 5GB in H.266 codec.
AV1, on the other hand, is reported to offer 30% better compression than H.265/HEVC standard at the same image quality. According to BBC R&D, AV1 performed only 7% better than HEVC at HD resolution, while VVC was 33% more efficient. At UHD resolution, AV1 was only 2% better than HEVC, while VVC was 27% better. Apparently, H.266 VVC has higher compression efficiency than AV1.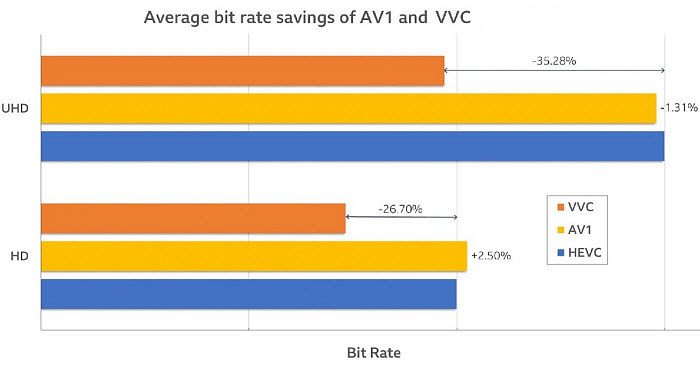 3. VVC vs AV1 Speed
Superior compression efficiency also comes at the expense of dramatically increased computational complexity and processing time. According to tests performed by BBC R&D, encoding H.266 VVC takes 6.5x longer and its decoding is 1.5x slower.
AV1 is complicated too and it was tested to be 4-10x more complex to encode than HEVC. But it has made improvements to speed up the processing times. BBC R&D indicated that AV1 takes about 4x longer time to encode than HEVC, while it's 8% faster to decode than HEVC (See detailed AV1 vs HEVC review). Considering that the encoding and decoding of HEVC are not very fast, the speed of AV1 is undoubtedly an advantage over H.266 VVC.
4. VVC vs AV1 Royalty
It is known that the slow adoption of VVC's predecessor HEVC is partly caused by its licensing complexity, which is charged by three licensing pools and multiple licensing entities. H.266 VVC is a royalty-bearing codec but its licensing model remains unclear. Some are worried that VVC will have royalties and patent pool opacity as HEVC. To avoid this, Fraunhofer states that "A uniform and transparent licensing model based on the FRAND principle (i.e., fair, reasonable, and non-discriminatory) is planned to be established for the use of standard-essential patents related to H.266/VVC." The Media Coding Industry Forum (MC-IF) is established for this purpose. 
On the contrary, AV1 is open, royalty-free for next-gen media delivery. It means that users can enjoy 30% better compression than HEVC (VVC is 50% better) without paying the royalty expenses. The cost savings gives AV1 an edge over VVC codec.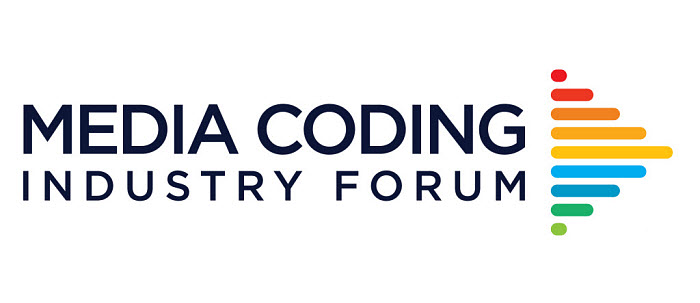 5. VVC vs AV1 Adoption
In addition to the big advantage of free royalty, AV1 is also better than VVC for its wider adoption by far. Netflix used AV1 to stream titles on Android, and YouTube also adopts AV1 video codec in some devices. AV1 hardware decoders are also found in new processors like Amlogic S905X4 Mediatek Dimensity 1000+. With Apple, Amazon, Netflix, NVIDIA, ARM, Facebook, Microsoft, and Google being AOMedia members, we continue to see the adoption for AV1 on Vimeo, Facebook, other streaming platforms, and hardware, such as the Nvidia GeForce RTX 30 series GPUs and AMD Radeon RX 6000 series. It's worth mentioning that these AV1 files are generally contained in .webm or .mkv. You can follow the guide to convert webm to mp4 and enjoy the AV1 video if you run into any playback problem with AV1.
[Updated!] The Chrome 90 adopts the AV1 codec for optimized video conferencing with WebRTC. The new codec should improve compression efficiency and reduce bandwidth consumption while improving video quality, and improve connectivity on low bandwidth connections. More than that, FFmepg 4.4 now supports AV1 hardware-accelerated decoding and AV1 CPU encoding. DaVinci Resolve updated to support AV1 codec in version 17.2 on May 2021.
H.266 VVC will be used on various applications such as gaming and adaptive streaming. As H.266 VCC will be licensed by (MC-IF), a group made up of 30 companies, we may expect a smoother adoption of VVC. However, both the software and hardware with support to VVC is under development.
Wrap up
Based on the comparison, it seems like VVC is superior to AV1 in terms of compression efficiency, though it's not a clear-cut victory. While if the license matters you most, AV1 will be second-to-none. On our sides, we believe both AV1 and VVC are promising. Keep eyes on the news and performance report about the two codecs.