[Updated] AV1 Hardware/Software Encoder Is Available Now
The future of AV1 is getting clear. Cisco, a leading communication and collaboration company, launched real-time high-quality AV1 encoder for video collaboration this July. FFmpeg 4.2 released on August 5th, 2019 added AV1 decoding support through libdav1d. However, if you are looking for AV1 encoder, the bad news is that there are few choices. Here we share all the currently available AV1 encoders, in both hardware and software aspects.
Part 1. Intel's Open-Source CPU-based SVT-AV1 Encoder
The new encoder named Scalable Video Technology AOMedia Video 1 supports macOS, Windows, and Linux 64 bit operating system. On April 22, 2022, Intel released SVT-AV1 1.0 for all the CPUs from mobile or desktop for speedy AV1 video encoding. SVT-AV1 requires Skylake-generation or 5th Generation Intel® Core™ processor, (Intel® Xeon® CPUs, E5-v4 or newer) and at least 48GB of RAM for 10-bit 4K video encoding, Intel says. The SVT-AV1eeding up AV1 video enc Encoder app will show an error if the system doesn't have enough RAM. SVT-AV1 will be adopted by Netflix for spoding.
[Updated] To encode videos to AV1 for smaller size, users can now rely on FFmpeg 4.4. The latest version adds AV1 encoding support SVT-AV1 and AV1 monochrome encoding support via libaom 2.0.1 or higher. Though there is no support to hardware-accelerated AV1 encoding, it may take quite a long time to encode AV1 videos on CPU.
Part 2. Intel's GPU-based AV1 Encoder
Intel is also the industry first GPU maker to offer full AV1 support. According to a recent Arc presentation on YouTube, Intel claimed that hardware-based AV1 encoding on an Arc GPU is up to 50 times faster than a software only AV1 encode.
While in terms of the quality using Netflix's VMAF benchmarking tool, Intel's AV1 encoder scored 83 points at 3.6 mbps, the highest of all the H264 encoders at the same bitrates. Typically, H264 encoder from Intel QSV scored 76, NVENC scored 70, AMD AMF scored 71, and software-based H264 encoder scored 78. While at 6 and 8 mbps, Intel AV1 encoder presents more of the same compared to x264 VerySlow software encoding, but impressively higher than GPU h264 encoding.
The achievements can attribute to the Deep Link to work semlessly with Intel CPU, and therefore boost the performance for gaming and streaming dynamically, and increase application performance up to 30%.
Part 3. The First AV1 Encoder with Support for Hardware Acceleration
WinX HD Video Converter Deluxe will be the first GPU-accelerated AV1 encoder and decoder that let you,
Encode 4K/1080P/SD videos of any format to AV1 format.
Decode AV1 videos and encode AV1 to MP4 HEVC/H.264, AVI, MOV, WMV, and others.
Save AV1 content from YouTube, Dailymotion, 1000+ sites in batch.
Transcode AV1 videos with GPU acceleration. Nearly original quality can be reserved.
Tutorial - How to Encode and Decode AV1 Video Files
Step 1: Launch the AV1 encoding software on your computer. Click the +Video button and select the source video you want to process. When the video is loaded, an Output Profile window appears.
Step 2: Select AV1 as output format if you'd like to encode video to AV1 format. To decode AV1, pick a format you want. AV1 codec support is very limited, HEVC format is more compatible. You can decode AV1 to HEVC for good compression and wider compatibility. MP4 format is also recommended since it's universally accepted.
Step 3: Click Browse button to set a destination folder to store the output file. Click the RUN button at the bottom to start transcoding AV1 videos. You will see a time remaining counter and the process of conversion. You can stop the transcoding any time.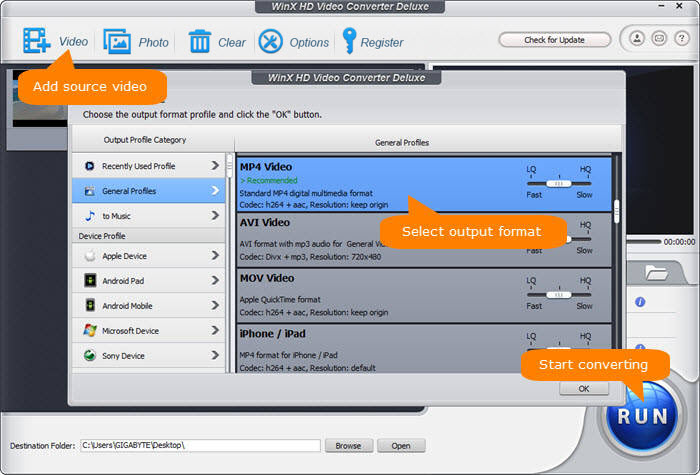 Learn more on video: what's AV1 codec and how to encode AV1 video files
FAQ about AV1 Encoding
1. What Is AV1 codec?
AV1 is an open-source and royalty-free video coding format developed by the Alliance of Open Media Video. The new codec aims to replace VP9 and to save 30% in bandwidth for the same quality in HEVC. AV1 is optimized for web use. YouTube has uploaded a large amount of videos encoded with AV1 codec, including music clips, demo footages, etc. Chrome 10 and Firefox Nightly builds support AV1.
2. How Do I Encode AVI?
FFmpeg upgraded to support AV1 encoding since 2018. You can try FFMpeg to encode AV1. Libaom-av1 is the AOMedia video encoder for AV1. For a list of options, run ffmpeg -h encoder=libaom-av1.
Note: Users of libaom older than version 2.0.