AV1 vs VP9: Detailed Comparison Between AV1 and VP9
The quest for more efficient video encoding never stops. We all know that AV1 is the successor of VP9, claiming to have more efficient compression rate, better quality, and smaller file size. But there are some users complaining on reddit that AV1 encoded YouTube video quality is worse than VP9 encoded. Why? What is the difference between AV1 and VP9? Here we will have a detailed comparison between AV1 and VP9. To Decode/Encode AV1 to VP9 or Vice Versa
Both AV1 and VP9 have their own strengths, and each is the best in specific scenarios. For the best quality and the best fit size of your video, it's necessary to convert AV1 from/to VP9. WinX Video Converter helps you to decode and encode AV1 to VP9 and vice versa. Super fast speed and highest possible quality reserved.
Part 1. A Quick Look on AV1 vs VP9 Comparison
AV1 codec is the successor of VP9 codec.
The compression rate of AV1 is further improved and the bit rate can be saved by 30% compared with VP9 under the same image quality.
Compared with AV1, VP9 can save a lot of encoding time and computing cost.
Both AV1 and VP9 do not require copyright fees.
VP9 is widely used on Google's product like YouTube, while AV1 is adopted by the whole Alliance for Open Media, including Amazon, Apple, Google, Netflix, Nvidia, Tecent and more.
VP9 is mainly used in on-demand video and Internet scenarios, whereas AV1 is used in streaming media, which supports live streaming and on-demand streaming.
VP9 is well suited for high resolution 4K or VR video, and AV1 is even greater for 8K video.
...
Part 2. AV1 vs VP9 - Definition
What is VP9?
VP9 is an open and royalty-free[1] video coding format developed by Google. It's mostly used for streaming videos over the Internet and claims to reduce the bitrate of video transmission by 50% while maintain a high quality. VP9 mainly competes with MPEG's High Efficiency Video Coding (HEVC/H.265), and is used on Google's video platform YouTube.
What is AV1?
AV1, short of AOMedia Video 1, is an open, royalty-free video coding format initially designed for video transmissions over the Internet. It's a successor to VP9, which achieves 34% higher data compression than libvpx-vp9. It was developed by the AOMedia, a consortium founded in 2015 that includes semiconductor firms, video on demand providers, video content producers, software development companies and web browser vendors.
Part 3. AV1 vs VP9 - Performance
For practical Over-the-top (OTT) streaming applications, it is mostly necessary to supply streams using multiple different video codec standards so as to stream the media to a wide range of devices and platforms. Eithor AV1 or VP9 is honored to be selected as one of the most used video codec. Here are the detailed performance comparison between AV1 and VP9.
1. Quality
When only encoding quality is considered, AV1 outperforms VP9 (as well as HEVC) to become the highest quality video encoding standard available today. Here is a most summative chart in the objective quality comparison of decoders below. From the figure, it can be seen that in the case of the same encoding quality, the AV1 standard only generates 55% of the data volume compared to x264, followed by VP9 which generates 72%, when excluding the rare 3-pass and 2-pass Placebo x265 codecs.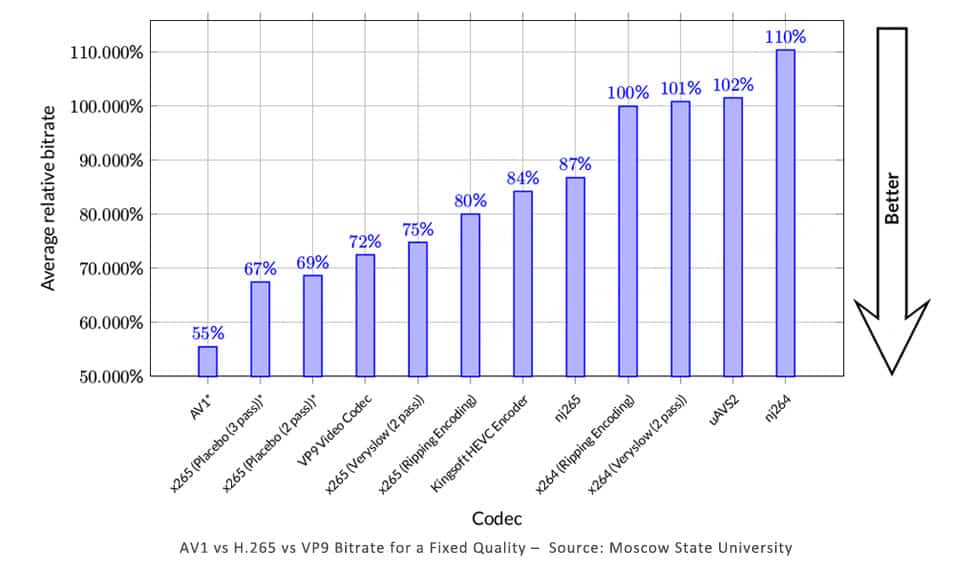 2. Compression Rate
At the beginning of AV1, Facebook had done a test and concluded that the compression of AV1 (libaom) is 30% better than libvpx-vp9. As the conditions replicated by the test closely matched the most common real-world use case for Facebook video, it was shown that users watching AV1 content would experience a 30% to 50% reduction in buffering. However, the new AV1 codec takes longer to encode due to the increased complexity.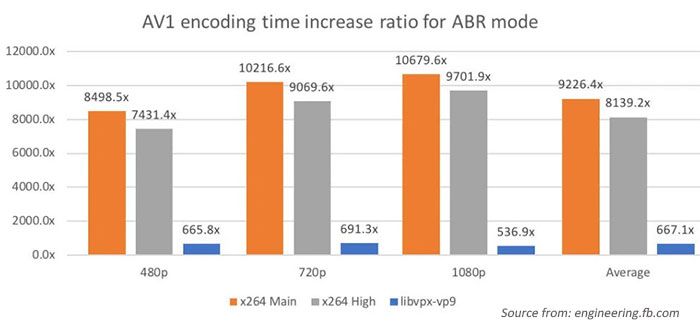 Besides the most significant quality and compression rate differences, AV1 and VP9 also have something different in other aspects, including file size, bit rate, bandwidth, and more. To put it simply, in the same quality, AV1 owns the smaller file size and bit rate, and consumes less bandwidth for transmission.
What you may interested in: AV1 vs HEVC/H.265, H.266 VVC vs AV1
Part 4. AV1 vs VP9 - Usage
You can always find VP9 and AV1 are encoded in WebM format. But it's not absolute. They can be encoded in other video containers like MP4, and MOV etc. VP9 is mainly used for on-demand and Internet scenarios. However, AV1 is more adaptable for streaming, which supports on-demand and live streaming. Let's check some details.
1. On-demand Streaming
You can find that YouTube videos are usually encoded in VP9 codec or AV1 codec. But there are differences. VP9 codec is usually used for HD/4K videos or VR videos with high resolution, while AV1 can be seen in 8K Ultra HD videos in YouTube. Besides YouTube, AV1 is also widely used in Netflix, Amazon Prime Video, and more for 4K or 8K on-demand video streaming. However, VP9 codec is limited in Google's products, such as. YouTube.
2. Live Streaming
VP9 and AV1 can be used for live streaming. And both of them are availabel in YouTube and Twitch. Also I think YouTube, Twitch and OBS Studio or other the like will enable AV1 ingest here shortly now that hardware can support it.
Part 5. FAQs about AV1 and VP9
1. How can I check the video codec on YouTube?
Checking the type of codec used to stream a YouTube video is relatively straightforward. Open the target YouTube video and right-click the video screen. Then, click "Stats for nerds" to view the video codec, color, network connection speed, frames, and more.
2. Can I open AV1 videos on VLC?
Yes, VLC supports AV1 codec since version 3.0.0 (released in 2018). After all, VLC is a member of Alliance for Open Media.
3. How can I enable/disable AV1 playback on Firefox?
When you're using Firefox 63.0 or newer, you can disable or enable the AV1 support with the following steps:
Open the browser, then type "about:config" in the search box and tapping the Enter on the keyboard.
Tap the "Accept the risk and Continue" button in the result page.
Type "media.av1.enabled" in the search box, and click on the Toggle at the upper right to change the value to true or false.