Can VLC Support AV1 Codec and Play AV1 Video File Correctly?
AV1 codec is an open, royalty-free video coding format from AOMedia (aka. Alliance for Open Media). It is launched in 2018 and designed to replace VP9 and compete with HEVC (see AV1 vs HEVC). We have seen AV1 support on Mozilla's Firefox, Google's Chrome, YouTube, FFMPEG, MPC-HC, and more programs. Does the popular VLC Media Player support AV1? Can VLC play AV1 file properly? Read on.
VLC Can't Play AV1 Videos? Try WinX Video Tools to Play AV1 or Convert AV1 for VLC
Here comes WinX Video Tools Pack including an AV1 video converter and an AV1 video player that you can use to fast convert AV1 videos for VLC to play without issues, or directly play any AV1, MP4, MKV, WMV, MOV, AVI, etc. up to 4K smoothly. No extra codecs required.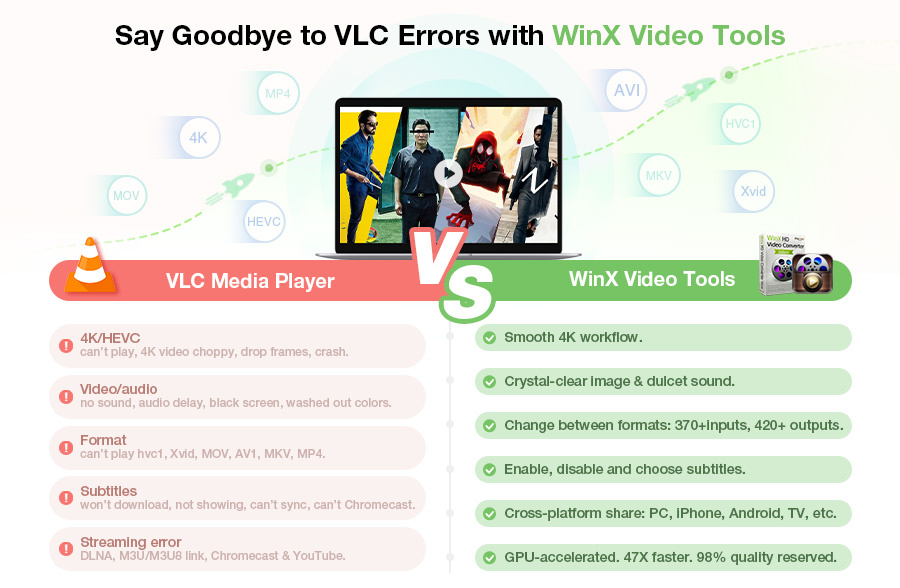 Part 1. VLC Adds Support for AV1
VideoLAN is a member of the AOMedia - the developer of AV1 format. VLC 3.0.0 released on February 8, 2018, introduced the early support for AV1. It added decoder support for experimental AV1 video. And from VLC changelog, we notice that VideoLAN keeps updating VLC to better support AV1.
In version 3.0.4 (release date: 2018-08-09) - Decoder: Decode AV1 streams
In version 3.0.5 (release date: 2018-10-19) - Codec: Add a new AV1 decoder based on dav1d library; Demux: Miscellaneous AV1 demuxing improvements; Packetizer: Add an AV1 packetizer
In version 3.0.6 (release date: 2019-01-10) - Codec: Add support for 12 bits decoding of AV1; Fix HDR support in AV1 when the container provides the metadata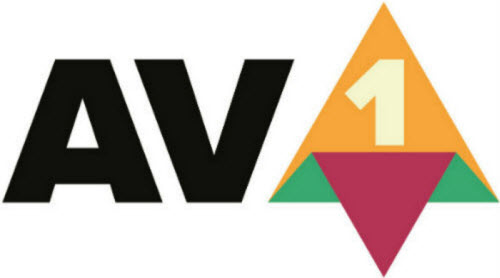 Part 2. VLC Can't Always Play AV1 Video File, How to Solve?
Some users reported that they got an error message saying "Codec not supported: VLC could not decode the format "av01" (AOMedia's AV1 Video)" when they tried playing an AV1 encoded video file. Some said that only audio played, no video.
To fix this, you can convert the AV1 encoded video to a more universally recognized video codec. HD Video Converter Deluxe is fully compatible with AV1 file, and can convert AV1 encoded file to H.264, H.265/HEVC, MP4, MOV, WMV, AVI, FLV, and so on. Currently, it supports using Intel QSV and NVIDIA CUDA/NVENC hardware acceleration to encode and decode H.264 and HEVC video at 47X real-time faster speed without degrading quality. NVIDIA GeForce RTX 30 Series have special hardware decoding units for AV1 video[1]. HD Video Converter Deluxe will add AV1 decode support in the near future. Stay tuned. Besides changing file format, this tool allows you to do some video editing tasks like cutting and merging, and free download AV1 videos from video-hosting sites.
Free download HD Video Converter onto Windows or Mac computer to decode AV1 video.
Part 3. How to Convert AV1 video to a VLC Playable Video Format
Step 1. Download, install, and launch WinX HD Video Converter Deluxe. On the converter's main interface, click the +Video button at the top left corner to browse and open the AV1 video that VLC player cannot decode.
Step 2. After importing AV1 file, the Output Profile panel will pop up. What you need to do is to choose a format that VLC can play correctly. You can go to General Profiles category and choose MP4 Video (codec: h.264+aac) which VLC Media Player can handle without any hassle.
Step 3 (optional). Click the setting button to adjust video and audio parameters, such as bit rate, frame rate, aspect ratio, and resolution. Click the Edit button to trim video, crop video, and disable/add subtitle.
Step 4. Hit the blue RUN button to start transcoding your AV1 video to a VLC compatible format.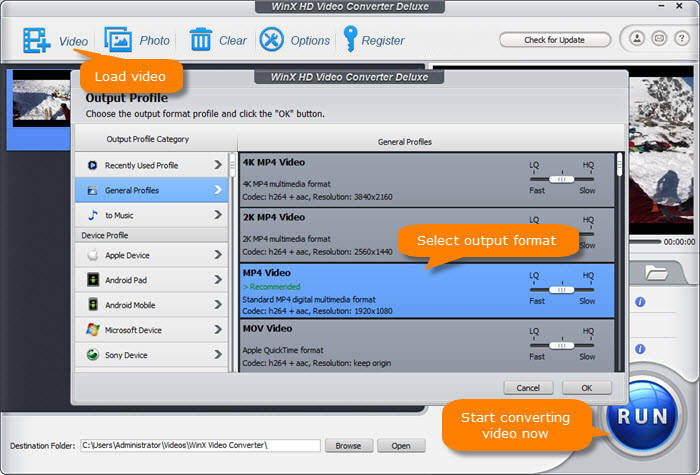 In Addition: What's AV1 Codec & How to Encode AV1 Video Files
References:
[1]. "GeForce RTX 30 Series GPUs: Ushering In A New Era of Video Content With AV1 Decode". nvidia.com