[Solved] VLC Keeps Crashing/Freezing on Windows 10/11, Mac, Android
The VLC crashing issue can happen on macOS, Windows, Android, and other platforms when playing MKV, 4K videos, and other video file formats. Common VLC crashing problems include:
1. VLC stops playing video at a certain point.
2. VLC quits unexpectedly during video playback on Mac and Windows.
3. VLC Media Player keeps stopping/shutting down halfway.
4. VLC doesn't respond or open on Windows 10/11.
5. Video freezes during playback on VLC Media Player.
6. The device screen flashes black suddenly.
VLC might crash for more than one reason, the most common of which is that the player registry files are damaged or deleted, outdated version, improper VLC settings. Read the guide to learn what you can do to prevent VLC Media Player from crashing/freezing on Windows, Mac, Android, and other platforms.
[Fixed] VLC Crashing Error with WinX Video Tools - 4K Video Converter & Player
Here comes WinX Video Tools Pack including a 4K video converter and a 4K video player that you can use to fast convert 4K videos to 1080p/MP4/H.264 for VLC to play without issues, or directly play 4K videos smoothly and in high quality.
Directly play 4K HEVC/H.264, MP4, MOV, MKV, etc. videos smoothly.
Convert videos from/to HEVC, H.264, MP4, MOV, AVI, etc. for VLC.
Compress 4K/2K/HD HEVC to smaller size and convert 4K to 1080p.
GPU-accelerated HD/4K video converter & player. 47X faster. High quality.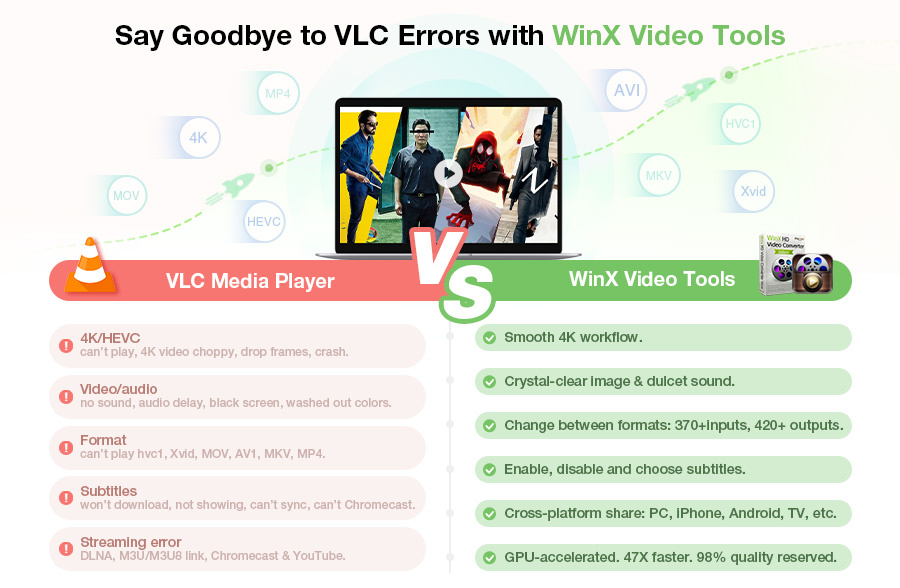 Troubleshoot Tips for VLC Crashing on Windows 10/11/Mac/Android, etc.
1. Update VLC to the latest version
Open the VLC media player on your device, click on Help > Check for Updates, download the new version if available, and install it following the popping up instructions. Relaunch the VLC player on your device and load a video to test.
2. Disable VLC hardware acceleration
Open VLC media player. Click on Tools > Preferences > Input/Codecs, you should see Hardware-accelerated decoding, click the drop-down icon, select Disable to disable hardware-accelerated decoding. Go back to the main interface of VLC, select a video to play to check if the VLC crashing issue is resolved.
3. Uninstall and Re-install VLC Media Player
VLC crashing problems can be caused by corrupted VLC installer files or program bugs. Uninstall the current VLC, restart your device, and re-install it later on your computer. Steps vary on different platforms. But it's easy to do this even for novice users.
4. Disable Pre-load MKV files in the same directory
Sometimes VLC keeps crashing when playing MKV files. Try to disable the pre-load MKV files option on VLC Media Player. To do so, open VLC, click on Tools > Preferences > Shows Settings > All > Input/Codecs > Demuxers > Matroska > Codecs Settings, uncheck Pre-load MKV files in the same directory, and click the Save button to save the changes.
5. Set FFmpeg Decoding Threads to 2
Run VLC media player as an administrator, select Tools > Preferences > All > Show Settings > Input/Codecs > Video Codecs > FFmpeg, under Decoding, locate the Threads entry, set the value of Threads to 2, click the save button to save the settings. Restart the VLC player and open a video to test if it fixes the VLC crashing problem.
Related: How to Deal with VLC 4K Choppy Playback
6. Enable DirectX Video Acceleration (DVXA) 2.0
Open VLC media player and choose Run as Administrator. Head to Tools > Preferences > Input/Codecs category > Codecs, change the Hardware-accelerated decoding to DirectX Video Acceleration (DvXA) 2.0. Restart VLC video player. Now, VLC should play video without crashing problem.
7. Other Possible Ways to Fix VLC Crashing Problem
Increase the value of File caching (ms) to 1000 or higher.
Set the Skip the loop filter for H.264 decoding to All.
Set the field to OpenGL video output under the Video Output section. All this can be done under Preference settings.
Force quit VLC Media Player on your device.