How to Fix Audio/Video Codec Not Supported on Windows (10)
Video is perhaps the most popular type of multimedia content nowadays, and playing video file on a Windows PC or any other gadget can be enjoyable. But this too has come with many troubleshooting concerns. One of these concerns is you might get prompted with video codec not supported error while opening a video, with error code such as 0xc00d36c4 or 0xc00d5212.
This is a grave problem, especially when you love this video file even it is saved in a well-known format like MP4 or MKV. If you have a hard time with video playback and cannot figure out why you get the unsupported video codec format error, we will share the reasons and solutions which will come in handy.
3 Feasible Ways to Fix Audio or Video Codec Unsupported Error
Part 1. Why Is Video Codec Not Supported?
What does it mean when it says video codec not supported? Explanatorily, it means the codec of your video is not supported by the media player. That's why you end up with nothing but get prompted with the unsupported video codec error. Speaking of the video file, you need to know how the video file works and what a codec is?
About the codec: As you know, video and audio take up massive amounts of space in the raw form. To save space or make it transferable, they gets compressed by proper compression standard and then decompressed on the fly by video player. This is where the word codec comes in, which refers to the compression standard for how an audio or video stream is compressed. There are loads of video and audio codecs out there, such as HEVC, H.264, AV1, DivX, MPEG2, MPEG4, AAC, AC3, etc.
About the container: For some reasons, the video and audio streams need to be put together. Hence, the word container format comes out. For example, if you have an HEVC stream of a video, and an AAC stream of an audio, you can put them into a container, such as WMV, AVI, MP4, MOV, etc. Different container formats can hold different codecs. For instance, MKV and MP4 hold multiple video, audio, subtitle streams. That means, the file saved in MKV or MP4 format can be encoded in h.264, HEVC, AV1, WebM, VP9, and more.
While on the other hand, every device has its own set of supported audio and video formats and codecs. For example, Android phone reads files of AV1 in MP4, MKV format only when you upgrading to Android 10+. If you happen to have a video with AV1 codec on your elder Android phone, you will fail to play the file. On the other hand, it's OK to play an MOV file on QuickTime but after you import it to your Windows 10 PC, you may end up with nothing but get prompted with video codec unsupported error.
That's the root cause why you are informed of "video codec not supported" or "unsupported video codec" error when you try to open a media file on your Windows PC, Android or any other device.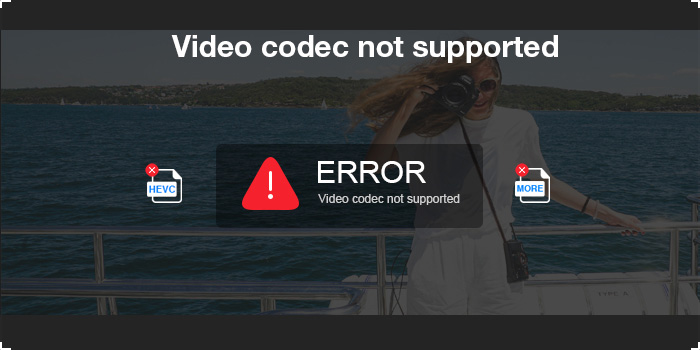 Part 2. How Do I Fix Audio or Video Codec Not Supported?
There are pretty much fixes for the unsupported video codec error. You can try out the troubleshooting tips below.
Way 1. Install Additional Video Codecs or Packs
If your PC or smartphone lacks the right codec required for proper playback, you can install the missing codec additionally and then play the video file to see if the audio or video codec not supported error disappears. Here we take installing codec in Windows Media Player for example.
Go to Tools > Options in Windows Media Player.
Select the Player tab > Check the box Download codecs automatically > click OK.
Import the video and play it. Click Install if a pop-up message referring to install the codec appears. Besides installing the video codecs to fix the issue, downloading video codec packs is another alternative. K-Lite Video Codec Pack is the one I recommend. To install K-lite, you can follow the steps.
Click Download on the K-Lite Codec Pack page.
Open the setup wizard for K-Lite > click Next and select Simple mode to install K-Lite.
Keep clicking Next > Press Install to finish. It includes almost all media codecs and will resolve the codec not supported error. Then you can play the video file format with your default media player.
You have to bear in mind video codec could result in harmful virus, malware, adware, or infectious files. If this is a concern for you, you can try media player or video converter to fix the audio video codec unsupported issue.
Here are the guides: Install MOV codec for Windows 10, Install MKV codec for Windows Media Player, Download HEVC codec
Way 2. Try a Third-Party Video Player
There are many video players out there that can play almost all video file formats without installing video codecs additionally. Most of them include built-in audio and video codecs and are totally free to use. There are three free video players you can try to fix the unsupported video format error.
VLC media player – VLC is the world's most reputable free media player. It is furnished with advanced features such as media library organization, network streaming, video converting, and more.
5KPlayer – 5KPlayer is widely acclaimed for its sleek interface with many codecs installed, be it AV1, HEVC, H.264, DivX, Xvid, MPEG2 or VP9. It plays up to 4k, 8K UHD video.
KMPlayer – KMPlayer is a versatile media player with added features such as quick button, video zoom and move, playlist setting, subtitle setting and so on.
There are some alternative you can try out such as GOM player, Potplayer, or MX Player. All are free and mostly with video and audio codecs and perform better with diversified of video files. If your video won't play on Windows or so, you can try them and avoid the audio and video codec not supported error.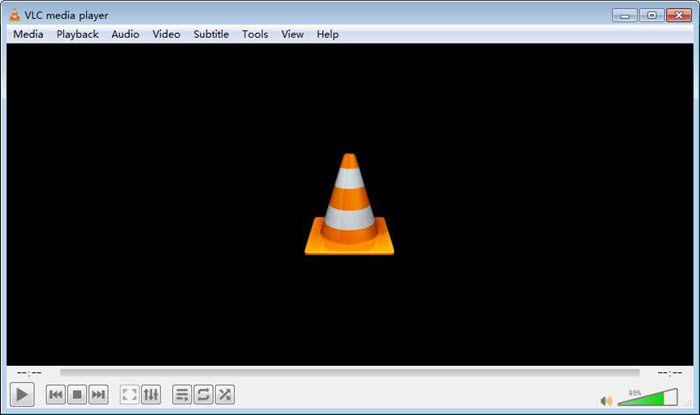 Video player recommendations: HD video player, HDR video player for Windows 10, 4k choppy playback on VLC
Way 3. Convert to Another Video Format
If trying third-party media player cannot troubleshoot the format incompatibility issue, but even results in some other errors such as choppy playback, audio delay, and more, one solid workaround for the video not playing issue is to change the video format or codec with a video converter.
One great video converter that is extremely versatile in terms of what file format it can handle is WinX HD Video Converter Deluxe, with 370+ video and audio codecs. Not only can it open pretty much any type of video that was recorded on any type of camera, but it is also a professional-level video converter that can encode any 8K/4K/HD video into a wide range of format, like MP4, MKV, MOV, AVI, HEVC, H.264, WebM, and more.
By utilizing hardware acceleration tech, it can convert a video at the fastest speed without degrading quality. Besides, the batch conversion feature helps convert dozens of files with just one click. You can try the following steps and then import the converted file to see if the error message video codec not supported pops up.
You can follow the steps to convert unsupported video format to another:
Load the problematic video by clicking +Video button.
Choose the output format from the pop-up window. Preferably, MP4 H.264 is highly recommended, as it has the widest compatibility with media player, PC, Mac, iPhone, iPad, Android, Xbox, PS4, Chromecast, YouTube, and more.
Specific the file by clicking Browse button and click RUN to begin changing video format.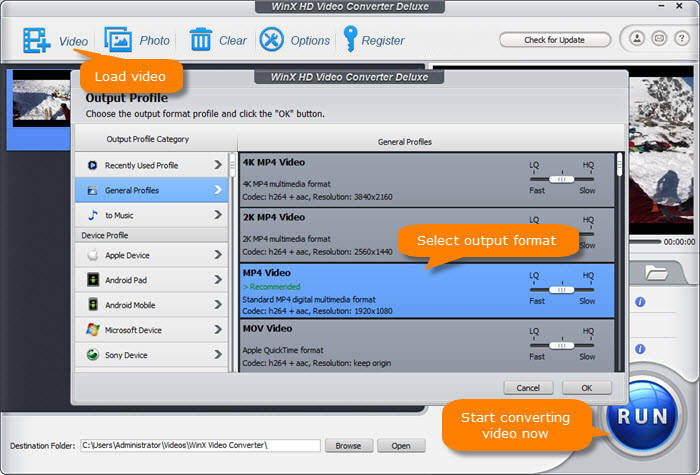 Note: If you just want to convert the video format only, you can click Auto Copy box. This will only remux the video file into another format without changing video codec, bitrate, frame rate and more nor reducing video quality at all. And the whole converting process pretty fast.
If you want to change the codec of a video, you can click the gear-shaped button on the main interface, after which a window will pop up, where you can choose the preferred codec.
Part 3. FAQ about Unsupported Video Codec Error
1. How to Fix Unsupported Video Codec Error on Android
Android phone generally supports .mp4 or .3gp video file encoded in h.263 or h.264 format. While Android lollipop or newer supports HEVC and Android 10 adds support for the AV1 codec. If your phone doesn't upgrade to the newest version, you can change the video codec or format to H.264 preferably.
2. How Do I Fix Video/Audio Codec Not Supported Error on Samsung/LG Smart TV?
Despite smart TV, be it Samsung TV or LG TV, accepts most video formats such as MP4, WMV, MKV, MOV, 3GP, etc, you may still encounter the codec not supported error during playback. To solve the issue, you have to make sure the video files are in the format and codec the smart TV recognize. Generally, the most popular codec for smart TV is H.264 with audio codec in AC3. If you run into the video codec not supported error, please convert it to MP4 H.264 in AC3 audio codec.
Summary
The above mentioned solutions will usually fix the audio or video codec not supported error for most users so they can play video smoothly. Resorting to a video converter is probably the most reliable and best solution. Plus the solutions can be also applied when you are struggling with the missing codec issue.