Free Download HEVC (H.265) Codec for 4K/8K Video Playback
HEVC (aka H.265) has earned its reputation since 2014 when Apple, Nvidia, and Microsoft announced HEVC support for their products in succession. From then on, the video codec is applied to a wide range of fields, incl. GoPro, iPhone, modern cameras, 4K/8K high-resolution videos, online streaming, 4K Blu-rays, and so on. However, Microsoft doesn't provide native support for the HEVC codec in Windows 11/10.
In this article, we will focus on how to free download HEVC codec extensions for 4K/8K video playback, and how to play HEVC videos without installing extra HEVC/H.265 codec packs, explaining what is HEVC codec, together with errors and FAQs about HEVC playback that users concern most.
Looking for the Best Solution to Play 4K/8K Videos Encoded with HEVC/H.265?
Try WinX HD Video Converter Deluxe - Transcode HEVC video extensions to fix the incompatible problems on PC/Mac or devices. Easily and efficiently convert 4K/8K videos encoded with HEVC/H.265 to 1080P HD in formats MP4, H.264, AVI, MOV, etc, for smooth playback on incompatible PCs/Macs, TVs, and portable devices. GPU-accelerated (Intel/Nvidia/AMD) for 5x faster HEVC transcoding speed.
The HEVC decoder and transcoder is 100% free during its official Time-limited Giveaway! Click and get a full license for free.
Table of Contents
Summary: You can open "ms-windows-store://pdp/?ProductId=9n4wgh0z6vhq" to download the free HEVC Video Extensions from Device Manufacturer. But if this doesn't work, you can always buy and download the official HEVC extensions from the Microsoft Store. Meanwhile, there are various free HEVC codec packs and VLC to help open HEVC H.265 videos.
Part 1. How to Download Official HEVC Video Extensions on Windows 10
Codec packs make video playing easier by installing a number of different codecs at once. But they are likely to pose software conflict and are full of adware or spyware. That's exactly why Windows 10 introduces HEVC codec extensions officially. Microsoft charges for its official HEVC codec $0.99. Before you free download the HEVC video extensions and make a purchase, you should know that:
Pros:
The official HEVC video extensions from Microsoft is 100% safe and clean.
It's able to open HEVC videos on all Windows apps and smart TVs.
It's easy to install.
Cons:
It's a basic feature that should be free and built in Microsoft.
Microsoft HEVC video extensions won't work sometimes. When an error occur, it's difficult to troubleshoot and you can't get a refund.
The HEVC codec requires Intel 7th Generation Core processor and newer GPU to open HEVC videos in 4K and higher resolutions.
In the following steps, you will learn how to install HEVC Video Extensions on Windows 10.
Click the Start menu and open the Microsoft Store. Or go to the Microsoft store page. Search for the HEVC codec and you will see the $0.99 HEVC Video Extensions package. Enter in the details page and click the "Buy" button to get the code that will be sent to your email.
Enter the code you received, then click the "Install" button to download and install HEVC Video Extensions on your Windows 10 PC.
Click the "Launch" button once installed. And you're able to play 4K HEVC H.265 videos on the Movies & TV app. By the way, Microsoft automatically installs security updates for these codecs for security purposes. So make sure to enable "Update Apps Automatically" in "Settings". Still, some unlucky users are encountering errors with the HEVC Video Extensions from Microsoft on Windows 10. For example, there are errors like the HEVC extension is not launching, can't download/install the HEVC extensions after purchase, won't open MKV videos with HEVC codec, etc.
[FREE] HEVC Video Extensions from Device Manufacturer
Size: 7.0MB
System: Windows 10 or higher
There was a package "HEVC Video Extensions from Device Manufacturer" which was free to download on Windows 10 from the Microsoft Store. The free HEVC codec is exactly the same as the $0.99 official HEVC Video Extensions from Microsoft but is free. However, that version is no longer available. But you can still get it for free. Here is how:
Copy/paste this link into the browser:
ms-windows-store://pdp/?ProductId=9n4wgh0z6vhq
Or, open command prompt, and type/paste:
start ms-windows-store://pdp/?ProductId=9n4wgh0z6vhq
If it asks you to launch your Microsoft store, just open it. Click the Install button and it will then ask you to enter your Microsoft account. Just close that window and it will continue to install the HEVC video codec free on Windows 10. If that won't work, you can still find the HEVC Video Extension available for free download for Windows 10 and later on sites like free-codecs.com and codecpack. The HEVC codec works on devices new than an Intel 7th Generation Core processor and newer GPU to support 4K and Ultra HD content. With the HEVC Video Extension downloaded and installed, you can also view .HEIC photos without further codecs.

What if the HEVC Video Extensions won't work?
1. Sign-out your Microsoft Account from the Microsoft Store, then search for HEVC Video Extensions and click Install. It will ask you to log in your account and re-install the HEVC codec extensions.
2. Reset the Microsoft Store cache: Press the Windows Logo Key + R to open the Run dialog box, type wsreset.exe, and select OK.
3. Reset the Microsoft Store app on Windows 10: Open Settings > Apps> Apps & features. Select Microsoft Store and choose advanced options. Click the Reset button.
4. The HEVC codec extensions are compatible with Windows built-in apps. But it may not work with other players and editors. So you may see Premiere Pro or Filmora asking you to install HEVC codec after you download the Microsoft HEVC video extensions. Try other free HEVC codec packs below.
Part 2. Top Free HEVC Codec Packs to Download
As Windows 10/11 doesn't contain a built-in HEVC codec, it will give you an error asking you to download the HEVC Video Extensions for $0.99 when you try to play an HEVC video using Microsoft's programs. How to download HEVC codec extensions for Windows 10 Media player or other video player software? What if you don't want to spend $0.99 on Microsoft's HEVC codec extensions?
Beginners may search HEVC codec extensions on Google or software download sites to get a direct download link. But the random results are quite confusing. So, we list the following reliable HEVC (H.265) codecs for you to download on Windows 10.
1. x265
Size: N/A
System: Windows, macOS, Linux
x265 is an open-source HEVC encoder application library that helps users encode video/images into an HEVC bitstream. It's available under either GNU GPL 2 license or a commercial license. This codec aims to provide the best HEVC/H.265 encoder and deliver the highest encoding speed and visual quality. It has been adopted by many open-source programs, incl. FFMPEG, Handbrake, etc. The latest version is v3.5 at 1.5MB in size, you can download x265 v3.5 here >>
2. DivX 10.8.10
Size: 3.89 MB
System: Windows 10|8|7|Mac
DivX is one of the most popular video codecs with the implementation of several mainstream video and audio standards, including DivX, MKV, HEVC/H.265 up to 4K, H.264, MPE4, AVI, MPEG-2, AAC, AC3, DLNA, DTS-HD, etc. The most recent version of the DivX codec itself is v10.8.10. It is built-in DivX HEVC Ultra HD codec extension, meant to help users create and play HEVC videos up to 4K UHD. You can download the DivX codec here. (Note that the DivX 10 HEVC codec pack for Windows may contain ads)
Download DivX codec on Windows >>
Download DivX codec on Mac >>
3. K-Lite Mega Codec Pack
Size: 59.7 MB
System: Windows XP and later
K-Lite Codec Pack[2] is a collection of video and audio codecs with DirectShow filters and VFW codecs built into its system. It enables software and operating system to play many popular video and audio formats. Since version 10.10, the K-Lite Codec Pack Mega added support for decoding HEVC. So if with the K-Lite Mega Codec Pack installed on your Windows, you can play HEVC video extensions free on Windows 10/8/7/XP (64 & 32 bit) without trouble. Download the latest codec pack for HEVC playing here >>
4. Media Player Codec Pack
Size: 45.3 MB
System: Windows 11/10/8/7
Media Player Codec Pack Plus is a free HEVC/H.265 codec pack that will work in Microsoft Windows Media Player as well as any other DirectShow compatible player. With the free HEVC codec downloaded on Windows 11/10, you can play videos in HEVC, H.265, 10bit x265, MP4, MKV, AVI, WebM, M4V, and more. HEVC videos in 4K and higher resolutions are supported. It supports GPU hardware acceleration from Nvidia, AMD, ATI, and Intel for smooth HEVC playback.
Except for the above free HEVC video codec packs and extensions, you can also download Windows 10 Codec Pack or Media Player Codec Pack Plus to have a try. They also support a wealth of compression and file types used by modern video and audio files, from x265 to H.265/HEVC, 10bit x264, H.264, AVCHD, DivX, XviD, MP4, MPEG2, etc.
Part 3. What Is HEVC/H.265 Codec and why you need it?
Once you have a free HEVC (H.265) codec extension installed, you should be able to open and play HEVC videos without error. Why is the HEVC codec extension so important? Let's have a brief knowledge about the HEVC codec.
HEVC (High-Efficiency Video Coding)[1], by taking advantage of core techs such as motion compensation, entropy coding, intra/inter codings, coding tree unit, etc., only requires half bitrate to keep the same video quality compared to H.264/MPEG-4 AVC. In other words, the HEVC codec delivers better video quality at the same bitrate. Target at next-generation HDTV display and content capture systems, it can support 4K and 8K UHD resolution. >> What you may be interested in: H.265 vs H.264, H.265 vs H.266
HEVC codec is the software to compress or decompress HEVC video. It can be an encoder for compression only or a decoder for decompression only. With H.265 codec, people can create a 4K/8K video or convert HEVC videos to a more compatible format for flawless playback.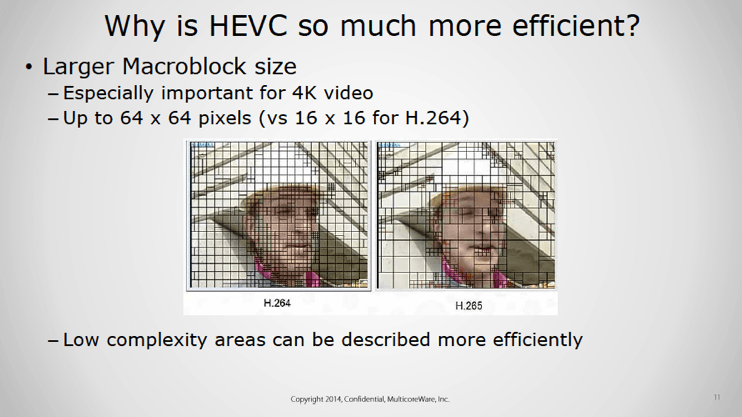 Part 4. Why HEVC Videos won't Play with Codec Pack Installed? How to fix?
Frankly, installing an HEVC video codec or extension doesn't guarantee 100% work. There are times you encounter HEVC playback errors. Here are the typical issues: HEVC H.265 video plays fine for the first few seconds then it becomes choppy and finally freezes. The audio is playing while you see a black screen. The computer goes overheated and the CPU utilization during playback is around 100%. Why?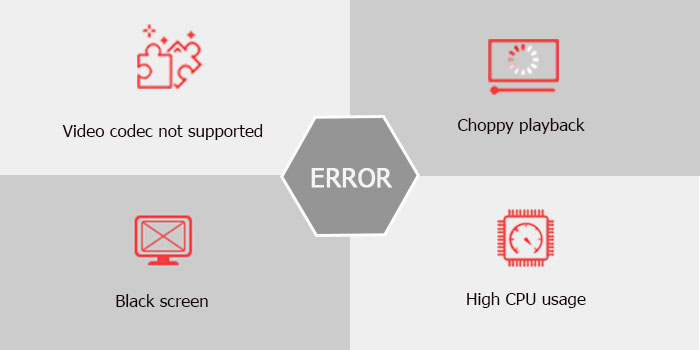 The real culprit for HEVC playback failure is the incapable hardware support. It is confirmed that HEVC playback is supported by Apple iPhone with an A9 chip or later. Only when Android shipped with Snapdragon 610/Kirin 950 or a better processor can users play HEVC video. As to personal computer, HEVC video stuttering error may occur if it doesn't install Nvidia GTX series/Intel i7/AMD Athlon X4 835 or higher.
The HEVC playing error will be even worse if your video is 4K UHD, as it exerts more burden on the CPU. That's the whole reason you run into freezing or stuttering errors while playing HEVC 4k video. How to fix the issue even when you install HEVC codec extensions on Windows 10?
Solution 1. Upgrade Your Hardware
In general, mobile devices and computers manufactured after 2016 such as iPhone 6, iPad Air 2, Samsung Galaxy S7 equivalent, or better can handle the HEVC codec. While for the 4K HEVC video, the decoding process will be slow or stuttering if without hardware acceleration. So powerful hardware is required for efficient HEVC playback. Below are the minimum hardware requirement for decoding 4K HEVC H.265 videos.
Intel 6th generation "Skylake" or newer CPUs
AMD 6th generation "Carizzo" or newer APUs
NVIDIA GeForce GTX 950, 960, or newer graphics cards
AMD Radeon R9 Fury, R9 Fury X, R9 Nano, or newer graphics cards
Solution 2. Convert 4K HEVC to H.264
4K HEVC requires more processing power. If your hardware is not powerful enough to handle HEVC video extensions, it's wise to downscale 4K to 1080p and convert HEVC to a more friendly format with a video converter. Check the full list of best video converters 2023 >>
Looking for the best tool to play 4K/8K videos encoded with HEVC/H.265? Try WinX HD Video Converter Deluxe. Transcode HEVC video extensions to fix the incompatible problems on PC/Mac or devices. Easily and efficiently convert 4K/8K videos encoded with HEVC/H.265 to 1080P HD in formats MP4, H.264, AVI, MOV, etc, for smooth playback on incompatible PCs/Macs, TVs, and portable devices. GPU-accelerated (Intel/Nvidia/AMD) for 5x faster HEVC transcoding speed.
Below are the simple steps to convert 4K HEVC H.265 to H.264.
Download an HEVC converter such as WinX HD Video Converter Deluxe, and click the +Video button to load the HEVC video source.
Choose MP4 H.264 as the output format by going to General Profiles --> MP4 Video (H.264).
Check the box Hardware Acceleration to make sure the HEVC transcoding is processed based on GPU for a fast conversion.
Click the RUN button to begin the HEVC conversion.
Follow the detailed tutorial to convert HEVC to H.264 for smooth 8k/4k/HD video playback.
HEVC Video Won't Play on Older PC or Mobile?
Time to solve HEVC codec error with WinX Video Converter giveaway copy!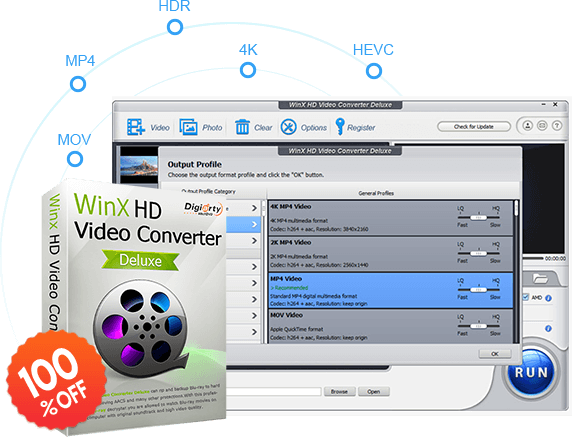 Giveaway
WinX Video Converter
Accept any HEVC video from DJI, GoPro, and more.

Convert 4K, MP4, MOV, AVI, MKV, etc. 47X faster!

Compress large video to be 80% smaller. No quality loss.

Cut/merge/crop video. Adjust codec, resolution, etc.
Part 5. Free HEVC Codec Alternative
If you don't want to pay for Microsoft's official HEVC video extensions, don't want to bother with other free HEVC codecs, or have problems getting the HEVC codecs to work with your program, there is an easy alternative solution to play HEVC videos. The VLC media player comes with the built-in support for HEVC codec and can help open and play HEVC videos without third-party codec packs. You simply need to download VLC on Windows 10, go to Settings > Apps > Default apps, and set VLC as your default player. Next time, it will automatically open an HEVC video with VLC.
If VLC is not your favorite player, there are many other free HEVC players available, such as 5KPlayer, DivX Player, Cyberlink PowerDVD, Potplayer, etc.
Part 6. FAQ about HEVC Codec
1. How to Install Free HEVC Codec on Windows 10?
In Part 2, we have listed the best free HEVC video extensions you can download for your PC. However, how to install and have HEVC codecs work on Windows 10? Here are the steps: download the HEVC codec from the link below them > once downloaded, double-click the downloaded pack and follow the instructions to install it > you may be asked to set the player you use (such as Windows Media Player) as the Preferred video/audio player. Then the video player will take advantage of the H.265 codec and open HEVC videos without error.
2. Does VLC Support HEVC Codec?
Yes, experimental decoding of HEVC extensions is allowed in VLC V2.1.1 with RinceWind. And in version 3.0.0, VLC supports playing HEVC video on Windows with hardware acceleration enabled, using DxVA2 & D3D11. If you cannot play HEVC video in VLC, simply update VLC media player.
Note: VLC users sometimes complain about failures while viewing HEVC H.265 video, this is because the hvc1 codec is encoded in some HEVC videos and there is no suitable decoder module. In this situation, you can convert hvc1 video to MP4 for VLC. Here is the detailed solution to fix the VLC HEVC video playing error.
3. How Do I Add HEVC Codec to Premiere and Import HEVC Successfully?
Adobe Premiere Pro users might be familiar with the error message "Codec missing or unavailable" when trying to import HEVC videos taken by GoPro, DJI, Canon, or iPhone. They were asked to install HEVC codec to use the feature. How to add HEVC codec to Premiere Pro?
For users who haven't updated to Premiere Pro 12.0.1 or newer version, just click OK button if you are informed of a message "HEVC Codec must be installed to use this feature. Clicking OK will kick off simple installation and enable the H.265 codec for immediate use." Then you can restart the computer to see if the HEVC video extension is imported successfully.
For users who have the latest version and Premiere Pro is still glitchy when using videos in HEVC codec, you have to know the culprit is either Dlog-M or the variable frame rate that Adobe Premiere Pro cannot recognize. In this situation, you transcode the HEVC VIDEOS using an HEVC video converter.
4. Which Video Player Includes Built-in HEVC Video Codec?
If you don't want to download and install an extra HEVC video codec on Windows 10, you can still play HEVC videos on PC as there are video players that come with built-in HEVC decoders. Here we list some best free HEVC codec players for Windows 10 and later. Have any 4K/HD HEVC videos that will not play, try the free HEVC video decoders below.
VLC Media Player
5KPlayer
Potplayer
DivX Player 
MPC-HC
5. Will HEVC Be the Next Mainstream Codec? - HEVC vs VVC vs AV1
You see, more and more videos are encoded in the HEVC codec or packaged into HTTP Live Streaming (HLS) format in HEVC. HEVC H.265 plays in 17.17% of all browsers, 78% for iOS devices, and 57% for Android 6 years after being an international standard. On the other hand, the momentum of the AV1 codec and VVC codec[3] cannot be underestimated.
AV1 plays in 32.02% of all browsers since both Google and Mozilla are AOMedia members. Meanwhile, in Nov, 2018, Microsoft released the beta AV1 Video Extension, which allows AV1 playback on Windows 10 devices. On the other hand, being the next-gen standards-based codec after HEVC h.265, the VVC codec delivers a 30% bit rate reduction over HEVC codec at the same perpetual quality. And the BBC found HEVC (HM) and AV1 to be about the same, with VVC (JEM) substantially better than both.
To a great degree, the codec future will be dictated by AV1's royalty-free status. But at the present stage, HEVC video extension still plays a crucial part in high compression efficiency. See more: AV1 vs HEVC - Which is the Codec of the Future?
Video Tutorial: Download HEVC Codec to Play HEVC Files on Windows 10
External Source Links:
1. High Efficiency Video Coding (HEVC) [wiki]: also known as H.265 and MPEG-H Part 2, is a video compression standard, designed as a successor to the widely used Advanced Video Coding (AVC, H.264, or MPEG-4 Part 10).
2. K-Lite Codec Pack[wiki] is a collection of audio and video codecs for Microsoft Windows that enables an operating system and its software to play various audio and video formats generally not supported by the operating system itself. The K-Lite Codec Pack also includes several related tools, including Media Player Classic Home Cinema (MPC-HC), Media Info Lite, and Codec Tweak Tool.
3. Versatile Video Coding (VVC) [wiki] is a future video compression standard being developed for finalization around mid-2020 by the Joint Video Experts Team (JVET), a united video expert team of the MPEG working group of ISO/IEC JTC 1 and the VCEG working group of ITU-T. At times, it has also been referred to as Future Video Coding (FVC) and as ITU-T H.266. It will be the successor to High Efficiency Video Coding (HEVC, also known as ITU-T H.265 and MPEG-H Part 2).