Free Download H.265 Encoder to Create H.265 UHD 4K/8K Videos
Free Download H.265/HEVC Encoder to Get H.256 Encoded UHD 4K/8K Videos
H.265, another name of HEVC, wins its popularity in the digital world. This video coding format has been widely used in many aspects for online 4K/8K video streaming, 4K video playback on Windows/Android and more, becasue its high efficiency can deliver a improved quality with the support of UHD resoluton. And, most tech fans are inspired to delve into H.265 and try to generate a H.265 video sample. How to get a H.265/HEVC encoded video? First of all, an HEVC encoder is in need. In this article, we will introduce the best two H.265/HEVC encoders with reviews.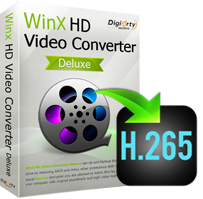 Encode any video to H.265/HEVC and decode H.265/HEVC videos to other formats (H.264, MPEG4, AVI, WMV, MOV, FLV, 3GP etc.) in lower resolution for better playback on small monitors and devices.


Work as a video editor to crop/trim videos; merge several files into one for H.265 encoding/decoding; add external subtitles.


Deliver a super fast speed for H.265 encoding/decoing thanks to Hardware Encoder (Intel QSV and Nvidia NVENC) support, Multi-core CPU utitlity and Heyper-threading Tech.


Purchase benefits: Get FULL LICENSE at $35.95 (a $14 saving). Lifetime free upgrade. 30-day money back.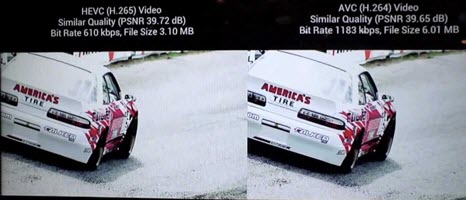 What Is H.265?
Successor to H.264, H.265 (aka. HEVC), a video compression standard firstly published in early 2013, is said to revolutionize video coding efficiency to provide greatly improved video quality at the same bit rate with H.264 on account of double data compression ratio and supports 4K/8K UHD with a resolution of up to 8192x4320 pixels. Comparable to the precious standard, H.265 is more network-friendly for lower bandwidth needed to play videos at the same level of quality, which means that it is probable to watch a UHD 4K or 8K movies/videos online more smoothly. In addition, a H.265 encoded video takes up less space, making it more suitable to be saved on devices with limited storage.
>> Differences between H.265 and H.264
Best Two H.265 Encoders [Review & Free Download]
H.265 encoder is essential for video producers who want to make H.265 HD movies/videos with maximum quality but lower storage costs. In the following, two H.265 encoders will be recommended to you. One is x265 encoder which is much suitable for a tech savvy or transcoder software developer, the othere one is an all-in-one H.265 converter which can help beginners to encode a video to H.265 with no effort at all.
• x265 Encoder
x265 encoder is an open-source library developed by MulticoreWare and published under the GNU GPL 2 license for encoding video streams into H.265 format and offers the most efficient HEVC encoding solution for a variety of hardware configuration. It aims to offer a possible highest video quality at any bit rate or lowest bit rate for any resolution for H.265 encoding. Fast speed on any hardware configuration can be achieved. Apart from source code for developers, it also gives a x265 encoder application for making HEVC encoding become easier.
The source code of this H.265 encoder is now available to be free downloaded for personal and private use. Instructions to compile x265 are different depending on platforms (Win/Mac/Linux). Download source code and follow instructions to create your own H.265 HD movies/videos with this great H.265 encoder. You can purchase x265 HEVC Upgrade for convert MP4 files to HEVC with ease.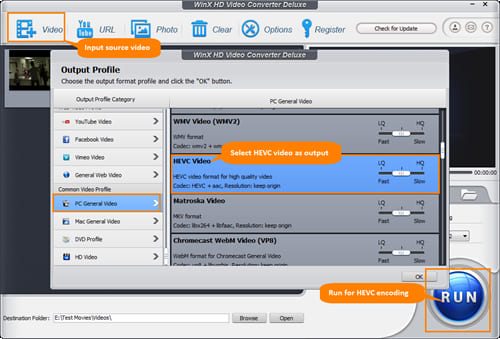 • WinX HD Video Converter Deluxe
Compared to x265 encoder which is primarily developed for programmers and tech savvys, WinX HD Video Converter Deluxe is much friendly to beginners. It is designed with an intuitive interface helping everybody get started quickly. It is avilable to create a H.265 encoded videos from MKV, MTS/M2TS, AVI, MP4, MOV etc, while keeping a great quality in only 3 steps. Thanks to the support of hardware encoder (Intel QSV & Nvidia NVENC), Multi-core CPU and Hyper-threading tech, it can deliver an extremely speedy H.265 encoding process.
This WinX H.265 encoder also acts as a HEVC decoder enabling you to transcode H.265 videos to H.264, MPEG4, AVI, WMV, MOV, FLV, 3GP etc, in order to make H.265 videos compatible with more devices. It can also compress H.265 4K/8K videos to 1080P, 720P, 360P for fitting monitors/displays with lower resolution. It also builds in a H.265 video downloader to free download H.265 encoded 4K/8K videos from YouTube or other online streaming services supporting HEVC.