Best x265 to x264 Video Converter | Review & Tutorial

"I have a media player for my TV which doesn't play x265 files, wondering if there is a program to quickly convert x265 to x264."
x265 is the most common-used HEVC encoder helping generate HEVC videos with high quality but in small size. It has been utilized in some famous transcoders/players, like FFmpeg, HandBrake, VLC. But x265 videos are in a poor popularity for they still can't be accepted by most media software and devices. To convert x265 to x264 is a solution to get x265 videos readable on more players and mobiles. Certainly, x265 to x264 converter software is in need.
Best x265 to x264 Converter to Decode H265 to H264 without Losing Quality
WinX HD Video Converter Deluxe is the top choice! With 320+ codecs supported, it works seamlessly with whatever you feed it, X265 (hvc1 or hev1), X265 12 bit or 10 bit video formatted by MP4, MKV... and convert x265 video to x264 files with virtually no quality loss.
For Windows and Mac only. If you are a mobile user, please click here.
Why Is WinX HD Video Converter Deluxe the Best H265 to H264 Converter?
1. It has an intuitive and concise interface discarding fancy design but organizing function modules neatly. Even a beginner can soon master how to use it without consulting any guide.
2. 8K, 4K, and HD x265 videos all supported. Convert HD X265 videos to x264 (H.264) with vivid images and hi-fi audios, thanks to constantly optimized conversion engine and cutting-edge High Quality Engine.
3. Losslessly convert H265/H264 video to iPhone, iPad, Apple TV, Android, Windows Mobile, Xbox, Sony PlayStation and more.
4. About 5x faster speed to convert x265 to x264 on the basis of hardware acceleration (Intel QSV, Nvidia CUDA/NVENC), Hyper-threading Tech and Multi-core Utility. It's able to convert a 100-mintue x265 movie to x264 within just 10 minutes.
5. It gives a light and clean installation so that no 3rd party plug-ins, adware, virus or other malicious software will sneak into your computer.
6. Plus, it can be an online video downloader to download 4K/HD videos from 1000+ sites and an easy video editor to crop, trim, merge, compress videos.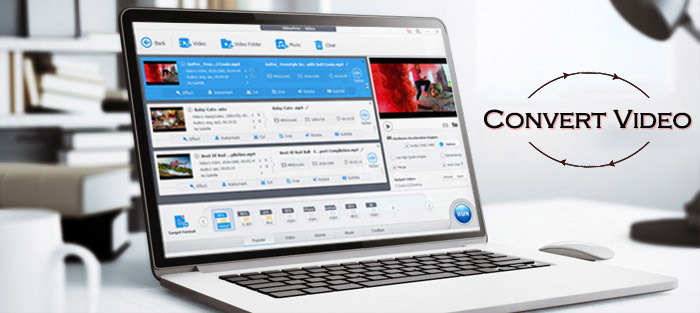 Tutorial: How to Convert x265 to x264 without Losing Quality?
The X265 to X264 converter is fully compatible with PCs running on Windows 11/10 and lower versions. Mac version arrives as well available for macOS Monterey and earlier. In the following, we will show how to convert x265 to x264 with WinX HD Video Converter Deluxe on Windows 10 PC. Mac user guide shares the same workflow.
Step 1. Download and install WinX HD Video Converter Deluxe on your computer.
Step 2. Import x265 Video
Launch it and click + Video button on the top bar of the interface. Then navigate and select an x265 video from hard drive to the converting list. You can select mutiple X265 files and convert them into X264 in a batch.
Step 3. Select x264 (H.264) as Output Format
Once the x265 video is loaded, the output profile window will automatically pop up to let you select the output format. To convert x265 into x264, choose General Profiles from the left column and scroll down to find "H.264 MP4", "H.264 MKV", "H.264 MOV" or "H.264 M4V" as output format.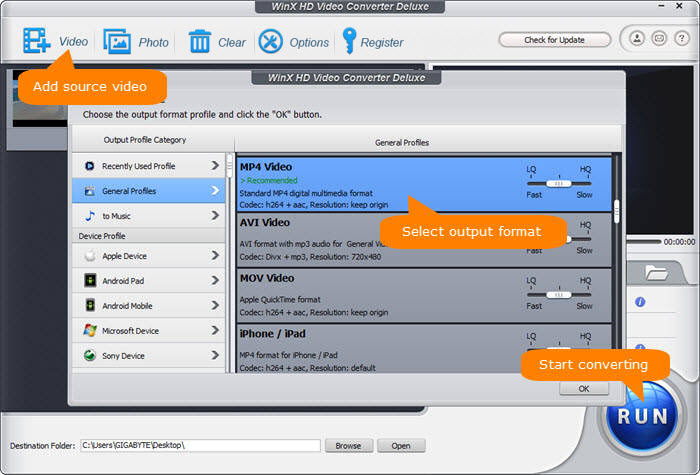 If you want to convert x265 video to x264 file for playing on mobile devices, uploading to website or later burning DVD, move to matched category and choose a desired format.
If you want to convert multiple x265 video files, please repeat step 1 and the output format will be automatically set as what you select in step 2.
Step 4. Start converting x265 to x264
Next, set a destination folder on the PC by clicking Browse. Finally, click RUN and this top HEVC converter starts x265 to x264 conversion.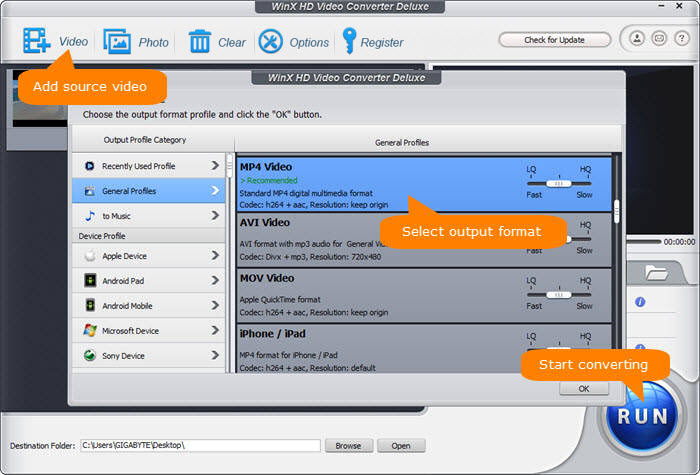 Then you're able to play HEVC files freely...
Related External Sources:
• x265 - A library for encoding video into the High Efficiency Video Coding (HEVC/H.265) video compression format that was developed and standardized by the ISO/IEC MPEG and ITU-T VCEG…
• x264 - A free software library developed by VideoLAN for encoding video streams into the H.264/MPEG-4 AVC format…
Still have question on how to use this best WinX x265 to x264 converter on PC/Mac? Please feel free to Mail Us >>
FAQs about Converting x265 to x264
1. How to Convert x265 to x264 with MKVToolNix
To convert a video encoded in the x265 (HEVC) format to x264 using MKVToolNix, you'll need to use both MKVToolNix and a video encoding tool like Handbrake. MKVToolNix is primarily used for working with MKV files and doesn't have built-in video encoding capabilities.
2. How to convert x265 to x264 without losing quality
When you convert from x265 to x264, you are essentially re-encoding the video using a different compression method. During this process, some information will inevitably be lost, which may result in a slight reduction in quality. However, if you keep high bitrates and settings in the x264 encoding process using WinX Video Converter, you can minimize the loss and maintain a high level of quality.
3. How to convert x265 to x264 in VLC?
To convert a video from x265 to x264 using VLC Media Player, follow these steps. Open VLC and click on "Media" in the menu, then select "Convert/Save." In the "Open Media" window, click on "Add" and choose the x265 video file you want to convert. Click the "Convert/Save" button at the bottom. In the "Convert" window, choose the output format by clicking the drop-down arrow next to the "Profile" box. Select a profile that uses H.264 (x264) encoding. Click the "Browse" button next to the "Destination file" field to choose where to save the converted file and give it a name. Click "Start" to begin the conversion process. A progress bar will show the status.
4. What is the best free x265 to x264 converter?
One of the best free x265 to x264 converters is WinX Video Converter. WinX Video Converter is a popular video transcoding tool that supports a wide range of formats, including x265 and x264. It provides a user-friendly interface and offers various presets for easy conversion.
To convert from x265 to x264 using WinX Video Converter., simply open the program, import the x265 video, then choose the output format and adjust settings as needed. WinX Video Converter provides options to adjust video quality, resolution, bitrate, and other parameters for customization.