HEVC-H265 Decoder: How to Play x265 on Windows 10
The factors related to HEVC playback not only include HEVC codec, operating system, HEVC video player, but also H265 video source itself, be its video resolution, frame rate, HEVC tiers and levels (bitstream, bit rate, bit depth, Chroma sampling format...).
Currently, version 1 of the HEVC standard defines 3 profiles: Main, Main 10 and Main 12. And the 4K 60FPS HEVC video shot by GoPro Hero 6 Black or higher also reaches Main 12 profile, which causes HEVC choppy/stuttering, black screen only audio playing issues on VLC, Windows, macOS and more. This is just the version 1, let alone version 2 Main 4:4:4 12, Main 4:4:4 16 Intra or version 3 3D Main/High Throughput 4:4:4 14 profiles.
Yes, you might have already figured out the solution: upgrade hardware configurations, e.g., CPU, GPU, RAM for your Windows 10 computer. We don't talk about the huge costs on the hardware upgrades, hundreds or thousands of dollars. The problem lies in that the speed of hardware configurations upgrade can't catch up with the iteration of HEVC versions. Same goes for PS4. You just get your PS4 less than 1 year, but the newer yet stronger PS5 has been released.
To solve such kind of issue, the cost-effective yet long-lasting workable way is to change HEVC video parameter settings or convert HEVC videos to other formats for better compatibility with our devices and platforms. Thus, a qualified HEVC decoder is a must have.
Best HEVC Decoder: Make HEVC Troublesome Playback Trouble-free
WinX HD Video Converter Deluxe is the right one, 100% clean, safe and virus-free, compatible with Windows 10/8/7.
● Load whatever video sources, be it GoPro 4K HEVC 60FPS video, DJI H265 Dlog-m, x265 surveillance video by GeoVision, Hev1 video...
● Lower HEVC resolution 4K to 1440p, 1080p, 720p, tweak frame rate 60/50FPS to 30FPS, customize 12/10 bit to 8bit. The bit rate will be automatically changed to match up with your video once you adjust the settings.
● With 420+ profiles, decode HEVC and re-encode to MP4 H264, MPEG-4, MOV, DivX, VP8, iPhone iPad, Android, PS4, Xbox One, etc.
● Anything related to HEVC is easy to meet crash issue. Thanks to GPU hardware acceleration, this H265 decoder enables you to hardware decoding, re-encoding or editing HEVC videos without laptop lagging, CPU overuse/over heating errors.
How to Convert HEVC to Other Format on Windows (10) with WinX HEVC Decoder?
To get started, you need to download HEVC decoder on your computer and install it following onscreen instructions. Both Windows and Mac version are lightweight and easy to set up. Afterwards, you're supposed to follow the steps below to decode HEVC for playback on Google Chromecast, Apple TV, Roku, Amazon Fire TV, Xbox, iPhone, Android, or other gadgets.
Step 1. Load source videos encoded in HEVC.
Open this HEVC hardware decoder, move your mouse onto "+ Video" button and click it. Then, you're asked to browse and select target HEVC videos. It is available to load multiple files at once.
Step 2. Select output format.
You can choose any output profile you like from the auto pop-up Output Profile window. You're allowed to pick any video you like from the output profile category. If HEVC codec is to be kept, go to "General Profiles", scroll down and select it. Warm prompt: no matter your input HEVC is encoded by hev1 or hvc1 subcodecs, the resulting file will be converted to HEVC hvc1. It's especially designed for you to solve hev1 not playing on iPhone, hev1 can't play on VLC troubles.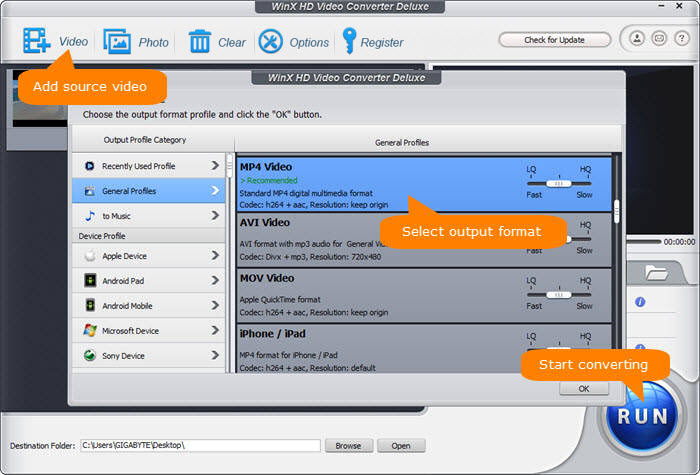 Step 3: Tap the "settings" icon

and a window pops up. The resolution, frame rate, bit rate, aspect ratio, as well as audio settings are all adjustable. Change your HEVC high settings to middle level to lower down the computational preassure for your PC.
Step 4. Begin converting HEVC to desired type.
Press the blue "RUN" button to command this HEVC decoder to begin working right now. You will see a new panel showing up with a progress bar. HEVC decoding won't take too much time, because this video converter combines several cutting-edge technologies together to boost video transcoding speed, Intel QSV and NVIDIA (CUDA) NVENC based hardware acceleration, Multi-core CPU, Hyper-threading, and Super Encode Engine based on MMX-SSE & AMD 3DNow!, respectively. Now, you should play HEVC video file on Windows, macOS, TVs, etc. smoothly.
Video Tutorial: How to Play HEVC Videos on Windows 10/8/7
Further Reading: Which Hardware Supports HEVC?
In addition to capitalizing on HEVC decoder software to realize smooth HEVC playback, we can also upgrade hardware to achieve the goal (of course, it costs more). Below is a list of famous desktop and mobile hardware which supports HEVC playback. ● Intel 6th-generation 'Skylake' Core processors or newer
● AMD 6th-generation 'Carizzo' APUs or newer
● AMD 'Fiji' GPUs (Radeon R9 Fury/Fury X/Nano) or newer
● Nvidia GM206 GPUs (GeForce GTX 960/950) or newer
● Other Nvidia GeForce GTX 900 series GPUs have partial HEVC hardware decoding support
● Qualcomm Snapdragon 805/615/410/208 SoCs or newer. Support ranges from 720p decoding on low-end parts to 4K playback on high-end parts.
● Nvidia Tegra X1 SoCs or newer
● Samsung Exynos 5 Octa 5430 SoCs or newer
● Apple A8 SoCs or newer
● Some MediaTek SoCs from mid-2014 onwards