Convert H.265 to H.264 Free without Quality Loss
The discussion about H.265 and H.264 is still in full swing. They all have their own advantages in the aspect of video size, quality, and compatibility. What users need to do is to find a compromise among them. That's why you need to convert H.265 to H.264 from time to time. In this article, we'd like to share you with the pros and cons of HEVC, and how to convert HEVC to H.264 for free without losing quality.
Best H.265 to H.264 Converter for Windows (11/10) and Mac | High Quality & Fast Speed
HD Video Converter Deluxe - The fastest GPU hardware accelerated HEVC to H.264 Converter!
8K/4K HEVC H.265 videos all supported! Transcode H.265 (hvc1/hev1; Main/10/12; Level 4 - Level 6.2) to H.264 with virtually zero quality loss (file size becomes a little bit larger).
5X faster H.265 to H.264 converting speed. This HEVC H.265 to H.264 transcoder is GPU HW accelerated by Intel, AMD, and Nvidia to convert x265 video on GPU, with no burden on CPU and no CPU overuse/overheating problems.
Easily convert MKV, HD camcorder videos (M2TS, AVCHD, MOD), Blu-ray videos, and standard MP4, AVI, MOV, VOB, MPEG, WMV, FLV, RMVB, WebM, etc. 370+ output video/audio codecs and 420+ device profiles are provided.
Part 1: Why Do You Need to Convert H.265 to H.264?
Advantages of H.265 over H.264
H.265 is superior to H.264 in regards to video quality, size, and compression rate. Namely, to achieve the same visual quality, H.265 encodes a more compressed video that is about half the size of H.264, at only half the bit rate.
Two key improved features of H.265 (HEVC) compared with H.264 (AVC) are the support for higher resolution videos like 4K/8K UHD resolution and improved parallel processing. H.265 will save much bandwidth when compressing and streaming 4K/8K videos online.
Disadvantages of H.265 compared with H.264
H.265 is not as compatible as H.264. For instance, GoPro 4K HEVC videos are not friendly to many editor apps. Namely, H.265/HEVC is not widely applied in many product fields so far, except for a few devices and media players like iPhones, Windows 10, 5KPlayer, etc.
H.265 may be superior to H.264 in the next 5 or 10 years along with the popular application and streaming of 4K UHD resolution, but right now if your gadget's resolution is up to 720p/1080p, H.264 is more suitable.
HEVC is highly acclaimed esp. in the era of 4K 8K Ultra HD while H.264 still dominates now, which makes sense to convert H.265 to H.264. So what's the best free H.265 to H.264 video converter and how to convert GoPro/YouTube/Apple H.265/HEVC video to H.264 for easier use on other platforms and devices.
Online video converters may be an option, but not the best one owing to the strict size limit (<20MB), instability, poor output quality, and even malware/adware. Thus you need a solid clean and easy-to-use HEVC converter, like HD Video Converter Deluxe or HandBrake. Check the detailed guide on how to use these two programs to transcode H.265 to H.264, as fast as possible.
Part 2: Free Transcode Video from HEVC to H264 without Sacrificing Quality
HD Video Converter Deluxe is the top recommended for H.265/HEVC to H.264 conversion. This tool is powerful enough to fulfill all popular videos conversions in whatever format and resolution. You can use it to easily convert HEVC (8/10/12 bit) to AVC H264, irrespective of hvc1 or hev1 codecs.
User rating: ★★★★★ 5.0/5.0
Official site: https://www.winxdvd.com/hd-video-converter-deluxe/
Software official download link: https://www.winxdvd.com/download/winx-hd-converter-deluxe-setup.exe
Support platforms: Windows 11/10 (32 & 64 bit), Windows 8/8.1/7/Vista (32 & 64 bit), Windows XP, 98, NT, 2000, 2003.
Pros: Intuitive interface, ultra user-friendly, clean, high quality, and superfast.
Key features:
Convert all popular 8K/4K/1080p/720p HD videos from H.265/HEVC to H.264, MKV, M2TS, AVCHD to H.264, AVI, MP4, WMV, MPEG, MOV, FLV, etc. Constantly optimized conversion algorithm ensures smooth decoding and encoding, no video load error or software crash issue.
The High Quality Engine is specialized to fix output quality blurry or pixelated image issues, delivering H.265 to H.264 ZERO quality loss.
370+ output formats & 420+ output device profiles to convert HEVC to iPhone, iPad, Android, Xbox, Apple TV, Chromecast, etc.
Edit, trim, crop, merge, add subtitles before changing x265 to x264. Versatile parameter settings are accessible.
5X faster H.265 to H.264 conversion with GPU hardware acceleration Intel QSV, Nvidia CUDA/NVENC. No CPU overuse/overheating, laptop lagging issues caused by compute-intensive transcoding.
Now let's get started to convert H.265/HEVC to H.264 in 3 steps without quality loss:
Step 1: Free download and install the HEVC to H.264 video converter on your Windows (11/10) or macOS (Monterey) computer. Launch the program and click the + Video button on its top-left. Select the H.265 (HEVC) source video files you'd like to decode to H.264 (AVC) from the computer.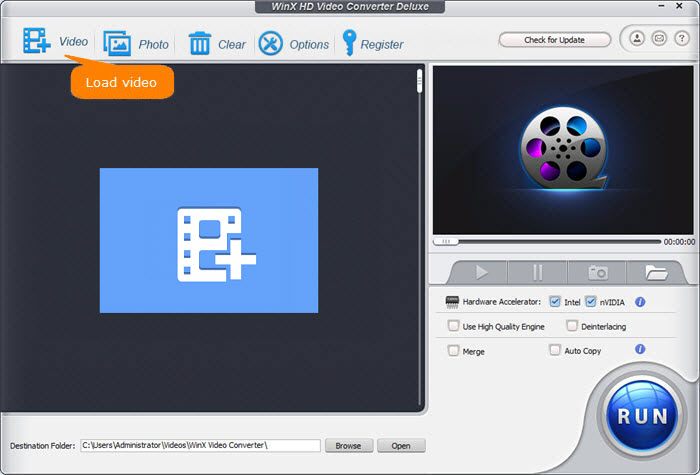 Step 2: To convert H.265 to H.264 for free, choose H.264 (AVC) as the output from the pop-up Output Profile window. Click under: PC General Video --> AVC Video (H.264).
This program provides many other output video formats encoded in H.264 codec, such as MP4 (h264), you can feel free to choose according to your own needs.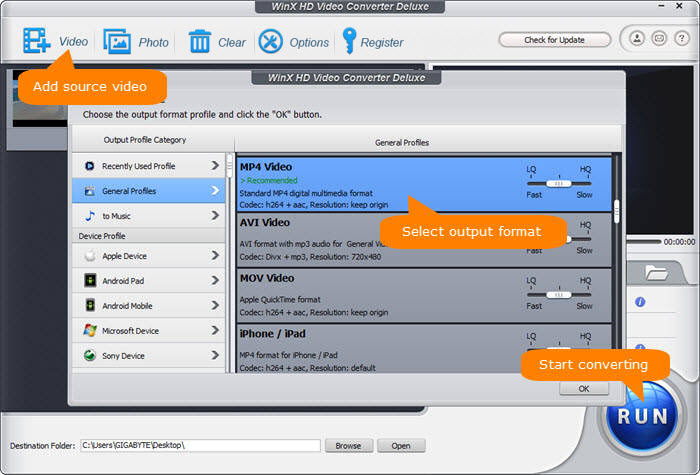 Optional operations: Click the Edit button to trim video clips, crop videos, add external subtitles, etc.; Click the Settings button next to the Profile icon to adjust video/audio parameters to achieve desired output results before changing HEVC/H.265 to H.264.
Step 3: Click Browse to specify a destination folder to save the converted video file. Hit the RUN button to start to convert HEVC/H.265 to H.264/AVC for free on Windows (11/10) or Mac with this high-class H.265/HEVC decoder at lightning speed.
Video Tutorial: Convert H.265 to H.264 to Play HEVC Videos Smoothly
Part 3: Convert H265 to H264 for Free with Handbrake
Another free way is using Handbrake. Handbrake is a famous free and open-source video encoder program mainly focusing on ripping regular DVDs or converting videos to MP4 or MKV containers in H.264/H.265 codec, and to some iPhone iPad preset profiles. People who have used this software figure out that it has a complex interface and settings which are more suitable for experienced users.
Key features:
Support H.265/HEVC and other single video files, video folders, and DVD disc input sources.
Convert various video files like H.265/HEVC to H.264, MPEG-4, and MPEG-2 in MP4 or MKV for free.
Fast rip non-protected DVD to MP4 or MKV (only support these two output video formats) for free.
Various advanced video/audio/image parameter settings for H.265 to H.264 conversion.
Pros: Free and fast. Versatile advanced settings.
Cons: Handbrake always outputs poor video quality.
It takes quite a long time to load source video and convert video.
It sometimes crashes in the middle before finishing the conversion process.
Besides, Handbrake is not updated often and lacks technical support.
The interface and settings of Handbrake are complex and it is not suitable for new beginners.
Check how to convert H.265 to H.264 for free with Handbrake now:
Step 1: Download Handbrake (latest version 1.5.1) from its official website. Install and open it.
Step 2: Click Source button to load the folder with one or more H.265/HEVC video files, or choose a single H.265/HEVC video file.
Step 3: Next click Browse button to set a target folder to store the converted H.264 video.
Step 4: You can convert the H.265 video free to H.264 in MP4 or MKV. Choose an output video container as you need.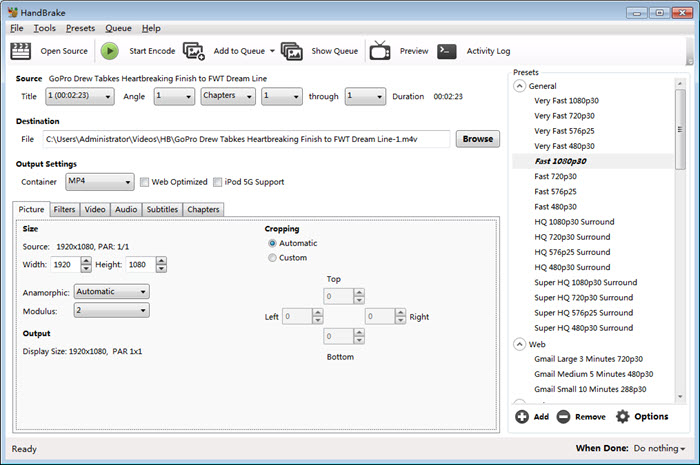 Step 5: Then hit Video tab to select H.264 (x264) video codec as the output and adjust other video settings like frame rate, bit rate, etc.
Step 6: Hit Start button on the top left to start converting H.265/HEVC to H.264 for free with Handbrake on Windows 11/10/8/7 or Mac.
You may be using free Handbrake to transcode H.265 to H.264, but if you meet problems using Handbrake, turn to its best alternative - HD Video Converter Deluxe.
Check the Handbrake Video Tutorial to Convert HEVC to H264
Part 4: Convert HEVC Video to H264 Free Online
AnyConv is a free HEVC to H.264 video converter that allows you to convert H.265 videos to H.264, MP4, MOV, M2TS, M4V, MP3, FLV, WebM, and more. You can upload multiple H.265 videos and convert them into H.264 in a batch. With this free H.265 to H.264 converter, you don't need to download and install extra software anymore. It works on Windows, macOS, and other operating systems as long as there is a web browser. However, you can't convert an H.265 video if it's bigger than 100MB. The converting speed and output quality are not stable.
User rating: ★★★★ 4.0/5.0
Official site: https://anyconv.com/hevc-to-h264-converter/
Support platforms: Web-based
Pros: Handy, easy, no installation required.
Cons: The HEVC file size should be less than 100 Mb; the performance highly depends on the internet.
Converting H.265/HEVC to H.264 is extremely easy with AnyConv:
Step 1: Open the browser on your computer and open the site. You will see the AnyConv online interface.
Step 2: Click the CHOOSE FILE button to add the H.265 videos, or drag and drop all the HEVC videos to the converter.
Step 3: Open the dropdown menu of the output format list and find H.264. Select it as the output format and click the Convert button. AnyConv will start to upload the H.265 videos and start to convert the uploaded HEVC videos to H.264. Once finished, you need to click the Download button to save the converted H.264 files to your local computer.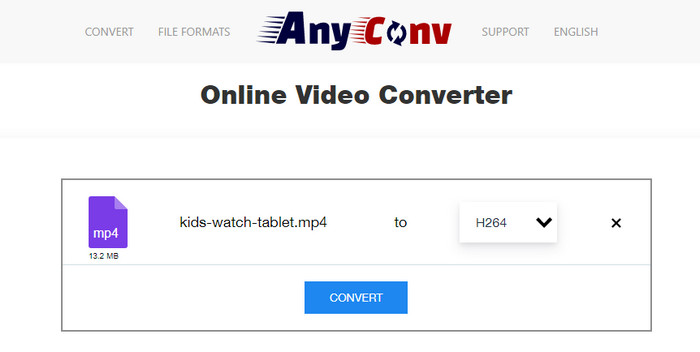 Related External Source:
H265/HEVC: HEVC (also known as H.265 and MPEG-H Part 2) is short forHigh Efficiency Video Coding. It is a new video compression standard, one of several potential successors to the widely used AVC (H.264 or MPEG-4 Part 10)...
H.264/MPEG-4 AVC: H.264 or MPEG-4 Part 10, abbreviated for Advanced Video Coding (MPEG-4 AVC), is a block-oriented motion-compensation-based video compression standard. As of 2014 it is one of the most commonly used formats for the recording, compression, and distribution of video content... (check H.265 vs H.264)