HandBrake x265 Settings | How to Set HandBrake for Encoding x265/HEVC Videos
x265 aims to offer the best HEVC/H.265 encoder that helps users encode video/images into a HEVC bitstream. Many have considered Handbrake a better tool to encode small sized and high-quality HEVC files since HandBrake added the support for new H.265 encoder, together with VP8 and Intel QuickSync Video. Since most users are confused about HandBrake x265 profile, the article is in the purpose of illustrating the best HandBrake x265 settings and Handbrake tutorials for transcoding HEVC videos.
Can Handbrake X265 Encoder Transcode HEVC Videos Faster?
Actually, x265 1.4 encoder of HandBrake is not mature yet, so many H.265 features and advantages are missing. Since version 1.1.0, HandBrake has attached great importance on new 4K presets and advanced HEVC encoding, like 10-bit color depth in H.265 encoder for Kaby Lake and new CPUs. However, without hardware acceleration enabled in your computer, 4K HEVC video decoding and encoding will be frustrated with extremely slow speed, and even in vain.
HandBrake 1.2.0 adds support for AMD and nVIDIA (NVENC), but only reaches a superficial level of GPU encoding, causing errors as below:
Q: I use handbrake for transcoding video, but it's no faster since I upgraded to my 980Ti. I then tried the latest nightly version, but the result H.265 file is about 33% larger than the H.264. Is there any software out there that will take more advantage of the GPU for faster H.265 transcoding while remain good balance between the size and quality?
Try WinX HD Video Converter Deluxe, A x265 Encoder & Decoder with GPU Acceleration
WinX HD Video Converter Deluxe - With ready-made HEVC profile and top-level hardware acceleration, it converts H.264, MPEG4, MOV, x265, 4K videos, etc with good balance between speed, size and quality.
WinX HD Video Converter Deluxe is a simple-to-use program which comes with advanced features for encoding video files. - Editor's Review from Softpedia
How to Set HandBrake for Encoding x265/HEVC Videos in Smaller Size but Better Quality
To make the best HandBrake x265 advanced settings for 4K UHD or full HD videos for example, you need to make sure that you've downloaded and installed HandBrake 1.2.0.
Step 1: Launch HandBrake, Click on Source button, open a single file or a whole video folder you want to convert and wait until HandBrake completes the scanning.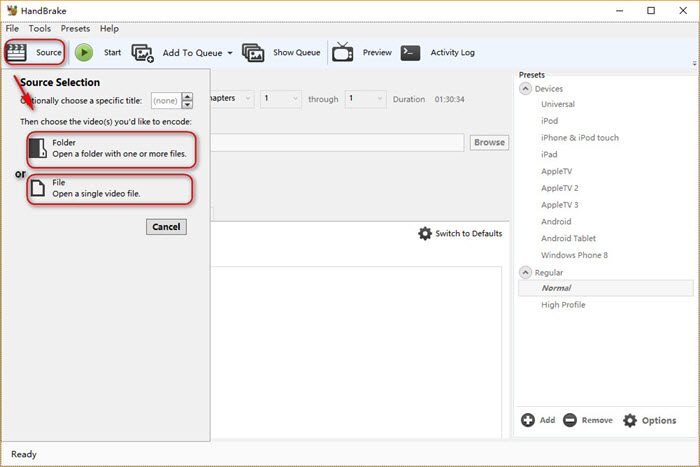 Step 2: Change Output Settings from Container MP4 to MKV, because it allows you to embed external subtitles and the MP4 container won't be played back in the H.265 build of VLC by libdeh265.
Step 3: Click on Picture -> Anamorphic -> Strict.
Step 4: Just leave everything Off, or adjust them according to your specific needs.
Step 5 [Important]: Click on Video -> Video Codec -> H.265(x265) >>See H.265 vs H.264
• Framerate (FPS): Same as source -> Variable Framerate (recommended)
Note: Choose variable bitrate instead of Constant bitrate (See the difference between them and how to change Video CBR and VBR)
• Optimise Video: Uncheck Use Advanced Tab instead -> set x265 Preset in Medium (basically, the higher the setting is, the greater quality the outcome will be, but it will lead to a longer encoding process and a larger output file).
• Quality: If you want to convert x264 to x265 with reduced file size, just keep constant quality at 20, 21 or 22. This will deliver great quality with acceptable size. Otherwise, 23 will be a great balance between quality and file size especially for 1080p videos.
Quality loss after video conversion? Check how to achieve a good balance between file size and quality >>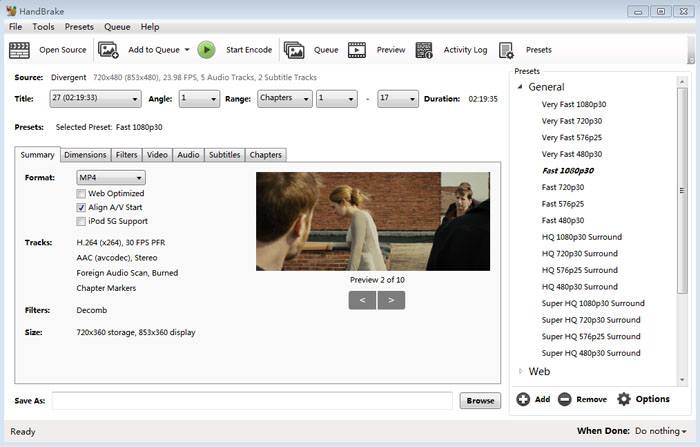 Step 6: In Audio section, HE-AAC (FDK) is used to be a good choice.  However, HE-AAC audio encoder was removed in 0.10.5 due to a license issue. So, just change to AAC (avcodec) instead.
As for the Bitrate, 96 or 265 can make a good outcome.
Mixdown the audio track to 5.1 Channels.
Step 7: Through Subtitles tab, you can add new track, add all remaining tracks, add all remaining closed captions, add all remaining selected languages, or import your own SRT file as the embedded external subtitles.
Step 8: After all the HandBrake x265 settings, you are good to go by tapping Start Encode button on the top and the video conversion will work until you can get the x265 video.
People also read: best HandBrake settings to rip DVD to MP4 (H.264) >>
Limitations of HandBrake for x265/HEVC Videos:
Admittedly, x265 gives the better compression and it is available in HandBrake. However, Handbrake is not the best choice for x265 encoding or conversion for at least the following reasons:
1. The operation is too complicated and unfriendly for beginners.
2. It runs slowly for HandBrake HEVC/H.265 encoding since x265 is very CPU consuming to encode. (>>What Is HEVC Codec)
3. Can only choose MP4 and MKV container formats for the output.
4. Only support a very limited range of devices, exclusive of iPhone X/8, Apple TV 4, Windows 10 Mobile, etc.
5. Annoying cropping feature: it will erroneously crop out a few pixels on any side; you have a 21:9 video encoded in 16:9, the cropping feature will automatically crop out the black bars at the top and bottom. >> HandBrake cropping guide
There are much more HandBrake errors, so considering all that, this open-source transcode program is not the best solution for x265 video processing.
For this reason, you can click the Free Download button in below banner to try the best HandBrake alternative for H.265/HEVC encoding. x265 has a wider and wider compatibility with the inclusion of Windows 10, Apple and Android natively, you should keep up with the tide and find a desirable HandBrake x265 encoder alternative.
Free Download the Best Handbrake Alternative to Encode/Decode HEVC Videos
No Settings Needed for x265 Video Encoding Using the HandBrake Alternative
As for HEVC/H.265 video encoding and converting, WinX HD Video Converter Deluxe is the best HandBrake alternative for the following reasons:
1. Fast speed: The hardware acceleration tech makes good use of multiple CPU cores, QSV and CUDA/NVENC to encode and decode videos.
2. Ease of use: the H.265/HEVC Encoder has a built-in HEVC Video profile under category PC General Video which is set to a good balance of quality and size with HEVC video codec and AAC audio codec.
3. Complete format support: Any videos, including multi-track HD videos, can be converted to H.265, H.264, MP4, AVI, WMV, MOV, MKV, FLV, etc; any videos can be make perfectly suitable for iPhone (X/8 included), iPad, Samsung, HTC, Apple TV, Android tablets, Windows devices, game consoles and much more.
4. Extra features: Support embedding subtitles, choosing forced subtitles (for non-English dialogues), downloading online (SD/HD/UHD) videos, editing videos, making slideshows and so on.
WinX also makes it badly easy to convert H.264 4K to H.265 4K and convert H.265 4K to H.264 4K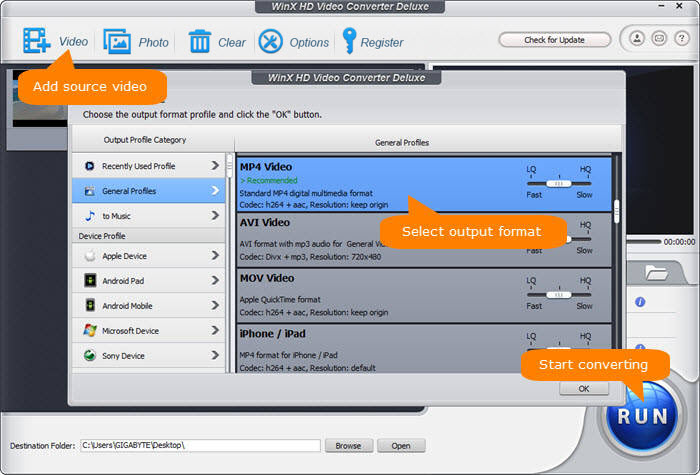 WinX HD Video Converter Deluxe promises to give you the No.1 fast HD video conversion speed, the most user friendly design and the most comfortable after-sale service.
Related Guides:
• How to Use WinX HD Video Converter Deluxe?
• How to Batch Convert Videos Using Handbrake?
• How to Download and Convert 4K/8K Videos?
Related External Source
x265: x265 is an open source free software and library for encoding video using the High Efficiency Video Coding (HEVC/H.265) standard...