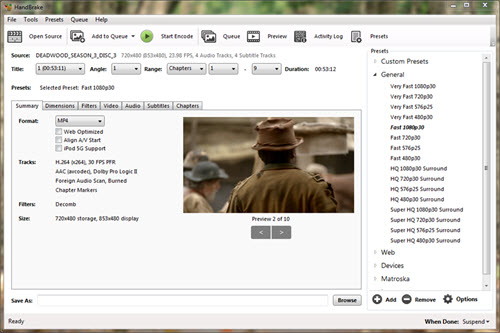 Step 1: Download and Install Handbrake DVD Ripper (1.2.0 is recommended)
First, download Handbrake and install it on your Windows PC (Handbrake supports Windows 10 OS 64 bit). Handbrake is available for Mac, Windows PCs, and Linux. So you can go on to check the Handbrake Tutorial for Mac OS.
Once downloaded, you'll be asked to install the program. Follow the directions on your screen and you'll be fine. Now, all you need to do is to prepare your DVD or video well before ripping DVD video using Handbrake 1.2.0.
Note 1: If you want to convert DVD, remember that Handbrake only rips DVDs that can be played in a DVD player (make sure your DVD's region matches DVD hard drive). So if you've got a disk filled with video files, such as AVI, MPG, WMV, MOV, etc, it won't convert them.
Step 2: Change the Source Settings
● DVD Source: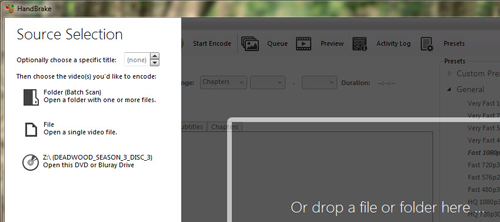 1. Insert DVD that needs converting into your computer and start the Handbrake software.
2. If a dialog box doesn't open up, click on the Open Source icon and select your DVD drive.
3. Handbrake will open the main Handbrake window and scan your DVD to detect the various titles and chapters (normally it will not take too long, but when trying to rip encrypted DVDs or DVDs with several titles, Handbrake will scan them one by one, so the time will be longer).
4. Select the proper title - Your DVD is likely to have several titles and chapters (like headings and sub-headings) for the main movie, and for other special features. Go find the solution to locate the right title >>
5. Sometimes, when you try and open a DVD, you might get a confusing set of folders. If you've already ripped the a DVD to your drive and want to convert it, you'll need to choose the VIDEO_TS folder.
● Video Source:
Click Open Source dropdown button, then click Choose Source to locate your target video clip.
Note 2: Handbrake supported video - DVD VOB files, MPEG-TS, Matroska, AVI, MPEG-4, etc.
Note 3: Handbrake cannot at present encode from DRM-encrypted videos purchased from iTunes or found on DVD or Blu-Ray discs. Installing VLC libdvdcss for HandBrake would only rip CSS-protected DVDs.
Rip Copy Protected DVDs with Free HandBrake Alternative on PC/Mac
HandBrake's incapable of ripping copy protected DVDs itself makes DVD ripping really complicated. An easier way is to download a HandBrake alternative like WinX Free DVD Ripper to rip not only regular DVDs but also copy protected DVDs. It unlocks DVD protections like CSS, UOP, RCE, region code and Sony ARccOS, etc. Besides, with its Platinum version, you can even rip Disney's DVDs and newly released movie DVDs with no difficulty.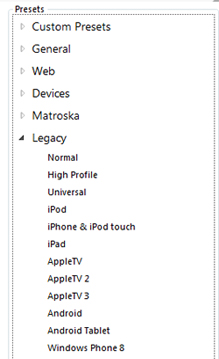 Step 3: Change the Destination Settings
Once you've chosen the source, the software will automatically ask you to select the destination. The way your picture and sound quality will turn out in the resulting file depends on the settings you choose in this step.
One of the first things you need to decide is what format you'd like the output file to be in. There are some presets that can be found on the Presets Toggle bar, and you can select any one of those, such as Apple TV, iPod, iPhone, Android, Chromecast, Roku, Android. If you need rip DVD or convert video to iPhone X/8, iPad Air/iPad mini, iPod touch 5, etc, here are user guide for creating Handbrake iPhone/iPod presets, as well as for making Handbrake iPad preset setting.
Note 4: The default location for Handbrake's output files is the Desktop. Choose a different location if you'd like to save your file elsewhere, else just copy it over once it's done.
Note 5: Name the resulting video file. Handbrake will typically give it a default, but you may not recognize that name, so try and do so yourself.
Step 4: Change the Other Handbrake Settings
Once you've chosen the source and destination settings, you're pretty much set to go. Just click on the Start Encode button and the program will do the conversion for you. However, there are a few other settings to keep in mind in case you choose to get a little more involved.
1. Shrink the file. By default, you'll be ripping the files at full-size. While that's great for quality, you're going to need a lot of storage space. Especially, if you ripping several movies or TV shows, you're going to fill up your hard drive pretty quickly. Here are a few ways to save some space:
a. Cut out the credits by unselecting that chapter in the Source Settings. It's usually the last one.
b. Movies are typically made for the big screen. Since you're going to be watching the video on your computer or iPhone 8/X, iPad Pro/Air 2/mini 4 , you can afford to cut down on the picture quality.
c. You can select the desired size for the file, which is useful if you have only a limited amount of space.
d. You can also slim down the quality of the audio using Handbrake's Audio section.
2. If your DVD has several audio tracks, you can select a preferred audio track for the region you live in. Language is usually English in America.
3. If you want a high-quality file, you'll want to select 2-pass encoding. With this setting, Handbrake will go over your video twice. This does mean that it'll take twice as long, but it'll look and sound better even with a smaller file size.
Read on to find How to calculate Handbrake Video Quality Settings >>
Learn How to Fix 'Handbrake Output Video Quality Poor' Problem >>
Check the Quick Fix for Hanbrake Larger Output File than Input >>

Step 5: optional Handbrake settings when rip DVD and convert video
1. To add subtitles
Use the subtitle section of Handbrake to select from the ones available on your DVD/video. Once you've selected a subtitle, Handbrake will imprint it onto your finished movie.
2. Create chapters
An outstanding feature. (See Handbrake's Updatelog). Now you can play and watch DVD/video movie upon your PC, TV or mobile devices with freely selectable chapters. It is just like enjoying the original DVD.
3. Edit output image
With Handbrake, you can make simple editions to the output picture, like shrink image size, cropping the output picture.
Other Handbrake Tips that maybe Useful:
Handbrake is a very powerful and very efficient tool to have, especially if you have a huge collection of DVD/video movies that you want to back-up, or to watch on different media. However, there are a few things to keep in mind.
1. Always check the copyright notices on the DVDs you plan to copy (in fact it is fair legal to backup your own DVDs). Make sure you have full copy right of your DVDs or source video, and never use Handbrake for illegal purposes, such as for piracy or commercial gain.
2. If you want to rip TV episodes instead of a movie, you either need to convert the episodes one at a time, or try a simpler solution: build a queue. To build a queue:
a. First select the Enable Queue options.
b. Set up all of the options for each episode.
c. Click, Add to Queue.
d. Repeat for each episode.
Also read: Best HandBrake Alternatives, HandBrake 1.x Quick Sync, HandBrake Batch Convert Tutorial, HandBrake Nightly Alternative, HandBrake H.264 vs MPEG-4