[Tutorial] All About Ripping DVDs & Transcoding Videos with Handbrake
A Complete HandBrake Guide to Ripping DVDs
How to Use HandBrake to Rip DVDs Properly
* Copy homemade DVDs
Step 1: Download and install HandBrake DVD ripper (1.2.2 is recommended) on Windows. Once downloaded, you'll be asked to install the program. Follow the directions on your screen and you'll be fine. Select the source on the left-hand side of the window for the source selection.
HandBrake can directly open DVDs, Blu-ray discs, VIDEO_TS, BDMV, and ISO images. It doesn't support a disk with video files, such as AVI, MPG, WMV, MOV, etc.
Step 2: HandBrake will start scanning DVD titles. Normally it will not take too long, but when trying to rip encrypted DVDs or DVDs with several titles, HandBrake will scan them one by one, so the time will be longer. After the scanning finishes, click the Title drop-down menu and select the right title to copy.
Tips: Your DVD is likely to have several titles and chapters (like headings and sub-headings) for the main movie, and other special features. If you are not sure which title is the correct one, choose the longest movie title that is properly the main movie. Sometimes, when you try and open a DVD, you might get a confusing set of folders. If you've already ripped the DVD to your drive and want to convert it, you'll need to choose the VIDEO_TS folder.
Step 3: Click the Presets drop-down menu and choose a preset from the list. It offers various settings for the software, devices, web, etc. General Presets use the MP4 format that is widely accepted and named based on quality and speed. Note that HandBrake can't rip DVDs to ISO image and Video_TS folder.
Step 4: You can adjust the video, audio, and subtitles under the Presets menu. The default settings also offer good quality and usability. If your DVD has several audio tracks, you can select a preferred audio track for the region you live in. Language is usually English in America.
Step 5: Specify output to DVD copy files. Click the Browse button at the bottom of the window and specify the directory where the output will be stored.
Step 6: If you'd like to copy multiple titles at one time, click the Add to Queue tab on the toolbar. Or click the Start Encode button to start ripping DVDs. Some DVDs may take hours.
* Copy Encrypted DVDs
Can HandBrake copy protected DVDs? HandBrake can't circumvent copy protection. It doesn't work with commercial DVDs or other copy-protected DVDs. Good news is that libdvdcss, a DVD playback library for freeware, can help HandBrake to decode encrypted DVDs. Learn how to install libdvdcss to rip protected DVDs using HandBrake.
However, libdvdcss only works for DVDs encrypted with the Content Scramble System (CSS). There are many other DRM techniques libdvdcss fails to handle, such as region code, Disney X-project, and Sony ARccOS Protection.
Other HandBrake tips that may be useful:
1. Always check the copyright notices on the DVDs you plan to copy (in fact it is fair legal to backup your DVDs). Make sure you have the full copyright of your DVDs or source video, and never use HandBrake for illegal purposes, such as for piracy or commercial gain.
2. If you want to rip TV episodes instead of a movie, you either need to convert the episodes one at a time or try a simpler solution: build a queue. To build a queue:
a. First, select the Enable Queue options.
b. Set up all of the options for each episode.
c. Click, Add to Queue.
d. Repeat for each episode.
3. Create chapters. An outstanding feature. Now you can play and watch DVD/video movie upon your PC, TV or mobile devices with freely selectable chapters. It is just like enjoying the original DVD.
4. To add subtitles. Use the subtitle section of HandBrake to select from the ones available on your DVD/video. Once you've selected a subtitle, HandBrake will imprint it onto your finished movie.
Hate HandBrake? Here's A Better Alternative to Rip DVDs
Confused with HandBrake settings and hate the endless errors? Here's the best HandBrake alternative, WinX DVD Ripper Platinum, a DVD copying program for DVD collectors looking for ease of use, faster processing, and stable performance. Look at its main features below.
• Work with any type of DVDs requiring no third party help, including homemade & commercial DVDs, damaged DVDs, 99-title DVDs, unplayable discs, and more.
• Rip DVDs with 5x faster speed than HandBrake does thanks to its unique level-3 GPU acceleration.
• Backup DVDs to lossless ISO Image, Video_TS folder, copy main/full title, copy DVDs to MPEG2 files.
• Rip DVDs to MP4, MOV, MKV, H.264, H.265, iPhone, Android phones and tablets with 350+ profiles.
Download WinX DVD Ripper Platinum to Get Faster and More Stable DVD Ripping Performance
Learn how to use HandBrake alternative to rip DVDs to MP4, MOV, WMV, and other formats speedily without errors.
HandBrake Tutorial: A Deep Dive into HandBrake Video Transcoding
In addition to rip DVD, HandBrake is also commonly used to transcode videos, reduce video file size, and do some easy editings. Here, we'd like to show you how to use HandBrake software to convert videos individually or in batch, as well as best settings for different purposes.
Part 1: How to Use Transcode A Single 4K/HD Video with HandBrake
Step 1: Download and install HandBrake on your computer, and open it up.
Step 2: Click "Open Source" button, and tap on "File" to open a single video file. After loaded, the detail video information is listed in "Source" section.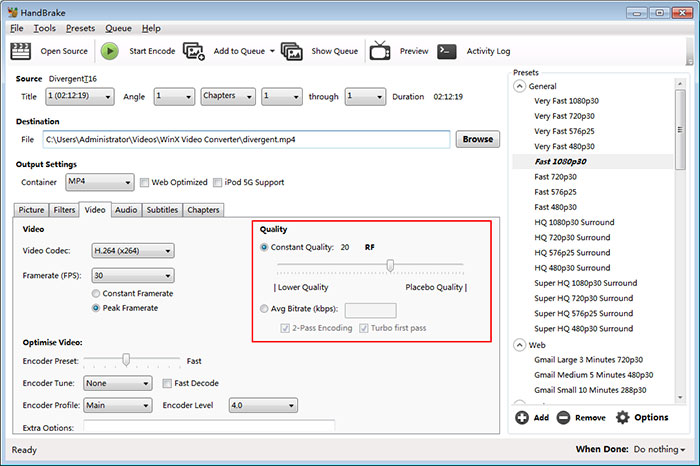 Step 3: Click "Browse" button to specify the destination folder path to save your transcoded video.
Step 4: In "Output Settings" section, choose MP4 or MKV as the output container. And in the following, there's a ton of stuff available to adjust your video and audio quality, add subtitles, and much more. Of course, you can also directly choose the specific presets according to your demands.
Know More about Best HandBrake Settings and Features
Users might convert video for playing through Plex/Kodi, uploading to YouTube, or storing to hard drive etc., which requires different in audio video parameters, quality, dimension and more. Thus, the HandBrake settings vary from purpose to purpose.
To compress 4K/HD video but no quality loss: Video file size is closely related to video quality. For x264 and x265 encoders, RF 19-23 is recommended for 720p HD, RF 18-22 for 480p/576p SD, RF 20-24 for 1080p, and RF 22-28 for 2160p 4K. Raising quality minus 1-2 RF may produce better results, and lowering quality settings may be used to produce smaller files. Learn more details on how to use Handbrake to compress videos >>
To speed up HandBrake video transcoding: Yes, HandBrake supports Intel QSV and Nvidia Nvenc, and AMD VCE GPU acceleration. If your computer is embedded with supported hardware, go "Tools" > "Preferences" > "Video" to enable it. Then click "Video Codec" under "Video" panel to choose H.264/H.265 (Intel QSV) or H.264/H.265 (Nvidia Nvenc) to speed up video transcoding. Also, Encoder Preset (Pacebo, VerySlow, Slower, Slow, Medium, Fast, Faster, Veryfast, Superfast and Ultrafast) also matters for HandBrake processing speed.
Note: Nvidia Nvenc, Intel QSV and AMD hardware encoder have a limited set of advanced encoder options, which is not recommended to change these parameters.
To do some minor editings: In HandBrake's graphical interface, you can easily trim, crop, flip, rotate videos, and add subtitles etc. While if you're using CLI interface, things turned out differently. It's confused for novices to use command lines to trim, crop, flip, rotate videos and more. For example:
Trim off the first 390 frames and last 200 frames: --start-at frame:390 --stop-at frame:200
Crop the frame size 20px on the top, 100px on the left and 10px on the right: --crop (20:0:100:10)
Rotate 90 degrees clockwise: --rotate=4
Learn more about HandBrake command line reference >>
Step 5: Tap on the "Start Enocde" button to transcode your video right now.
Part 2: Step-by-step Guide to Use HandBrake for Batch Conversion
Step 1: Go the same step to install and open HandBrake. Please note that batch conversion is only available on HandBrake 0.9.5 or above version.
Step 2: Go "Tools" > "Preferences", and choose "Output Files". Make sure the "Automatical File Naming" option is ticked on, and click "Browse" button to choose a folder for saving output profiles. After you've done, click "< Back" button to go back to the main interface.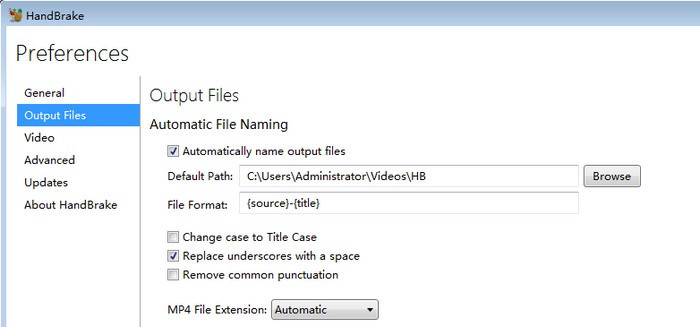 Step 3: Also, click "Open Source" button, but choose "Folder" to load a folder with one or more files (Make sure you've put all videos to be converted in a folder in advance).
Step 4: Choose output presets after file scanning. Or manually set output presets based on your needs and best settings tips above.
Step 5: Drop down the "Add to Queue" list and choose "Add All" to add multiple files for bacth conversion task. You can view the pending jobs by tapping "Show Queue" button.

Step 6: When everything is okay. Hit "Start Encode" button to perform the batch video conversion task.
Then, HandBrake Video Transcoding Goes Well?
Not really. Knowing how to use HandBrake doesn't mean that you can accomplish video transcoding successfully and smoothly. It has been criticized for the endless problems during 4K/HD video conversion.
• Unexpected crashing/freezing.
A great deal of users complained that they installed HandBrake but it won't convert anything. For example, HandBrake is unable to scan source video files; "An unknown error happened" message pops on the screen; or HandBrake crashes on the startup etc.
• Very slow speed and HEVC GPU acceleration is disabled.
HandBrake slow encoding has been an issue that plagued many users, even though the latest HandBrake was built with hardware encoder and decoders, namely AMD VCE, Nvidia NVENC, Intel QSV and Apple VideoToolbox for acceleration. That's mainly becuase your HandBrake was not optimized by hardware acceleration or multi-core CPU utility. Especially when you're encoding 4K HEVC files, H.265 (NVidia NVEnc) or H.265 (Intel QSV) option usually comes unavailable.
• Output file size is larger than input.
What a terrible thing that your output file goes larger than what you've inputted. But it does happen in HandBrake sometimes, when you've enabled hardware acceleration or applied improper quality setting in HandBrake.
• Editing command line not working.
It's almost commonplace that HandBrake editing command line not working. As a video transcoder, HandBrake is weak on video editing indeed, merely allowing you to trim, crop, rotate, flip, adding subtitles etc. But many of users would like to convert and edit video in one program.
• Video audio out of sync, and even no audio.
Audio issue is also a frequently happened error in HandBrake. There are times that audio is damaged or audio and video go out of sync after conversion with HandBrake.
Worse still, being an open source program, HandBrake has no support to troubleshoot the above mentioned error point for point. That is to say, you have to search for the similar problem in HandBrake forum and figure out whether the provided tips working for your own issue. Therefore, how can you root out these video transcoding errors? A HandBrake alternative would be a nice choice!
Any Infallible HandBrake Alternative for Video Transcoding?
WinX HD Video Converter Deluxe is a HandBrake alternative to be reckoned with, as it's capable of transcoding 4K/HD videos like HandBrake and even faster and more effective, but insulated from the vexed HandBrake video processing problems. It enables you to:
• Convert 4K/HD videos to MP4, MKV, HEVC, H.264, VP9, AVI, WMV, iPhone, iPad, Android, Xbox, PS4, YouTube, Instagram and 420+ profiles.
• Compress source 4K/HD video size surely, up to 90% reduction, but almost no visually quality loss with the support of High-quality engine, interframe and intraframe coding algorithms, along with advanced entropy encoding.
• One-click to make easy editing for your videos, such as trimming video length, cropping frame size, rotating, flipping, merging several clips into one, adding external subtitles and embedding watermarks etc.
• Expedite (4K HEVC) video transocding speed to 47X faster when the Intel QSV, Nvidia CUDA/NVENC, AMD GPU acceleration is enabled. Meanwhile, it ensures a smooth and stable video conversion without any worring about half-way crashing.
Free Download WinX Video Converter Deluxe to Transcode Videos Right Now
After you've download the 4K video converter on your computer, follow the wizard to install it, then open it to convert videos by following the steps below.
Step 1: Load your source video.
Click "+Video" button or simply drag and drop to import the target video you're going to convert. You're able to load multiple videos for batch conversion as well (it goes no different with single one).
Step 2: Choose output format.
After loaded, an output profile window pops up embedded with more than 420 profiles available for your choice, from mainstream formats like MP4, MOV, MKV, AVI, FLV etc., the latest devices such as iPhone 11/Pro/Max, iPad, Galaxy S10, Huawei Mate 30 Pro, Xbox, PS4, to YouTube, Facebook presets. You're highly recommended to go "General Profiles" > "MP4 Video" > "OK" for wide compatibility.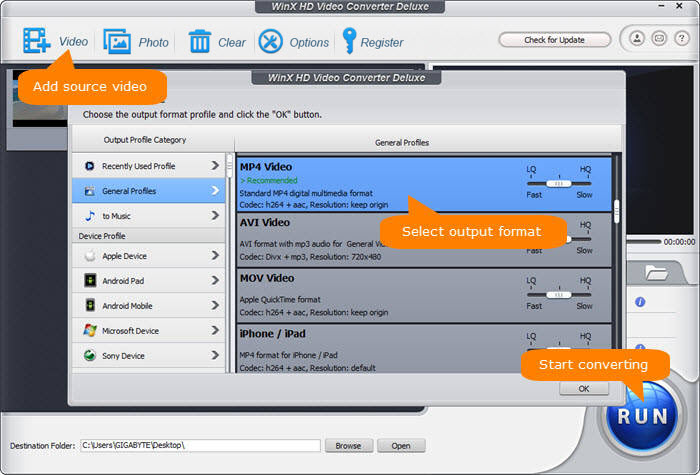 Before any further, this alternative to HandBrake allows for some advanced settings to customize your video audio parameters, enhance video quality, do some editings on video, and boost video conversion speed.
Tweak video/audio parameters: Click the gear-shaped Settings button, then you're able to downscale 4K to 1080p, change frame rate and bitrate, adjust aspect ratio to meet video the video uploading requirements, or tweak audio bitrate, channel, sample rate etc.
Enhance output video quality: Actually, you can firstly slide the module to HQ/Slow in output profile window (though it affects converting speed slightly). To further improve the output video quality, you're suggest to tick on the box of "Use High Quality Engine" and "De-interlacing" on the main interface.
Make minor video editings: Click on the scissors-shaped Edit button to enter a window where you're able to adjust audio volume, add subtitles, crop video frame size, and trim off video length etc.
Speed up video transcoding speed: Likewise, you can move the module to LQ/Fast in output profile window (not recommended since it'll degrade video quality). The best way comes to tick on the box of Intel or nVIDIA Hardware Accelerator if your computer is built with hardware acceleration graphic cards.
Step 3: Start converting videos right now.
Once done, hit the blue "RUN" button to start transcoding 4K/HD videos instantly.