Download Install HandBrake libdvdcss to Rip Protected DVD
What is libdvdcss? It sounds complicated. How to download libdvdcss.pkg Mac or install libdvdcss.dll Windows 10 for HandBrake in order to decrypt a movie DVD?
Q - "Handbrake problems help! I used to use handbrake to rip DVD but now I can't even do it anymore. I have a new laptop. When I got it all set up and ripped the next DVD, the pictures and sound are all scrambled. Should I download and install the libdvdcss.dll? How can I do this? Please don't recommend any alternatives that have only trail versions. Free DVD rippers that don't require any payment will be fine. Oh and I'm a Windows 10 PC user."
Firstly, libdvdcss has been removed from HandBrake free DVD ripper since the release of version 0.9.2, and now you can only find libDVDNav in HandBrake under Tools > Preferences > Advanced > DVD Reading. HandBrake cannot rip DVDs encrypted with CSS ever since.
Secondly, whether downloading and installing VLC libdvdcss Mac/Windows solves "HandBrake won't work" problem depends on the type of your DVD copy protection.
Can't rip protected DVD without libdvdcss Mac, Windows? Try HandBrake alternative
Downloading and installing libdvdcss.pkg/libdvdcss.dll will solve your problem, but limitedly. Handbrake doesn't work with DVDs encrypted by region code, Disney X-project DRM, RCE, Sony ArccOS, etc. It is strongly suggested to remove all DVD encryptions with WinX DVD Ripper Platinum.
WinX DVD Ripper is the most popular and easy-to-use DVD ripper in market today, especially designed for ripping copy-protected DVD alone, without needing libdvdcss or a third-party DVD decrypter. It intelligently supports bypassing DVD protections like CSS encryption, region code, Sony ARccOS, UOPs, APS, RCE, etc.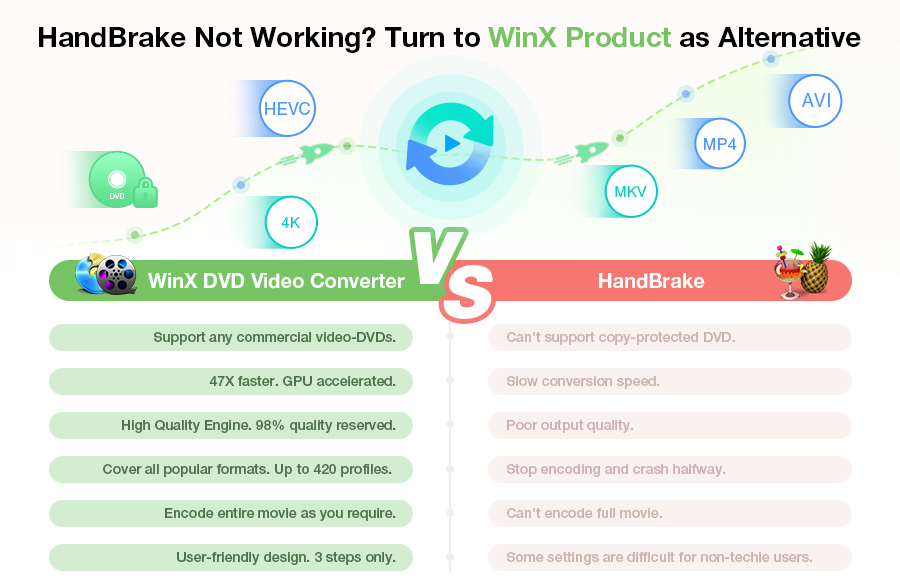 Part 1. What Is Libdvdcss?
libdvdcss = lib (library) + dvd (DVD) + css (Content Scrambling System, a kind of DVD copy protection)
To sum up, libdvdcss (or libdvdcss2 in some repositories) is a part of the VideoLAN project, which alone is only a free and open source software library that can find and guess keys to do the DVD decryption, so that CSS-protected DVDs will be played correctly. Together with media player software and free DVD rippers, such as VLC and HandBrake, libdvdcss helps them read and decrypt DVDs of different regions or encrypted with CSS. And because it uses a generated list of possible player keys, libdvdcss has never been legally challenged. More Info about libdvdcss Mac/Windows
The latest version is libdvdcss 1.4.3.
libdvdcss is used only for free software, like HandBrake to decrypt DVD.
libdvdcss is allowed to run on macOS (libdvdcss error since El Capitan), Windows NT 4.0 SP4 (with IE 5.0) or later, Linux, FreeBSD, NetBSD, OpenBSD, Haiku, Solaris, QNX and OS/2. Many GNU/Linux distributions do not contain libdvdcss (for example, Ubuntu and SUSE Linux) due to fears of running afoul of DMCA-style laws, but they often provide the tools to let users install libdvdcss themselves.
VLC installed with libdvdcss supports DVDs of all regions (1-6) only if you have RPC1 drives, for raw access to RPC2 drives can't be made successfully, which however is required to circumvent the region protection.
Related external source: https://en.wikipedia.org/wiki/Libdvdcss
Part 2. How to Download Install Libdvdcss on Windows (11/10) for HandBrake
1. What platforms can install libdvdcss?
Libdvdcss currently can be installed on Windows NT 4.0 SP4 (with IE 5.0) or later, Mac OS X, GNU/Linux, FreeBSD, NetBSD, OpenBSD, Haiku, Solaris, QNX, OS/2.
Some platforms come with pre-installed libdvdcss include BackTrack, CrunchBang Linux, LinuxMCE, Linux Mint, PCLinuxOS, Puppy Linux 4.2.1, Slax, Super OS, Pardus, and XBMC Live.
2. Where to download and install libdvdcss?
Libdvdcss is part of the VideoLAN project. The latest version of libdvdcss is 1.4.3, and users can download and install libdvdcss from VideoLAN official site: http://www.videolan.org/developers/libdvdcss.html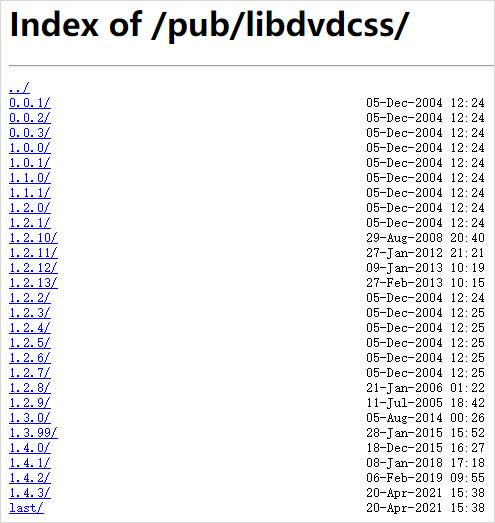 Now let's show you how to download and install libdvdcss/libdvdcss2.dll on Windows (11/10/8/7).
Step 1: libdvdcss-2.dll download on Windows (11/10)


libdvdcss.dll for Windows 32 bit |

libdvdcss.dll for Windows 64 bit
Step 2: You don't have to rename libdvdcss-2.dll as libdvdcss.dll. Just cut and paste the downloaded libdvdcss 2 file in your HandBrake program folder. If you didn't manually set the installation path before, it normally is "C:\Program Files\HandBrake".
Step 3: And that's all for installing HandBrake libdvdcss on Windows (10).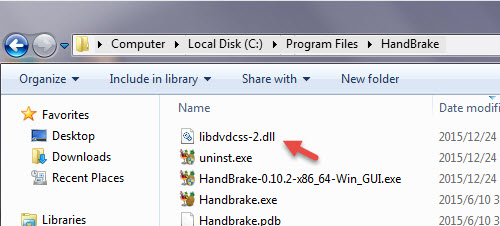 Part 3. How to Download Install Libdvdcss on Mac for HandBrake
Step 1: Download libdvdcss.pkg on Mac OS.


libdvdcss.pkg for Mac OS
Step 2: Double click the downloaded file to install libdvdcss on Mac. But note that there is one more step for installing libdvdcss on Mac El Capitan, because of its SIP (System Integrity Protection), which is said to remove libdvdcss by default. We found two workarounds: disable SIP and a more complicated but recommended way from a Reddit user (as below).
The second way:
1. Open a Finder window -> type "cmd+shift+G" or click "Go" and choose "Go to Folder" -> copy and paste /Library/SystemMigration/History/ -> press button "GO" -> open the folder "Migration-[random letters and numbers]" and find "QuarantineRoot" -> libdvdcss file should be in this folder. 2. Again click "Go" on the taskbar -> "Go to Folder" -> type "/usr/local/lib".
3. Cut and paste your libdvdcss file to the folder "/usr/local/lib" -> put in your admin password to finish the move and libdvdcss installation on Mac is done.
Part 4. How to Rip Protected DVD for Free Without Installing Libdvdcss?
Libdvdcss is mainly used in free DVD ripper like HandBrake to rip DVD encrypted with CSS. But libdvdcss can't help the DVD ripper freeware to crack all CSS keys, let alone many other advanced DVD copy protections besides CSS, such as Region Code, AACS 2.0, Sony ArccOS, UOPs, and Disney X-project DRM. If you are trying to rip Disney DVDs with HandBrake libdvdcss, there might be a "HandBrake won't rip" problem, due to its up to 98 fake titles.
If downloading installing HandBrake libdvdcss Mac/Windows is too complicated for you, why not try a much more professional and easier-to-use HandBrake alternative, just like WinX DVD Ripper Platinum, which constantly updates with all kinds of latest DVD copy protections.
Remove all CSS keys, AACS 2.0, UOP, Sony ARccOS, RCE, region, Disney DRM without 3rd-party tool.
Rip DVD to MP4, MPEG, MOV, WMV, iPhone, iPod, Apple TV, Android, PSP, Xbox, etc. (handbrake can't do) and 350+ built-in profiles .
1:1 backup DVD to ISO image, copy DVD with full/main title.
Support sources like DVD discs, ISO files and folders.
Rip DVD at NO.1 fast speed due to Level-3 GPU accelerated video encoding decoding technology MMX- SSE, 3DNow! and Hyperthreading.
Buy now for full features and lifetime upgrade
For mobile users, please go to mobile page.
Follow the 3 simple steps below to rip protected DVD without installing libdvdcss.
Step 1: Run the best free DVD ripper and click "DVD Disc" button to load the inserted DVD movie info. This smart DVD ripper freeware can auto detect and select the right main DVD movie title for you.
Step 2: Select the output video format or device. You can choose to rip DVD to MP4, WMV, MPEG, H.264, iPhone, Samsung, etc.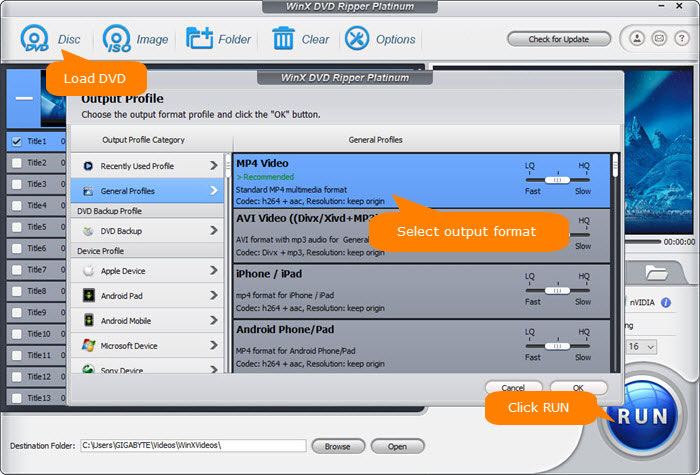 Step 3: Hit "RUN" button to begin ripping DVD with best free Handbrake alternative which doesn't need to install libdvdcss.
Disclaimer: Digiarty Software does not advocate ripping/copying copy-protected DVDs for any commercial purpose and suggests referring to the DVD copyright laws in your countries before doing so.
Part 5. How to Play Any DRM-protected DVD for Free Without Libdvdcss
Most DVD players relies on installing libdvdcss to play copy-protected DVD. However, even without installing libdvdcss, you can still successfully play any protected DVD with ease with the most popular free DVD player - 5KPlayer. This free tool can play any copy-protected DVD or regular DVD flawlessly.
Additionally, 5KPlayer can also: play all 8K/5K/4K/HD 1080p/720p/SD videos in MP4, AVI, WMV, MKV, etc.; free download videos/movies/MP3 songs from YouTube and 1000+ video sites; stream videos/audios to iPhone, iPad, Apple TV, etc. for free. It is the best all-in-one free media player for Windows (10) and Mac.
Step 1: Insert the DVD disc to DVD-ROM. 5KPlayer alone supports smoothly playing any protected DVD without installing libdvdcss.
Step 2: Tap "DVD" button on the main interface and the DVD movie will start playing automatically.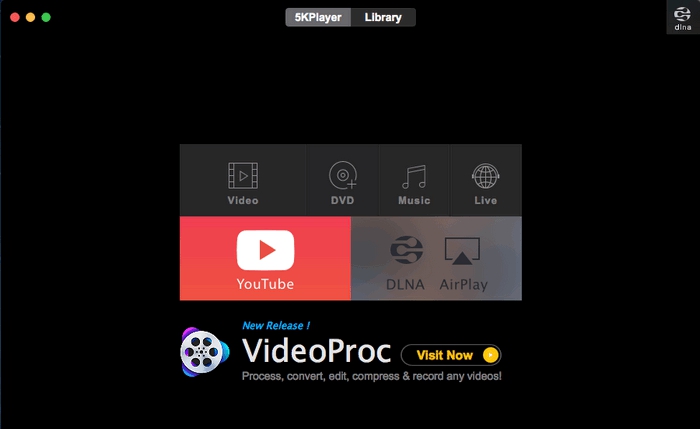 If you can't or don't want to install libdvdcss and need a fast DVD ripper to rip copy-protected DVDs, especially strictly encrypted 99-title Disney DVDs, to MP4, AVI, WMV, MPEG, H.264, MOV, FLV, iPhone, iPad Pro, Galaxy, etc., with original quality at fastest speed, try WinX DVD Ripper Platinum.
Part 6. Libdvdcss FAQs
1. Where can I get libdvdcss?
As libdvdcss is part of the VideoLAN project, you can download it from VideoLAN official site: https://www.videolan.org/developers/libdvdcss.html.
2. Is libdvdcss legal?
The legal status of libdvdcss is controversial but there has been—unlike DeCSS—no known legal challenge to it as of May 2018, although it appears to be illegal under the DMCA.
3. Does VLC include libdvdcss?
Yes. Libdvdcss is part of the VideoLAN project and is used by VLC media player and other DVD player software packages.