DVD Digital Copyright Laws in US, UK, Japan, Australia...
What is CD/DVD Copyright Laws?
DVD ripping is the process of copying the video or audio content from the removable DVD to hard drive since certain publishers have locked down the DVDs in the rights of reproducing, distributing, displaying or deriving; and CD ripping is in the same way.
Therefore, digital copyright laws or more specifically DVD copyright laws are enacted against copyright infringement. Since different countries and regions have different DVD copyright regulations, many may want to confirm whether it is legal to rip/copy/decrypt owned DVDs in their countries. As for this, we conclude DVD copyright laws in United States, Japan, as well as United Kingdom, Australia, New Zealand, Norway, Spain and many other European and non-European countries.
Content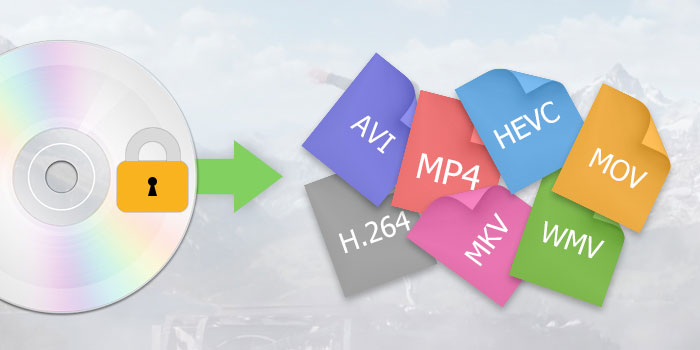 DVD Copyright Laws and DVD Ripping Legality in Different Regions & Countries
It is necessary to rip/copy DVD before you know the DVD Copyright Infringement Laws in your countries. Is it legal to rip/copy/decrypt our own DVDs? Let's break this down into different parts according to the different DVD regions:
1. DVD Ripping Legality in Europe
Is it legal to rip/copy/decrypt DVDs in United Kingdom?
In the United Kingdom, it was illegal to rip or copy the content of a CD, ebooks or DVD to even for your own personal use before October 1, 2014. It was illegal to break the DRM (Digital Rights Management) or TPM (Technical Protection Measures) used on DVD to protect the content from ripping. But the changes had come into force in October 2014 under the Copyright and Rights in Performances (Personal Copies for Private Use) Regulations 2014. UK government changed the law after inspecting DVD/CD copyright legislation and public consultation announced the legalization of DVD copy, backup or formats shifting. However, on July 2015, Hight Court quashed regulations introduced by the government to allow members of the public to lawfully copy CDs and other copyright material bought for their own private use. Under the new regulations, only the individual who purchased the original copy of the work is legally allowed to copy it.
Is it legal to rip/copy/decrypt DVDs in Germany?
Germany is a country with very restrict copyrighted content. According to German law, it dictates that it is illegal to circumvent mechanisms that prevent copying, but it allows the manufacture of copies of copyrighted digital material for personal, non-commercial use.
Is it legal to rip/copy/decrypt DVDs in Norway?
It's not a crime in Norway to make copy of DVD's as long as it's one's own DVD.
Is it legal to rip/copy/decrypt DVDs in Netherlands?
In Netherlands, all legally bought audio and video including DVD and Blu-Ray are allowed to make copies, which are also called "home copies". However, those ripped files are only used personally.
Is it legal to rip/copy/decrypt DVDs in Spain?
In Spain, anyone is allowed to make a private copy of a copyrighted DVD for oneself, providing that the copier has accessed the original DVD legally.
2. DVD Ripping Legality in North America
Is it legal to rip/copy/decrypt DVDs in the United States?
In the United States, copyright law has been extended many times over and copyright infringement is sometimes confronted via lawsuits in civil court, against alleged infringers directly, or against providers of services and software that support unauthorized copying. U.S. copyright law (Title 17 of the United States Code) generally says that making a copy of an original work, if conducted without the consent of the copyright owner, is infringement. The law makes no explicit grant or denial of a right to make a "personal use" copy of another's copyrighted content on one's own digital media and devices.
3. DVD Ripping Legality in Oceania
Is it legal to rip/copy/decrypt DVDs in Australia or New Zealand?
In Australia and New Zealand, a copy of any legally purchased music may be made by its owner, as long as it is not distributed to others and its use remains personal. In Australia this was extended in 2006 to also include photographs and films.
4. DVD Copyright Laws and DVD Ripping Legality in Asia
Is it legal to rip/copy/decrypt DVDs in Japan?
DVD copy has been outlawed with corresponding amendments on copyright laws being coming out in Japan since October 1, 2012.
Is it legal to rip/copy/decrypt DVDs in China?
In China, the issue of digital piracy is not merely legal, but social. In most cases, the breach of digital copyright laws might not inquire into the cause.
How to Treat CD/DVD Copyright Laws?
There have been countless opposed cases to the existing CD/DVD copyright laws.
A consumers' association in Belgium sued the world's biggest four record companies for improper use of technologies, which was claimed to impede the free use of consumers' own purchased CDs, for example on home sound equipment, automobile, etc. The companies were asked to take out the anti-copy technologies on CDs. Same situations happened on the judgments of "CD copy", " DVD copy protection decryption" and "P2P services" cases in differed countries. Simultaneously, they are partial to the "intended copyright infringers" who were announced legal eventually.
About 60% British polled consumers deemed that ripping a DVD should be legal, and 55% admitted to doing it according to a survey in 2009. Besides, the application of DRM has been considered as a controversial practice for always.
Copyright infringement is defined to be associated with piracy and theft, but most people copy DVD only for reasonable uses, for instance, instead of waiting months after the debut of a movie to release it on DVD or video-on-demand. In fact, it's one of the ways most of us are breaking the law every day without even knowing it. Most people believe that the motivation comes first when judging whether it is legal to copy a DVD. As ripping becomes more common practice, we're hopeful that we could see some positive change in the future.
If you are clear with the DVD copyright laws in your countries, please feel free to download the best and fastest tools to bypass the DVD copy protections for fair use.
WinX DVD Copy Pro: It is quality-lossless DVD copy software to copy any DVD to a blank disc, DVD folder, ISO image file and MPEG 2 file for different uses, be it a regular DVD or commercial DVD. If you need to make DVD backups sometimes, this is your optimal choice. It also supports DVD burning, ISO Mounting, chapter backup and video/audio extraction functions.
WinX DVD Ripper Platinum: In support of region code, RCE, Sony ARccOS, UOPs, RCE, CSS, Disney's trick and other DVD encryptions, this DVD ripper, with the aim to support more flexible personal use of own purchased digital materials, can rip DVD to MP4, AVI, MPEG, MOV, WMV, FLV, MP3, etc., or convert DVD to iPhone, iPad, Samsung Galaxy Note series, HTC One, PS4, iPod, Apple TV, WP8, and other device accepted videos. Now download WinX Ripper to rip the hot and new released copy protected movie DVDs like Spider-Man: Homecoming, War for the Planet of the Apes, Cars 3, American Assassin, Despicable Me 3, Kingsman: The Golden Circle, Dunkirk etc.
Disclaimer: Digiarty Software does not advocate ripping copy-protected DVDs for any commercial purpose and suggests referring to the DVD copyright laws in your countries before doing so.