How to Remove DRM from DVDs with Best DVD DRM Remover
DVD owners may want to back up their DVD collection to prevent being ruined by pets or kids, or for more convenient playback on portable devices or HD TVs. However, almost all DVDs you purchased from a store are protected by DRM measures. So you can't copy a protected DVD directly. You need to remove the DRM protections from DVD movies before you can access the data. Here we'll introduce you the best DVD protection removal software to bypass all kinds of DRMs in 2023.
Note: The legality of removing DVD DRM is controversial. But the majority of organizations and individuals consider the fair use of personally owned DRM-protected DVDs as legal. Using the DVD DRM remover for anything that involves intentional copyright infringement is prohibited.
Table of Contents
Part 1. Best DVD DRM Remover to Crack DRM Protections from DVDs
Many DVD rippers on the market claim to be able to unlock DRM on DVDs. While some of these DVD rippers can successfully remove general DRM measures such as region codes and CSS, they can't remove advanced DRMs like Disney DRM. Luckily, there is a powerful DVD DRM remover WinX DVD Ripper Platinum. This professional DVD DRM removal software that can remove all kinds of DRM copy protections from DVDs.
It's able to remove almost all DRM protections from DVD like CSS, region codes, RCE, UOP, APS, AACS 2.0, Disney X-project, AND Sony (ARccOS). It gets updated regularly to support the latest DRM measures.
It can bypass DVD DRM protections and copy protected DVDs 1:1 to ISO image, Video_TS folder, or MPG. It will also rip protected DVDs to MP4, MOV, H264, HEVC, MKV, AVI, WMV, Android, iPhone, etc. with 98% quality reserved.
It remove DVD DRM 5x faster than others. Then you can play the DRM-free DVD movies on any players, mobiles, TVs, etc. without issues.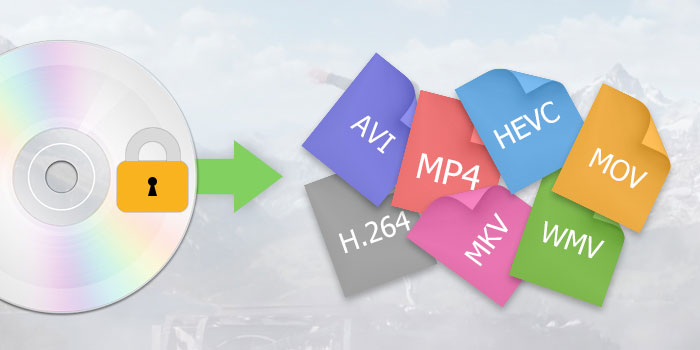 How to Remove DRM from Protected DVDs?
Preparation: Download the right edition of the best DRM protection remover, install and launch it on either PC or Mac.
Step 1. Load the DRM protected DVD
Insert your source DVD that contains DRM copy protection into the DVD-ROM of your computer. Then open the DVD DRM removal software and click "DVD Disc" button to load the DVD. It also accepts other DVD media files, including DVD folder and image file.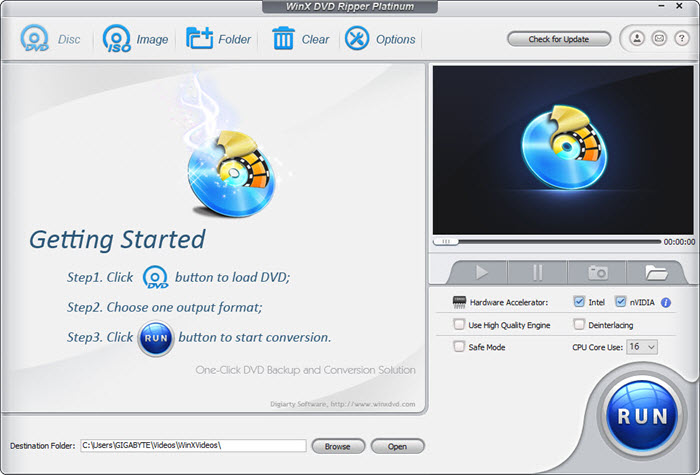 Step 2. Choose the output format
It will take several seconds to determine the DRM protection scheme, remove the DRM from the DVD, and find the correct movie title of the DVD. Then it will pop up an output format window.
The DRM removal software can save the unlocked DRM DVD video to MP4, MOV, AVI, and 350+ built-in profile for almost all multimedia devices and gadgets. You can also choose to copy DVDs to an ISO image, MPEG2 file or DVD folder without quality loss (e.g.: 5.1 Channel AC3/DTS Dolby audio will be maintained).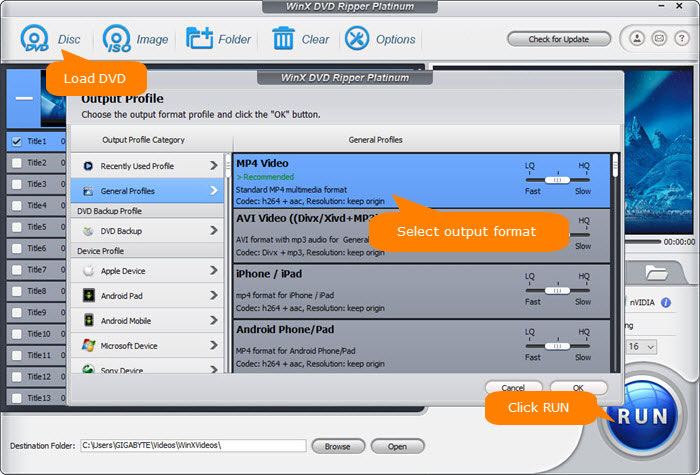 Step 3. Start to remove DRM from DVD
Set the default destination folder to save the output file to on your hard drive. Thyen click the RUN button on the bottom right. It will start to remove the DVD DRM and convert the DVD movies to the format you choose. After a matter of minutes, you will get a DRM-free digital copy. Note that the original physical disc protection is reserved.
[YouTube Video Tutorial] How to Circumvent Copyright Protection Using DRM Removal Software
Part 2. How to Remove Regular DRM from DVDs with Other Software?
1. Remove DVD DRM using Handbrake
Remove DRM: region code, CSS, and some similar DRM
Handbrake and libdvdcss is one of the most popular free methods to remove DRM protections from DVDs. Libdvdcss library can help Handbrake remove region codes and CSS DRM from DVDs. The unlocked DRM DVD movie can be saved in MP4 or MKV. Let's learn how to break DVD DRM using Handbrake below:
Step 1: Download libdvdcss from VideoLAN official site and install it on your computer. If you have trouble installing libdvdcss, here are the detailed steps to install libdvdcss for Handbrake.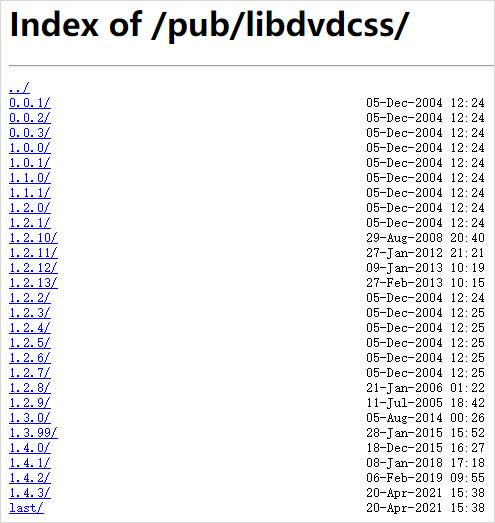 Step 2: With libdvdcss installed on your computer, it's easy to remove DVD DRM now. First, install Handbrake if you don't have it on your computer. Then insert the source DRM - protected DVD into your computer's disc drive.
Step 3: Open Handbrake and click File to load the DVD. The libdvdcss will work in the background to remove CSS or region code DRM from the DVD. Then the DVD data will be loaded into the DVD DRM remover.
Step 4: Choose the rippipng preset, outputp format, and detination folder as you need. Then click Start Encode.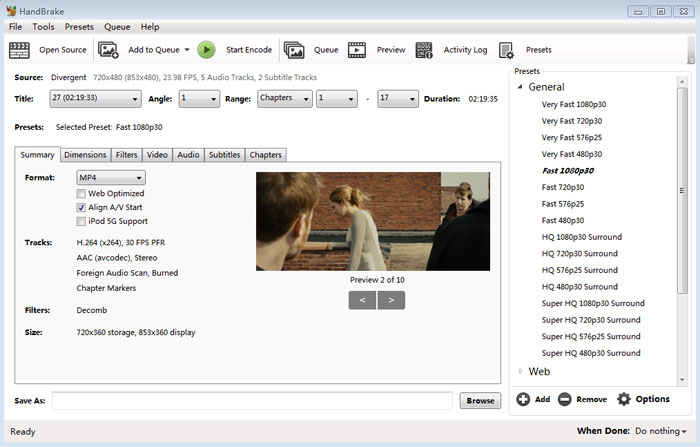 2. Remove DVD DRM using MakeMKV
Remove DRM: struction protection, AACS and BD+
MakeMKV is another free DVD DRM removal software that's able to remove DRM from DVDs and Blu-ray discs. Unlike Handbrake, it's able to break DRMs without using other third-party tools. It supports DRM measures such as struction protection, AACS and BD+. As it can only extract the movie from DRM-locked DVD in MKV format, users often use it to bypss the DVD DRM measures and then trancode the MKV files to MP4 for easier use.
Step 1: Download and install MakeMKV. Insert your DVD and then start MakeMKV. MakeMKV should load the source DVD automatically.
Step 2: Press the "Analyze DVD" button on MakeMKV to detect the DRM type and access the DVD data. Then it will display a list of titles that you can select to rip.
Step 3: With the checkboxes in the list you can select a subset of the titles on the disc - if it's a movie there's typically only one interesting title, which is the movie itself. You can also select which audio tracks, subtitles etc you want to extract. If you don't get a list of selectable titles, see Advanced ripping below.
Step 4: Choose a destination folder to store the DRM-free DVD movie and then click the MakeMKV button to start. 3. Remove DVD DRM using AnyDVD HD
Remove DRM: region codes, Sony ARccOS Protection, Macrovision RipGuard, and other structural preventions, AACS
AnyDVD HD is a popular software tool designed primarily for removing DRM protections from DVDs and Blu-ray discs. It's known for its ability to bypass various DVD copy protections, region codes, and other restrictions that prevent users from making backup copies or watching DVDs on different devices. It's also one of the few Blu-ray DRM removal software that supports protections on Blu-ray discs. It works with a wide range of disc drives and media players and remove DVD DRM protections efficiently.
Step 1: Download and install AnyDVD HD from the official website or a trusted source. After installation, launch the program. It should run in the background automatically when you start your computer.
Step 2: The DVD DRM removal software will automatically detect and decrypt DVDs and Blu-ray discs as long as it's running. However, you can configure its settings to suit your preferences by right-clicking on the AnyDVD HD icon in the system tray and selecting "Settings."
Step 3: Insert the DVD or Blu-ray disc you want to decrypt into your computer's optical drive. AnyDVD HD should detect the disc and start removing the DVD DRM protections in the background.
Step 4: Once AnyDVD HD has removed the DRM protection from a DVD, you can copy the DVD content to hard drive using use a program like ImgBurn or MakeMKV, rip the DVD to other formats with Handbrake, or simply watch a protected DVD movie using VLC. FAQ about DVD DRM Removal
1. Is it legal to remove DRM from DVDs?
The legality of removing DRM from DVDs can vary depending on your country's copyright laws and the specific circumstances. In many countries, removing DRM from DVDs is a gray area or may be considered illegal. DRM is used to protect the copyright of the content on the DVD, and circumventing it can potentially violate copyright laws. For example, in the United States, the DMCA makes it illegal to circumvent DRM protection, including on DVDs, without permission from the copyright owner. However, it's widely considered as legal to remove DRM from DVD and make DVD copies for personal backupo.
2. Do all DVDs have DRM?
No, not all DVDs have Digital Rights Management (DRM). DRM is a technology used to control the distribution and usage of digital content, including DVDs, in order to prevent unauthorized copying and sharing. Most commercial DVDs are sold with DRM and DVDs from other regions contain region codes. DVDs created by individuals or small-scale producers for personal use may not have DRM if they were burned from unprotected content.
3. How do I know if my DVD has DRM?
Sometimes, DVDs with DRM will have logos or symbols on the packaging indicating that they are copy-protected. Look for logos such as "CSS" (Content Scramble System) or "Macrovision" as these are common DRM systems used on DVDs. You can also check the back cover of the DVD for the DRM information. In addition, when you play a DVD, the DVD with DRM may lead to playback issues.
Disclaimer: Digiarty Software does not advocate ripping copy-protected DVDs for any commercial purpose and suggests referring to the DVD copyright laws in your countries before doing so.
* Still have trouble about removing DVD DRM protections? Just Email Our Support Team >>