[Full Info] DVD Region Codes, DVD Hacks, Unlock DVD Regions
You may have discovered that you are unable to play foreign DVDs that you brought on your trip abroad. This is because the DVDs are protected by different region codes to specify the area where they can be played. For instance, you can't play a Region-2 DVD from the UK in the US or vice versa. DVDs in different areas are encoded with different region codes, and discs without region coding (all region or region 0 discs) can be played anywhere. In this post, we're going to learn all the details about DVD region codes, Blu-ray regions, and how to make a DVD region free.
Part 1. Why Are There Different DVD Regions?
Why are DVDs coded for different regions? The short answer is "money".
Typically, movies are distributed in different areas at different times. Normally, a movie will be released in the U.S. first, and months later in Australia and other countries. In other words, the DVD version may be released in the U.S. while the same movie is still being shown in theaters. Considering the price differences across different markets, if there are no DVD region codes, people may buy a cheaper version from another region, which will hurt the profit of the film producer. The DVD regions can guarantee the greatest possible return on the movie investment.
Part 2. What Are the DVD Region Codes?
There are the DVD region codes:
Region 1 - Canada, the U.S., and its territories.
Region 2 - Japan, Europe (such as the UK), South Africa, the Middle East (including Egypt), and Greenland. Check How to Rip Region 2 DVD>>
Region 3 - South East Asia and East Asia (including Hong Kong).
Region 4 - Australia (Australia DVD Region and FAQs), New Zealand, the Pacific Islands, Central America, Mexico, South America, and Caribbean.
Region 5 - Eastern Europe, Russia, India, Africa, North Korea, and Mongolia.
Region 6 - China.
Region 7 - reserved for unspecified special use.
Region 8 - Special international venues for air and oceanic travel.
Region 0, 9, or Region ALL — worldwide.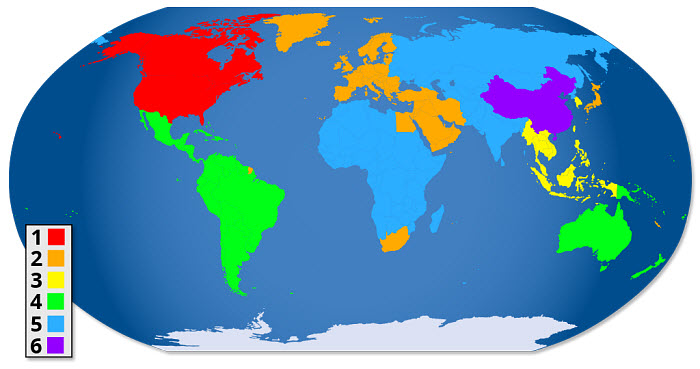 There are the Blu-ray regions:
A/1 - North, Central, and South America, East and Southeast Asia
B/2 - Africa, Europe, Oceania, the Middle East, Netherlands, British overseas territories, French territories, Greenland
C/3 - Central and South Asia, Mongolia, Russia, and the People's Republic of China
ABC/FREE - Worldwide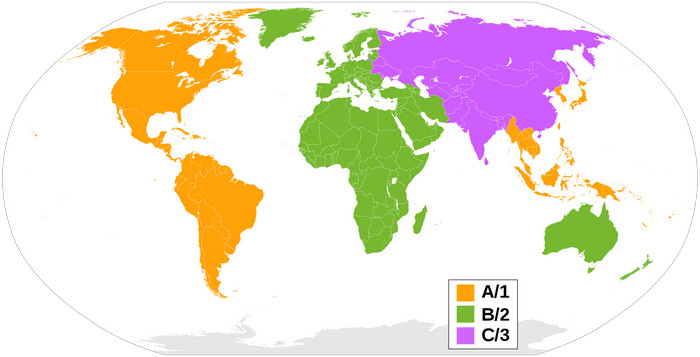 What do these numbers mean? It means your DVD player should match that of the DVD. DVD region-free or multi-region players aside, DVD players are manufactured for specific Blu-ray and DVD regions (where the players are produced). For example, most DVDs sold on Amazon are Region 1, so they can only be played on players manufactured in the U.S. or Canada. 
Part 3. How to Determine the Region of a DVD?
If you're going to hack a DVD player or change the region code of a player, you may need to know the region codes of the DVDs you're going to play. So, how do you determine the region of a DVD? If you're not sure where the DVD comes from, try the ways below.
Normally, the region code of a DVD is specified on the package cover of the disc or on the back of the DVD. The region number is superimposed on a small, standardized globe icon.
Try DVD info freeware like Drive Region Info, DVDinfopro, Nero Infotool, or DVD players like WinDVD, Power DVD to check the region code under Configuration.
Part 4. How to Remove DVD Region Codes - 3 DVD Regions Unlock Methods
#1 Purchase A Multi-region DVD Player
Purchase a region-free DVD player, and you can play DVDs from any region freely (as long as there is no RCE protection), which will save you the hassle of DVD hacking or having to manually change the DVD region code. Search on Google, and you can find multi-region DVD players from Sony, LG, Samsung, Panasonic, JVC, and many other famous brands on Amazon, Best Buy, Walmat, 220-Electronics, etc. A region-free DVD player is normally priced from $30 to, if you have to ask, way expensive. Be careful with the supported regions and DVD formats when you select a multi-region DVD player.
#2 Make Your DVDs Region-Free
There is another option to play any regions, DVD formats, or protections freely without having to pay $250. Instead of DVD player region unlock, you can remove region codes from any foreign DVDs with DVD ripping software. After you unlock 1-8 region codes, RCE protection, and PAL/NTSC formats, you can play a foreign DVD movie on the DVD player, portable devices, or elsewhere, or burn the region-free file back to a recordable disc freely.
There are many DVD ripping tools online. Similar to multi-region DVD players, different programs support different DVD settings. To make things easier, try WinX DVD Ripper Platinum (

Windows version or

Mac version). It will bypass DVD region codes, RCE, and other protections like APS, UOP, Sony ARccOS, Disney X-project DRM, etc. and convert DVDs to region-free ISO image, MPEG, HEVC, MP4, AVI, etc.  
There are other similar tools like Handbrake (libdvdcss is required), MacTheRipper (Mac).
#3 Make Your DVD Player Region Free
A. Change DVD player region codes
Power on the DVD player
Open the DVD tray and don't insert a DVD.
Push Setup on the remote, select Preferences, and choose Region on the screen.
Select region 0/9 using the Up and Down buttons. If you only see 1-8 regions, it means the DVD player won't support other regions.
Note: Changing the player's region code 5 times (including the initial region set by the customer) per machine is allowed for most DVD drives. The fifth time you change the code, it's permanently set to the last code you set.  
B. DVD region code hacks
DVD hacks unlock DVD player regions using the remote control code. The steps to hack a DVD player are similar among different brands, but the unlock codes required to unlock LG DVD players, Samsung, Sony, Panasonic, Toshiba, and other players are different based on the player regions. You can go to VideoHelp, where there is a specific panel for DVD player region codes hacks. Enter the brand and model of your DVD player to find a hack code. Below, we take the Samsung DVD-V6800 as an example (check out our full guide on how to make your DVD player region-free) to show you how to unlock region-free mode of your DVD players:
1. Power on the DVD player and make sure the DVD tray is shut with no disc.
2. Press the REPEAT button on the remote and enter a five digit hack code.
R1 - 29334
R2 - 38767
R3 - 56732
R4 - 76884
R5 - 53814
R6 - 24462
3. If you're an R1 Player, press 29334. And press 38767 for an R2 Player. After that, press 1-6 based on the DVD region you want. Or you can simply press 9 to make your DVD player region-free.
4. Next, open the tray and press Standby on the remote to close it. Now your DVD player is hacked and set to the new region you want.
Note: Not all DVD players are hacked and documented with an unlock code. If you can't find an unlock code for your DVD model, stay tuned on the forums and check regularly to see if anyone has shared a code.
Video Tutorial: How to Unlock the Region Code on a DVD Disc?
Part 5. What's Region Code Enhanced (RCE)?
Region Code Enhanced (RCE) is one of the DVD protections that works as an extra measure to prevent Region-1 DVDs from playing on region-free or multi-region players. RCE is now mainly coded on Region 1 DVDs from Warner Bros., and Columbia. It's a small program on the DVD that finds and checks if the region of the DVD player matches the region of the DVD.
It will first read the region of the DVD player.
If the player is Region 1, then play the DVD normally. 
Or refuse to play the DVD if the player has other regions (All, 6, 5, 4, 3, or 2).
Part 6. NTSC and PAL
This is not the end of the story of DVD region codes. All DVDs are produced in either the NTSC or PAL format. Most PAL players should play an NTSC DVD, but most NTSC players will not play a PAL disc (all computers will play both standards). To play PAL videos in NTSC regions, you can get a multi-system TV, a NTSC/PAL DVD player, or a signal converter.
Note that this limit only applies to home video systems. When you watch a foreign DVD on a computer, the region code will be the only problem - the DVD video encoding standard (NTSC/SECAM/PAL) is not. To get more infomation, check below.
NTSC (National Television Standards Committee), 720x486, 60 fields/29.97 fps, 60 Hz, is used in North America, Japan, the Philippines, Korea, and parts of South America.
PAL (Phase Alternating Line), 768x576, 50 field/25 fps, 50Hz, is used almost everywhere else in the world. Note that in countries that use the SECAM broadcast standard, DVDs are encoded in PAL format.