Posted by Donna Peng - Contact Author

How to Make DVD Players Multi-region and Play Any Region DVDs

To play any region DVDs, click: The solution most recommended by us [85%]
To make your DVD player region free or multi-region, you can hack it. Most DVD players are hackable, including Toshiba DVD players that are famous for inability to unlock. Sony, Samsung, and Philips are easy to handle, but some of them require extra steps, such as a firmware update for playing any region DVD without changing region code on DVD players, or burning a CD image to a disk. There are tons of DVD player models, and the hacking process varies. Use the following steps.
Change DVD region code for more than 5 times with WinX DVD Ripper Platinum Bypass DVD region code unlimitedly and digitize DVD to MP4 for playback without DVD playerFree Download
Guide to Hacking DVD Players and Region Unlock Codes
Samsung DVD Player
1. Open and close the DVD tray without disk.
2. When the info "No Disc" message pops up, press 29334 (region 1). Note that the unlock code for DVD player from different regions are different. For example, the code for Samsung DVD player bought in Australia won't work for players from Canada.
3. Press 9 to make the Samsung DVD player multi-region.
List of unlocking codes for different regions:
Region 1: 29334
Region 2: 57538 (or 38767)
Region 3: 56732
Region 4: 76884
Region 5: 53814
Region 6: 24462
Sony DVD Player
1. Power DVD player off. Make sure there's no disc in the player.
2. Type in 12345 on the DVD remote control.
3. As soon as the No Disc message appears, press 12345 again.
4. Now the DVD player should be region free, and you won't receive error message "Playing of This Disc Prohibited by Area Limits" or the likes.
Toshiba DVD Player
1. Open the disc tray.
2. Type in 2403960.
3. Press ENTER.
4. Turn the player off.
Philips DVD Player
1. Make sure there's no disc in the tray.
2. Press HOME on the Philips DVD player remote control.
3. Type in 1389310. Now it will allow all regions to play.
Panasonic DVD Player
1. Turn on the DVD player (without a disk in it).
2. Press 1234567890 on the player remote.
3. The DVD player will be region free after resetting.
LG DVD Player
1. Create a folder Violet0000 and a subfolder Rubicon in it. Download the MontBlanc.txt and save it in the subfolder as a .dvd file.
2. Put the folder to a CDR burner software, insert the CDR into the LG DVD player.
3. As soon as a black menu screen shows up, select 0 for the LG DVD player multi-region.
Different models have different methods for removing the DVD region code. VideoHelp forum offers detailed and updated ways to hack DVD players manufactured by Sony, Panasonic, Philips, LG, Samsung, Sylvania, Magnavox, and more.
We can't guarantee that every DVD player can be altered to multi-region. Some hacks are complicated processes that require time and patience. Getting a solid DVD region code removal tool, WinX DVD Ripper Platinum, will save the hassle of hacking it or seeking for the right DVD player region unlock code.
Bypass region code 1-6 and convert DVDs to region free for more convenient playback.
Copy DVDs protected by Sony ArccOS, UOPs, CSS, Disney X Project, etc.
Rip DVDs to MP4, AVI, MOV, etc. and let you play DVDs without a DVD player.
Offer nearly original quality and blazing fast speed thanks to HQ engine and hardware acceleration.

Download WinX DVD Ripper for Windows

to play DVDs without region limits

Download WinX DVD Ripper for Mac

to play DVDs without region limits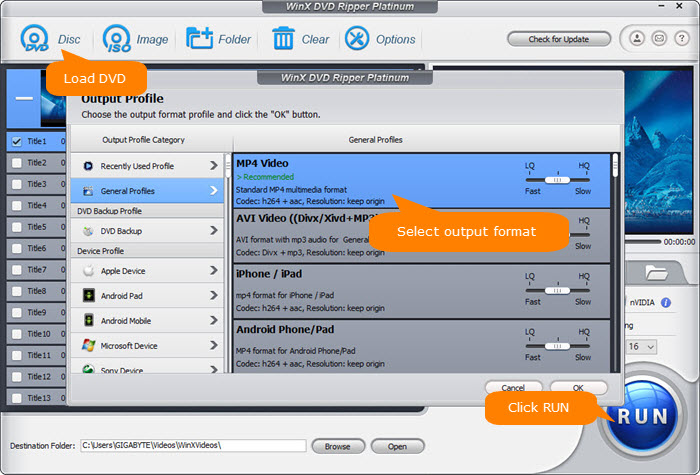 Disclaimer: Digiarty Software does not advocate ripping commercial DVDs for any illegal purpose. You're suggested to refer to the DVD copyright laws in your country before doing so.