How to Convert DVD Disc to Digital File with High Quality
DVD is fading away...
TV binge-watchers and movie fans have changed the way they enjoy videos from in-home DVD player & TV combo to on-the-go mobiles. Discs becomes a hot potato with the emerge of streaming service and the removal of DVD drive from computers and game consoles. Then how to handle your overstocked DVD discs?
Making digital copies gives DVD a second life
If you don't want to leave your DVDs idle to gather dust and become obsolete and would like to prolong DVD life span, it's time to throw the physical discs away and embrace the digital trend. After you backup your DVD collection to MP4, H.264, ISO, HEVC, video, you can:
• Freely watch DVD movies on Xbox One S All-Digital Edition, iPhone, Android, PC/Mac or upload digital DVD copies to web or cloud services.
• Get rid of DVD not playing on PC problem due to faulty DVD player, different regions, wrong connection, TV settings, etc.
• Easily access the MP4, ISO, movie videos on the hard drive anytime and anywhere without the hassle to bring piles of discs or disk drives.
• Save a digital copy in case the discs are damaged or the disc drives are gone...
Well, how to convert your DVD collection to digital files? Here we'll introduce the best DVD to digital converter software that can convert your home movie DVDs and store-bought DVDs to high-quality digital copies for using on NAS, Plex, TV, hard drive, mobiles, and other devices, and introduce popular DVD to digital services if you don't want to digitize DVDs on your own. We'll discuss the advantages and disadvantages of each method to help you determine which DVD to digital method is best for you.
Free movies from physical discs to digital video formats for easier playback on mobiles, Plex, NAS, Xbox, computer, hard drive, etc.
Turn all Disney DVDs, new & old discs, protected/region-code DVD, and family discs to digital.
Get the DVD ripper and convert as many DVDs as you need without limits. No $2-$5 fee each conversion. No internet required.
Free download WinX DVD Ripper Platinum to have a try! Initially released in 2009. Already downloaded by over 70 million users.
If you are viewing this page on a mobile device, click here to get download link and 15-day trial license to experience full features.
Please DO NOT use WinX DVD Ripper to rip rental DVDs. Compare the DVD to Digital Converter Software/Service
Software/Service

Price

Supported DVD Types

Supported Output Formats

Speed

Overall Evaluation

WinX DVD Ripper Platinum [Best Choice]

Premium License One-Year Subscription / 3 PCs: $34.95
Ultimate License Lifetime Plan / 1 PC: $59.95
Get 15-day free trial license to experience full features >>
New Year Special Offer>>

Homemade DVDs, commercial copy-protected DVDs, region-locked DVDs, newly released movie DVDs, old DVDs, unplayable DVDs, etc.

350+ output presets, including ISO, VIDEO_TS folder, MP4, MKV (only available in Mac version), MOV, MPEG, FLV, AVI, WMV, MP3, etc.

Fast. It can rip a 2-hour movie DVD within 5 minutes.

The most cost-effective option. Support homemade and commercial DVDs. Work fast. Give users full control over the output.

VUDU

DVD to SD: $2+ tax / 1 disc
DVD to HDX: $5+ tax / 1 disc

Commercial movie DVDs. Some titles are not supported.

MP4

Fast

No need for a computer and optical drive, but the service is only available in the US and Mexico and has many limitations.

DVDWalmart

$12.96 for the first 30 minutes and $5.46 for each additional 30 minutes.

Previously transferred DVDs from Walmart and YesVideo, and other DVDs, MiniDVDs, CDs, and VCDs.

MP4

3-4 weeks.

You don't need to do it yourself, but you need to pay high price and wait very long time.

HandBrake

Free

Unencrypted DVDs.

MP4, MKV, WebM

It could be tens of minutes to a few hours.

Free but can't handle copy-protected DVDs.

VLC media player

Free

Unencrypted DVDs and some encrypted DVDs.

MP4, MKV, AVI, FLV, WebM, WMV, MP3, TS, etc.

It will take the entire runtime of the movie to digitize it.

Free but works extremely slow. And, it always fails to manage commercial discs.

MakeMKV

Free

Unencrypted DVDs and some encrypted DVDs.

MKV

Usually about 20 to 30 minutes.

Free but can only export MKV file.
Method 1. Convert All DVDs to Digital Files with WinX DVD Ripper
Pros:
It supports digitizing both home movie DVDs and commercial copy-protected movie DVDs including Disney DVDs.
It provides over 350 output profiles to choose.
It helps users to convert DVD to digital at home.
It is easy to use, even for beginners. No technology skill needed.
It is more cost-effective than other methods. Check the price >>
It works fast. A DVD can be converted to digital within minutes.
It allows you to convert as many DVDs as you like.
It allows editing video before ripping.
Cons:
Need to download and install this software on your computer.
A computer with a built-in DVD drive, or an external drive.
The best software to convert DVD to digital copy is WinX DVD Ripper Platinum, because it features the most powerful DVD decrypting ability, the fastest DVD ripping speed, and the best output quality.
No.1 decrypting ability. WinX DVD Ripper will digitize almost all DVDs regardless of the encryption or release date. So you can digitize any DVDs you throw at it, without being limited to the library like Vudu. Furthermore, it gets monthly upgrades to support the latest DVD encryptions that 95% of the tools on the market fail to handle. You can digitize protected DVDs without errors like Handbrake No valid title found, not showing title, crashes/quit...
No.1 DVD digitizing speed. Thanks to the multi-core CPU, Hyper-Threading tech and advanced Level-3 Hardware Acceleration tech based on Intel QSV, NVIDIA (CUDA) NVENC and AMD, it has the fastest DVD to digital converting speed. That's about 5x faster than others. On an advanced computer, it needs 5 minutes only to copy a DVD to digital mp4/mpeg.
No.1 output quality. The ISO image option is for those who want 100% quality reserved. For other digital videos, users will get about 98% output quality. This is guaranteed by its DVD copy, high quality engine, and deinterlacing techs. The Safe Mode is a proven option to not only eliminate any converting problem but also avoid any quality errors like stutters, dropped frame rates, video/audio out of sync, blocky image, etc.
Main features of WinX DVD Ripper Platinum:
Convert disc to digital copies MP4, MKV, AVI, HEVC, MOV, and more mainstreaming formats with 98% original quality. Digital copy will be 40%-95% smaller than the source DVD.
1:1 Clone DVD to ISO image, Video_TS folder with 100% original quality. Get full subtitles, audio tracks, and native resolutions.
Digitize DVD discs for Plex, NAS, TV, phones, tablets, hard drive, PC/Mac, YouTube, iTunes, cloud, etc. with high quality & small size.
Remove ads/trailers, select subtitles/languages, improve quality, adjust settings (resolution, frame rate, 4:3/16:9 aspect ratio, etc.)
Convert DVDs protected by all region codes (1-6), CSS, AACS (2.0), RCE, Sony ArccOS, UOPs, etc., transfer Disney DVDs to digital, copy old and new DVDs, homemade discs, scratched/damaged DVDs, without DVD not reading, no disc found, DVD analyze failure errors.
No.1 fast DVD to digital conversion - Level-3 Hardware Acceleration delivers 5x faster speed than similar program. It digitizes the main title in 5 minutes only.
Free Download WinX DVD Ripper Platinum to Begin Converting DVD to Digital Videos for Mobiles, TVs, NAS, Travels, etc.!
DVD digitizing requires clicks only. Even none tech-savvy users can do it fast and easily. Now let's get started to convert DVD disc to digital file in MP4, H.264, HEVC, MKV, AVI, ISO, and more formats for storing/playing on hard drives, iPhone, iPad, Android mobiles, Plex, NAS, TVs, PC, Mac, cloud storage, websites, etc.
To begin with, download and install this DVD to digital converter on PC (Windows 11, Windows 10 or earlier) or Mac (macOS Ventura or earlier). No internet required for the conversion.
Step 1. Load the source DVD disc you want to convert to digital.
Insert the target DVD into your computer's DVD drive, run the DVD to digital converter you just installed, and then click "DVD Disc" button to load the movie DVD. This software will automatically bypass DVD region codes, remove any DVD copy protections, and auto check the right movie title even the tricky Disney DVDs. Of course, you can select title manually.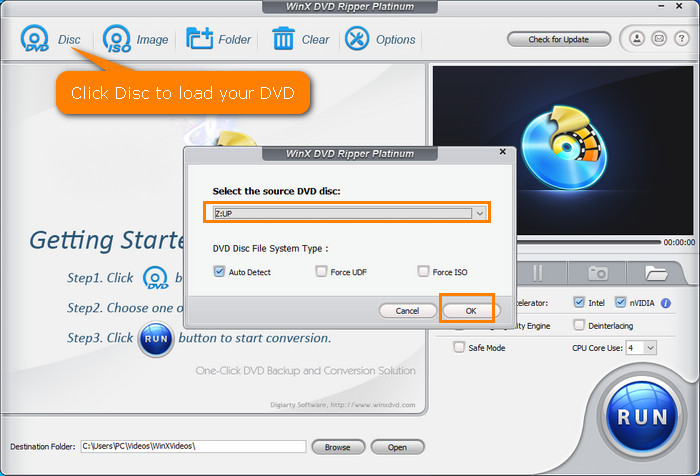 Step 2. Choose file format for the output digital copy.
In the pop-up output profile window, you can see all popular formats devices divided into various categories. You can choose any digital video format based on your own needs.
Which is the best format for DVD disc to digital?
To save a digital copy of DVDs on the computer, you can backup DVD disc to MP4, AVI, WMV, MKV (Windows 10 already supported);
To play DVD movie on Apple TV/iPhone/iPad/Mac and other Apple devices, choose to digitize DVD to MP4, MOV, M4V, or corresponding device profile;
To watch DVDs on Android/Xbox/PS4, convert DVD to MP4, H.264, 3GP, WebM, MKV;
To copy DVD to hard drive or storage medium with all intact DVD videos/audios/subtitles, copy DVD to ISO files or VIDEO_TS folder;
To convert DVD to digital copy freely for Windows Media Player or other Windows-oriented platforms, you can select AVI or MP4;
To have the perfect balance between size and quality, select H.264 MP4.
The most commonly-used DVD movie digital format is MP4, owing to its wide compatibility, good compression and excellent quality. So here we take DVD to MP4 as an example. Click under the directory: General Profiles - MP4 Video. Then click "OK".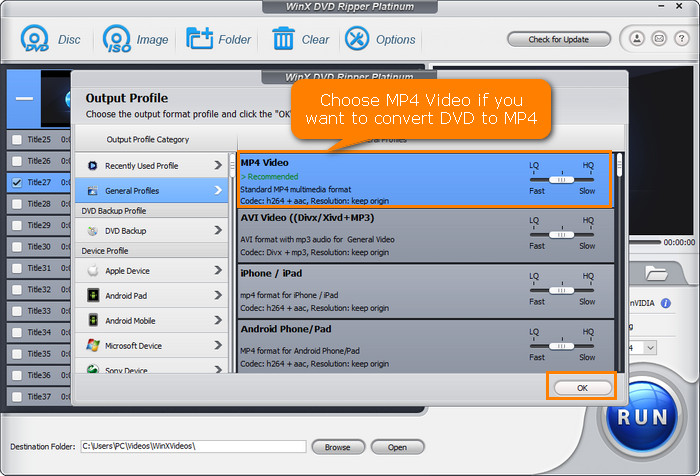 Step 3. Start the DVD to digital conversion.
Click "Browse" to set a folder to store the digital copy extracted from your DVD, and click "RUN" to begin converting DVD to digital copy. The hardware acceleration will speed up the digitizing and finish the task in minutes (its fast speed is the ideal choice for digitizing a large DVD library).
You'll get a progress window, as shown below.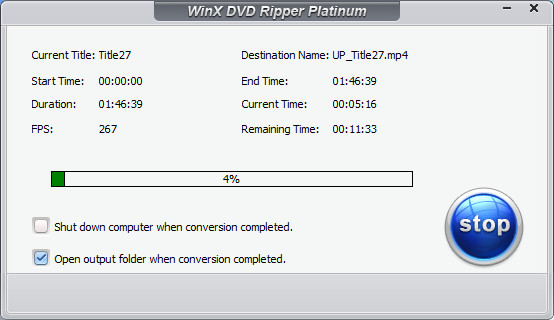 Once done, you can see the digital file in the destination folder you set before.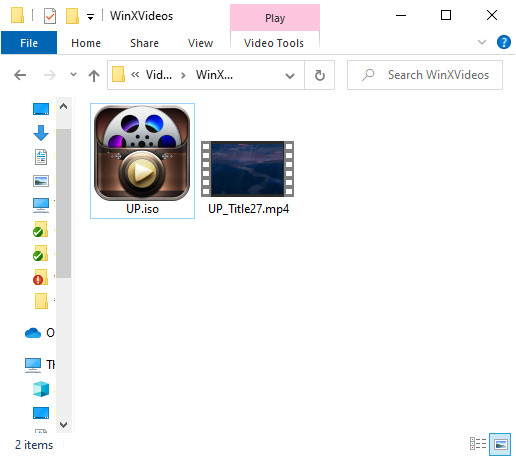 If you meet problems in the DVD conversion, choose 'Safe Mode' to rip any DVD smoothly.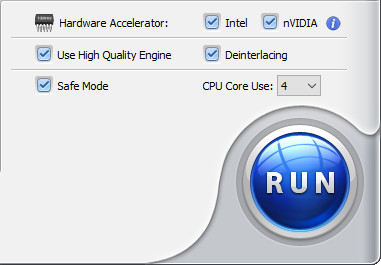 Tips: Before making a digital copy of DVD movie, you can click the Settings icon to adjust the video/audio settings, for instance, adjust output file bit rate,  aspect ratio, frame rate, sample rate, etc.. You can also click "Edit" to add subtitles, adjust the volume, crop & expand the video to remove black bars, trim the video to rip episode from DVD if the TV series are combined into a single file.
Video Tutorial to Turn DVD into Digital File with High Quality
Method 2. Use Disc to Digital Service - VUDU
Pros:
You can process DVD to digital right from your mobile.
There is no need to use DVD drive.
Cons:
It costs much if you have a large DVD collection.
It sets limit on maximum conversions per year.
It is only available in US and Mexico.
Not all DVDs are supported to convert.
VUDU's disc to digital service was initially launched in 2017. With this service, you can get digital copies of your Blu-rays and DVDs simply by scanning the barcodes on your discs and watch them on any VUDU-enabled device. Vudu To Go, the in-home service of Disc to Digital, isn't supported after December 31, 2019. But you can still use In Mobile Disc to Digital which can help scan discs on your phone and tablet. Please be noted that not all discs are eligible for Disc to Digital conversion. You can search for title availability at https://www.vudu.com/content/in_mobile_disc_to_digital.html.
Well, how to convert DVD to digital with VUDU disc to digital service?
On Android:
Step 1. Download VUDU app from your app store.
Step 2. Sign up if you don't have an account. And then, sign in.
Step 3. Select Disc to Digital and grant the app access.
Step 4. Scan the UPC barcode on your DVD case, pay for the DVD to digital conversion (DVD to SD: $2 per disc; DVD to HDX: $5 per disc), and then watch instantly.
On iPhone:
Step 1. Visit vudu.com/disc on your iPhone and click Convert Disc.
Step 2. Sign in.
Step 3. Allow app permissions.
Step 4. Scan barcode, select output quality, and watch the digital copy.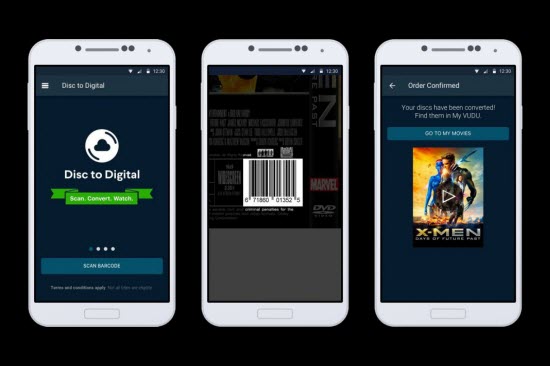 VUDU's DVD Disc to Digital services sound good, but there are a few caveats you should know.
Another $2-$5 required each disc to video copy. Think if you have a large DVD library of thousands of titles.
Can't convert all DVDs into digital. First, only DVDs from partnering studios are compatible with D2D. E.g., you can't convert Disney DVDs to digital files with Vudu. Second, D2D services don't "convert" discs, it provides a digital copy instead if it's in their library. That means you can't convert any homemade DVDs.
No control on the output quality. Sometimes there is SD version available only and you can't do anything to improve the quality.
No physical ownership. Some services allow you to download the converted DVD video for viewing offline, but you don't really own it. When you cancel the membership, you lose the movies.
Data Throttling. Online DVD to digital converter services provide digital files via the internet connection, which can be capped soon.
Region limitations. The major D2D services are open to the US only. Other regions can't take advantage of them.
Intricate errors. The process can be fraught with issues that are difficult to deal with, for example, can't find any titles in the cart, location doesn't match billing address, can't read barcode, operation timeout, etc.
100 limit. You are only allowed to convert 100 DVDs per year.
Check Vudu disc to digital limits full review >>
In a word, disc to digital services are a good choice for those who would like to digitize relatively small and new DVD collection. You may want a DVD to digital program like WinX DVD Ripper to create high-quality disc to digital copy without extra fee each time, full control on the output video, and freedom to use the digital copies anywhere.
Method 3. Convert DVD to Digital with DVDWalmart - DVD to Digital Service near You
Pros:
You don't need to do the conversion by yourself.
Cons:
It is troublesome.
It is expensive.
Users will wait long time to get digital copy.
DVDWalmart's Digital Media Transfer service accepts all previously transferred DVDs from Walmart and YesVideo, and other DVDs, MiniDVDs, CDs, and VCDs. It will store the digital copy in MemoryCloud and transfer it to a single USB if you ask it to. The price for creating a digital copy with MemoryCloud online access is $12.96 for the first 30 minutes and $5.46 for each additional 30 minutes. If it is a 2-hour movie DVD, you need to pay $29.34 for this service.
If you have a lot of DVDs that need to be converted to digital format, it will cost a shedload of money. If you're on a budget, DVD to digital conversion software will be a better choice. Take WinX DVD Ripper as an example, you only need to pay $34.95 to get a one-year license, which can be used on 3 computers. After activating WinX DVD Ripper with this license, you can convert as many DVDs as you like and choose a desired output format. And it only takes a few minutes to get a digital copy of your DVD.
If you're interested in WinX DVD Ripper, click the download button below to have a try!
If you're still interested in DVDWalmart, check how to use DVDWalmart to transfer DVD to digital copy.
Step 1. Create your order online or at Walmart.
Step 2. Bring your DVD and order confirmation printout (if you created your order online) to Walmart Photo near you or mail your order.
Step 3. Pick up the digital copy at Walmart if you dropped off your DVD at Walmart and wait for it to be delivered to you if you sent your media directly to Walmart. You may need to wait 3-4 weeks to get the digital copy.
Method 4. Convert DVD to Digital for Free with HandBrake
Pros:
It is totally free.
It provides dozens of output presets.
Cons:
It can't bypass copy protections.
Some settings are confusing for beginners.
If you want to convert your DVDs to digital files without paying money, you can check HandBrake. This is a free open source video transcoder for Windows, Mac, and Linux. It can convert your non-protected DVDs to digital files in MP4, MKV, and WebM. Without libdvdcss, it cannot handle copy-protected DVDs. Now, let's check how to turn DVD into digital with free HandBrake.
Step 1. Download, install, and open HandBrake.
Step 2. Under Source Selection, choose the DVD you want to digitize. Then, it will scan you DVD titles.
Step 3. Choose the title you want to convert.
Step 4. Choose the preset and adjust video audio settings based on your own needs.
Step 5. Specify save path for the digital copy by clicking the Browse button at the bottom right.
Step 6. Click the Start Encode button on the top to begin converting DVD to digital.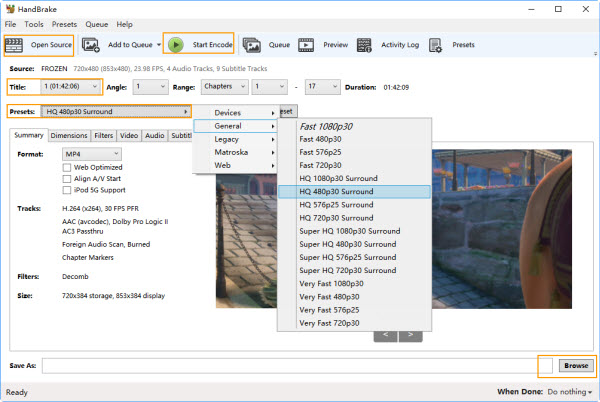 Method 5. Convert DVD to Digital for Free with VLC Media Player
Pros:
It is free of charge.
It can do more than DVD to digital.
Cons:
It requires quite a long time to digitize DVD.
In spite of its name, VLC is not just a media player. It has a remarkably long list of features including media playback, online streaming, and DVD digitization. It can convert your DVDs to a dozen of formats. And it can even deal with some encrypted discs. The disadvantage is that it takes as long as the movie length to finish ripping DVD. If you don't mind this, just follow the steps below to use VLC to turn your DVDs into digital videos.
Step 1. Download and install VLC if you don't have this tool on your computer. Then, open it.
Step 2. Click Media and then select Convert/Save.
Step 3. Click Disc tab and choose disc device, title, chapter, audio, and subtitle track. Then hit Convert/Save.
Step 4. Choose profile.
Step 5. Click Browse to specify destination file.
Step 6. Hit Start to begin converting DVD to digital.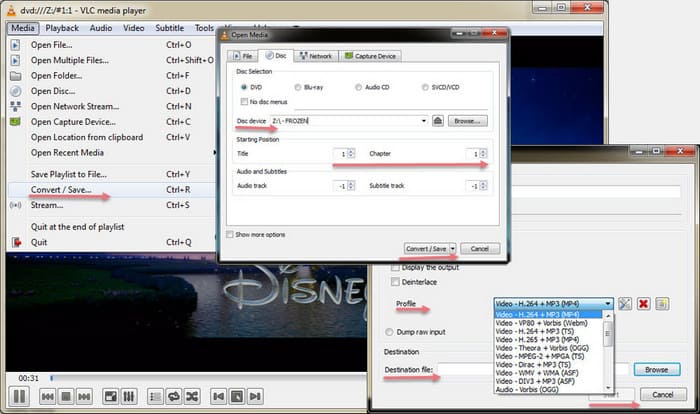 Method 6. Convert DVD to Digital for Free with MakeMKV
Pros:
It can decrypt DVDs and Blurays.
It is free to use.
It keeps the original quality.
Cons:
It can only output uncompressed MKV files.
As its name indicates, MakeMKV can only export MKV files. And, there is no compression, which means you'll get a high-quality but large-size digital copy. But the surprise is that it can convert protected Blu-ray and DVD discs for free during BETA.
Step 1. Download and install MakeMKV on your Windows, Mac, or Linux computer.
Step 2. Open MakeMKV and insert the DVD you want to convert to digital.
Step 3. When MakeMKV detects your DVD, click the Open DVD disk button to let MakeMKV access your DVD.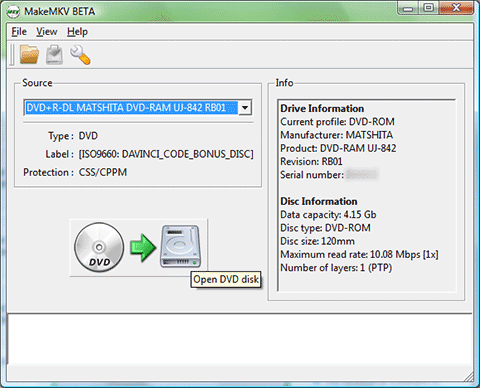 Step 4. When you see a tree structure with your titles, video tracks, audios, and subtitles, just choose which titles or tracks you want to convert.
Step 5. Click Set output folder button to specify where you want to save the digital copy.
Step 6. Click the Make MKV button to begin converting DVD to MKV digital file.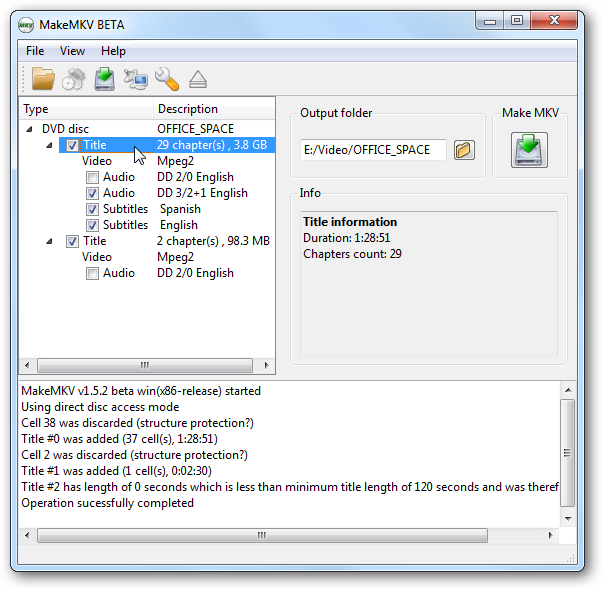 FAQs:
1. How to convert DVD to digital on Mac?
WinX DVD Ripper Platinum has a Mac version which can help you digitize DVDs on Mac. The procedure is like digitizing a DVD on Windows, so just download this tool and follow the steps in method 1.
If you want to try something different, you can try Disk Utility – Mac's built-in app that can digitize DVDs without copyright. However, it can only export image file. Don't expect it to make a MP4 copy or other mainstreaming format from your DVD. If it's ok for you, just follow this:
Step 1. Go to Applications > Utilities, find and open Disk Utility.
Step 2. Locate your DVD and click on it.
Step 3. Choose New Image which is in the centre along the top.
Step 4. The next option to look out for is Image Format, which you should set to DVD/CD Master.
Step 5. Set Encryption to None.
Step 6. Hit save and the DVD will begin copying to the destination you specified. When the process is complete, just eject your DVD.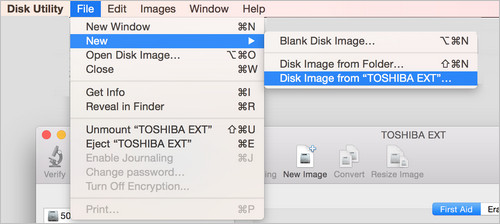 2. How to convert Disney DVD to digital?
Digitizing Disney DVDs is really a matter of headache, as they are always strictly protected. There may be 99 titles to confuse you and DVD converters. Happily, WinX DVD Ripper can read and convert them without errors. Just give it a try.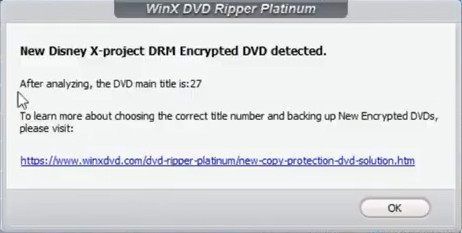 3. How to digitize home video DVD?
WinX DVD Ripper Platinum can not only digitize commercial movie DVDs but also handle home video DVD collection. Just insert your home video DVD to DVD drive, select it in the DVD ripping tool, choose wanted titles and format, and hit RUN to get the digital copy out of your physical media.
4. How to digitize DVD TV shows?
WinX DVD Ripper supports movie DVDs, TV shows DVDs, and other regular DVDs no matter what content they contain. To convert TV series DVDs to digitals, follow this:
Step 1. Insert the source TV show DVD into DVD drive.
Step 2. Click DVD disc to load the TV show DVD.
Step 3. Select titles/episodes you want to convert to digital file.
Step 4. Choose a desired output format.
Step 5. Hit RUN to begin digitizing.
5. How to digitize DVD collection for free?
There are some free DVD to digital converters, such as HandBrake and VLC. However, free tools always mean limited features. Take HandBrake for example. It can't handle copy-protected DVDs on its own but the fact is that commercial discs are always encrypted. So, you may have to use a more powerful ripper. Good news is that there're chances to get paid DVD rippers for free. You can search it by using keyword like "winx dvd ripper platinum giveaway".
6. Does Amazon have disc to digital?
If you purchase a Disc+ On Demand Blu-ray or DVD, Amazon will automatically add the Amazon Instant Video standard definition digital version to Your Video Library (www.amazon.com/videoondemand/library). You can stream the digital version online or download it for offline watching.
7. Does Best Buy convert DVD to digital?
In 2012, Best Buy introduced a program called CinemaNow to convert DVDs to digitals.
To process to convert DVD to digital with CinemaNow is:
Step 1. Set up at CinemaNow.com account.
Step 2. Download the free CinemaNow Player software on your PC or MAC.
Step 3. Insert your DVD and then CinemaNow will instantly recognize the movie's title and give you an option to convert the DVD to a digital version that is standard definition (SD) for $2 or high definition (HD) for $5. The digital movie will be added to your UltraViolet digital library.
However, CinemaNow has been shut down in 2017.
Disclaimer: Digiarty Software does not advocate ripping copy-protected DVDs for any commercial purpose and suggests referring to the DVD copyright laws in your countries before doing so.
Still have trouble about converting DVD disc to digital on Windows (10)/Mac? Just Email Us