Top 7 Free DVD Copy Software - Copy DVD on Windows 10/8/7 and New Windows 11
Are you a movie fanatic who has a big collection of DVD movies and TV shows? Are you called a DVD terminator because you're always making DVDs damaged or scratched soon after purchase? It's challenging to sort so many DVDs into a narrow space, and your discs could finally be ruined and unwatchable in a certain day. That's where DVD copy comes in.
Some people want to copy full DVD to DVD/ISO image/DVD folder to make an exact duplicate copy of your DVD, while others may want to copy main movie title only with selected or all subtitle/audio tracks. Anyway, to make DVD copies of your DVD collection can benefit you a lot. In this article, we'll introduce 7 pieces of software to copy DVD.

Also read: How to Copy DVDs on Mac || How to Watch DVD on Windows 10
Copy Any DVD to DVD or Hard Drive with WinX DVD Copy Pro
WinX DVD Copy Pro is the best DVD copier integrated with powerful DVD decryption feature. It can bypass DVD copy protections so that you can copy protected DVDs without any issue. Additionally, it is possible to handle badly structured DVDs and even damaged discs.
It allows you to copy DVD to DVD, ISO image, DVD folder at 1:1 ratio, along with the options to extract video/audio tracks, copy DVD chapter, burn DVD, with absolutely no loss of quality.
Now let's free download WinX DVD Copy Pro to copy our DVD to DVD, laptop, hard drive, USB, and other devices we like. 100% clean. Fully compatible with Windows 7, 8, 8.1, 10, and 11.
Part 1: Our Top 7 Picks for Best DVD Copy Software of 2022
Best Software to Clone DVD to DVD, ISO Image, VIDEO_TS Folder.
No.1 - WinX DVD Copy Pro ★★★★☆ (based on 462 votes)
Platform: Windows 11, 10 and lower (32 bit & 64 bit)
Supported input: New or old and even damaged home-made and copy-protected DVD disc, VIDEO_TS folder and ISO file
Supported output: DVD-/+R (DL), DVD-/+RW (DL), DVD RAM, ISO image, DVD folder, MPEG-2, DVD Video/Audio tracks only
Review: WinX DVD Copy Pro is all-in-one DVD copier which is specially designed to offer users virtually all DVD backup needs. It adopts sector-by-sector DVD copy mode to clone DVD to DVD/folder/ISO at 1:1 ratio, copy DVD main title as a single MPEG2 file, rip certain chapter(s) off DVD, and extract video or audio only. In addition, it allows users to mount ISO image to a virtual drive and burn ISO image or VIDEO_TS folder to a blank DVD with the assistance of ISO Mounter and DVD Burner.
Even if your DVD is copy protected by region code, RCE, UOPs, APS, CSS, Sony ARccOS and Disney X-project DRM, WinX DVD Copy Pro can quickly read DVD information and copy DVDs to ISO Image, Video_TS folder, etc. as you like at lightning speed. In the last update, it added the support for new movies and improved scanning speed again.
About sector-by-sector DVD copy: Sector-by-sector is one of the features that make WinX DVD Copy Pro more powerful than other similar programs. By using this feature, WinX can create a 100% original copy in video audio quality, structure and content. In addition, it is also helpful in dealing with defective DVDs. It can skip blank sectors, and fix bad sectors on scratched DVDs at the greatest degree.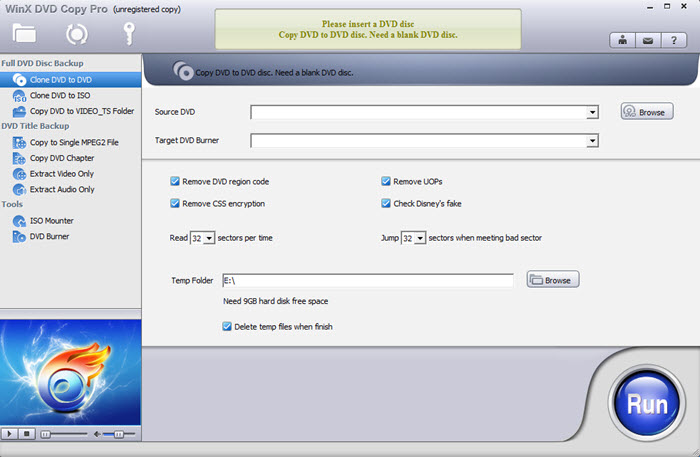 No.2 - DVD Cloner Free Edition ★★★★ (based on 394 votes)
Platform: Windows 11, 10 and lower
Supported input: Home-made and encrypted DVD disc, VIDEO_TS folder & ISO file
Supported output: DVD disc, DVD folder, ISO file, a .dvdmedia file, DVD±R/RW.
Review: DVD Cloner has provided DVD copy service for a long time. It as the newest generation allows users to copy the latest DVD movies including 1:1 DVD copy, movie-only copy and customized copy. The most eye-catching feature is the ability to combine multiple DVDs to one DVD±R DL or BD-R/RE. Just like WinX DVD Copy Pro, it can finish a DVD movie copy over a cup of coffee.
DVD Cloner is also an up-to-date program. It keeps updating to support new movies and systems. More than a month after the release of Windows 11, it fixed the compatibility issue with this new Windows operating system.
Cons: Although DVD Cloner paid version has owned a big reputation, its free edition cannot rival that of WinX DVD Copy Pro. That is because you're only allowed to have one full copy for free. Additionally, the user interface isn't straightforward, so that you have to dig it out for yourself or resort to help document or customer service.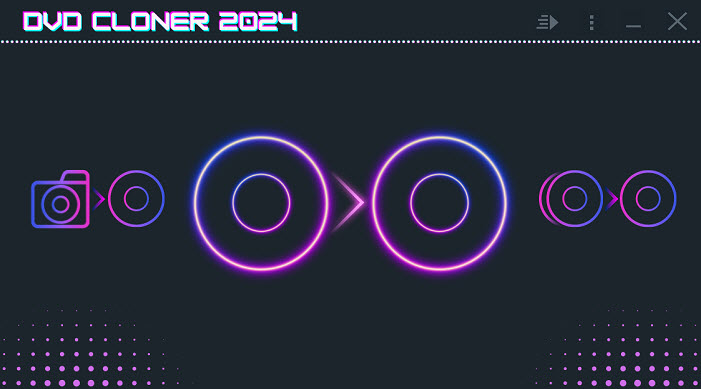 No.3 - DVDFab 11 Free Edition ★★★★ (based on 355 votes)
Platform: Windows 11, 10 and lower
Supported input: Home-made and copy-protected DVD-Video disc, DVD folder, DVD ISO image file
Supported output: DVD folder, DVD ISO image file, DVD+R/RW, DVD-R/RW, DVD+R DL and DVD-R DL
Review: DVDFab is a multifunctional program bundled with DVD copy, DVD ripper, DVD converter & DVD creator. You can copy DVD main title or full disc to a blank DVD or hard drive. Also, DVDFab enables you to split DVD 9 to DVD 5, customize DVD copy, and merge multiple DVDs into one DVD. This is also a very powerful DVD copy software application for homemade or copyrighted DVDs.
Cons: DVDFab 11 free edition disables users' access to copy DVD to DVD function.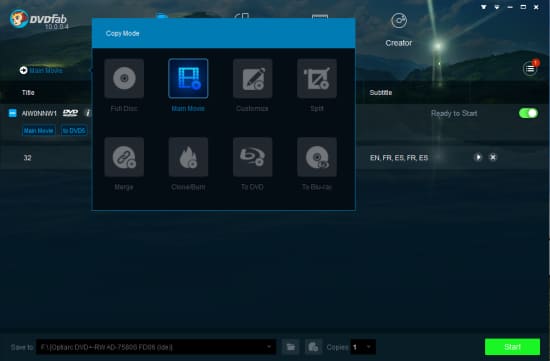 Top Programs to Copy DVDs to Hard Drive, HDD, USB, NAS, MP4, and Others
No.1 WinX DVD Ripper Platinum ★★★★★ (based on 754 votes)
Platform: Windows 11, 10 and lower
Supported input: Homemade and copy-protected DVD disc, VIDEO_TS folder and ISO Image
Supported output: ISO image, DVD folder, MPEG-2 file, MP4, MOV, AVI, MKV, H.265, H.264, and more
Review: WinX DVD Ripper Platinum is the best DVD copy software with unique support for Level-3 hardware acceleration and High-Quality engine, committed to ensuring lightning fast speed and original image and audio quality in DVD backup and ripping. It can rip any types of DVDs with menus, for example, new releases, classic movies on DVDs, Disney 99-title DVDs, scratched DVDs, TV shows on DVDs.
With 350+ built-in profiles, the DVD copier enables you to decrypt and convert DVDs to MP4, AVI, HEVC, MOV, M2TS for saving and playing on computers, laptops, HDTVs, phones, tablets, etc. On top of that, four copy modes are provided, you can 1:1 clone DVDs to ISO image, a folder, copy the main title, and backup full title for storing on HDD, hard drive, NAS, Cloud, USB flash drive, etc. No.2 - HandBrake ★★★★ (based on 628 votes)
Platform: Windows 10, 8.1, 7 (64bit)
Supported input: DVD sources without copy protection
Supported output: MP4, MKV, H.265, H.264, MPEG-4, VP9, VP8, etc.
Review: HandBrake is a piece of popular free DVD copying software (Windows 10). It processes DVDs fast with some basic and advanced options to enhance the output. Users are allowed to free digitize DVD collections to MP4, MKV and WebM for playback on a laptop, iPhone, iPad, TV, Android phones and tablets, etc.
Cons: It cannot handle copy-protected commercial DVDs. There's no access to copy DVDs to ISO image and video folder at 1:1 ratio.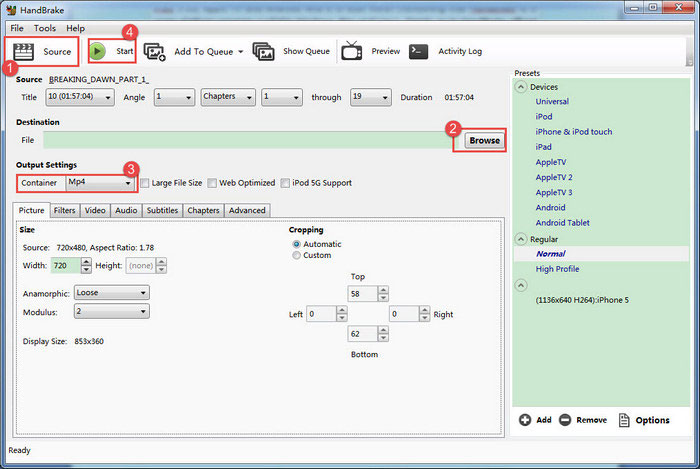 No.3 - MakeMKV ★★★ (based on 217 votes)
Platform: Windows 10, 7, 8/8.1 (32/64 bit)
Supported input: homemade and some encrypted DVDs.
Supported output: MKV container format.
Review: MakeMKV is another well-know free DVD copier. It offers easy access to copy DVDs to your hard drive in MKV files that contain multiple audio tracks and subtitles. If you want other formats, you need to download a video converter to change the MKV format.
Cons: It only outputs the MKV file with big size. Many DVDs are not supported.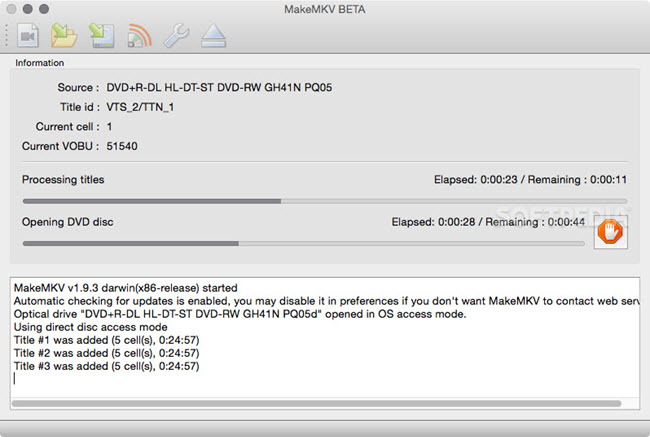 No.4 - Freemake DVD Copy ★★★★ (based on 327 votes)
Platform: Windows 11, 10 and lower
Supported input: Non-corrupted DVD+R/RW, DVD-R/RW, DVD+R DL, DVD-R DL, Blu-ray.
Supported output: DVD folder, DVD ISO image file, MP4, AVI, MKV, WMV, 3GP, SWF and nearly any file format.
Review: Freemake DVD Copy is all-in-one DVD copier to backup your blu-ray or DVD copies to PC or laptop. It's available to copy DVD free from a DVD to another with full menus, chaptors and subtitles, create ISO image or DVD_folder, and yield multiple protection-free DVD copies in MP4, MKV, WMV, SWF and more formats.
Cons: Freemake DVD Copy only supports unprotected DVDs. Copyright protected DVDs and corrupted DVDs are excluded.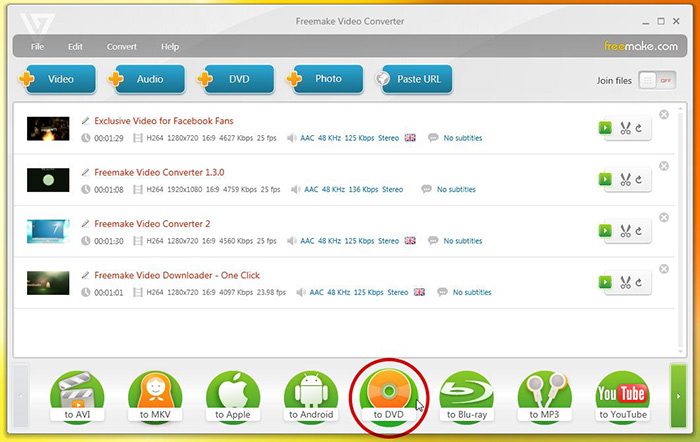 Part 2: How to Copy DVD: Make Exact Copy of DVD, Copy Movie-only, Copy Damaged DVD
Below are step-by-step guides on how to copy DVD full disc, how to copy DVD main title only, and how to copy damaged DVD.
1. How to copy DVD full disc: make exact copy of DVD?
Copying full disc can maintain all content on the DVD, including main movie, all audio tracks, subtitle tracks, menus, and other extras like behind-the-scenes tidbits. You can choose to copy DVD full disc to another blank DVD (copy double layer DVD9 to DVD9 disc or copy single layer DVD5 to DVD5), or copy DVD to ISO image/DVD folder with menus and chapters. WinX DVD Copy Pro has all these functions covered. And now, let me show you how to perform full DVD disc backup with WinX DVD Copy Pro.
To begin with, you need to download and install WinX DVD Copy Pro on your computer. This software is compatible with all popular 32 bit and 64 bit Windows systems.
Once the installation is complete, follow the tips below.
Step 1. Open WinX DVD Copy Pro, and then you will find there're three options under 'Full DVD Disc Backup' in the left pane. Just choose one based on your own needs. Here, we choose 'Clone DVD to DVD'.
Step 2. If you have two DVD drives, insert the DVD you want to copy and also a blank DVD, and then specify the Source DVD and Target DVD Burner in the interface of WinX DVD Copy Pro. If you have only a single DVD drive, you can insert the source DVD first. After WinX DVD Copy Pro saves the source DVD to computer, take out it, insert the blank DVD, and click the red 'Burn' button to transfer the copy from computer to the blank disc.
Step 3. Check boxes of region code/UOPs/CSS/Disney's fake removal, set read and jumped sectors (32 is recommended) in case you want to clone DVD with bad sectors, and select temp folder for temporary DVD file storage.
Step 4. Hit 'Run' to go DVD copy.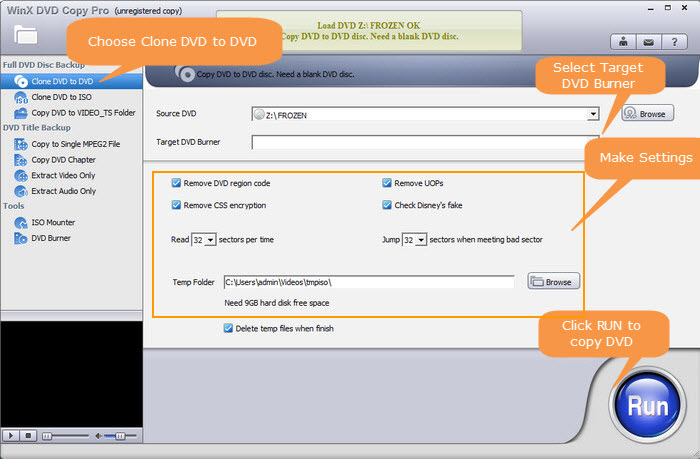 2. How to copy DVD main title: copy movie-only?
Although some people want to make an exact backup of DVD, others just want to copy the movie part only. In response to this demand, WinX DVD Copy Pro comes with copy DVD to single MPEG2 file feature. Now let's show you how to make it.
Undoubtedly, you need to download and install WinX DVD Copy Pro first before we move to the following steps.
Step 1. Insert source DVD, open WinX DVD Copy Pro, and click 'Copy to Single MPEG2 File' under 'DVD Title Backup'.
Then, the DVD should appear at Source DVD. Main title will be detected and checked for you. All audio tracks and subtitle tracks will also be checked. You need to make sure that you have enough space in the target destination folder to store the MPG file.
Step 2. Hit 'Run' to start copying DVD with the DVD copy software.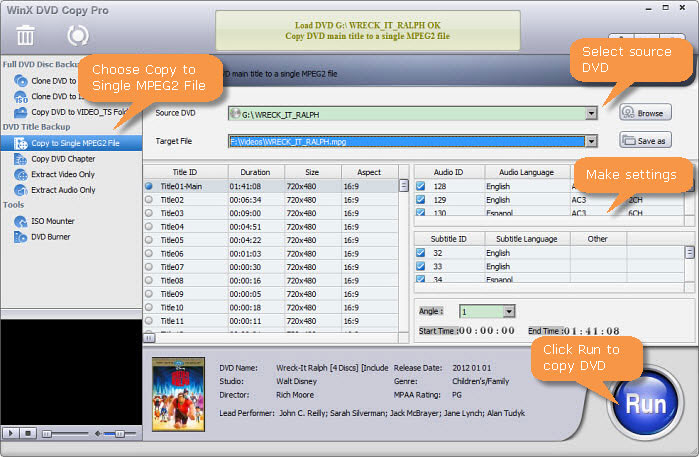 3. How to copy damaged DVD?
DVDs will be damaged because of natural aging or man-made destruction. Luckily, it is possible to copy damaged DVD with WinX DVD Copy Pro. This program utilizes advanced bad sector recover engine to repair corrupted sectors in the old damaged discs automatically. And, it can skip bad sectors. You determine how many sectors should be jumped when meeting bad sector.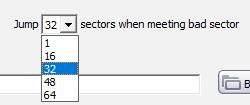 Given the copy protection schemes that are usually encoded into commercial DVDs, you are suggested to check Remove DVD region code, Remove UOPs, Remove CSS encryption, and Check Disney's fake, when copying a DVD. WinX DVD Copy Pro will bypass all these encryptions without damaging your original discs. Disclaimer: Digiarty Software does not advocate ripping/copying copy-protected DVDs for any commercial purpose and suggests referring to the DVD copyright laws in your countries before doing so.
Part 3: FAQs About DVD Copy
1. Is it legal to copy a DVD for personal use?
In some countries such as USA it is illegal to do that because of copyright protection. But if you keep the copies to yourself, you won't be sued. So, it is unnecessary to worry about legal issues.
2. How to Copy DVD on Windows 10?
For unencrypted DVDs, you can follow the steps below. But if you want to copy a protected DVD on Windows 10, you have to download a dedicated DVD copier like WinX DVD Copy Pro and WinX DVD Ripper.
Insert target DVD into DVD drive. You can click here to get one external DVD drive on your laptop or computer if you don't have one.
Open your Windows 10 computer, open your DVD drive, and select the files you want to copy.
Right click on the selected files, click on Copy.
Select the location where you want to save those files, right click and paste it.
3. Can you copy a DVD with VLC?
4. Can HandBrake copy protected DVDs?
No. If you want to use HandBrake to copy protected DVDs, you need to install libdvdcss to work with it. However, this trick doesn't always work.
5. How to fix scratched DVD?
Most common ways include: buy a 'CD/DVD repair kit'; try toothpaste or peanut butter on the surface of DVD; use furniture polish.
6. Why we need to copy DVDs to DVDs or hard drive?
1. Extend the shelf life of your DVDs. It's typical that a DVD becomes unreadable after 10 years. They'll fail in 2-5 years without proper handling. Long-term exposure to light, improper storage temperature, and many other factors will shorten the DVD lifespan. By viewing the backup copies, your discs can be stored for a longer time. See how to prolong DVD life >>
2. Save money. Having DVD copies is also a way to save money. You don't need to buy your favorite DVDs twice after damage. Moreover, you won't always have the luck to buy some classic movies on DVDs.
3. Prevent DVD damage. The main reason for copying DVDs as a backup is to save valuable collection if any scratch or unexpected condition occurs. Scratches and fingerprints are very common. Kids always ruin DVDs soon after purchases. According to our study, nearly 20% of users would like to clone DVDs to blank discs, or copy DVDs to computer, hard drive, NAS, Cloud, even it's paid.
4. Organize DVDs more efficiently. It's much easier to access your files if you copy DVDs and store the copies with a logical folder structure. You will save a lot of time and frustration by helping yourself find what you need quickly.
5. Plan B - play DVD copies freely. It happens that the original discs are not playable due to damage, region limits, hard drive failure, etc. The limited compatibility is another issue. In such cases, you can play additional copies. Moreover, after you convert DVDs to digital copies, you are free to view the movie files on a laptop, iPhone, iPad, Android mobiles, gaming system, smart TV without accessing to disc drive.
7. Why is it hard to copy a DVD?
Most of the DVDs you rent and buy in the store are copy protected. There are many commercial DVD protection schemes, including CSS, Sony ARccOS Protection, Region Code, Disney's x-project DRM Burst Cutting Area, DVD playlist obfuscation, and others. The first and foremost step is to get around restrictions on DVDs before duplicating the data. However, many free DVD copy programs fail in this step.
Apart from encryption, scratches and bad sectors on DVDs will also lead to the failure of DVD duplication. You will experience annoying DVD read errors, such as no disc found.
To get DVDs copied successfully, the key is to use the right DVD copying software that is able to copy protected DVDs as well as damaged DVDs.
8. How to choose DVD copy software?
When we choose DVD copying software, there are some factors to consider - style (UI & design), quality (stability & output quality), speed, ability to handle copy protection, follow-up service (customer service & tech support).
Easy-to-use and intuitive user interface for both novice and experts.
Available for homemade DVD as well as commercial copy-protected DVD.
The ability to recover bad sectors.
Output intact video & audio quality.
Match your copy needs. Maybe, several kinds of copy modes couldn't be better.
Decryption technology is required when it comes to copyrighted DVDs. So a reliable DVD copy program is preferably built in a DVD decrypter.
Deliver fast and stable DVD copy performance.
Our recent online survey shows that nearly 40% users say original video and audio quality is the most important feature, following closely is the ability to support protected DVDs (30.15%), and fast copying speed with hardware acceleration (20%). Searching Google, some DVD copy applications do meet the requirements. We have sorted them out above to save your time. You can choose a piece of favorite DVD copy software from our list or google one according to above mentioned tips.