How to Create ISO from DVD on Windows 10/7
There are just many situations where we need to create IOS files from our DVDs.
If you kind of worry about your DVD not playable because of scratches or other damages, copying the DVD to ISO can 100% protect you from such problems; if you plan to share your DVD with your families, friends, or someone else, a piece of physical DVD obviously cannot enable you to share with many people at the same time, but a virtual ISO file can make it.
Besides, base on our user feedback, we find that many of them have hundreds, even thousands of DVDs. And there is no doubt that they would occupy a lot of space in the house. If you are one of them and would like to start to clean them up, backup those DVDs to ISO files is very necessary.
Ripping DVD to ISO and burning them on other blanket DVDs is just another situation. Even though we Digiarty do not advocate ripping copy-protected DVDs any commercial purpose, there are still some people who need to do this, right? While, for your own DVDs, you can rip them to ISO and burn them as many as you want.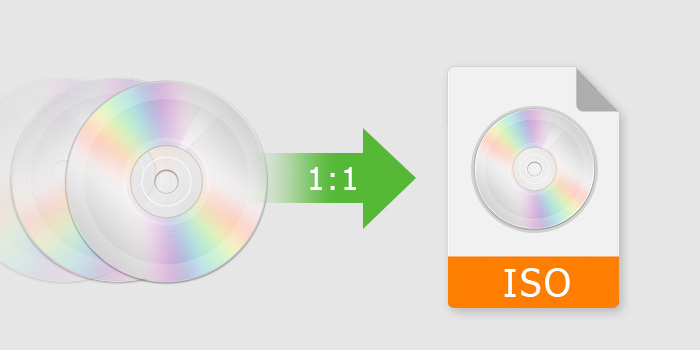 Possibly, you have more reasons appealing to making ISO from DVD. But the real question is how we do it, right? Keep reading, and you will find the easiest solution in the following.
How to Create ISO from DVD on Windows 10/7
To get the job done much more easily and effortlessly, we sincerely recommend WinX DVD Ripper Platinum. Why?
1. WinX DVD Ripper Platinum is able to 1:1 backup DVD content to ISO image on Windows 10/8/7 with intact DVD data. Also, clone full DVD to Video_TS folder, copy full/main DVD title to MPG with untouched quality.
2. Clone DVD to ISO image free of protections with support for any protections imposed on the original DVDs.
3. Flawlessly rip ISO/DVD folder/DVD disc to digital MP4, AVI, MPEG, H.264, HEVC, MOV, TVs, NAS, Plex, mobiles, etc.
4. Very easy to use with just 3 simple steps, and super fast DVD to ISO copy speed owing to its Multi-core CPU and Hyper-threading tech.
So why not give it a try now, and check the steps below for how to use it creating ISO from your DVD?
For mobile user, please go to mobile page.
Please DO NOT use WinX DVD Ripper to rip rental DVDs.
Note:
Before you copy a DVD to ISO image, you should know that commercial DVDs are protected. Even if the CSS protections are removed, the structural protections that are tied into the encryption will be left intact. E.g., AnyDVD advises specifically against using it to rip a DVD directly to ISO because it can only rip DVD 1:1 to ISO image. So if the discs have structural protection, so will the ISO image. Then it will cause playback issues, especially when the ISO image is burned to another blank disc.
To avoid this, there are two ways to go:
1. Rip DVD to folder first and then convert it into an ISO. The structural protection is removed during ripping.
2. Get another DVD to ISO converter that will remove DVD encryptions and structure protections like fake titles, corrupted sectors, etc.
Step 1. Import source DVD
Insert the source DVD to DVD-ROM and launch WinX DVD Ripper Platinum, click "DVD disc" button to load the DVD information.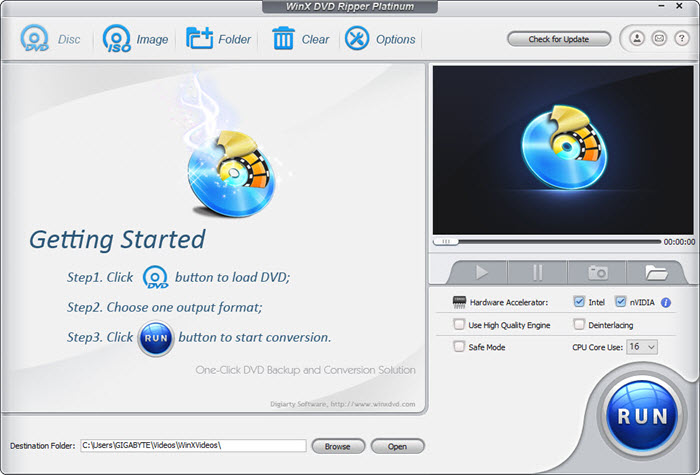 Step 2. Select the output profile - ISO
After the DVD information was loaded, an "Output Profile" window will pop up. Click as the following path: Output Profile -> DVD Backup Profile -> DVD Backup -> Clone DVD to ISO Image.
Tips: There are 3 other DVD backup options for you to choose.
1. Full Title Copy: Copy full content of DVD main title to a multi-track MPEG2 file containing all videos, audio tracks and subtitles in 5 minutes.
2. Main Title Content Copy: Copy DVD to a MPEG2 file with selected video/subtitle/audio track without quality loss in 5 minutes only.
3. Copy DVD to VIDEO_TS folder: It also keeps the original DVD structure and can be burned directly or played by popular media players.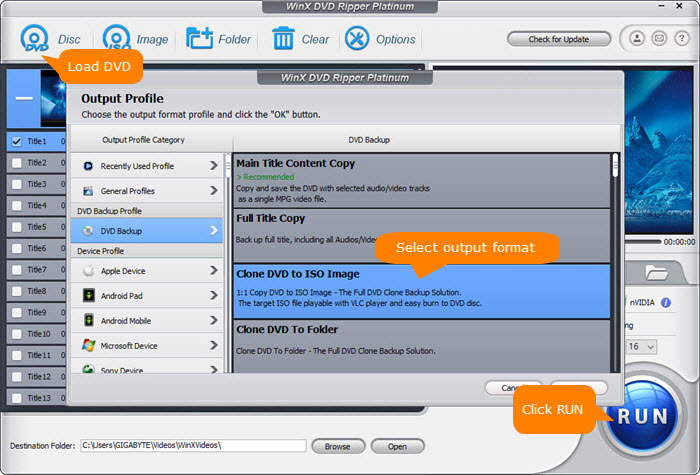 Step 3. Start 1:1 copying DVD to ISO on Windows 7/8/10
Select a destination folder to store the converted DVD ISO image file and click "RUN" button to start to make ISO image from DVD. (Here please make sure the destination folder you chose has enough space to store the converted ISO image file. DVD 9: 9 GB; DVD 5: 5GB.)
Tips: You can further use WinX DVD Ripper Platinum to convert ISO image file to MP4, AVI, WMV, MOV for easy playback on iPhone iPad Android and other portable devices wherever you want. Or copy DVD ISO file to USB drive for backup or convenient use.
Disclaimer: Digiarty Software does not advocate ripping copy-protected DVDs for any commercial purpose and suggests referring to the DVD copyright laws in your countries before doing so.
How to Make ISO from DVD with Multiple Tracks on Windows 10/7
We have noticed that there is kind of an issue about that software can't create ISO from DVD with multiple tracks. And here is a screenshot of this issue from some forum.

But luckily, Winx DVD Ripper Platinum is not on the list. This is kind of another big feature, which we have not mentioned above. Winx DVD Ripper Platinum promises that as long as the DVD drive can read your disc, it can also help you rip the disc to ISO file, no matter if the disc is with one only track or multiple tracks.
How to Rip DVD to ISO on Linux
For the original purpose of this writing this guide, we mainly focused on telling our users how to convert DVD to ISO file on Windows, which is what our software is pretty good at. But, recently, we have also received some emails from some readers asking for help with creating ISO from DVD on Linux operating system.
Well, helping our users out and making your life much easier is always our mission. So we specifically prepare this part, and you can find the detailed steps below.
1.Insert the DVD that you want to rip to ISO file.
2.Open Terminal. The Terminal helps us access the command line, which is quite similar to Command Prompt on Windows or Terminal on Mac.
3.Enter the change directory command. Type in dvd/home/username/. Please note that the username section should be your own username, for example, if your username is stephen, you would type in dvd/home/stephen/. And then press Enter to the next step.
4.Then we need the disk rip command, by typing in dd if=/dev/dvdrom of=/home/username/iso-name.iso. Still, the /dev/dvdrom section should be your own DVD's location. While the iso-name section can be whatever ISO file name you like. 5.Press Enter, and then your computer will create an ISO file from the DVD's contents in the home directory.
Why ISO File Recommended for DVD Ripping
Since many users wonder why we should save a copy of the DVD disk as an ISO, but not just create copies of the DVD Video_TS and Audio_TS folders, or some other types, I arrange this kind of technical and complex part and try my best to make this question clear.
Data on the computer hard drive is stored with one of several types of file systems. For Windows, this is probably NTFS, FAT32, FAT, or FAT16.
Discs have their own file system options. The most common ones are ISO, Joliet, and UDF. To be compliant with the official DVD-Video specifications, data must be in ISO+UDF 1.02 format.
When you copy the files of a disc to a hard drive, the file system is lost. When you make a new disc, you must remember to correctly set all the file system attributes, or the DVD may not play in your DVD player.
However, the ISO image file retains intact original structure, the original quality of DVD and the file system information. It is an image file of the disc, both data, and formatting. When you burn a new disc from the ISO, nothing needs to be set. It's automatically extracted from the ISO.
By comparison, some ripping methods or tools are only able to look at the visible files in a VIDEO_TS and/or AUDIO_TS folder. Any hidden files and folders, or any non-video ROM data materials, cannot be read. This means you did not actually copy the disc entirely.
Beyond that, ISO image file can also be easily played with 5KPlayer, VLC, MPlayer and many other popular media players. It is easier for watching DVD movie without messing around with DVD discs any more.
And ISO is a single image file, so it is convenient for storing, transferring, establishing and managing a DVD collection filing system. If you have hundreds of old/new DVDs, fast copying DVD disc to ISO image file is a good way to create an intact digital collection for them.
And lastly, it can be mounted to a virtual drive for later ripping and burning.
ABOUT THE AUTHOR