How to Create ISO from DVD on Windows 10/7
There are just many situations where we need to create ISO from DVD disc. ISO file is a disk image of an optical disk, which contains everything written on DVD, but more handy. You know, DVD discs are frail and could be easy to go unplayable and damaged. And with the drastically decreasing of optical drives, DVD becomes not such a good option for playback and sharing. Copying DVD to ISO can certainly keep you out of these troubles and help you free up a large amount of storage space in your room.
Then here comes the question: How can you make an ISO file from DVD? Scroll down!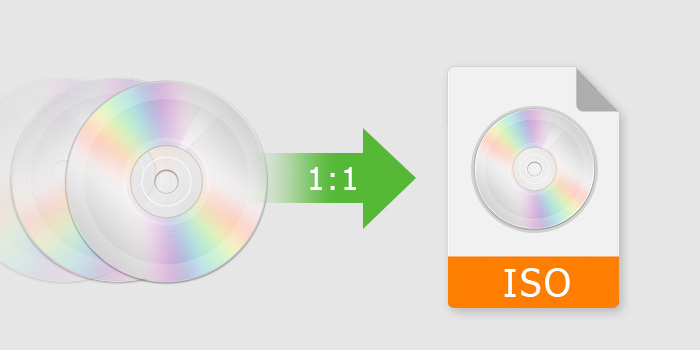 Method 1 How to Create ISO from DVD with WinX DVD Ripper Platinum?
To make ISO from video DVD, WinX DVD Ripper Platinum is what you're looking for. It is fully compatible with Windows 10, 8, and 7, and has a Mac version.
Main Features:
Bypass DVD region code restrictions and DVD encryptions and structure protections like fake titles, corrupted sectors, etc.
Offer four DVD backup modes: 1:1 clone video DVD to ISO image, clone full DVD to Video_TS folder, and copy full or main DVD title to MPG with all intact content and data.
Rip DVD discs as well as DVD Folder and ISO image to digital MP4, AVI, MKV, MPEG, H.264, MOV, TVs, NAS, Plex and 420+ preset profiles.
Reduce DVD file size greatly with good quality, up to 80% smaller than the original one. Generally, a 7.5GB DVD can be ripped ISO image in slightly smaller size, but 1-1.4GB or so in MP4 format.
Deliver blazing fast speed for DVD ripping with hardware acceleration enabled. Maximumly 5 minutes only to copy a 2-hour long DVD to ISO image. But it has something to do with your computer configuration.
For mobile user, please go to mobile page.
Please DO NOT use WinX DVD Ripper to rip rental DVDs.
Now let's check how to copy DVD to ISO within 3 steps with WinX DVD Ripper Platinum:
Step 1. Import the DVD you want to convert to ISO file.
Insert the source DVD to DVD-ROM and launch WinX DVD Ripper Platinum, click "DVD disc" button to load the DVD information.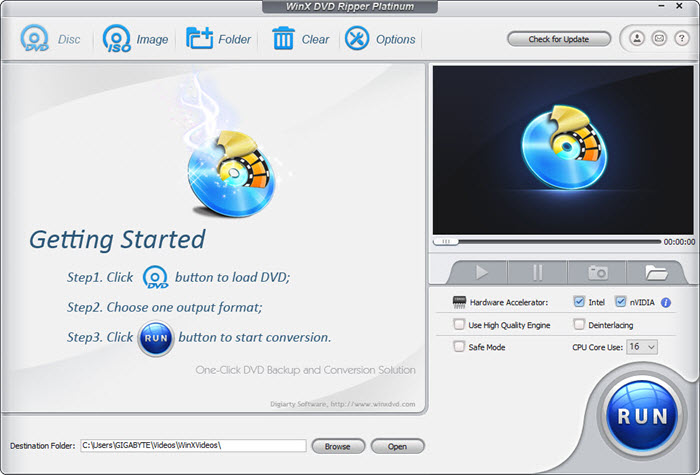 Step 2. Select the output profile - ISO
After the DVD information was loaded, an "Output Profile" window will pop up. Click as the following path: Output Profile -> DVD Backup Profile -> DVD Backup -> Clone DVD to ISO Image.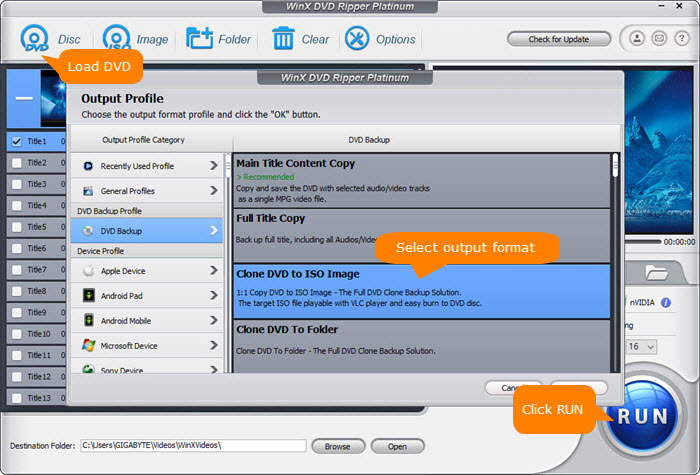 Step 3. Start 1:1 making ISO from DVDs on Windows 7/8/10
Select a destination folder to store the converted DVD ISO image file and click "RUN" button to begin ripping ISO image from DVD. (Here please make sure the destination folder you chose has enough space to store the converted ISO image file. DVD 9: 9 GB; DVD 5: 5GB.)
Tips: You can further use WinX DVD Ripper Platinum to convert ISO image file to MP4, AVI, WMV, MOV for easy playback on iPhone iPad Android and other portable devices wherever you want. Or copy DVD ISO file to USB drive for backup or convenient use.
Watch video guide for Creating ISO from DVD on Windows 10/8/7
Disclaimer: Digiarty Software does not advocate ripping copy-protected DVDs for any commercial purpose and suggests referring to the DVD copyright laws in your countries before doing so.
Method 2 How to Create ISO from DVD with PowerISO?
PowerISO is also one of the best ISO creators for Windows 10/8/7. Now let me show you how to turn a DVD into an ISO file with PowerISO.
Step 1. Download and install PowerISO on your computer. This tool has a 32-bit and a 64-bit version to choose. Once you finish installation, open it.
Step 2. Click the "Copy" button on the toolbar and then choose "Make CD/DVD/BD Image File…"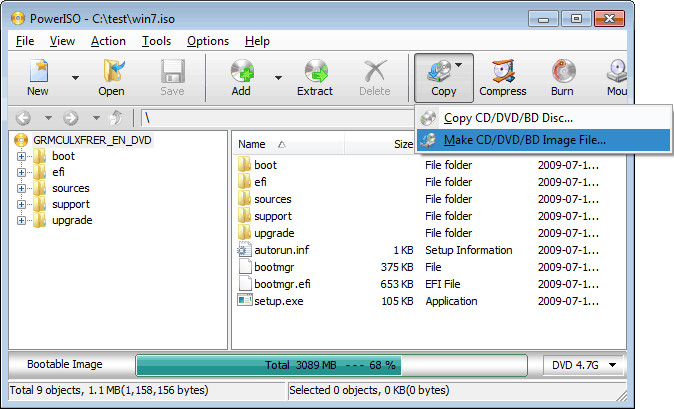 Step 3. Under Source drive, choose the DVD you want to convert to ISO.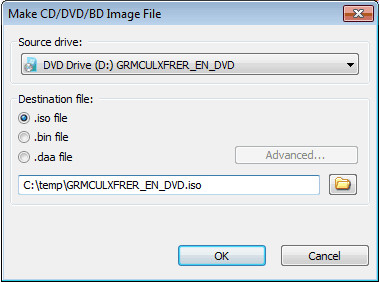 Step 4. Under Destination file, choose ".iso file" and specify the destination folder.
Step 5. When all settings are done, just hit "OK" to start making ISO image file from DVD.
Method 3 How to Create ISO from DVD with CDBurnerXP
In addition to working as a CD/DVD burner, CDBurnerXP is also a free DVD to ISO converter. But different from WinX DVD Ripper Platinum, CDBurnerXP can only copy data discs with an ISO file system and cannot bypass any copy protections. Now let me show you how to copy data DVD to ISO with CDBurnerXP.
Step 1. Download and install CDBurnerXP. Then open it.
Step 2. On the startup screen, choose Copy disc and Copy Data.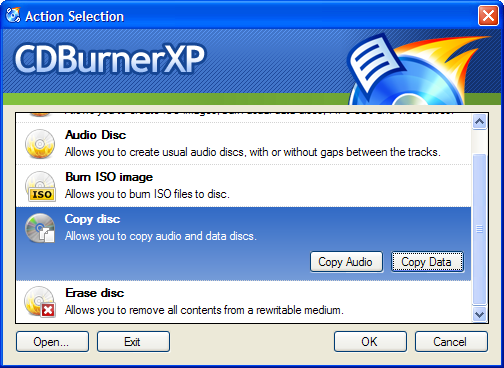 Step 3. On the pop-up Copy ISO Disc window, select the source device and the target device. You can set your hard disc as target device to save the ISO image.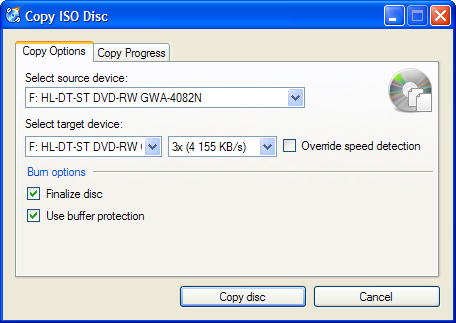 Step 4. Click Copy disc. Then, CDBurnerXP will begin the ISO creating process.
FAQs on Creating ISO from DVDs
1. Can HandBrake rip DVD to ISO?
No, you can't create ISO from DVD with HandBrake. HandBrake can only convert DVD to MP4, MKV, M4V, WebM.
2. Can VLC create ISO?
No. Like HandBrake, VLC can convert DVD to digital file in MP4 and other formats, but ISO isn't supported.
3. How can I make ISO from DVD with multiple tracks on Windows 10?
Many users complained that Imgburn doesn't save an ISO file from DVD and shows a multi-track error message. Your only option with Imgburn is to do what it says: Start the program and create image file from files/folders. Make sure the input mode is set to Standard, and add the drive letter of your optical drive to the Source box. Click big "Build" button when finished. Of course, you can turn to WinX DVD Ripper Platinum to copy DVD to with multiple track in ISO, MEPG2 etc.
4. How to rip DVD to ISO on Linux?
Unlike ripping DVD to ISO on Windows with 3rd-party program, Linux allows you to do that by default. Just insert your DVD, open Termina, Enter the change directory command. Type in dvd/home/username/ and then press Enter to the next step. Then, type in dd if=/dev/dvdrom of=/home/username/iso-name.iso DVD ripping command. Finally press Enter to create an ISO file from your DVD in the home directory.
5. Can an ISO file be played on a DVD player?
To play an ISO image on your DVD Player, you need to burn the ISO image onto a DVD-R/RW firstly. Thus, you're more recommended to play ISO image on computer with third-party media players like 5KPlayer, VLC and so on.
6. Is there any other tool to make ISO file from DVD or folder?
DVDFab DVD Copy is one such tool that enables you to make 1:1 identical DVD disc to ISO Image/Folder copy onto your hard drive with several mouse clicks and customize the output with many settings. It also lets you compress the output content to smaller discs. The copying speed is very fast and the quality is excellent.
In addition, DVD Cloner is another good choise that could perfectly copy a DVD to an ISO image file or DVD folder on your computer for later burning or convenient playback. It could remove all known DVD protections and region code for you to enjoy any DVD movie on HD TV at home. Besides, it could also burn ISO file or DVD folder to blank DVD discs. Its copy speed is impressive, taking only about 1/3 of playback time to copy a DVD movie.
Why You're Recommended to Rip DVD to ISO File Instead of Other Formats?
Since many users wonder why we should save a copy of the DVD disk as an ISO, but not just create copies of the DVD Video_TS and Audio_TS folders, or some other types, I arrange this kind of technical and complex part and try my best to make this question clear.
From the compatibility with file system: Data are saved in one of several types file system on computer hard drive, like NTFS, FAT32, FAT, or FAT16 in Windows. Disc has its own file system options like ISO, Joliet and UDF. If you directly copy DVD files to hard drive, the file system is lost, probably cuasing DVD not playing issues. To be compatibile with the official DVD-Video specs, data must be in ISO+UDF 1.02 format.
From the storage of the data itself: ISO image file retains intact original structure, the original quality of DVD and the file system information. It is an image file of the disc, both data, and formatting. When you burn a new disc from the ISO, nothing needs to be set. It's automatically extracted from the ISO. Conversely, some hidden files, non-video ROM dara cannot be read if ripping DVD to Video_TS and Audio_TS.
From the playback: As mentioned, copying DVD file directly to Windows may lead to DVD playback failure. ISO image can be easily played with 5KPlayer, VLC, MPlayer and more media players. It is easier for watching DVD movie without messing around with DVD discs any more.
From further sharing and burning: Being a single image file, ISO is convenient for storing, transferring, establishing and managing a DVD collection filing system. If you have hundreds of old/new DVDs, fast converting DVD disc to ISO image file is a good way to create an intact digital collection for them. Also, it can be mounted to a virtual drive for later ripping and burning.
Check the detailed guide to backup your entire DVD collection to computer hard drive or nas