Top Best ISO Creators to Extract ISO Images from any DVD
ISO file, also referred to ISO image, is a digital copy of an optical disc covering the whole information like boot information, file system and more.
One of the small but sometimes annoying challenges is that when you want to share your Sony or Disney discs with your family and friends, but they have no DVD driver or they are staying far away, while it could be helpful to extract an ISO file from the disc for remotely delivery via email, NAS, cloud, etc., therefore, they can mount the ISO file directly as if they used a definite optical disk as you.
To create ISO from DVD, you need software with strong horsepower. In this post, we have gathered 4 best ISO creator for your reference. Please sit it through patiently.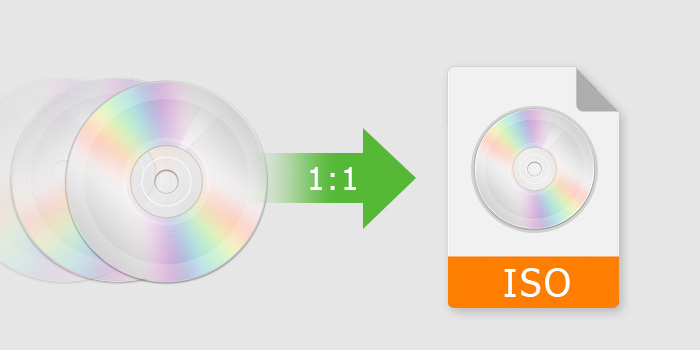 Top 4 ISO Creators in 2023
1. WinX DVD Ripper Platinum
WinX is capable of create ISO files from video DVDs, such as movie DVDs, TV series DVDs, workout DVDs, and more. Commercial discs are always encrypted with DRM copy protection schemes which defeat many ISO creators but not WinX. And it has a powerful and continuously-updated DVD decryption mechanism which can deal with various kinds of encryption algorithms, such as CSS, APS, UOPs, Sony ArccOS, and Disney X-Project. It only costs 29.95$ to get a full version currently.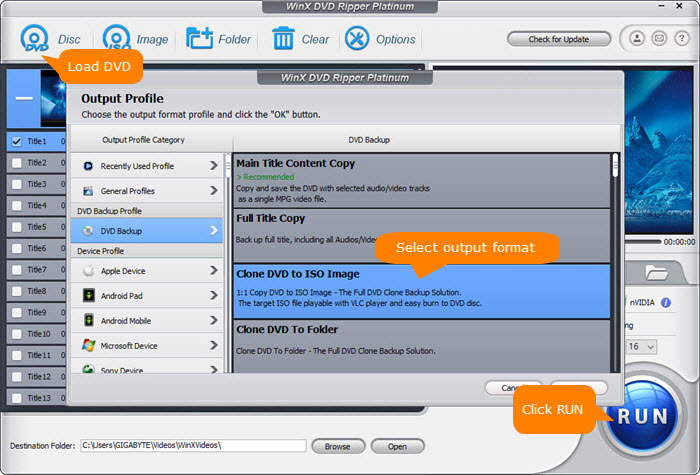 Pros:
Available to Windows and macOS.
Video file will not be watermarked.
Hardware acceleration speeds up your project.
Convert ISO file/VIDEO_TS folder/DVD disc to MP4, H.264, AVI, WMV, MOV, etc.
Clone DVD to VIDEO_TS folder at 1:1 ratio; copy DVD to MPEG2 file with all/selected audio/subtitle tracks.
Extract audio from DVD and save as MP3, AAC, or AC3/DTS.
Small video editor: trim off unwanted segments, crop out blank bars or other parts, add external subtitle track, deinterlace and more.
Customize video/audio parameters like bit rate, resolution, aspect ratio and audio channel.
2. VideoProc
VideoProc, the successor to WinX is an integrated software that is capable of editing, DVD backup, converting, screen recording and more. Well, Let back to the point. You can download it for free, besides, it is not necessary to registered. One of its glaring feature is that it will auto detect your DVD disc file system, therefore, you don't need to concern about this matter.
In the other hand, commercial discs always come with multiple title to preventing users from ripping DVD, while VideoProc can combine all titles together in one take quickly. Last but not least, put a check to ISO in the backup tab (at the button of the windows), then you can create ISO from DVD simply.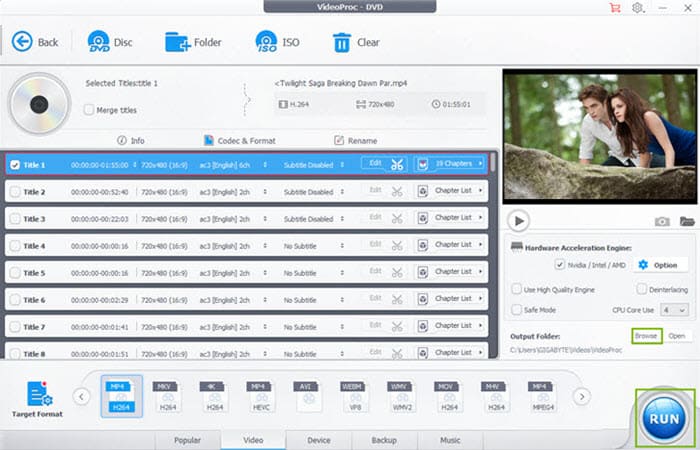 Pros:
Also available to Windows and macOS.
Even scratched, 99-title, etc. can be readed.
Built-in video converter with a huge output profile library. You are allowed to transform video to MP4, MOV, MKV, HEVC, H.264 and more as you like.
Don't forget that VideoProc is also a video editor and recorder.
Keep updating very often.
3. PowerISO
PowerISO is more like an IT-oriented software that is specialized in handling ISO, BIN, NRG, CDI, DAA files. But it is reliable to produce ISO image from movie discs, but it fails to read some of copy-protected discs. Moreover, it supports of mounting various disc image with its built-in virtual drive, so you are allowed to enjoy a new operating system or a new game from your friends' ISO delivery. However, you can only work with files less than 300MB with its trial version. And its full version comes in at $29.95.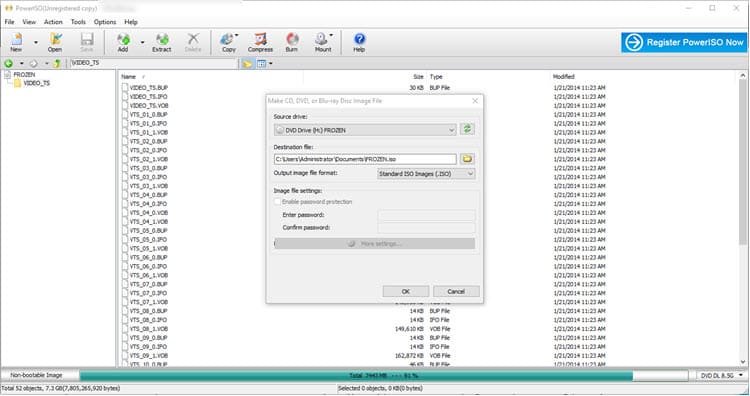 Pros:
Internal virtual driver for ISO file installation.
Convert all image file (BIN, NRG, CDI, DAA, etc.) to ISO file.
Cros:
Support Windows only.
Hard to read copy-protected discs.
4. Disk Utility
Disk Utility is a native macOS application for performing disk related and internal or external storage device tasks. Considering iOS is a stand-alone ecosystem, so apple introduced a new file system – Apple File System, aka, APFS to apple family 2017, which is mainly developed for file encryption. Mac users can create ISO image from Apple supported DVD with ease, and burn ISO image to various discs. Note that Disk Utility make DVD into CDR instead of ISO, but they are the same things. You can simply rename the file from CDR to ISO, and that's finished.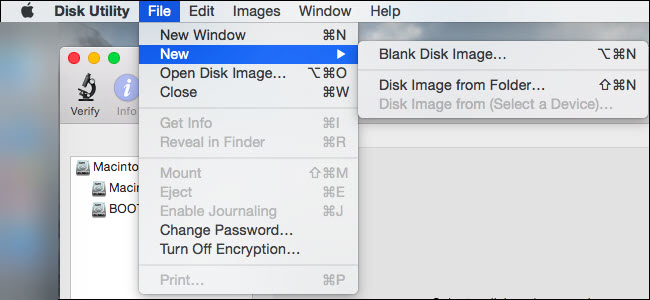 Pros:
Free for all Mac users (but make sure your system must be macOS 10.13 or later).
Cutting-edge file encryption.
Cros:
It only works with Apple supported discs (120mm round disc).
Support macOS only.
Limited output profiles.
Final words:
If you are movie fans, take a consideration to WinX DVD Ripper Platinum and VideoProc, because both of them are specialized in multimedia industry with leading and mature technology to handle video-oriented DVDs, besides, they work with Windows and macOS as well. If you are a Windows user and want to deal with DVDs of software, game, etc., go for PowerISO. If you are a An apple user, take Disk Utility in the first place.