How to Copy DVD to Computer on Windows (11/10/8/7) and Mac
Follow the tutorials below to copy movies, TV shows, other video content, and even music from DVDs to laptop or desktop computer.
DVD is not as popular as old days. If your shelves are chock-full of DVD discs, you may prefer to copy DVD to computer to free up space in your living room, and avoid the risk of any scratch or damage to your physical movie library. On top of that, turning your DVDs into digital movie files on your computer will give you full access to the movies with your mobile, tablet, laptop, etc without taking around the bulky discs.
Well, how to download DVD to computer? Many people attempt to copy DVD to computer with Windows Media Player. But in fact, WMP cannot rip DVD, although it can rip CD. Here we'll introduce 4 feasible solutions to rip and transfer DVD to computer to create a digital copy of your favorite movie.
Method 1. How to Copy DVD to Computer with WinX DVD Ripper Platinum?
WinX DVD Ripper Platinum is typically recommended by editors and users as the go-to DVD ripper. It was initially released in 2009 and has already been downloaded by over 70 million users.
In addition to copying home-made DVD to computer, it can also copy DVDs with copy protection to computer. Most commercial DVDs come with DVD copy protection, so if you have some store-bought DVDs and want to save them to computer, you'll need WinX DVD Ripper. Don't expect those free DVD rippers to rip copy-protected DVDs to computer. They usually cannot handle copy protections out of box. Take HandBrake as an example. It needs libdvdcss to circumvent CSS protection.
WinX DVD Ripper Platinum pros and cons:
Wide range of supported DVDs: It supports any DVD, be it a classic title, newly released one, 99-title DVD, workout disc, scratched, region-locked, or copy-protected DVD.
Bypass DVD copy protection independently: It can break region code restrictions and bypass CSS, UOP, APS, Disney X-project, Sony ARccoS, Lionsgate obfuscation playlist, CRC, EAccessViolation, CellWalk algorithm, and other forms of copy protection. All on its own, no libdvdcss needed.
Rich output formats: It can convert your DVD into a variety of digital formats, including MP4, AVI, WMV, MOV, and more, which are compatible with different devices such as PC, Mac, smartphones, tablets, gaming consoles, and media players.
Rich presets: It comes with hundreds of output profiles so that users can rip DVD in a file that's playable on any screen without needing to fiddle with obscure settings.
4 lossless DVD copy modes: Create 1:1 DVD copy on computer as ISO image, MPG file, or DVD folder with full/desired audio and subtitle tracks.
User-friendly: WinX DVD Ripper has a user-friendly interface that makes it easy for users to navigate and copy DVDs to computer without any technical knowledge.
Fast ripping speed: Unique level-3 hardware acceleration is enabled to guarantee a superfast DVD conversion speed without burdening CPU.
It's shareware. But the good news is that you can download a WinX DVD Ripper giveaway version to use its full features.
It doesn't have a Linux version.
Free download WinX DVD Ripper Platinum and follow the guide below to download DVD to computer!
For Windows and Mac only. If you are a mobile user, please click here.
Please DO NOT use WinX DVD Ripper Platinum to rip rental DVDs.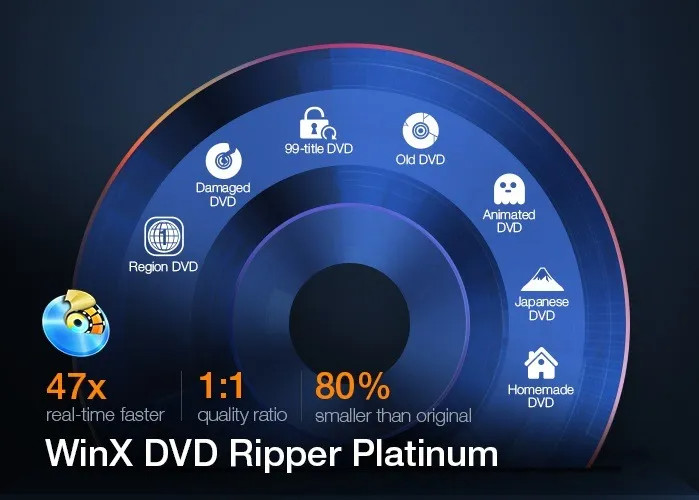 Step 1. Import the DVD you want to save to computer.
Insert target DVD to your computer's DVD-ROM and click "DVD Disc" button located at the top left of WinX DVD Ripper Platinum to select and open the source DVD.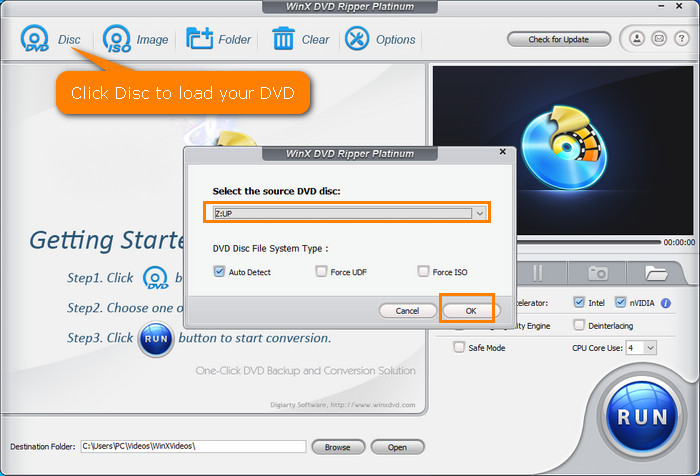 After you click OK, then WinX DVD Ripper Platinum will begin scanning your DVD. It takes seconds only.
Step 2. Choose which format you want to save your DVD as.
Only a few seconds later, this tool can load the DVD, detect the main title and meanwhile pop up the output profile window for you to choose the format you want. For example, you can scroll down to General Profiles, PC General Video, or Mac General Video to choose an output format. It's suggested to rip DVD to MP4 for the widest compatibility with media player and mobile devices.
If you speak two languages and most of the movies in your collection have multiple audio dubbings and subtitles and wish to keep multiple dubs and subtitles you can choose that by selecting the full DVD backup format under DVD Backup Mode.
You can also select the device profile and leave this at the default to fit your specific need.
Tips: There is a slider bar on each preset. You can drag it to the left or to the right based on what quality level you want to get. To save a high-quality DVD copy onto computer, you can drag it to the right, but doing this will slow down the process of ripping. If fast DVD ripping speed is your concern, you can pull the slider to the left. However, it will lead to lower quality.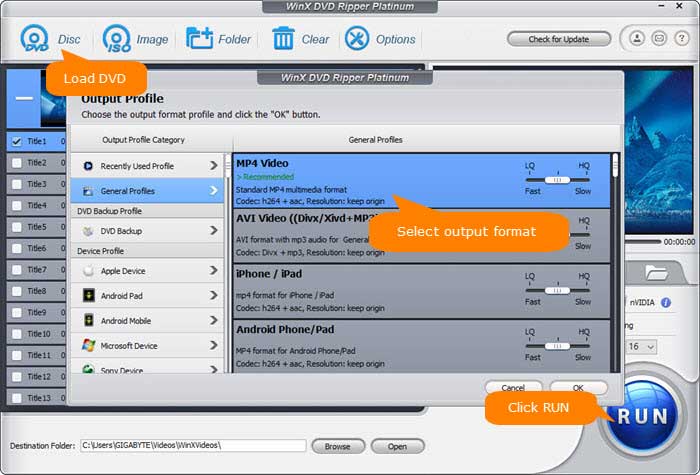 Step 3. Choose title, audio, and subtitle track.
This DVD ripper software checks the main movie title for you automatically, and also allows you to choose a different one or multiple titles. You also need to check whether the auto-selected audio and subtitle track are what you want. If not, click the drop-down menu to select desired audio and subtitle.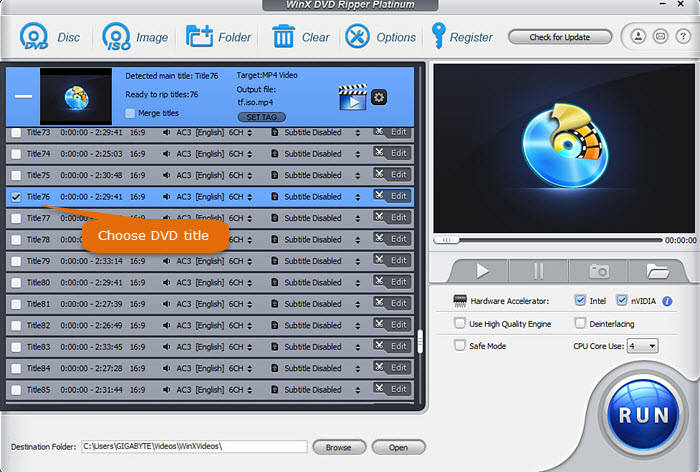 Step 4. Choose a save path on your computer.
Hit "Browse" to define which destination folder you want to save the DVD video to.
Step 5. Begin copying DVD to computer.
Click "RUN" to begin ripping and saving copy-protected DVD movie to computer right now. It will display a progress window as below.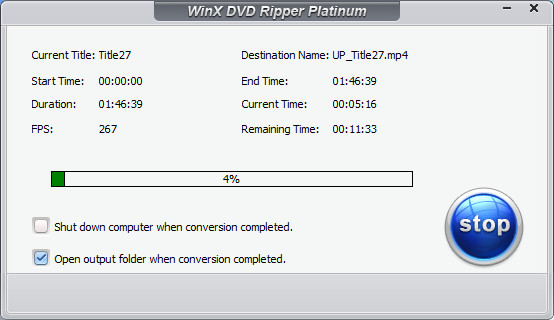 Check the Video Tutorial on How to Copy a DVD to Computer
Method 2. How to Rip and Save a DVD to Computer with HandBake for Free?
If you just want to download a home-made DVD to computer, you can get help from some free DVD rippers like HandBrake. HandBrake is an open source video transcoder capable of ripping unprotected DVDs to MP4, MKV, and WebM for saving and playing on computer and other mobile devices. Moreover, it also comes with readymade profiles for iPhone, iPad, iPod, Apple TV, Android and Windows Phone.
HandBrake pros and cons:
Handbrake is a free, open-source program that can be downloaded and used by anyone.
Handbrake supports a wide range of encoding methods, including H.265, H.264, MPEG-4, MPEG-2, VP8 and VP9.
Handbrake allows users to customize output settings, including resolution, bit rate, frame rate, and more.
It can not only download DVD to computer, but also download Blu-rays to computer.
Multi-Platform: It can copy DVD on Windows, Mac and Linux computer.
No support for copy-protected DVDs: Handbrake cannot bypass the copy protection on commercial DVDs, which limits its usefulness for some users. Even with help of libdvdcss, it can deal with CSS and region-locked DVDs only. It is still unable to handle DVD with intricate copy protection.
Limited editing capabilities: Handbrake is primarily a video converter and does not offer advanced video editing features.
Slow conversion speed: Depending on the settings used, Handbrake can take a long time to copy DVD to computer.
HandBrake is a cross-platform program available for Windows, Mac and Linux. Simply go to HandBrake official website, download the edition compatible with your computer OS, install and launch it to copy movie from DVD to computer for free. And here we have prepared a step-by-step guide, in case you can't handle it on your own.
Step 1. Insert the DVD into the optical drive, then click "Open Source" button on HandBrake. It takes a moment for Handbrake to scan the titles on your DVD. Just wait until the scanning process is finished.
Step 2. Select the title you want to rip off DVD to computer. Generally speaking, the longest duration is the main movie. If you see an error saying that "no valid source found" or "no title detected", it's probably the DVD is encoded with copy protection measures.
Note: When the DVD is copy protected, installing libdvdcss on computer is required. Mac users upgrading to macOS El capitan or later should know that the libdvdcss has been removed due to the SIP. Check the tutorial to install libdvdcss for a successful ripping. But this doesn't guarantee 100% success for some severely protected DVDs. To be exact, libdvdcss is mainly designed for CSS encrypted DVDs. Handbrake will not work when it comes to other DVD encryption tech like Disney X-project, Sony ARccOS, AACS 2.0, UOPs, etc.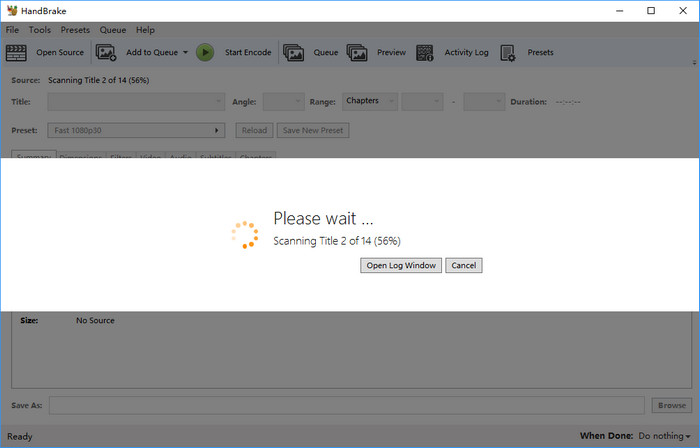 Step 3. Specify output format and modify settings. HandBrake allows you to convert DVD to MP4 or MKV. There're many available presets, such as Fast 480p30. If you have special needs, you can set video audio parameters, adjust resolution, etc.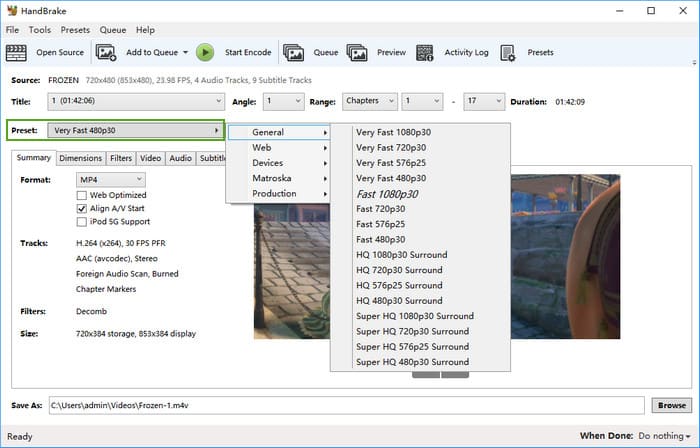 Warm prompt: DVD ripping is nothing like video converting in processing speed. Truth to be told, DVD ripping will cost you much more time than video conversion. To download DVD to computer faster, you can go to Video section and choose H264 (Intel QSV) or H264 (Nvidia) to make full use of GPU hardware acceleration tech in DVD ripping (I beg most of you are running on a computer with GPU accelerator). Thus, your DVD decoding and re-encoding will be improved 2-3X faster than software decoding & re-encoding.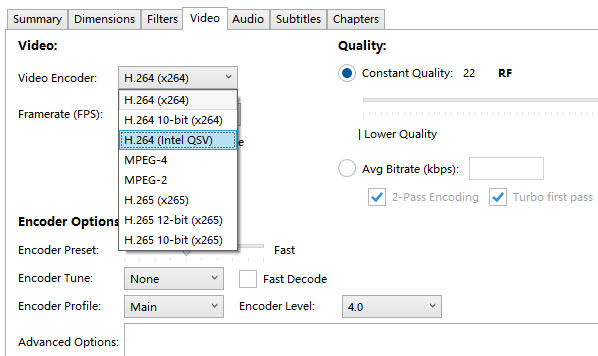 Step 4. Click "Browse" to choose which computer folder you want to save the DVD rip file to.
Step 5. Hit the green "Start Encode" button located beside "Queue" button to begin copying DVD to your computer hard drive. Note: Keep in mind that Handbrake can't create lossless DVD copies on computer. As DVD is encoded in MPEG2, a lossy codec, what Handbrake can do is to transcode the DVD to digital file with further loss.
Method 3. How to Save DVD to Computer with VLC Free on Windows (10/11)/Mac?
If you have VLC media player installed on your computer, you might not need to install a piece of DVD ripper software additionally.This free and open-source multimedia player can also be used as a DVD ripper.
VLC pros and cons:
Free and open source.
VLC runs on multiple platforms, including Windows, Mac, and Linux
No need to install a dedicated DVD ripper.
It can rip DVDs to a wide range of output formats, including MP4, AVI, and MKV, among others.
It allows users to customize the output settings, including resolution, bit rate, and frame rate, to suit their preferences.
It can also rip Bluray, Audio CD and even SVCD before they go unreadable or useless.
Not work with all DVDs. It can bypass CSS protection only. Unable to circumvent other kind of DRM.
Limited video editing capabilities: VLC does not have advanced video editing features.
VLC does not support ripping DVDs with menu.
Slow ripping speed: VLC will take the entire runtime of the movie to rip it.
But if you don't mind its disadvantages and want a straightforward solution, follow the guide to learn how to download DVD to computer at the nitty-gritty details.
Step 1. Insert the DVD disc you wanna rip and save to computer into the DVD drive of your Windows PC or Mac.
Step 2. Click Convert / Save … from the drop-down menu Media of VLC home screen after you run VLC on your Windows 10/11 or Mac.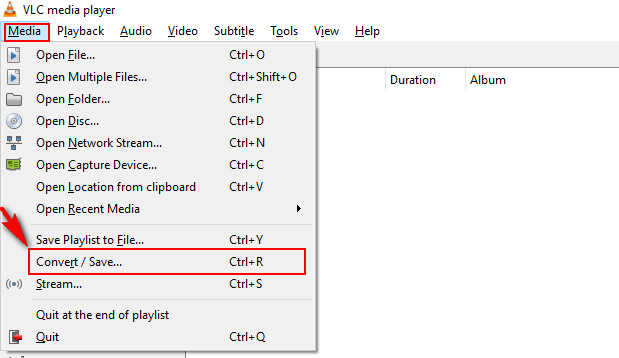 Step 3. Open Media panel shows up then. Click on the Disc and select Browse button to select the DVD you want to copy to computer. The Starting Position section can be used to rip only a particular title or chapter. Similarly, if you need to rip any specific audio or subtitle track, choose it from the Audio and Subtitles section. Next, Click Convert / Save button at the bottom.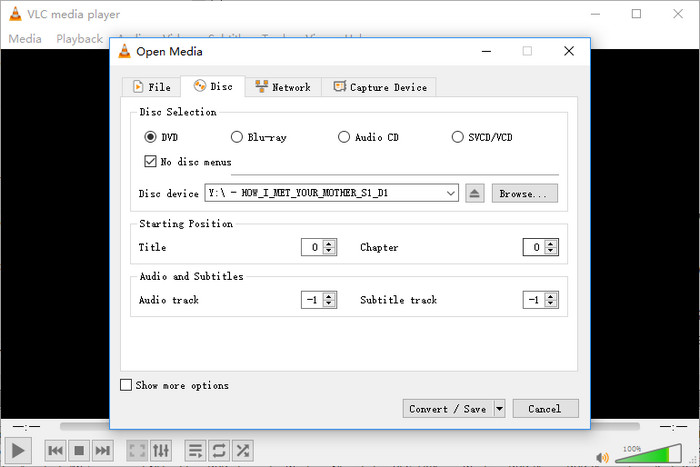 Step 4. Click the drop-down arrow of Profile to choose desired output video and audio formats. Click Browse button to specify save path. Once done, hit Start to begin ripping and downloading DVD to computer. It takes around 30 minutes to generate backup from a DVD based on your computer hardware. Then you can play the DVD freely on PC or transfer the DVD movie to a USB drive, etc.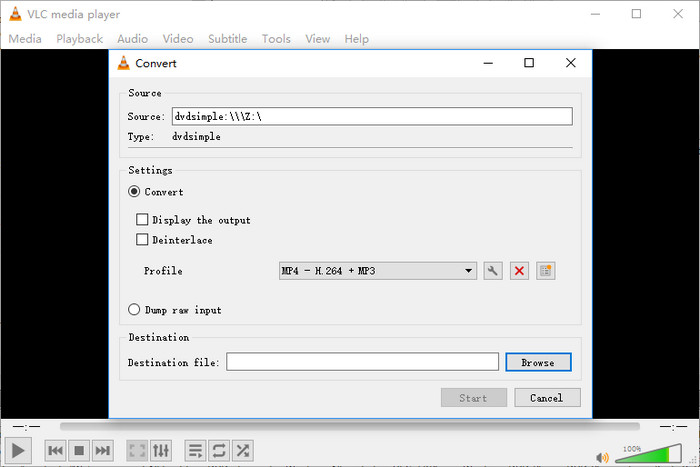 Click to see full guide to backup DVD with VLC >>
Method 4. How to Copy DVD to Windows Computer with WinX DVD Copy Pro
Besides copying DVD to DVD, WinX DVD Copy Pro also allows you to copy DVD to computer. The available options include: copy DVD to ISO image, copy DVD to VIDEO_TS folder, copy DVD main title or chapter to a single MPEG2 file, and extract audio or video track. Just like WinX DVD Ripper Platinum, it can bypass DVD copy protection schemes on its own.
In addition to downloading DVD content to computer, WinX DVD Copy Pro is built with an ISO mounter and a DVD burner. The ISO mounter helps you mount ISO to a virtual drive while the DVD burner assists you to burn ISO image and DVD folder to a blank DVD. What's more, it can copy DVD to DVD directly.
WinX DVD Copy Pro pros and cons:
Allows creating an exact copy of DVD onto computer.
Comes with additional features: mounting ISO and burning DVD.
Supports copy-protected DVDs.
No MP4 output.
Limited options.
Now let's download and install WinX DVD Copy Pro on our computer and follow the guide below to copy a DVD to Windows computer. WinX DVD Copy Pro is compatible with Windows only.
Step 1. Insert the DVD into your computer's DVD drive. Open WinX DVD Copy Pro and choose a DVD backup mode from the left side bar. Here we choose Clone DVD to ISO as an example.
Step 2. Choose the source DVD. If you have multiple DVDs inserted, you can click the Browse button to select desired one.
Step 3. Click the Save as button to choose a destination folder on your computer. Please make sure the selected path has enough space to store the ISO image is the same size as the original DVD.
Step 4. Hit Run to begin copying DVD to computer.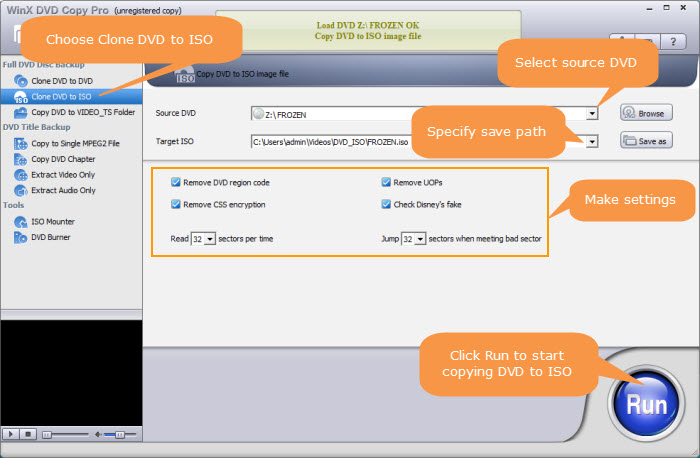 FAQs about copying DVD to computer
1. How to copy DVD to computer without software?
If you're trying to copy a home-made DVD to computer, you may don't need a piece of software. You simply need to copy and paste the DVD content, as the following.
Step 1. Insert the DVD into optical drive.
Step 2. Open the DVD drive which you inserted your DVD. Then, you'll see two folders: AUDIO_TS and VIDEO_TS.
Step 3. Copy and paste these two folders to where you want to store the DVD on your computer. It might take a while to transfer the DVD folders to your computer.
2. How to download DVD to computer Windows 7?
All the programs introduced above are compatible with Windows 7. You can choose anyone you like to rip DVD to computer Windows 7.
3. How to copy part of a DVD to computer?
To copy part of a DVD to a computer, you can use a DVD ripping software such as WinX DVD Ripper. Here are the general steps to copy part of a DVD to your computer using WinX DVD Ripper:
Step 1. Insert the DVD into your computer's DVD drive.
Step 2. Open WinX DVD Ripper.
Step 3. Click on "DVD Disc" and select and load the DVD drive that contains the DVD. Then, WinX DVD Ripper will scan the DVD and display a list of available titles.
Step 4. Preview the titles to identify the one you want to copy. Meanwhile, you can click the Edit button on the title to perform trimming.
Step 5. Choose the output format for the copied file, such as MP4.
Step 6. Select the destination folder where you want to save the copied file.
Step 7. Click "RUN" to begin copying the selected part of your DVD to your computer.
4. How to copy homemade DVD to computer?
There are many ways to copy homemade DVDs to computer. You can simply drag the VIDEO_TS folder in your DVD to your computer. The better choice is to use a DVD ripper to convert your DVD to a more mainstream format such as MP4 for storing on your computer. All the tools mentioned above can handle home-made DVDs, among which WinX DVD Ripper, HandBrake, and VLC can export MP4 files.
5. How to copy protected DVD to computer?
You cannot simply copy and paste the contents of a protected DVD to your computer. And, it is also a big challenge for free DVD rippers like HandBrake.
The best way to copy protected DVD to computer is to use WinX DVD Ripper. Being updated regularly, this tool can bypass all DVD copy protections. You simply need to follow the steps in the method 1 to copy a protected DVD to your computer.
Final Word
The process of copying a DVD to computer is easy with a tool as long as it has a ripping feature. If you are going to digitize DVDs and save DVDs to Windows 10/11/Mac computer, there isn't too much trouble with Handbrake, VLC or any other DVD rippers. But if you want to download and save some recently released DVDs or some discs produced by Disney, Warner Bros or Paramount, you need to turn to a more powerful tool such as WinX DVD Ripper Platinum to rip the intricate DVDs.
You'll have a big chance to get a copy-protected DVD. Some DVDs are protected with fairly advanced encryption that general DVD rippers cannot overcome. They usually manifest themselves with 99 titles in disguise. When scanning the titles, most programs including Handbrake will have difficulties detecting what title to rip and finically produce screwed up rips, leaving you with nothing but out-of-whack movie, e.g. mixed up video, no sound, etc.
To sum up, HandBrake could be an option for copying unencrypted DVD to computer if you don't mind the limited output formats/presets and unexpected errors. While VLC offers us a really straightforward solution to rip DVD without fiddling with any other software. But if you want to have an easy-to-follow yet feature-rich DVD ripper for both home-made and commercially copy-protected DVDs, WinX DVD Ripper Platinum is the best way out. WinX DVD Copy Pro is a good choice if you need a tool that can not only copy DVD to computer but also copy DVD to a blank DVD.
Note: The software developer only advocates ripping DVDs for personal use and suggests referring to the DVD copyright laws in your countries before doing so.