3 Easy Steps to Copy DVD to Hard Drive Quickly for Backup & Achiving
Saving DVDs to hard drive means two things and brings about some immediate benefits:
• Back up DVD and put digital copy to computer hard drive for direct use (e.g. edit, share, flexible playback without DVD player anymore);
• Copy tons of DVD to external hard drive so as to stream on TV/laptop/PC, release more room for your house, or sort easily.
That's not the end yet, Microsoft ditched Windows Media Center from Windows 10. That means no native DVD playing feature is available on PC unless you have a third-party DVD player for Windows 10. This also drives a surge in demand of copying DVD to hard drive.
Whatever reasons you may have, hard drive is definitely a good option to store DVD back-ups as it hold as much as ten terabytes and even more. Nevertheless, you cannot get access to the DVD content by direct copying. This is why the article exists, because it's going to analyze the reasons and show you a trustworthy tool to make backup copies of your DVD collection easier.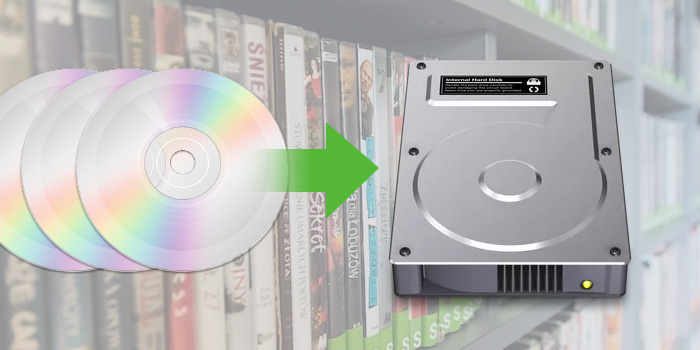 Table of Contents:
Part 1: Why Can't You Copy DVD to Hard Drive Normally
"I have a video DVD that I cannot copy to my hard disk. When I select all files and folders they are about 250 MB. When I check the DVD drive in "My Computer" it is about 4 GB. All the mail VOB files are 0 KB in size. Where on earth are these huge video files?"
For burned and homemade DVDs that come without any copy protection, you can directly copy and paste audio_ts and video_ts from DVD to hard drive for backup purpose. The folder storing all the movie data can be played on Windows Media player, VLC, etc. without any problem. For commercial DVDs, when you extract the video_ts folder from DVD to your laptop/desktop hard drive, the file seems to end midway with error message as below.

Generally, instead of "copy DVD", we say rip DVD to hard drive. Why? Almost all DVD movies and TV shows are armed with one or more copy protection schemes. These schemes are stored in the normally inaccessible lead-in area of the disc, as a move to prevent the files from being copied directly. Here are some of commonly used DVD encryption technologies, which hold you back from backup DVD smoothly.
Content Scramble System (CSS) - Create scrambled DVD content to protect the DVDs information from piracy and the Region Protectionenforce region-based viewing restrictions.
Sony ARccOS Protection - It is designed as an additional layer and is used in conjunction with CSS. This system deliberately creates corrupted sectors on DVD disc, which cause a majority of regular DVD copy software to produce bad sector errors.
Disney DVD Copy Protection - It is encoded in the latest released DVDs. It disordered the DVD content such that users can hardly locate the right title which contains the main part of the movie. Even though you trudged out to copy full DVD content, you will get about a whopping 40GB output file size and the out-of-order videos that are totally useless.
That's why you end up with failure when trying to copy the encrypted DVD contents directly. And when you play the copied files, typically in .vob format, the decoder will ask for keys from the disc drive and you will get an error such as "Cannot play copy-protected files". In addition to the DVD copy protection schemes, Firmware faults, mechanical failure, and overheating computer also lead to DVD copying failure. As a result, DVD ripper is required to copy DVD to hard drive.
Part 2: Is There a Time-Tested Tool to Copy DVD to Hard Drive in a Trouble-Free Way
Yes. WinX DVD Ripper is one such tool to backup entire DVD collection to hard drive for free. It is skilled in removing copy protections, and making discs region free. With it you can extract the content out of a DVD and save it in popular video format such as MP4, AVI, WMV, MOV, etc which is readable by external hard drive HDD, SSD, NAS, USB, thumb drive, and the like. You can also make 1:1 DVD copy to ISO/DVD folder/MPEG-2 losslessly and keep 100% original videos/audios/subtitles within only 5 mins.
If you need a fast DVD to hard drive ripping: we recommend

"MP4 H.264 format"

as the output format in WinX DVD Ripper. It supports Intel QSV, NVIDIA (CUDA) NVENC and AMD based hardware acceleration. Besides, each of its 4 unique DVD Copy modes will also deliver speedy and high quality DVD backup. You can also choose ISO image, DVD folder, or MPEG-2 file (Main or full title copy) in "DVD Backup" item.
If you need a 1:1 DVD to hard drive copy: we recommend

"DVD Backup"

option. Either Main Tilte Copy, Full Title Copy, DVD to ISO, or clone DVD to Folder is without quality loss. Typically, Full DVD copy mode enables you to have original sound formats, 5.1/7.1 audio channel, all the language/subtitle/song play options and intact menu.
Free Download WinX DVD Ripper to Have A Try!
Part 3: How to Rip DVD to Hard Drive for Free within Clicks?
Preparations:

Free download WinX DVD Ripper, install it on computer and insert the DVD to be ripped into your PC's DVD drive.
WinX DVD Ripper is totally free to download and use. There's no watermark, no time limits, no functions reserved. Because of the tiny size, the free DVD ripper is very fast to launch. And since many DVDs contain 6-8 GB of files, you must ensure that the hard drive has sufficient free space to store DVD before transfer. Just follow the steps below to copy DVD to hard drive on Windows and Mac with WinX DVD Ripper.
Step 1. Run the DVD Ripper Software
Run the tool, then click "DVD Disc" button to load the DVD movie.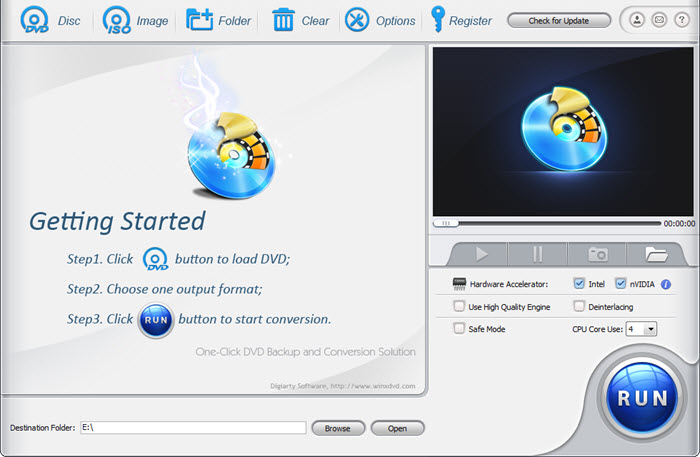 Step 2. Choose Output Format for Your Hard Drive.
The DVD's information, such as title, subtitle, duration, output, etc. will be shown in the file list. You can choose to copy DVD to hard drive in different formats:
• For computer's hard drive: Scroll down, find "PC General Profiles" and choose video format like MP4, AVC, MPEG, AVI, Chromecast, WMV, MOV, etc. If you're running on macOS, go to "Mac General Video" and choose MP4, MOV or M4V for further use on your Mac's hard drive.
• For external hard drive: Similar to USB, you can have much more choices, ranging from "to MP4", "to MPEG", "to WMV", "to AVI", "to MOV", "to Music" etc., depending on the use of the files, or say the output devices or players that will be connected to.
Today's 8TB and larger SSD is getting cheaper. It's not worth converting files to more efficient and space-saving formats in case of backing up your movie library. This is because re-encoding DVD takes time and involves loss of quality. In this situation, you can go to the "DVD Backup" mode on platinum version and choose to 1:1 copy DVD to ISO image, DVD folder, and MPEG-2 file (Main or full title copy). This will keep the audio and image the same as original. And you can save DVD library to your computer hard drive for further use.
WinX DVD Ripper Platinum's DVD backup mode neither degrades video quality nor reduces file size (movie size stays almost the same as original 4.7GB or 8.5GB). If you have some portable hard drives that are formatted in FAT32, with restrictive 4GB file size limit, it's suggested to rip DVD to MP4 H.264, for it strikes a perfect balance between file size (around 1-1.2GB) and output quality.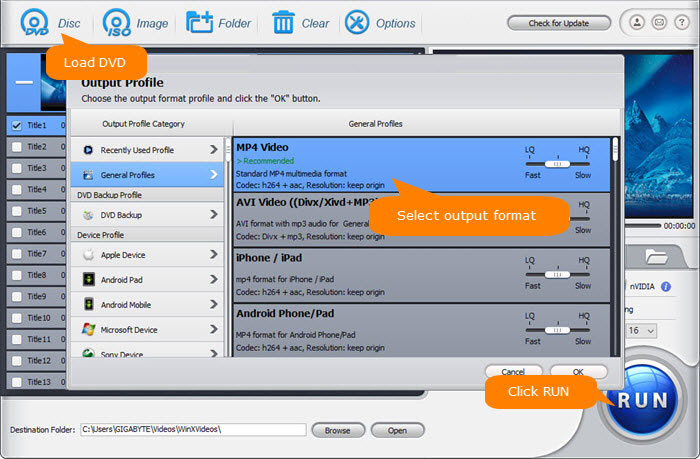 Step 3. Start Copying DVD to Hard Drive.
Click "Browse" button, and select a destination folder to save your rip. Click "RUN" button to begin copying DVD to hard drive.
Afterwards, you can sort your movies or TV shows quickly in your computer, and even transfer and watch the DVD video on your Android, iOS gadgets. If you hate syncing video using clunky iTunes, WinX MediaTrans provides a smarter way for file managing and transferring. If you want to transfer your DVD library backups to external HDD or SSD such as Samsung Portable SSD T5, SanDisk Extreme portable SSD, connect it with a USB cable, send your DVD copies to external drive, and then you can stream them to your laptop, PC or TV as per your needs.
Video Tutorial: Back up DVD Movies to Hard Drive with Original Quality
Disclaimer: Digiarty Software does not advocate ripping copy-protected DVDs for any commercial purpose and suggests referring to the DVD copyright laws in your countries before doing so.
Part 4: Frequently Asked Questions
1. Is it legal to rip a DVD that you own to hard drive?
Whether it is legal to rip DVD that you own for personal use depends on where you live. In the US, it is illegal to rip a copy-protected DVD. But some countries may have different laws. Although you are probably not allowed to do that by law, you probably won't get sued/caught as long as you don't distribute the copies.
2. What is the best format to rip DVDs onto a hard drive?
It depends on how you want to use the digital copy of your DVD. If you want to make an exact copy of a DVD, you can choose to save as an ISO file. If you want to save main movie only and play without format incompatibility issue, MP4 is the best choice, , allowing to stream the copied file on TV, PC or laptop and more. For more advices, you can check Best format to rip DVD.
3. Can you copy an entire DVD to your hard drive with handbrake?
Strictly speaking, handbrake cannot copy DVD to hard drive. For one thing, it doesn't have DVD copy feature and Handbrake's native DVD transcoding results in quality degrading. So you cannot rely on Handbrake to make a lossless DVD backup. For another thing, handbrake only makes digital copy of DVD collection when the media files are non-protected. Only when you grab a copy of libdvdcss.dll can you cope with css and regional DVD flawlessly. You can follow the guide to rip DVD to MP4 and then backup it to hard drive with handbrake or other DVD rippers.
4. How to tackle the old scratched DVDs?
Some of your collected DVDs may be scratched more or less. Many of the DVD digitizing tools can't recognize and read old scratched DVDs. You need a powerful DVD ripping tool to successfully convert old scratched DVD to digital and keep some of the important data or precious memories you never want to lose.
5. Can I copy DVD to hard drive with automatic ripping machine?
Yes. ARM like Ripstation 7000 Series DVD ripper or Vinpower Cronus ripping station is capable of copying DVD to hard drive. For example, Ripstation supports up to 400 discs and can work 24/7 without high heat or half-crash issue. With embedded PC, it copies DVD to internal HDD in Video_TS folder or ISO image format without any external PC for operation. As for the speed, up to 12 discs can be copied per hour in 7602-MG model while 20 discs can be ripped per hour in 7604-MG model. That's really fast and worry-free.
However, Ripstation starts at a whopping $4,595. For home users, it's wise to resort to a rental company that owns a Ripstation 7000 or similar ARM and offers DVD transfer service. Well, you'd also be confronted with the shipping fee of a large-sized box of discs. It's conservatively estimated that you might spend roughly $2000 on 400 DVDs to hard drive copy if you insist on this way.
Related External Source from Wiki:
DVD - A digital optical disc storage format which can store any kind of digital data and is widely used for software and other computer files as well as video programs watched using DVD players...
Hard Disk Drive - A data storage device used for storing and retrieving digital information using one or more rigid ("hard") rapidly rotating disks (platters) coated with magnetic material...