4 Easy Steps to Rip DVD to Hard Drive Quickly
Ripping DVDs to hard drive means two things:
* Copy and backup DVDs to computer for saving on the internal hard drive for direct use (playback, edit, share, etc.);
* Rip DVDs to an external hard drive for storage or easier playback on other devices.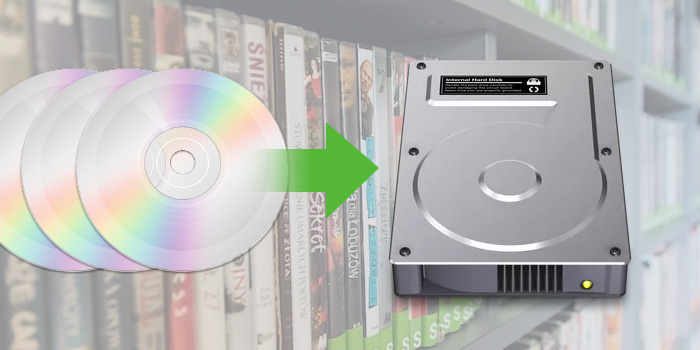 3 Benefits to Rip DVD to External Hard Drive
1. (NAS) HDD or standard/wireless external hard drive has a giant storage, 16TB maximally (by Samsung's 2.5-inch solid state drive) and they are quite cheap. When you save DVD movies on hard drives, your room will get more space.
2. Transfer digital DVD files on hard drive help you better store and classify movies. The digital DVD movies are more safely protected from sratches and the playback is more flexible, not limited to DVD players or DVD drives.
3. Many computers don't have built-in DVD drives now, so it is necessary to convert your DVD collections to digital copies. For example, Microsoft Windows 10 does not include Windows Media Center any longer. That means no native DVD playing feature is available for Windows 10 or later unless you get a third-party DVD player or pay $14.99 for WMP. Do transfer DVDs to hard drive before all DVD drives are gone.
You can copy a DVD to a hard drive as it's easy and cheap to get. In a bottle of hay, there are the 7 best external hard drives to buy, like Seagate Backup Plus Desktop Drive, LaCie Rugged Raid, Western Digital My Passport, etc. The question is: how to rip DVDs to hard drive for free? How to rip DVDs to Windows 7/8/10 or Mac computer? -- You need a program to rip DVD to hard drive.
[Free Solution] How to Rip DVD to Hard Drive with Original Quality
WinX DVD Ripper is a free DVD to hard drive copy software. It will let you "copy and paster" DVDs to hard drive for free with clicks. It will remove CSS, Region code, RCE, other protections, and rip DVD to MP4, AVI, WMV, ISO, MPEG, MP3, iPhone, iPad, Android, etc. You can freely copy DVD to hard drive with 100% original quality if you don't mind the large space, or rip DVD to smaller digital files with 98% quality.
Free Download WinX DVD Ripper to rip DVDs to hard drive easily and quickly!
PLease DO Not use WinX DVD Ripper to rip rental DVDs.
User Review: I've tried your software on nearly 200 DVDs, old and new, self-made and protected ones, there's no problem at all! - by Jack (Google IT Specialist)
How to Rip DVD to Hard Drive Free with Clicks?
Preparations: Free download WinX DVD Ripper

, install it on computer and insert the DVD to be ripped into your PC's DVD drive.
WinX DVD Ripper is totally free to download and use. If you get the free DVD ripper, you will enjoy it with no watermark, no time limits, no functions reserved. Because of the tiny size, it is very fast to launch. And since many DVDs contain 6-8 GB of files, you must ensure that the hard drive has sufficient free space to store DVD before transfer.
Step 1. Run the DVD to hard drive copy software.
Run the DVD to hard drive ripper, then click DVD Disc button to load the DVD movie.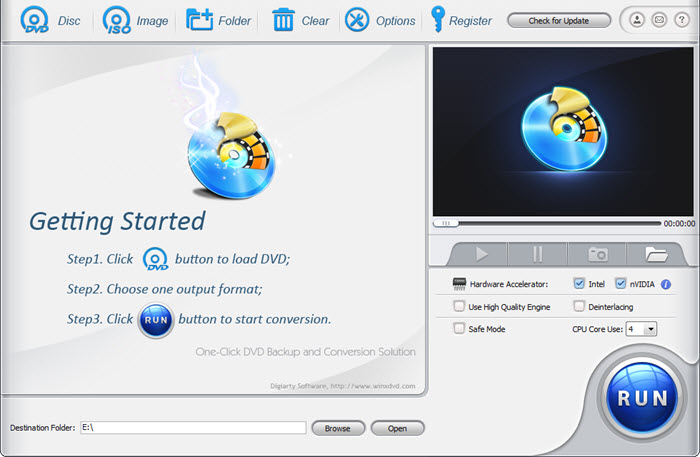 Step 2. Choose the DVD to hard drive output format.
The DVD will be loaded with its information, such as title, subtitle, duration, output etc. shown in the file list. You can copy DVD to hard drive in different formats:
● To transfer DVD onto computer's hard drive: (On platinum version) you can scroll down, find "PC General Profiles" and choose video format like MP4, AVI, AVC, Chromecast, WMV, MPEG, FLV, MOV, etc.
● To backup DVD to an external hard drive: Similar to USB, you can have much more choices, ranging from "to MP4", "to MPEG", "to WMV", "to FLV", "to MOV", "to Music" etc., depending on the use of the files, or say the output devices or players that will be connected to.
● To save a 1:1 DVD copy on hard drive: (On platinum version) you can scroll down, find "DVD Backup" and choose to 1:1 copy DVD to ISO image, DVD folder, and MPEG-2 file (Main or full title copy). This will not degrade any video/audio quality at all. And you can save your movie library on your computer hard drive for further use.
Step 3. Select destination folder.
Click "Browse" button in output setting area, select a destination folder in the dialog box that opens on hard drive, and then click OK.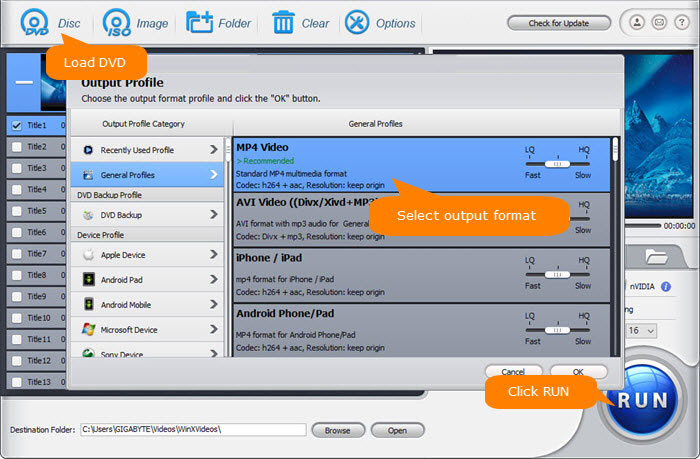 Step 4. Click "RUN" to rip DVD to hard drive.
From above, you may find that it is a piece of cake to rip and copy DVDs to hard drive with this free DVD ripping software.
After the fast DVD ripping process, you can transfer and watch the DVD video on whatever mobile devices, including Android, iOS and Windows based gadgets. But since most iOS users hate syncing video or other files using clunky iTunes, especially on Windows, WinX MediaTrans can provide a smarter way for file managing and transferring files on iOS.
Why can't You Copy DVD VIDEO_TS to Hard Drive Directly

"I want to copy my DVD's to hard drive, so I simply copied the content of the VIDEO_TS directory to my HDD. My question is, I want to have ALL the original DVD content so I do not want to compress the DVD to save space, so if this works why do I need software to rip DVDs?"
For burned and homemade DVDs that come without any copy protections, you can directly copy and paste the Video_TS from DVD to hard drive for backup, share. The folder can be playback on Windows Media player, VLC media player, etc. without problem. But for commercial DVDs, you can't simply copy and paste the DVD Video_TS to hard drive.
Generally, instead of "copy", we say rip DVDs to hard drive. Why? Almost all DVD movies are encrypted with CSS copy protection. Encryptions are stored in the normally inaccessible lead-in area of the disc to prevent the files from being copied directly. You'll get an error for trying to copy the encrypted DVD contents -- that's why ripping software is required. So you need a DVD to hard drive ripper to get rid of the copy protection schemes before you transfer the DVD video to hard drive -- WinX DVD Ripper is such a powerful DVD decrypter.
Copy DVD to Hard Drive Trouble-free
WinX DVD Ripper is free DVD ripping software that facilitates ripping the content of a DVD to computer hard drive and converting to other popular video formats, such as rip DVD to MP4, AVI, WMV, MOV, FLV, MPEG, etc. for external hard drive, NAS, Thumb drive, MicroSD card, DVD to USB and the like.
** If you need a fast DVD to hard drive ripping, we suggest choosing MP4/H.264 format as the output format in WinX DVD Ripper which supports Intel QSV and NVIDIA (CUDA) NVENC based hardware acceleration. Besides, each of its 4 unique DVD Copy modes will also deliver speedy and high quality DVD backup.
** If you need a 1:1 DVD copy on hard drive, DVD Backup modes will copy Main Tilte Copy, Full Title Copy, DVD to ISO, clone DVD to Folder without quality loss. Full DVD copy enables you to have original sound formats, 5.1 or 7.1 audio channel, all the language/subtitle/song play options and intact menu.
WinX DVD Ripper offers powerful yet easy-to-use functions, excellent video/audio quality, and fast ripping speed. This free DVD ripping software also has the ability to decrypt DVDs, remove copy preventions, and make disks unrestricted and region-free.
Free Download WinX DVD Ripper to have a try!
Disclaimer: Digiarty Software does not advocate ripping copy-protected DVDs for any commercial purpose and suggests referring to the DVD copyright laws in your countries before doing so.
Related External Source from Wiki:
DVD - A digital optical disc storage format which can store any kind of digital data and is widely used for software and other computer files as well as video programs watched using DVD players...
Hard Disk Drive - A data storage device used for storing and retrieving digital information using one or more rigid ("hard") rapidly rotating disks (platters) coated with magnetic material...