Best Format to Rip DVD for Quality/Size/Plex, etc.
"I have been painstakingly under storage space constraints so I am now digitizing the DVD collections that I purchased previously. I have experimented a little with various formats. Here is my current dilemma and situation: I want to rip my DVDs into a format so I could permanently keep a copy of the file on the hard drive while keeping within reasonable storage constraints and at the same time having a format that would maintain a reasonable resolution when I would extract scenes for my home movie projects. So my question is: what is the best format to rip video content for archiving DVD home movies?"
When more DVD collectors are joining the club to turn physical movie libraries into digital files [learn detailed guide to convert DVD to digital], there's a side subject that must always be broached: which is the best video format for archiving home movies? Which is the best, MPEG2, ISO image, MKV, or MP4? The huge amount of video formats, codecs, and containers makes it confusing for users to select the right one. Some formats are best to rip DVD for Plex, NAS, and streaming to a range of devices, some others are the best quality DVD rip formats... Different formats are designed for different purposes. If you don't know the best format to rip DVDs, this post will help you.
Free download WinX DVD Ripper to rip DVD to the best format you need.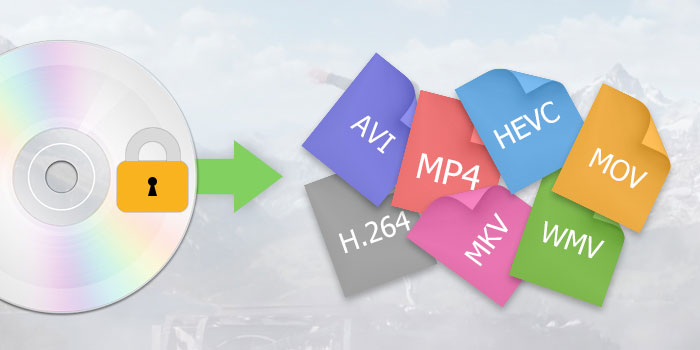 Know the Format of the Disc
Commercial discs store movies in the highly efficient MPEG-2 compression format. MPEG-2 images have four times the resolution of MPEG-1 images and can deliver both interlaced and progressive-scan content. Due to different frame rates and resolutions, DVDs is encoded in MPEG-2 in either NTSC or PAL standard. MPEG-2 is a lossy video compression method that is not as efficient as the H.264 or H.265, to reduce the overall size of the video data.
E.g.:
MPEG 2 (DVD quality) -> approx. 3.6 GB per hour of video.
H.264 (720P) -> approx. 1GB per hour of video.
| | | | | | | |
| --- | --- | --- | --- | --- | --- | --- |
| DVD | NTSC | MPEG-2 | 720x480 | 29.97 | 6000 | 224 |
| DVD | PAL | MPEG-2 | 720x576 | 25 | 6000 | 224 |
Note: Anyway, you should know that DVD format MPEG2 has quality loss when a disc is made. Therefore, you can't go lossy-to-lossless DVD conversion [Can you rip a DVD losslessly?]. But you can archive your home DVD movies on the hard drive without further quality loss by extracting the intact content from DVDs.
Best Format to Rip DVD for Quality - ISO, MPEG2, or Video_TS Folder
ISO image file is a single file that contains the entire content of the DVD, CD, or BD, including subtitles, extras, videos, audio, menus, etc. ISO image is an uncompressed and sector-by-sector copy of a disc. It's the best format to rip a DVD for archiving purposes with 1:1 quality & size. It can be played on most video players like VLC and easily allows users to burn it to another DVD with full quality. To build a digital library exactly same as DVD collections and play the movie as you're playing the disc, use ISO image [check how to copy a DVD into ISO image]. Note that the ISO image is large in size. 
Video_TS folder, same as ISO image, is also 1:1 DVD copy. But it's not a single file and contains all the DVD information with IFO, BUP, and VOB files. The VOB files include the actual video and audio, subtitles, and menus; IFOs are information files or directions that the DVD player uses and the BUP files are backups of the IFO files. It's a format to archive a digital and playable DVD on the hard drive.
MPEG2 is the video codec used in the DVD with linear PCM, AC-3 or DTS audio within the VOB wrapper. It's also the best video format for DVD conversion when you want the DVD only with original quality. This is because when you rip a DVD to MPEG-2(.mpg), you will have the full video, but lose any extras, including subtitles, hidden files, adverts, alternative audio formats, etc.
Best Video Format to Rip DVD for Plex
Some people are ripping DVD for easier playback on TVs and other devices via Plex media server. Plex won't support VIDEO_TS, ISO image, BDMV or other DVD-type files, so users can't play DVD 1:1 on Plex. The formats supported by Plex include ASF, AVI, MOV, MP4, MEPGTS, TS, MKV, and WMV. You can rip a DVD to any of these formats. But if you have to ask which video format is the best to convert a DVD for Plex, we will recommend MKV.
MKV supports almost all the audio and video compression formats and offers a plethora of extra features like subtitles, menus, multiple video and audio tracks and chapters. It also has high quality and more future-proof compared to MP4. By the way, you can easily rip DVD for MKV format for Plex or other players using Handbrake and MakeMKV.
Best Format to Rip DVD for Mobiles
Different devices support different formats. What's the best video format for archiving & playing DVD movies on phones & tablets? It depends.
* iDevices: MPEG-4 at 640 x 480 pixels and H.264 at up to 720p on most iPads, and up to 1080p on the iPad mini and iPad Air. You can use Apple's MPEG 4 video container format MOV or other H.264 formats for the DVD conversion.
* Android: the format supported by Android mobiles is H.264:
| | | | |
| --- | --- | --- | --- |
| | SD (Low quality) | SD (High quality) | HD (Not available on all devices) |
| Video codec | H.264 Baseline Profile | H.264 Baseline Profile | H.264 Baseline Profile |
| Video resolution | 176 x 144 px | 480 x 360 px | 1280 x 720 px |
| Video frame rate | 12 fps | 30 fps | 30 fps |
| Video bitrate | 56 Kbps | 500 Kbps | 2 Mbps |
| Audio codec | AAC-LC | AAC-LC | AAC-LC |
| Audio channels | 1 (mono) | 2 (stereo) | 2 (stereo) |
| Audio bitrate | 24 Kbps | 128 Kbps | 192 Kbps |
Rip DVD to a Format with Best Quality and Smallest Size
ISO image, Video_TS folder, MKV all provide full DVD quality, but also very large size. For example, the ISO image file ripped from a 4.7GB DVD can also be GBs in size and MKV ranges anywhere from 4GB to 7GB. Though the hard drives are becoming cheaper these days, it's also important for owners of large DVD library to archive DVDs in a format that well balances the size and quality. In this case, you can mainly consider two formats: H.264 or H.265. But which to choose is based on your needs.
H.264 supports up to 4K high-quality video with relatively small size. It's widely supported by modern mobile devices and other platforms. If you're ripping DVDs to a format for easier playback, H.264 is the way to go.
H.265 saves 50% space than H.264 with the same high quality. It's the ideal format for 4K and 8K videos - best format for BD disc rip for quality/space reasons. But H.265 is less common than H.264 and requires more system power to encode, transcode and decode. (If you're interested, check details on how to rip DVD to HEVC/H.265)
Best DVD Ripper to Archive Home Movies in Any Format
There are different transcoding programs designed to rip DVDs to the best format you need. For example, MakeMKV will extract MKV video from DVD/BD "as is"with original quality and Handbrake will transcode DVDs to MP4/MKV. You can also find the functions in one program that allows you to archive DVDs in formats for quality, for Plex, for mobiles and any other purposes, just like WinX DVD Ripper Platinum.
The DVD ripper supports 350+ output profiles, allowing DVD rip to any format one may need. Specifically, it will rip DVD to the best formats for quality, namely, full DVD to ISO image/Video_ts folder, full/main DVD title to mpg to save 1:1 DVD copy on hard drive for archiving purpose; convert DVDs to MP4, H.265, H.264, MOV, AVI, WMV, FLV, etc. with 98% quality reserved; move DVDs for NAS, Plex, TVs, iPhone, iPad, Samsung, Huawei, game consoles, other platforms directly.
Extra bonus - it supports almost all DVD encryptions; its Level-3 Hardware Acceleration offers 5x faster DVD ripping speed.
Free download WinX DVD Ripper Platinum to rip DVD to the best format you need.
Please DO NOT use WinX DVD Ripper to rip rental DVDs.
For Windows and Mac only. If you are a mobile user, please click here
Disclaimer: Digiarty Software does not advocate ripping commercial DVDs for any illegal purpose. You're suggested to refer to the DVD copyright laws in your country before doing so.