Best Settings to Rip DVDs Fast with Good Quality & Small Size
I've been backing up my DVD movies in .ISO image to get the best possible quality. However, I will get a 4.7GB~ giant file per title and I'm running out of disc space, fast. I am now entertaining the idea of encoding my DVD collection to a high quality video file, rather than keeping them as disc images. So what are the best DVD ripping settings for me? To sum up:
Best quality audio and video, without resorting to .iso uncompressed.
The same great quality as my huge files, but in only like 350-700MBs.
Application to use?
What resolution/bitrate should I rip a DVD at?
What video and audio codec should I use?
In this post, we will show the best DVD ripper (click the download button below to try) and the best settings to rip a DVD in best quality, size, speed, and file type.
Table of Contents
Part 1. DVD and Parameters that Affect the DVD Ripping
Basic Info about DVD
DVD stores movies in a combination MPEG-2 compressed video and audio of vary formats (PCM, DTS, MP2, or AC-3). The typical DVD videos are 720×480 pixels for NTSC (30fps) and 720×540 pixels for PAL (25fps), with a maximum video bitrate of 10.08 Mbps or 9.8Mbps (depending on the audio format). The image can be displayed at either a 4:3 (standard) aspect ratio or a 16:9 (widescreen) aspect ratio.
Parameters that Affect the DVD Ripping
Let's figure out what parameters have an effect on videos. For video size, here is a simplified formula: File size = bitrate * number of minutes. The encoder (Format) and Bit Rate of the video are the most crucial factors. Under the same definition, the higher bit rate the video possesses, the bigger the video size is. Also, complex encoder may provide better compression, but in a longer time. If you want 100% quality (and yes, this is of COURSE possible), that comes at a cost, size and ripping speed. To sum up:
High quality > requires complex algorithms > results in large file size > takes more time > slow 
Low quality > requires simpler algorithms > results in small file size > takes less time > fast
Good quality > requires medium algorithms > results in medium file size > not too fast or slow
Summary: There is no such thing as general "best settings" for DVD ripping. It kind of depends on what you want. If you want 100% quality, it comes at a cost of size, speed, while smaller size may be an unpleasant trade for the loss in quality. WinX DVD Ripper Platinum offers solutions to rip a DVD fast in the best possible quality and size.
The Best Program You Need
In fact, different technologies are applied in WinX DVD Ripper Platinum to deliver the best possible results in every aspect in DVD ripping:
Level-3 Hardware Acceleration powered by Intel QSV and Nvidia Cuda/Nvenc (for DVD to x265/x264), Multi-core CPU, Super Encode Engine based on MMX- SSE & 3DNow!, and Hyper-threading tech ensures ~5x faster speed on even a regular computer.
"Yadif Double Frames" De-interlacing Engine, High Quality Engine, and LQ encoding will offer the best possible quality for any DVD ripping.
Except DVD to ISO, Video_TS, MPEG2 in 1:1, also compress DVD to h.265, h.264, mp4, mpeg4, DivX, and 370+ profiles in small size.
A strong feature is that the program supports DVD protections of many kinds, including Disney titles.
Part 2. Recommended DVD Ripping Settings for Best Quality, Speed, and Size
● The best video format for DVD Rip:
For archival, rip DVD to ISO image to archive a 1:1 copy of the media and all menus, data, etc. (large size, original quality) or remux the DVD to MPEG2 to maintain the same quality; for better playback and highest compatibility, convert DVD to H.264/AAC to suit Plex, Kodi, TV, any playback devices; for smaller size and good quality, transcoding to HEVC video and 5.1 AAC audio will reduce an 8GB DVD down to around 2GB with no perceptible quality loss. (Learn detailed explanation on the best format to rip a DVD >> )
● The best video resolution and bitrate:
DVD videos are either 720×480 or 720×540. Normally, you should leave the parameters as defualt. If your main consideration is smaller files, resize to a lower resolution and bitrate. Adjust the resolution to 480P is an acceptable quality. As for the bitrate, lower it by 500-700kbps.
● The settings for fast DVD rips:
In general, fast encoding speeds usually sacrifice video quality and file size. A fast encoder preset could reduce quality or increase the file size, while a slow encoder uses algorithms that take longer but result in higher quality and more compression. As WinX DVD Ripper Platinum supports GPU acceleration, things can be changed. QSV or Nvidia GPU accelerated H.264 and H.265 encoding can go 5x faster than others.
● Recommended optimal DVD Ripping settings:
In conclusion, the best settings to rip DV with the best quality, speed, and size: H.265 MP4 (or H.264 for easier playback), AAC audio, HQ encoding, GPU acceleration enabled, lower the DVD resolution to a lower level like 640x480, adjust the bit rate, e.g., from 2500 to somewhere in 1800-2000. Leave the Framerate Per Second (FPS) to Same as Source and Aspect Ratio with default values.
Part 3. How to Rip DVDs with the Best Settings?
It requires clicks only to rip DVD without complicated settings. Even novice users can do it fast and easily. First, free download the DVD ripper:


For Windows (Windows 11/10 and earlier)


For macOS (Monterey and earlier)
● Load the DVD. Run the software and insert the DVD into the computer. Then click the Disc button to load the DVD info. It will automatically remove any protections and detect the right title of any old or new DVDs.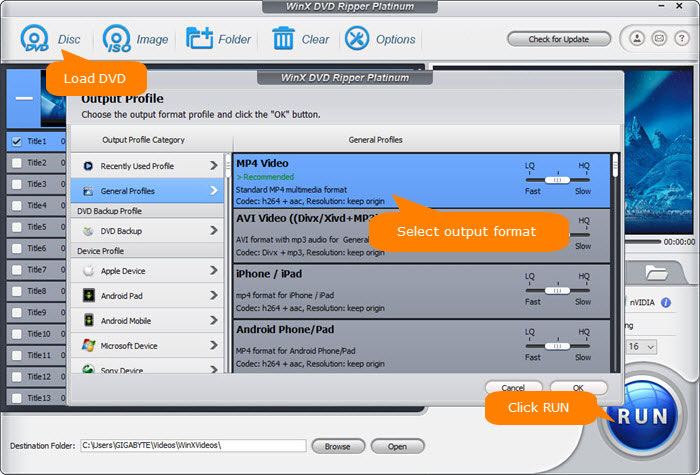 ● Improve Video Quality. Then the software will bring you to the output format window. When selecting a preset consider parameters such as the picture quality, encoding speed, and output file size.  Select MP4 H.265+AAC is by now the best format that has the highest quality compared to file size. Next to the MP4 video profile, enable the encoding to HQ to get better video quality. (If you really want to improve speed and sacrifice quality, go for the LQ encoding. ) << See how to rip DVD lossless >> ● Reduce the file size. Back to the main interface, click the gear button next to the selected profile. Here you can change various DVD ripping settings like resolution, bit rate, codec, aspect ratio, audio ratio, etc. The recommended resolution and bitrate for DVD rip setting: lower the DVD resolution and bit rate, e.g., from 720x480 to 640x480 and 2500 to somewhere in 1800-2000. Leave other parameters like frame rate, aspect ratio, sample rate, etc. with default values.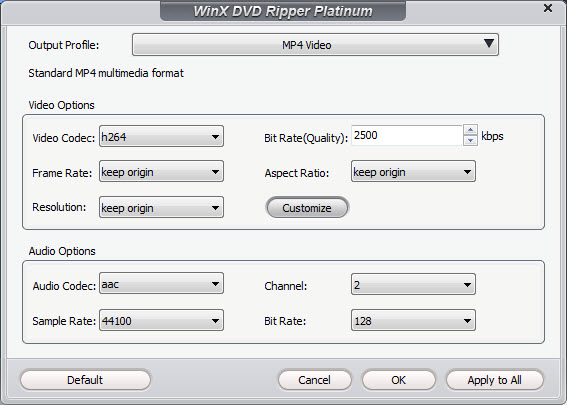 ● Speed up the ripping. The DVD ripper supports QSV and Nvidia Nvence/Cuda hardware acceleration. Enable the Hardware Accelerator and it can run at an avg. speed of 300fps, with a max speed of 500fps on an advanced computer. The  Multi-core CPU, Super Encode Engine based on MMX- SSE & 3DNow! and Hyper-threading tech will take advantage of your hardware to deliver the fastest speed.
All the techs will not affect the video quality and file size.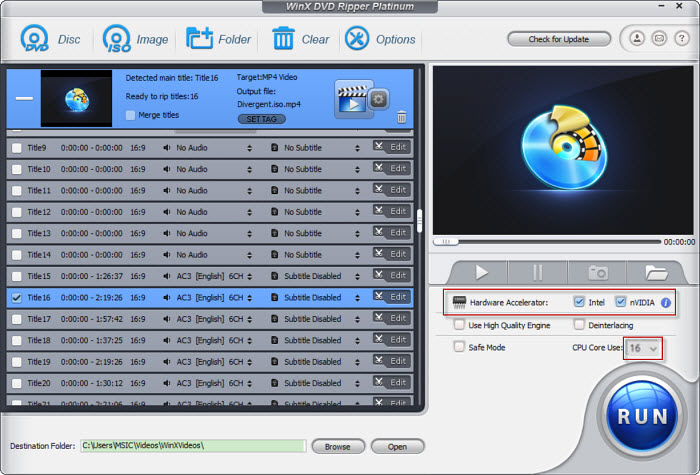 ● Start to rip DVDs. Then click the RUN button to start. The hardware acceleration will speed up the digitizing and finish the task in minutes.
Disclaimer: Digiarty Software does not advocate ripping commercial DVDs for any illegal purpose. You're suggested to refer to the DVD copyright laws in your country before doing so.