Best Settings to Rip DVDs Fast with Good Quality & Small Size
I've been backing up my DVD movies in .ISO image to get the best possible quality. However, I will get a 4.7GB~ giant file per title and I'm running out of disc space, fast. I am now entertaining the idea of encoding my DVD collection to a high quality video file, rather than keeping them as disc images. So what are the best DVD ripping settings for me? To sum up:
● Best quality audio and video, without resorting to .iso uncompressed.
● The same great quality as my huge files, but in only like 350-700MBs.
● Application to use?
● What resolution/bitrate should I rip a DVD at?
● What video and audio codec should I use?
In this post, we will show introduce the best settings to rip a DVD in best quality, sizes, speed, and file type.
How to Rip DVDs with the Best Settings?
It requires clicks only to rip DVD without complicated settings. Even novice users can do it fast and easily. First, free download the DVD ripper:


For Windows (Windows 10 and earlier)


For macOS (10.15 and earlier)
● Load the DVD. Run the software and insert the DVD into the computer. Then click the Disc button to load the DVD info. It will automatically remove any protections and detect the right title of any old or new DVDs.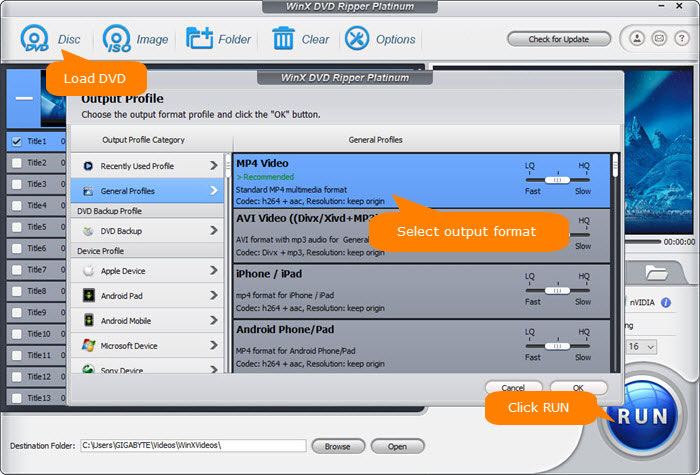 ● Improve Video Quality. Then the software will bring you to the output format window. When selecting a preset consider parameters such as the picture quality, encoding speed, and output file size.  Select MP4 H.265+AAC is by now the best format that has the highest quality compared to file size. Next to the MP4 video profile, enable the encoding to HQ to get better video quality. (If you really want to improve speed and sacrifice quality, go for the LQ encoding. ) << See how to rip DVD lossless >> ● Reduce the file size. Back to the main interface, click the gear button next to the selected profile. Here you can change various DVD ripping settings like resolution, bit rate, codec, aspect ratio, audio ratio, etc. The recommended resolution and bitrate for DVD rip setting: lower the DVD resolution and bit rate, e.g., from 720x480 to 640x480 and 2500 to somewhere in 1800-2000. Leave other parameters like frame rate, aspect ratio, sample rate, etc. with default values.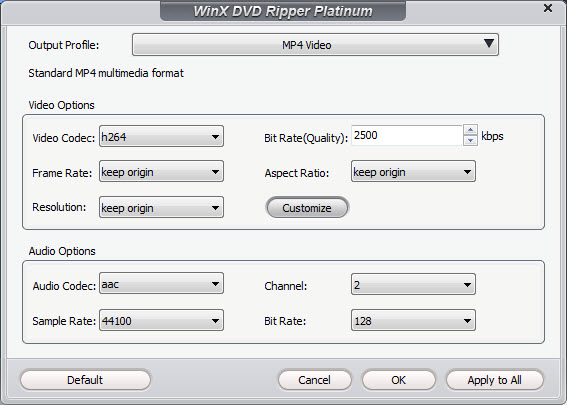 ● Speed up the ripping. The DVD ripper supports QSV and Nvidia Nvence/Cuda hardware acceleration. Enable the Hardware Accelerator and it can run at an avg. speed of 300fps, with a max speed of 500fps on an advanced computer. The  Multi-core CPU, Super Encode Engine based on MMX- SSE & 3DNow! and Hyper-threading tech will take advantage of your hardware to deliver the fastest speed.
All the techs will not affect the video quality and file size.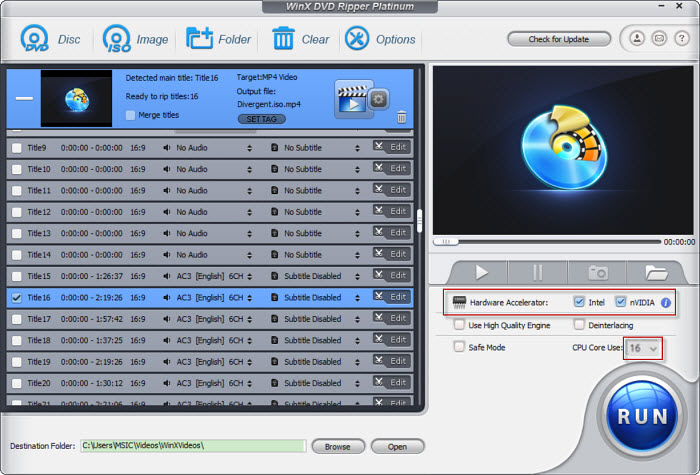 ● Start to rip DVDs. Then click the RUN button to start. The hardware acceleration will speed up the digitizing and finish the task in minutes.
Disclaimer: Digiarty Software does not advocate ripping commercial DVDs for any illegal purpose. You're suggested to refer to the DVD copyright laws in your country before doing so.