2022 Fastest DVD Ripper - How to Rip a Full DVD in 5 Minutes
What is the fastest way to rip DVDs on Windows and Mac
"I have just downloaded HandBrake for the purpose of ripping DVD to MP4. But when I try and rip a two and a half hour DVD, it says it will take 5 hours! What's wrong? If DVD ripping takes longer than the actual movie length, it's really a waste of time. Any fast DVD ripper recommended?"
There are a large number of DVD rippers available online, but some of them require quite a lot of time to finish DVD ripping, even up to hours. Nobody would like to spend too much time to rip and copy DVD, right? Do you believe there is a fast DVD ripper which is able to convert a full-length DVD in 5 minutes?
Table of Contents
Part 1. What's the Fastest DVD Ripper for Windows and Mac?
After testing all the popular DVD rippers (including HandBrake, Freemake, VLC, and more) in the market, we've come to the conclusion that WinX DVD Ripper Platinum features World's No.1 fast DVD ripping speed. It can acheive up to 47x real time faster, 500 FPS maximally. With support to unique Level-3 hardware acceleration (Intel QSV, Nvidia Nvenc/Cuda, AMD), Multi-core CPU (up to 8), Super Encode Engine based on MMX- SSE & 3DNow! and Hyper-threading tech, it allows you to rip a DVD to MP4 within 5 minutes!
The following table is the speed test comparison table of WinX DVD Ripper and HandBrake which is one of the most popular DVD rippers.
WinX DVD Ripper Platinum

HandBrake

Testing computer: Windows 10 (64 bit) PC [Intel® Core(TM) i7-8700K CPU]

Utilize Intel QSV to speed up ripping

Avg. FPS

369 (frame per second)

306 (frame per second)

Time to rip a 2.5h disc to MP4

9min 16s

17min 55s

Support Nvidia NVENC in DVD ripping

Avg. FPS

387 (frame per second)

355 (frame per second)

Time to rip a 2.5h disc to MP4

8min 45s

17min 58s
What Makes WinX DVD Ripper the Fastest DVD Ripper?
1. Fast DVD loading and main title detecting
WinX DVD Ripper Platinum can save your time from the first step. It's able to read and load any DVD you throw to it quickly, be it a home-made DVD or a tightly copy protected DVD from Disney, Paramount, etc. And it can load the DVD video information and detect the DVD main title at one go. While testing other DVD rippers, we find that they could get stuck at scanning encrypted DVDs and choose the wrong title.
2. Fast specify an output
After selecting the main title, this DVD ripper will pop up Output Profile window automatically to let you specify an output. There are hundreds of preset profiles, helping fast rip DVD to MP4, AVI, MOV, H.264, etc. If you don't know the formats stuff, there are profiles for iPhone, iPad, Android, Sony, Microsoft, etc. You can fast find out the output profile you desire from the well-organized categories. Superior to HandBrake and some DVD rippers in the market, it won't require you to set profile and adjust video audio parameters to get better output. Everything has been optimized.
3. Fast DVD ripping/encoding speed
With support for hardware acceleration wiki [Intel QSV and NVIDIA (CUDA) NVENC], Multi-core CPU (up to 8), Super Encode Engine based on MMX- SSE & 3DNow! and Hyper-threading technology, fast DVD ripping speed is guaranteed. Unlike other hardware-accelerated DVD ripper like Handbrake, which is heavily affected by Google Chrome that prevents other apps from accessing low-level VideoToolBox framework, WinX DVD Ripper Platinum applies stronger GPU acceleration techs to rip DVDs while running other tasks. It is able to convert a feature-length DVD in a matter of minutes while keeping high video audio quality. It's worth noting that it is possbile to rip DVD to MP4 within 5 minutes only.
Fast DVD ripper testing result:
Test 1. On a 64-bit Windows 7 PC with Intel(R) Core (TM)2 Quad CPU Q8300 and 8GB RAM:
The conversion frequency of WinX DVD Ripper Platinum is 170 fps when selecting AVI as the output format.
Test 2. On a PC with i7-4790K Processor and 16GB RAM:
It can achieve up to 260 fps when choosing H.264 codec. That's 3- 5x faster than many DVD rippers under the same testing condition with the same settings. Undoubtedly, it can be included in the list of fastest DVD rippers. Part 2. How to Rip DVD at Fast Speed?
To begin with, download this fast DVD ripper on your Windows (11, 10, 8.1/8, 7, XP, Vista, etc.) or Mac computer, and then install it following the wizard. Next, follow the steps below to perform fast DVD ripping.
Step 1. Insert DVD to DVD-ROM, and click "DVD Disc" to import DVD. You're also able to load Video_TS folders, ISO image.
Step 2. Select an output profile as you like. If you don't know which to choose, MP4 is always recommended for its wide compatibiliy.
Learn settings to rip DVDs fast with good quality & small size >>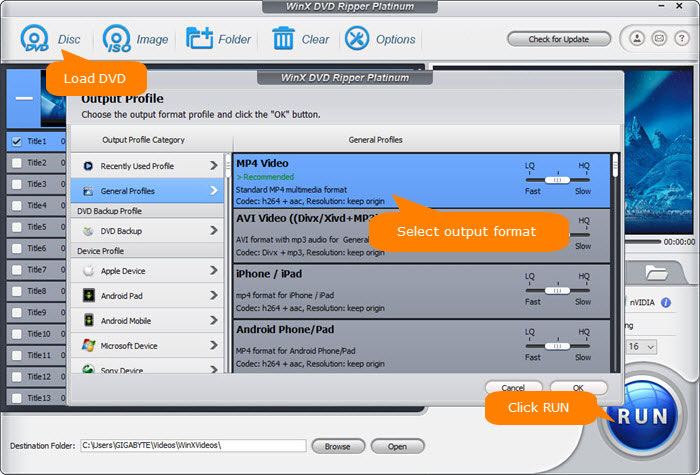 Step 3. Specify a destination folder to store ripped DVD video by clicking "Browse".
Step 4. Make sure you've checked Hardware Accelerator and set the CPU core to the utmost. By default, Hardware Accelerator is checked and the CPU core use is set to the maximum value. This can make WinX DVD Ripper faster. Step 5. Hit "RUN" to begin ripping DVD. Then it will accomplish the DVD ripping process at a fast speed.
Free Download WinX DVD Ripper to Digitize Your DVD Disc within 5 Minutes Only!
If you want to keep a fast DVD ripper that can rip both regular and protected DVDs to all popular video audio formats and fashionable devices, 1:1 clone DVD to ISO file/DVD folder as well as copy main/full title content to MPEG 2 file, WinX DVD Ripper Platinum is worth a try.
Disclaimer: Digiarty Software does not advocate copying copy-protected DVDs for any commercial purpose and suggests referring to the DVD copyright laws in your countries before doing so.
Still have question on how to use this fast DVD ripper, please feel free to Mail Us >>