Top 6 Free Open Source DVD Rippers: Which Is Best for Digitizing DVD?
Before we review those 6 open source free DVD rippers, we'd like to explain what "open source software" means. It's software whose source code is freely available to anyone to inspect, modify and enhance. It doesn't mean that the software is free of charge, but in most cases it does. Below are 6 free open source DVD rippers that we want to share with you. How do they do with free DVD ripping? Let's check now.
The Most Powerful DVD Ripper that Can Handle All Kinds of Copy-protected DVDs - WinX DVD Ripper
This software is capable of reading and decrypting DVDs encrypted by CSS, region code, RCE, AACS 2.0, Sony ARccOS, UOPs, Disney DRM and others, without requiring use of any third-party tool. You can rip movie DVDs (including Disney 99-title DVDs), damaged DVD disc, TV show DVDs, workout DVDs, and more without hassle.
350+ optimized presets are provided, so that you can rip DVD to MP4, MOV, AVI, WMV, FLV, iPhone, iPad, Android, and so much more.

An intuitive and simple interface makes it easy for beginners, while it also offers advanced users an entrance to adjust video audio parameters based on demand.
Free download GPU-accelerated WinX DVD Ripper to fast rip DVDs to high-quality digital files.
Table of Content
Top 6 Free Open Source DVD Rippers Review
1. HandBrake
HandBrake is undoubtedly the most popular one among all those open source DVD rippers. It is free, clean, and available for Windows (10 and lower), Mac, and Linux. Plus, it is rich in features. HandBrake allows users to rip DVD disc, VIDEO_TS folder, and also ISO image to MKV or MP4. Additionally, it has a collection of output presets for some popular devices such as iPhone, iPad, Android, and Windows Mobile.
Apart from format and preset, this open source DVD converter also gives you a great many options about dimensions, filters, video, audio, subtitles and chapters. It is great for advanced users, but probably not for newbies. They will be get confused and export poor-quality files because of improper settings.
Before you begin ripping DVD with HandBrake, however, we have to tell you another important thing. HandBrake itself cannot handle copy-protected DVDs. If you stick to HandBrake, you need to install HandBrake libdvdcss to help read and decrypt region-coded and CSS-encrypted DVDs, or capitalize on a powerful third-party program to decrypt the DVD copy protection schemes first.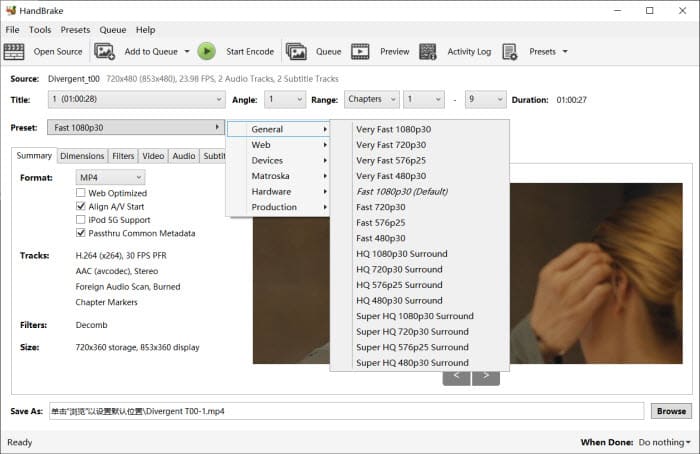 2. DVDShrink
DVDShrink is another free DVD ripper you can use to copy and rip DVD to ISO image or DVD folder. DVDShrink isn't an open source program that can directly convert DVD to MP4 or another mainstream video format for broad compatibility. If you like, you can use DVDShrink to convert DVD to ISO file or DVD folder first and then use another tool to convert ISO or DVD folder to your desired video format.
Not designed for multi-platforms, DVDShrink can only work on Windows. Its development has stopped at version 3.2.0.15, from May 2005. Now you cannot find the download link in its official site, but you can still get it from some software download sites. However, you must be careful because there're some fake versions created to scam your money.
Superior to HandBrake, this Windows-based open source DVD ripper is possible to rip some copy-protected DVDs by making use of its inbuilt decryption algorithms. But because it has been discontinued for years, it is possibly unable to deal with newer copy protection schemes.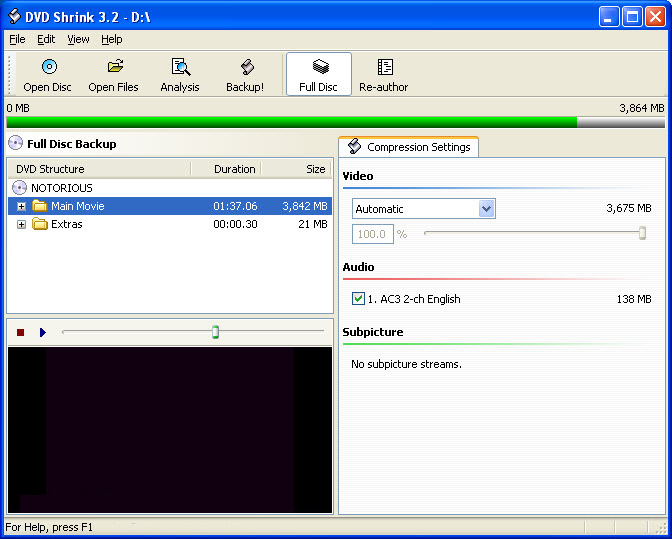 3. MakeMKV
MakeMKV, current version 1.16.3 released on March 18, 2021, is a semi-open source DVD ripper for Windows, Mac, and Linux. Its GPU, MKV multiplexer, and optical drive query library are open source. It charges for Blu-ray converting and streaming functionality after 30-days trial period, but it is free of charge for DVD conversion. With a simple interface that doesn't have additional and confusing options, MakeMKV is a great choice for beginners to rip DVDs (including some copy-protected discs) to MKV.
But inevitably, MakeMKV is unable to please all people and keep good performance all the time. Its output is limited to MKV. Very restrictive. And the file size of resulting file is always a few gigabytes. Most people have to downsize it using a third-party program. Additionally, this program will crash when dealing with some movie DVDs, make some subtitles screw up, make video audio out of sync, and other issues, according to users' feedback online.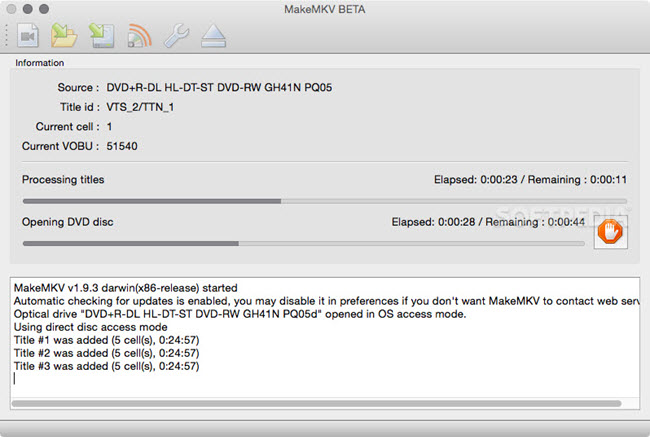 4. VLC Media Player
As its name implies, VLC is a media player. However, it is also a free and open-source DVD ripper that can convert DVD, ISO image, and VIDEO_TS folder to MP4, MOV, AVI, MKV, and more, on Windows, Mac, or Linux.
Here're the steps to rip DVD with open source VLC: open VLC -> Media -> Convert /Save -> click Disc tab -> choose DVD under Disc Selection -> go to Disc device and select target DVD -> select title, chapter, audio and subtitle track -> click Convert / Save button at the bottom -> choose desired profile from Convert panel -> specify destination file -> click Start to begin ripping DVD with this open source software.
But admittedly, VLC isn't good at this task. We always stumble across some complaints saying that VLC can't read certain DVD, VLC crashes, VLC delivers a file without audio, VLC shows nothing after clicking Start, and other different kinds of errors.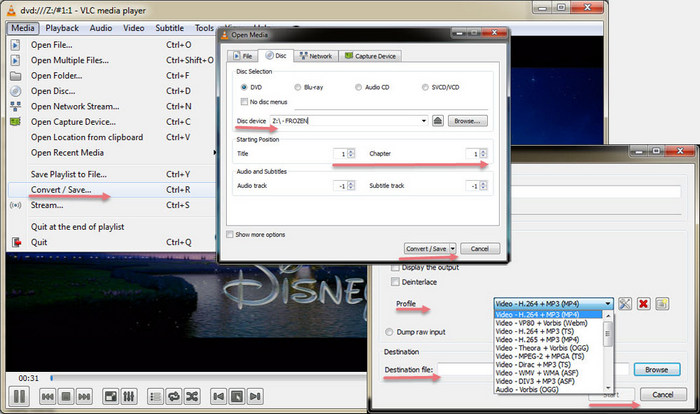 5. FFmpeg
The last free open source DVD ripper we want to introduce to you is FFmpeg. It allows you to convert DVD to virtually all video formats. However, only unencrypted DVDs are supported. FFmpeg is a command line utility, so its DVD ripping workflow is quite different from above rippers'. You need to type in commands just like the image shows. This way may be a little bit difficult to operate for some people. 6. VidCoder
Similar to Handbrake, VidCoder is an open-source DVD ripping and video transcoding program for Windows. It is only available on Windows operating system. The open-source DVD ripper uses Handbrake as encoding engine. VidCoder requires .NET 4.7.1(pre-installed on Windows 10). Note that this open-source DVD ripping program doesn't work with encrypted DVD discs. All the commercial DVDs can not be decrypted by VidCoder. To remove such encryption, you have many other better choices, such as WinX DVD Ripper.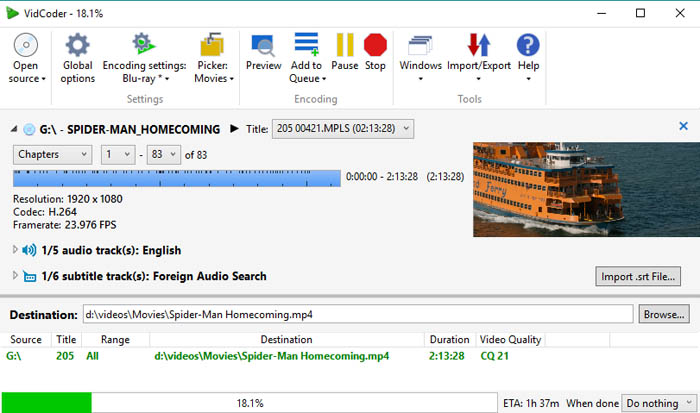 Wrapping up
As you can see, those open source DVD rippers perform differently, each coming with its strengths and weaknesses. If you don't have the budget for a DVD ripper, you can give those free programs a try.
If none of them works for you, you might as well try WinX DVD Ripper Platinum. It is a commercial program, but it is worth the price. This software is built with the most advanced DVD decryption mechanism, and keeps updating and upgrading constantly. Therefore, it can bypass the latest and most complicated copy protection schemes and handle the newest DVDs.
Additionally, it is the fastest DVD ripper empowering you to rip a DVD within 5 minutes only, owing to the utilization of Intel QSV and NVIDIA CUDA/NVENC powered level-3 hardware acceleration technology.