How to Rip DVDs with VLC & VLC Ripping Errors Troubleshooting
Sum: How to rip DVDs with VLC? It's easy. Open VLC, click Convert / Save, select your source DVD, give it a name, and then click Start to rip the DVD.
To rip DVDs for hard drives or for daily-used phones, you will want a free and easy tool for it. VLC Media Player is undoubtedly the easiest for the task. The steps using VLC seem to be easy and apparently. There are many plain guides on how to rip DVD with VLC to walk you through the ABC steps, with no touch on any possible cases when things go haywire. For example, this guide is really shallow. Check source >>
The "good" info includes:
★ Open the software (which version to get? VLC versions vary in the security)
★ Load the disc (libdvdcss won't read all discs)
★ Set the settings for the output file (but the DVD title & subtitles are difficult to handle with)
★ And start the process (what about the DVD ripping freezes/MP4 rip crashes...)
... and there is no mention about how to troubleshoot any bad VLC ripping outputs (e.g., A/V out of sync, no audio, choppy, etc.). VLC is a video player rather than a ripper, the easy steps won't rip DVDs as easy. If you follow a tutorial like that, expect time waste on troubleshooting. Here we cover every detail to rip DVD using VLC on PC or Mac and fixes to most possible VLC DVD ripping errors.
How to Rip DVD with VLC :
Download FREE VLC DVD Ripper to Rip Protected DVDs Easily
VLC won't support DVD copy protections. So you may see choppy VLC DVD rip, slow speed, crashes, missing subtitles, A/V out of sync, etc. Try WinX DVD Ripper [100% Free and Safe]. It will rip DVDs with regions codes, RCE, CSS, Sony ArccOS, 99 titles, scratches, etc. to MP4, MOV, AVI, ISO image, MPG, 420+ presets. 5 minutes only to rip a full DVD to MP4 with GPU acceleration support.
Step 1. Before You Rip a DVD in VLC & What Should You Note
Make sure your computer has an optical drive in order to rip DVDs with VLC. If your computer or laptop ditches internal DVD drive, you can click here and get a reliable external DVD drive for your laptop.
1. Install VLC
Most users may have VLC on their computer. Those who haven't installed VLC, click here

to download VLC on your PC or Mac. After that, open VLC.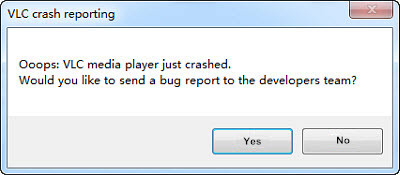 VLC install crashed: "It keeps giving me 'Oops: VLC media just crashed. Would you like to send a bug report to the developers team?' error message since I upgrade to V3.0.17. I've tried uninstalling and re-installing... deleting the %appdata%/vlc folder... and rebooting. I cannot get to preferences or anything because the program literally won't start. It doesn't even show the process as running on Task Manager."
Check the video driver.
Update to a newer version.
Check if there is another app/software that conflicts with VLC.
VLC security issue: VLC comes with security vulnerability from time to time. For example, in the VLC 3.0.7.1 brought a vulnerability called CVE-2019-13615, which allowed unauthorised modification and disclosure of data/files, and overall disruption of service. There was also a severe remote code execution flaw tracked as CVE-2020-13428. To rip DVDs without VLC security flaws, try WinX DVD Ripper Platinum.
2. Get started
Insert the disc you want to rip into the optical drive of your PC or Mac. Click the Media drop-down menu and select Convert/Save. Then you should see the picture in Step 3.
Or, you can enter into the converting window in another way: click Media on the top menu tab and then click Open Disc. Then you will see a window similar to the one in Step 3, except that the bottom button is Play instead of Convert/Save. Select the DVD, click the downward-facing arrow next to the Play button and select Convert from the drop-down menu.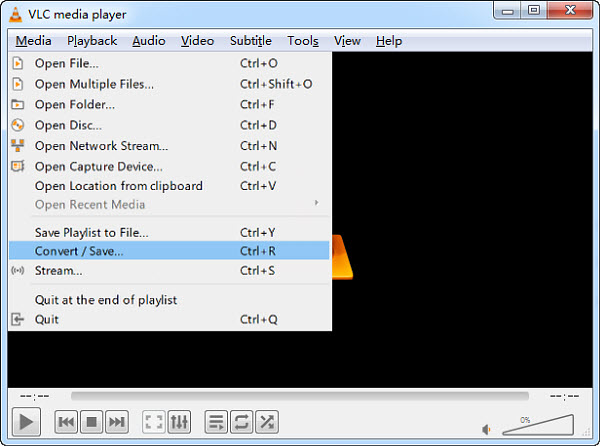 3. Load the disc
Click Disc from the top tab and enable DVD option and select the DVD to rip in Disc device.
Important: Don't forget to check the "No Disc Menus" box. It can help avoid possible errors. If you don't check it, VLC may get stuck ripping the DVD titles over and over until you manually close it.
DVD won't load: After you select a DVD from the Disc device, VLC just won't load the DVD. Sometimes, it goes with an error message saying MRL 'dvd:///D:/' (though this error happens more often when VLC plays DVDs or videos) or "There is no disk in Drive D." while there is a DVD in Drive D. This error happens when libdvdcss in VLC won't support the encryption of a DVD. You need to:
Update VLC to the latest version.
To rip DVD with VLC in Ubuntu, you should know that the libdvd applications are not installed by default. Open a terminal window: sudo apt install libdvdcss2 libdvdread4 libdvdnav4 ubuntu-restricted-extras
Remove DVD protection with other software.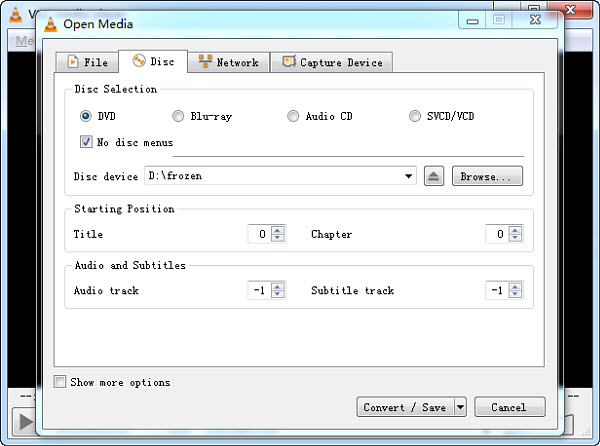 4. Adjust DVD ripping settings
After the DVD is successfully loaded, go to the settings section below. You can see Starting Position and Audio and Subtitles options.
Starting Position: If you only want to rip a part of the DVD or rip DVD multiple episodes, set the title and chapter that you want to rip.
Audio and Subtitles: How to rip DVD on VLC with subtitles? You need to do it by selecting the Audio/Subtitle track value, you can choose the audio and subtitle in the language you need.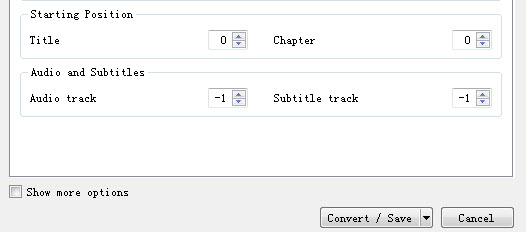 No subtitle: "I am trying to hardcode subtitles into the ripped video using VLC player. I have followed the turtorials, and everything seems right until the final output has no subtitles embedded in."
After you rip the DVD, use Streaming wizard (Media > Stream...) to add subtitles.
You'd better use subtitles in .srt formats as VLC 3 has no support for autodetection ot txt subtitles.
Try to use ":no-sout-all" option in the streaming chain and save the ripped video and subtitles in diffferent folder.
Try an older version or the nightly build. Check how to add subtitles to DVD >>
Rip corrupted DVD: In some cases, you may select a corrupted title from Starting Position when it is a DVD protected with 99-title or bad sector protections. Then you can play the DVD on VLC first and go to VLC menu > Playback > Title and find the right title.
Can't keep two tracks: With VLC video rip, you can select which audio track to hear and which subtitle track to display, but you can't keep two or more audio/subtitle tracks in the output video file (many others are stuck with one audio/subtitle track too, e.g., Handbrake, DVDFab, AutoGK, etc.). When you need to sync all the tracks to the output video, you can try other DVD rippers. For example, WinX DVD Ripper Platinum offers four backup modes to keep all the tracks and info: main title, full title, TS_folder, and ISO image.
Step 2. Start to Rip DVDs with VLC & Errors Fixes
5. Select an output format
Click the Convert/Save button and now you can set the output format for the DVD rip. Click Profile drop-down menu and find the format you want. You can use VLC to rip DVD to MP4, H.264, WMV, MPEG4, iPod, Android, YouTube, and a few others. Select the output you need.
In the Destination section, click Browse and select a folder on your PC or Mac for the DVD converted video file and give the output file a name.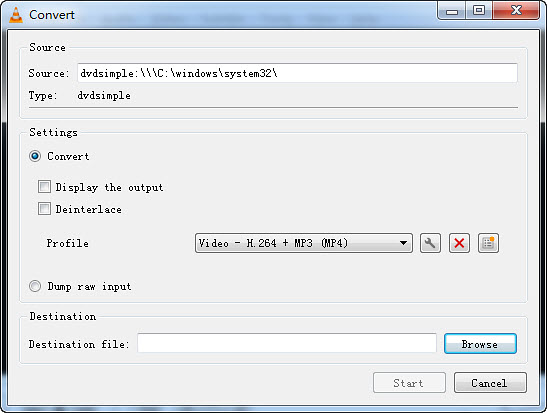 6. Start DVD ripping
After the above settings, click Start and it should start ripping the DVD. You can see the Streaming progress bar at the bottom. Simply wait for VLC to finish the rip. VLC crashes during the ripping: VLC crashes randomly when converting a DVD to mp4. Sometimes, after you click the Start button, the VLC DVD ripper titlebar briefly says streaming and then crashes. Some other times, it can't start at the feature track without first going through the DVD menu.
In most cases, VLC crashes when converting a DVD is caused by protection. Though VLC media player has libdvdcss to let it access DVDs with some of the encryptions, copy protection strategy changes with practically every new high profile release. You need to seek for other free rippers for copy-protected DVDs.
Disable hardware decoding.
Try the nightly build.
VLC DVD rip loop: VLC DVD ripping stuck in a loop is another common problem after you start the ripping. For example, a message pops up saying "the output file already exists" with a choice of [Overwrite] or [Keep Existing} buttons to click even if there is no such file. Or "Tried to convert a 30 minute DVD to MP4 but VLC media player showed the message 'Streaming - VLC Media Player' and got endless loops of 2 minutes 14 seconds."
Check if you have left the playback on repeat by turning the loop button for playback on. Set it to no loop.
Downgrade VLC back to the previous version.
VLC is too slow: How long does VLC take to rip a DVD to mp4? The VLC DVD conversion is exceptionally slow? It ran overnight and after 10 hours it was still running this morning. The file it produced was 3.5GB and still growing. VLC is using about 12% CPU -- partially using one of 8 cores. The system is otherwise idle.
Literally, VLC is streaming the video from the DVD during the rip. Therefore, it will take as long as the movie length to finish the rip.
VLC supports GPU decoding only. Namely, it will be faster for decoding H.264, MPEG-1, MPEG-2, WMV3, VC-1 (Windows) and H.264 (macOS). Make sure you have enabled GPU decoding for DVD MPEG-2 (Tools > Preferences > Input & Codecs > Set Hardware-accelerated decoding to Automatic). If you want a faster DVD rip, use a ripper that supports GPU encoding & decoding.
Try a more powerful PC or Mac to rip DVDs in VLC.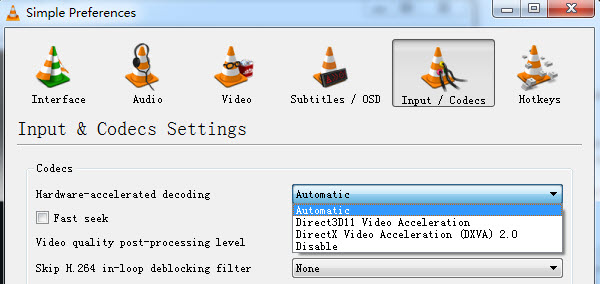 Step 3. After Ripping the DVD & Errors Troubleshooting
The finish of the DVD conversion is not the end of the story. In fact, there are many flaws in the VLC ripped video that prevent you from playing the movie successfully. Let's see them one by one.
VLC DVD rip audio out of sync. It seems the video is fine and the length is correct. But when you play the video, you may find the audio is out of sync with the video. If you use VLC to play the streamed video, you can fix the VLC audio/video out of sync error with its own Tools built-in: click Tools > Effect and Filters > click Synchronization > under Audio/Video option, enter a numerical value to speed up or slow down the sound. However, this doesn't fix the VLC DVD rip A/V out of sync problem permanently, which means the error will continue on another device or player. To fix it forever:
Rip DVD to other formats, like DVD to MP4.
Try another DVD ripper.
DVD rip video but no audio. "I tried to rip a Movie DVD to mp4 (H.264 and mp3) and it plays perfectly in the VLC player. But after converting, I get an MP4 video with only video and no audio." No audio problems come in different forms. Sometimes, you will find all the options under the Audio toolbar are grayed out, the audio is corrupted or stutters or there is audio in VLC but not on any other platforms. To get the audio, you can try:
When selecting the output codec under the output profile option, click the setting button and try MP3 instead of AAC.
In the audio settings, try to change the audio sample rate to 48000HZ and select the MPEG 4 audio (AAC) audio codec.
Try an older version or the nightly build.
Choppy playback. The DVD works perfectly but not after the conversion. "When I copy the file to my internal SSD hard drive and open in VLC player it is very choppy." Choppy and stuttering video converted from DVD with VLC player has something to do with the frame rate. For example, the DVD frame rate is 29.97fps while the ripped MP4 video shows a frame rate of 39.61fps. In the setting section for the convert, click the setting button under Profile option > Video codec > set the Frame Rate as Same as source.
VLC won't rip full DVD. The output file turns to be full of disappointment in some cases. "I get a 1K file of nothing in the destination folder", "when it comes to DVD transcoding, I get either a really small file (80-100 MB) or a really large file (1.12 GB) that won't open at all", "the output mp4 file ends up being corrupted with 32 minutes only"...
Check if there are any fingertips or scratches on the DVD.
If it's a store bought DVD, Disney X-project, and other newer DVD protections that prevent VLC to access the DVD. VLC is a player, not a ripper after all and can't defeat new DRMs. You will need a DVD decrypter to rip protected DVDs.
Quality loss in VLC ripped DVD video. When you rip a DVD, you may lose some of the original quality due to compression or other factors. This is especially true if you're trying to compress the video file to a smaller size to save space on your computer or device. As VLC doesn't provide a DVD copy feature, you can only rip DVD in VLC using a lossy video format.
Conclusion:
VLC is a media player instead of DVD ripper. It can be helpful when you have a couple of homemade DVDs to rip or other rippers won't work, as VLC is free, easy to use, and supports a wide range of formats and platforms. Still, it lacks many essential features a user may need to rip a protected DVD. The VLC DVD ripping process can be complicated, and the resulting video quality may not be as good as other dedicated DVD ripping software.
Dedicated DVD ripping software such as Handbrake, MakeMKV, or WinX DVD Ripper usually offer more advanced options for customization, such as selecting the exact chapters or subtitles to rip, and offer better output quality. These programs are specifically designed for DVD ripping, so they tend to produce better results than VLC.
Convert Protected DVDs Easily without VLC DVD Ripping Errors
If you have any trouble to rip a DVD using VLC successfully, for example, crashes, no audio, missing subtitles, black bars, freezes, etc. and can't fix the problem through the above guide or other forums, try the ultimate solution - rip DVDs with WinX DVD Ripper Platinum.
A professional DVD ripper that supports regions, old DVDs, latest commercial movies, damaged, and scratched discs.
It converts DVDs to any formats you may need, including mp4, mov, hevc, mkv, wmv, avi, flv, etc.
Make 1:1 DVD copy to ISO image, back up full title, main title, rip and convert as you need.
Advanced features to select audio/subtitle tracks, add subtitles, cut, crop, etc.
Unique support for Level-3 Hardware Acceleration tech (powered by Intel QSV, Nvidia NVENC/CUDA ) to rip DVDs in 5 minutes only.
FAQ
1. Can VLC rip copy protected DVDs?
No, VLC can't rip a protected DVD on its own. VLC is a media player instead a DVD ripper. It has libdvdcss built-in to help it read the data on a protected disc, but it can't rip the DRM content into another format. To rip a protected DVD, you can:
Play the DVD in a DVD player and remember the title that it plays. Then select the correct title in the VLC ripping settings.
You can also rip a protected DVD using VLC and Handbrake together.
Or simply try a VLC alternative DVD ripper to handle a protected disc.
2. How do I rip a DVD to MP4 with VLC?
It's easy to rip DVDs to MP4 using VLC, detailed steps are listed on the above post. Below is a simple guide:
Load your and open VLC. Then click on Convert/Save under Media.
Click on the Disc tab and select your DVD drive. Wait for it to load. Then click Convert/Save at the bottom.
To rip DVDs to MP4, select Video - H.264 + MP3 (MP4) under Profile.
Click the Browse button and select the destination, then click Start.
3. How to rip DVD with subtitles using VLC?
How to convert DVDs in VLC while keeping the built-in subtitles that the movie files already have? First, choose the subtitle track on the window when you load your disc. If the ripped DVD video still gets no subtitle track, you need to go to the VLC DVD ripping settings, select the Subtitles tab, check both the Subtitles check box and the Overlay subtitles on the video check box. Then press Save. Then your DVD will be converted to desired format and the subtitles will be embedded in the output video file.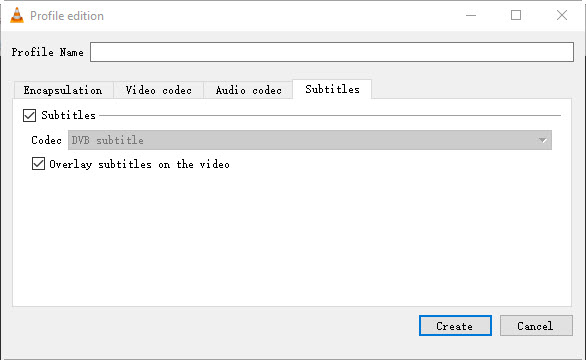 4. How long does it take to rip a DVD with VLC?
It takes around 30 to 50 minutes to rip a DVD with VLC. Why does VLC rip a DVD so slow? This is because VLC doesn't make efficient use of your system's resources. That's not a huge surprise, given that it's primarily designed to be a media player. Not a media encoder/transcoder. VLC does reveal a hardware acceleration page in preferences, but it's really meant for video playback acceleration.
That means VLC will rely on the computer CPU for the DVD ripping. In other words, the DVD ripping speed will depend on the performance of your computer system, the DVD size, DVD-ROM reading speed, output format, and etc. 
5. Why won't VLC rip my DVDs?
VLC is a media player not a DVD ripper. It's not as stable and powerful as a dedicated DVD ripper program. It may fail to rip a DVD due to different reasons such as (solutions to most VLC DVD ripping errors have listed in the above steps):
DRM and copy protections
Non-standard DVD format
Wrong settings or hardware decoding
Older versions
6. Can VLC rip DVDs with multiple episodes?
Yes, VLC can help rip TV shows DVDs with many titles. After your DVD is loaded into VLC, you simply need to choose the title and chapter you want to rip in the Starting Position.
7. Which is better Handbrake or VLC? Does Handbrake require VLC?
When it comes to ripping a DVD, Handbrake is a better choice than VLC. Handbrake or VLC are two top free programs designed for different tasks. And Handbrake is the one dedicated to transcoding videos and DVDs. However, HandBrake requires VLC (or the libdvdcss built in VLC) to read and then transcode encrypted DVDs.