How to Free Rip Copy-protected DVD with VLC and HandBrake
Here's the guide on how to free rip CSS copy-protected DVDs with VLC and HandBrake, and we also recommend the best alternative for ripping any (copyright protected) DVD faster and easier.
Handbrake is very popular among DVD owners. It's free and reliable to help convert DVDs to MP4/MKV. However, Handbrake doesn't support copy protection removal officially. But if you have both VLC and Handbrake installed on your computer, things get easier. VLC can help HandBrake rip copy-protected DVDs for free. Why and how? Learn how to free rip protected DVDs using VLC with HandBrake in the article below.
VLC/HandBrake won't Remove DVD Copy Protection? Try a Powerful Alternative
Handbrake and VLC can rip DVDs protected with region codes and CSS only. So VLC and Handbrake won't read DVDs, crash during ripping, rip parts of the DVD only... when handle other protected DVDs. In this case, try WinX DVD Ripper [FREE and safe]
It will free rip ANY protected DVDs without Handbrake or VLC. Remove region code, RCE, CSS, UOP, Sony ArccOS, UOPs, Disney X-project DRM, 99 titles, oversized 75GB disc, playlist obfuscation/bad sector, etc. It can easily rip DVDs to MP4 (H.264/HEVC), MOV, AVI, WMV, iPhone, iPad, Android, Apple TV, and 350+ profiles. 5x faster to rip a DVD with Intel/Nvidia/AMD GPU acceleration (rip a full DVD in 5 minutes on robust hardware configurations). No CPU overuse, crashes, incomplete rip errors!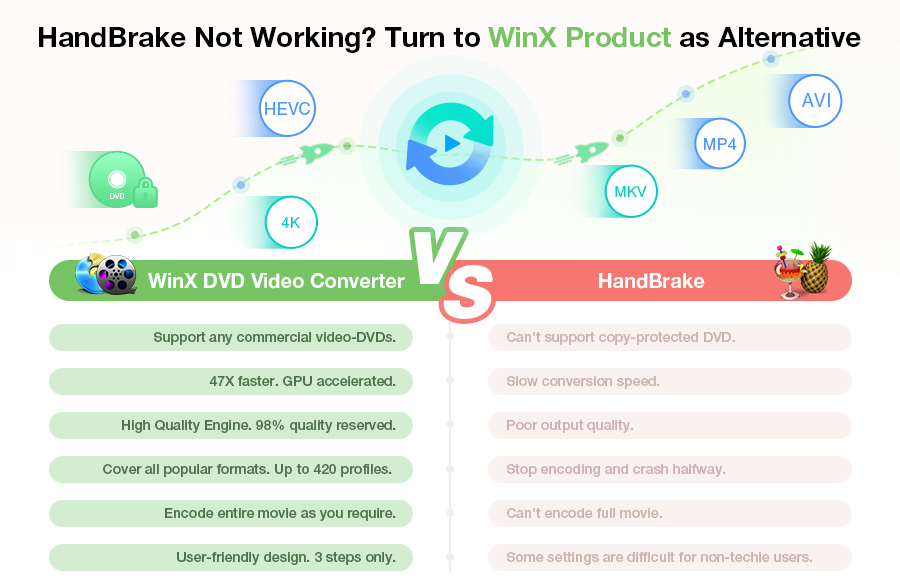 Part 1. How do VLC and HandBrake Remove Copy Protections?
HandBrake is free and popular to convert DVDs to H.264/H.265 MP4/MKV/M4V, iPhone, iPad, Apple TV, Android, etc. on Windows, Mac and Linux. However, Handbrake can't remove copy protections on commercial DVDs on its own. But with a third-party library called libdvdcss, Handbrake can remove DVDs copy protection CSS. The libdvdcss is a part of the VideoLAN project and is used by VLC media player. That means you don't need to install VLC for Handbrake to rip protected DVDs. What you need is the libdvdcss library.
So why do many online guides and this post tell you to rip protected DVDs with Handbrake and VLC? This is because installing libdvdcss, for most non-technical users, is more complicated than getting VLC, especially on a Mac device. VLC contains the libdvdcss library that Handbrake requires for ripping protected DVDs, and there is a good chance that you already have it installed on your computer.
Note: The VLC media player has the capability to rip DVDs to various formats such as MP4, MOV, AVI, and more. However, it is important to note that the DVD ripping process in VLC is not the same as traditional DVD ripping methods. Instead, it functions more like a real-time recording of the DVD content to MP4. As a result, it is not possible to rip a protected DVD using VLC. Additionally, VLC only supports GPU decoding and does not offer GPU hardware accelerated encoding. This limitation can significantly reduce the ripping speed, making it quite slow. Part 2. How to Free Rip Protected DVDs with VLC and HandBrake?
HandBrake can't remove DRM and has no plans to support copy-protected DVDs for copyright reasons. However, VLC can make Handbrake rip copy protected DVDs via the included library libdvdcss. Now, let's get started with ripping protected DVDs with VLC and HandBrake.
Step 1: Download Handbrake and VLC libdvdcss
Click to download Handbrake and VLC on Windows or Mac if you haven't got them on your computer. Make sure you download the correct versions for your operating system. Then install them as per the prompts. (The latest Handbrake 1.6.1 supports Windows 10 and later and may prompt you to install.NET 6.0 Desktop Runtime.)
Instead of VLC, you can also manually download libdvdcss for Handbrake. Here is a detailed guide on how to download install libdvdcss. After downloading the libdvdcss, copy the libdvdcss file into HandBrake directory.
Note: Confirm that the dll file version completely meets your computer system, for example, Windows 32-bit or 64-bit.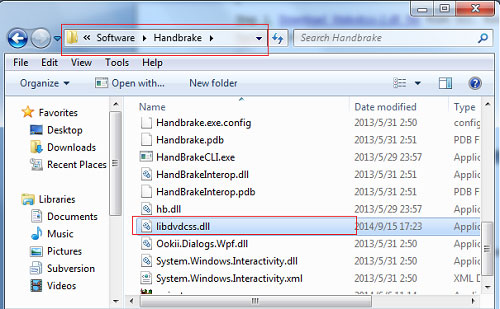 Step 2. Load the protected DVD you want to rip into Handbrake
Now open Handbrake and insert your DVD into the optical drive. Click Open Source on Handbrake, and you should see your DVD detected under the Source Selection panel. Select it. Also, you can import an ISO image or VIDEO_TS folder by using the Open Folder/File options. You don't need to run VLC, and Handbrake will automatically apply the libdvdcss in VLC to remove the copy protections. The process happens in the background and you may see a "Please wait" scanning window. After VLC libdvdcss remove the DRM, Handbrake will load the correct title and chapter.
However, VLC can't help Handbrake remove all DVD copy protections. In this case, it will give an error message like "no valid source found".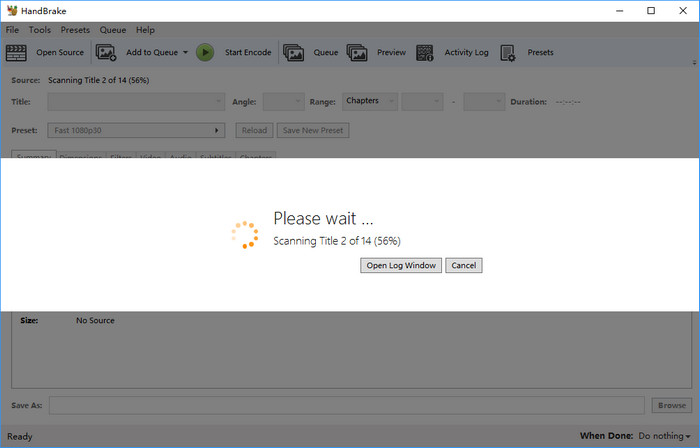 Step 3. Choose a quality preset for the ripped DVD
Open the Presets drop-down menu, choose a quality preset for the ripping. Normally, select General and choose Fast 579p25 or Fast 480p30 for ripping DVDs. A higher quality setting won't make the output quality better. You can also find presets for the iPhone, iPod, Apple TV, Android, etc. Step 4. Choose an output format to rip with Handbrake and VLC
Next, choose to use Handbrake and VLC to rip protected DVDs to an MP4 or MKV container under the Summary tab. Then click on the Video tab. You may need to decide if you want to save the converted DVD video in H.264, H.265, MPEG-4, VP9/8, etc. Leave other parameters, such as the quality settings, as defaults if you're not 100% sure what they mean. Handbrake will choose what it thinks is best for you. Step 5. Start to rip copy-protected DVDs with Handbrake/VLC
Click the Browse button under Save as to set an output folder on your computer to store the ripped video file. Then click the Start Encode button on the top menu bar. The VLC libdvdcss and Handbrake will start to rip the DVD into the format you set. Handbrake with VLC can't rip all protected DVDs. DVDs with new and complicated encryptions (such as 99-title DRM) are not supported. In fact, neither Handbrake nor VLC are DVD rippers.
Part 3. VLC/HandBrake won't Rip DVDs? Free Rip ANY Protected DVDs Easily
Handbrake with VLC can't remove the DVD copy protections, try the free VLC/HandBrake alternative - WinX DVD Ripper.
Rip all protected DVDs with CSS, UOP, RCE, region code 1-6, Disney X-project DRM, Sony ARccOS, and almost all other protections.
Convert DVDs to MP4, MPEG, WMV, MOV, MKV, VOB, ISO image, FLV, MP3, iPhone, iPad, Apple TV, Xbox, PS5, etc.
It can automatically check the correct main title of DVD to save your time to check main title by playing whole DVD in VLC.
The speed test proves that WinX is 5x faster to rip a DVD than HandBrake.
It is very safe to rip DVD with this best VLC/HandBrake alternative because it is completely stand-alone with adware, spyware, malware and virus free.
Further reading: WinX DVD Ripper vs. HandBrake…
Tutorial to Rip Protected DVD with VLC/HandBrake Alternative
Step 1. Insert DVD in DVD-ROM and import this DVD to WinX DVD Ripper by clicking DVD Disc. Certainly, DVD folder can be imported as source by clicking Folder button. You don't need to download VLC or libdvdcss, just like for Handbrake.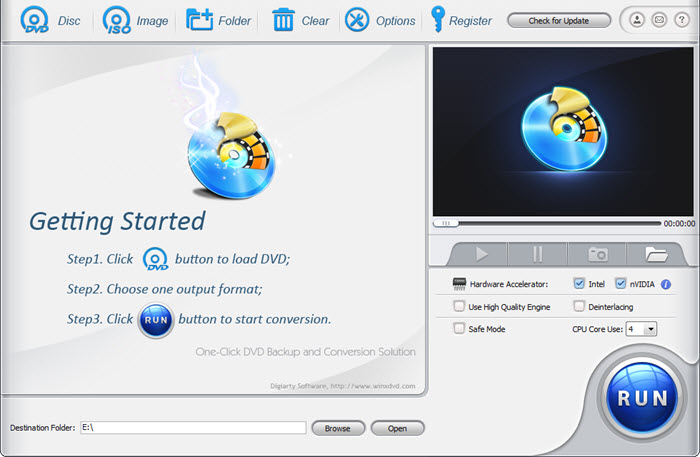 Step 2. A couple of seconds later, DVD will be completely loaded. Select main title and click MP4 Video to transcode DVD to MP4 or other profiles for converting DVD to MPEG, WMV, FLV, MOV, Music or DVD to iPhone, iPod, Apple TV, HTC, Samsung and PSP. Also, you can adjust audio/video settings according to your requirement.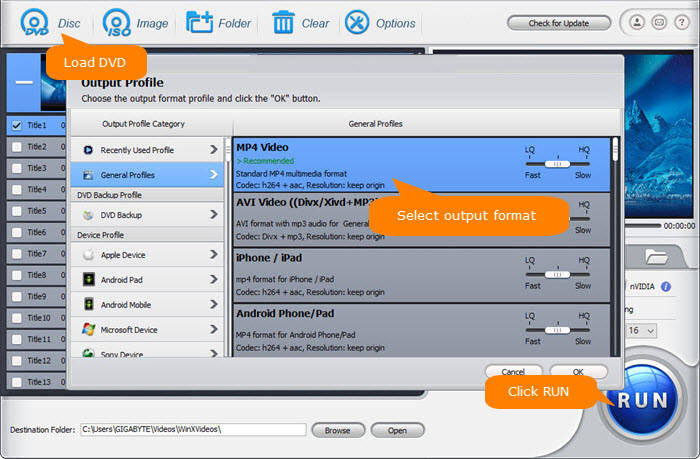 Step 3. Customize output settings, audio/subtitle/output folder. Then, click RUN to rip DVD with this best VLC/HandBrake alternative.
Disclaimer: Digiarty Software does not advocate ripping copy-protected DVDs for any commercial purpose and suggests referring to the DVD copyright laws in your countries before doing so.