How to Fix HandBrake Not Encoding Full Movie/Entire DVD?
Q: "I'm having issues when using Handbrake to convert a MKV file (ripped from a movie DVD) to MP4. The original file is 2 hours and 32 minutes. However, Handbrake only encodes a part of the file, about 1 hour and 5 minutes. What is causing the issue and how can I fix it?"
Handbrake is a popular free and open source program. It is favored by many people to rip DVD and convert video file to MP4 or MKV. However, many of you may also encounter issues when using Handbrake such as "Handbrake not encoding full movie","Handbrake not ripping entire DVD", "HandBrake only converts first chapter", etc. This post aims to help you figure out the possible reasons and solutions of "Handbrake stops early and only encode a part of a file", and "Handbrake not ripping entire DVD" issues.
[Solved] Best Handbrake Alternative to Fix not Ripping Entire/Full DVD Movie
WinX DVD Ripper Platinum is a professional DVD ripper with industry-leading tech to help convert DVDs to full digital movies without stops. No more worries about DVD protections, overloaded CPU, subtitles, or scratched DVD that cause HandBrake stops ripping a DVD error.
Support all DVDs, incl. protected DVD, old/scratched DVD, movie/music/TV series DVD, 99-title DVD, etc.
Rip full DVD to MP4, H.264, HEVC, AVI, WMV, MOV, MKV, etc. for any device. All chapters included.
1:1 ratio backup DVD to ISO Image file or DVD folder. Copy DVD to MPEG2 file with original quality.
Perfect support of Nvidia/Intel/AMD hardware acceleration to convert DVD to digital file fast and smoothly.
For Windows and Mac only. If you are a mobile user, please click here.
Why HandBrake Not Encoding Full Movie - Reasons & Solutions
Reason 1. Overheated CPU, 100% CPU usage
Encoding the whole movie like 9GB DVD movie or large video file like 4K video with Handbrake can take a long time and occupies much CPU, up to 100%. At this time if you still load the CPU with other additional tasks, your computer will overheat and Handbrake may crash during the encoding.
How to fix:
You can close all other tasks on your computer and run the Handbrake video encoding again to see if Handbrake can function well to get the whole video.
You can also underclock the computer CPU. CPU Underclocking can reduce the computer's power consumption, reduce heat emission, increase battery life, and increase the system's stability and compatibility.
If your computer is really too old, you can change to use a more high-end computer to run Handbrake, or use a Handbrake alternative which may be able to run smoothly on low performance computers.
Reason 2. Handbrake can't convert encrypted DVD
If Handbrake doesn't rip the entire DVD movie, it may be due to the copy protections on DVD.
To avoid copyright infringement and spread of DVD movie content, many commercial DVDs are using DVD copy protections like CSS, region code, RCE, Sony ArccOS, UOPs, Disney X-project DRM. Handbrake can only handle home-made DVDs or CSS DVDs, while ripping CSS DVDs must be with the help of Libdvdcss file and VLC.
How to fix:
Make sure you've downloaded and installed Libdvdcss file correctly to Handbrake installation folder. Remember to install 32bit or 64bit Libdvdcss to match your Handbrake version. Then rename the file to libdvdcss.dll.
Next, converting the wrong DVD title with Handbrake may also cause Handbrake not encoding the full movie. Since Handbrake can't detect the right DVD main title by itself, you can recur to VLC to firstly find out which is the right DVD main title, and choose it when ripping DVD with Handbrake.
If you think it's troublesome to use Handbrake to convert multiple-title DVD, you can also turn to another top Handbrake alternative like WinX DVD Ripper Platinum to convert and encode full movie smoothly and completely. This program can auto detect the right DVD title and supports all kinds of DVDs.
Turn to HandBrake alternative WinX DVD Ripper Platinum to rip any DVDs with copy protections and region codes that HandBrake doesn't support.
WinX DVD Ripper Platinum - Fix Handbrake Not Encoding Full DVD Movie with Encryptions
If you constantly meet the problem of "Handbrake not ripping entire DVD movie" and feel troublesome, you can also use a top Handbrake alternative - WinX DVD Ripper Platinum - to rip DVD completely and smoothly.
WinX DVD Ripper Platinum supports ripping all kinds of DVDs incl. DVDs with protections, old scratched DVDs, etc. It offers hundreds of output video audio codecs and more than 350 preset device profiles for your choice. It can output highest possible quality with its built-in High Quality Engine. Thanks to the perfect support of Nvidia NVENC/CUDA, Intel QSV hardware acceleration, it delivers ultrafast speed in DVD ripping, up to 5 minutes to convert a full-length DVD to MP4.
Download the 100% clean WinX DVD Ripper Platinum on Windows 10/8/7 PC or Mac computer at first.
Step 1. Insert DVD
Insert DVD to DVD drive and open WinX DVD Ripper Platinum. Click DVD Disc icon to load the DVD content. The right DVD title has been ticked for you.
Step 2. Choose output
You can select MP4 or other video format as the output from the Output Profile window.
Step 3. Rip DVD to MP4
Tick Hardware Accelerator engine and it will utilize your computer supported hardware acceleration tech to quicken the video conversion process at most.
Click Browse to set a destination folder to store the output video. Hit RUN to start ripping full DVD movie to MP4 with no hassle.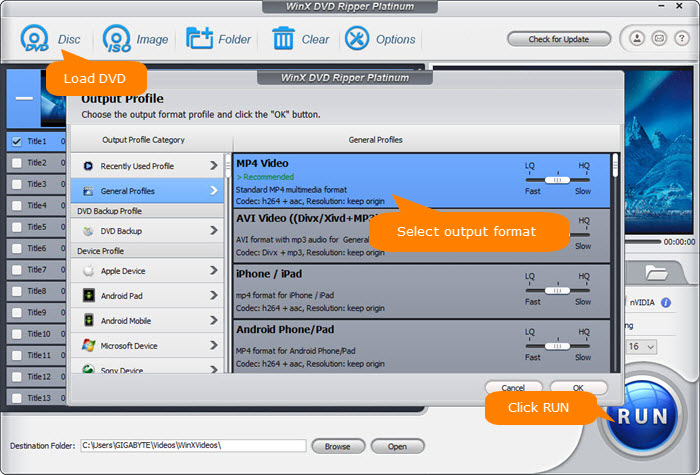 Reason 3. The DVD may be scratched
As for why handbrake only copies part of DVD movie, is it possible because the DVD disc is scratched? Therefore, Handbrake can't read the whole information of your DVD and can't encode full movie video.
How to fix:
Check if the original DVD is scratched or damaged. If so, learn how to fix scratched DVD first.
If Handbrake can't rip the scratched DVD and freezes when meeting bad sectors on DVD, you may try WinX DVD Ripper Platinum or WinX DVD Copy Pro. These two programs may support copying scratched DVDs with the Advanced Bad Sector Recover Engine. They can jump the DVD bad sectors and deliver a smooth DVD conversion process.
Reason 4. Handbrake freezes when processing 4K, HEVC, large video file (>4GB)
When you use Handbrake to process 4K, MKV, HEVC or some large video files from GoPro, DJI, Drone cameras, Handbrake may not function well and end the encoding early. Processing these video files requires the software be powerful enough, e.g. can perfectly utilize Nvidia/Intel/AMD GPU hardware acceleration. Thus, it can release much CPU power and not make your computer CPU overloaded and overheated.
How to fix:
If you try to use HandBrake to convert a video larger than 4GB, remember to tick Large File (>4GB) option on the interface.
Lower the output resolution to have a try.
If Handbrake cannot support hardware acceleration well in video processing, it may not encode the full movie and still occupy your computer CPU up to 100%. Try to use a computer with good configuration or try using another hardware-accelerated video converter to finish encoding full movie.
Reason 5. The original video file is broken
Could it be possible that the original video file is broken and cause "Handbrake not encoding full movie video" issue?
How to fix:
Try another video converter to transcode the video to see if it outputs full movie video.
If the original video is broken, you can use a video repair tool to repair the original video file first, and then try Handbrake again.
Fix Handbrake Only Encodes Part of Video File with WinX HD Video Converter Deluxe
If you use Handbrake to convert and encode video file, it happens not outputting a full movie video. After you tried some fixes but it's still of no use, you may give WinX HD Video Converter Deluxe a try to help smoothly convert the video.
WinX HD Video Converter Deluxe is all-round video software. It combines video/music converting, video editing, video/music downloading, DVD converting, screen and webcam recording and many other functions into one. It's easy-to-use even for beginners and fast enough. It provides an Auto Copy function to allow you to copy original video audio streams from source video to target container without re-encoding. This is superfast and keeps the original quality.
Download the 100% clean WinX HD Video Converter Deluxe on Windows 10/8/7 or Mac.
Step 1. Import source video
Run WinX HD Video Converter Deluxe and click + Video to load the source video file from computer.
Step 2. Choose output and edit video
- Choose MP4 or other preferred format from the automatically popped up window.
- You can optionally cut, crop, rotate, split, add subtitles, watermark to video by click Edit buttom.
- You can also click the gear-shaped Setting icon to open the video/audio settings window. Here you can adjust video resolution, frame rate, bit rate, aspect ratio, etc.
Step 3. Start converting video
You can tick Hardware Acceleration Engine button, then tap RUN to start converting video to target format at lightning speed.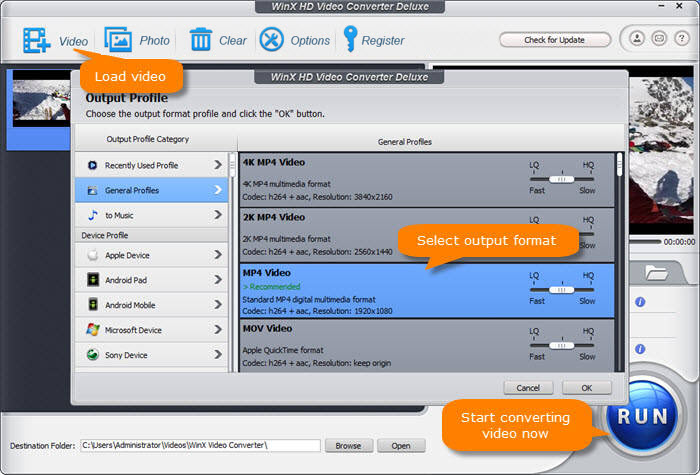 After checking the possible reasons and solutions of "Handbrake not encoding full movie video" issue, hope you can fix this issue now.
Disclaimer: Digiarty Software does not advocate ripping/copying copy-protected DVDs for any commercial purpose and suggests referring to the DVD copyright laws in your countries before doing so.