Does HandBrake Support AV1? Can You Encode AV1 Files with HandBrake
Since AV1 codec was initially released in 2018, the request for AV1 support on HandBrake also grows with each passing day. Fortunately, being one of the best video converters, HandBrake finally added AV1 encode and decode support in version (1.3.0). It enables you to read AV1 via libdav1d and encode AV1 video files to H.264, HEVC, MPEG-2, MPEG-4 and more. But how can you encode AV1 video files using HandBrake? Scroll down to find the answer.
Part 1. Can You Encode AV1 Files with HandBrake?
Certainly yes. But it can be too esoteric for green hands. Most of them feel confused about what's libdav1d and how does it work on HandBrake AV1 encoding.
Firstly, dav1d is a new open-source AV1 decoder developed by the VideoLAN and FFmpeg communities and sponsored by the Alliance for Open Media. And you know, HandBrake uses FFmpeg under the hood and generally can open whatever FFmpeg will, including AV1 video files. You can find more info about adding fast AV1 decoding / source file support via libdav1d in Github.
[Tutorial] How to Convert AV1 Video to H.264, HEVC and More Using HandBrake?
Free download HandBrake 1.3.0 or later and launch it on your computer.
Drag and drop your AV1 codec video into the program.
Choose your target preset from the Presets panel, for example, Fast1080p30.
Click Browse button to select an output folder.
After everything is ready, click Start Encode to activate AV1 encoding in HandBrake.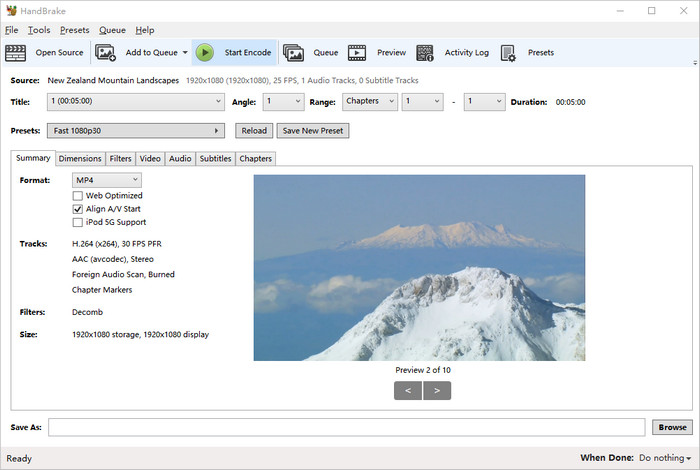 Note: Currently AV1 doesn't seem to be really usable in practical encoding stuff. Because AV1 encoding is stupid slow as of now than x265. This is also true to handbrake. Handbrake has AV1 decode support but doesn't make encoders. You can make ffmpeg encode to SVT-AV1 or even rav1e but it's slow and outside of rav1e, x265 maturity has it look better.
What you may also interested in: Quick fixes to HandBrake freezing while encoding, AV1 vs HEVC, Does FFmpeg support AV1
Part 2. Why Not Encode/Decode AV1 Video Files with WinX HD Video Converter Deluxe?
Installation of Handbrake can be a little bit tricky as for the latest Handbrake 1.4.0 version or above, you have to download Microsoft .NET Framework first. On the other hand, the customizing process can be complicated for newbies, and transcoding AV1 is bound to errors with Handbrake. It's advisable to resort to another video transcoder for help.
WinX HD Video Converter Deluxe fits the bill. It enables users to transcode AV1 video files in WebM or other formats to almost all the mainstream video codecs / formats like HEVC, H.264, MP4, AVI, MOV, WMV etc. And with the support of hardware acceleration technology, WinX HD Video Converter Deluxe can complete AV1 encoding in blazing fast speed, up to 47x real-time faster.
Better still, it won't require a learning cruve. Merely 3 steps can make all done! Let's check the details:
Launch WinX HD Video Converter on your computer. And drag and drop or click "+Video" to load the target AV1 video file(s).
Choose an output format, for example MP4 Video in H.264 or HEVC codec. It all depends on your needs.
Click Browse to set a destination folder if necessary. Tap RUN button to start transcoding AV1 files. The hardware acceleration will be activated automatically if your computer is configured with qualified graphic cards.