[Updated] How to Play AV1 Codec Video in Windows 10/11
AV1 codec was released officially in late 2019 by AOM, though, almost all Google flagships, streaming services, android phones are gradually adapting AV1 video codec. Companies like Netflix are already distributing some of their titles in AV1. But the problem is without been added as the native video codec nor packed in the sequential upgrade pack, many Windows 10 users are running into problems when playing the AV1 video and accordingly get an error, such as "Can't play. This item was encoded in a format that's not supported. 0xc00d5212."
The good news is Microsoft officially released AV1 video extension with an aim to solve the AV1 video playback issue on Windows 10. If you are one of the windows 10 users who are unable to watch AV1 video files, follow the guide in which we've compile 3 reliable ways to play AV1 video on Windows 10 without error message.
Note: Microsoft released the latest major version Windows 11 in October 2021. If you've upgraded from Windows 10 to Windows 11, and would like to play AV1 video on Windows 11, you can also follow the ways below to download AV1 codec and watch AV1 video on Windows 11 effortlessly.
3 Reliable Ways to Play AV1 Video on Windows 10
Solutoin 1. Download AV1 Video Extension or Codec Pack
1. Download AV1 Video Extension on Windows 10/11
AV1 video extension released in 2019 is set to solve AV1 video playback issue for Windows 10 users on Windows 10 build 17763 or higher PC. And users can be even more delighted since hardware-accelerated AV1 video supported is soon to be available on new Windows 10 systems with the latest GPU, incl. NVIDIA GeForce RTX 20 series, 11th Gen Intel Core Processor with Intel Iris Xe Graphics, and AMD Radeon RX 6000 series. Just follow the tutorial to install the latest AV1 video extension.
Click the Windows button on the taskbar, the left-hand corner on the screen, to find "Microsoft Store" and click in.
We can install a codec in Windows store to support the AV1 codec in the category "movies and TV" for free, no create or login the Microsoft user account is needed to process the download, just search "AV1 video Extension" in case the tool not appear on the top pages.
Download for free AV1 Video Extension.
After the download is successfully achieved, the Microsoft store will automatically install the AV1 codec pack on your Windows 10. Yet the default Windows Media Player and all other third party video players are surely able to playback the AV1 codec video on your computer. 2. Install K-Lite Codec Pack
K-Lite codec pack which is provided by the Codec Guide is a long-trusted, non-profit computer video/audio support tool pack. It added support for decoding AOMedia AV1 video in 2018. In a total of 4 packs are provided on their website: the Basic, Standard, Full, Mega version. The full & mega pack included the extra video/ audio edit support. For ordinary video watching purposes, the standard version is recommended at the moment.
Download K-Lite codec pack (Need to install manually)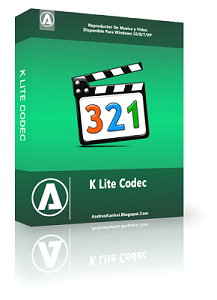 Solutoin 2. Use a Third-party Media Player to Play AV1 on Windows 10
Though AV1 isn't supported by most video players yet there still some video players that give the best support within their power. The famous video player VLC with its new open-source dav1d AV1 cross-platform decoder can help you handle the AV1 playback issue. Accoding to VideoLAN, VLC v3.0.4 updated the AV1 decoder. If you receive an error message "Codec not supported: VLC could not decode the format "av01" (AOMedia's AV1 Video)", please make sure downloading the latest VLC for help. Here are the steps to play YouTube video with AV1 codec standard:
Click on Media > Open Network Stream...[CTRL+N]
Enter the driect YouTube URL to the video.
Hit Play.
Note: Playing AV1 video files on Windows 10 with VLC is not always workable. Some users from VLC forum reported that VLC 3.0.8 still isn't playing AV1 video files, especially the video doesn't appear but only sound plays. So for a more reliable and successful way, you can re-encode AV1 file to a more compatible video codec or format. Click here to fix VLC not playing AV1 video >>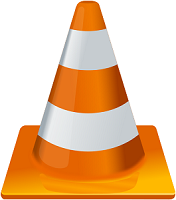 Solutoin 3. Transcode AV1 Video to More Compatible H.264 or H.265/HEVC
AV1 video shows a 20%-30% efficiency improvement over HEVC, and is gradually adopted by browser, Microsoft, Netflix, YouTube, and more. But it is far from perfect when it comes to codec compatibility with the mainstream player, mobile, PC and more. A once and for all solution is to encode AV1 video to MP4 H.264, a more widely compatible format acceptable by iPhone, iPad, Android, Chromecast, PC, Xbox, etc.
To respond to the call that needs for AV1 video transcoding, Digiarty WinXDVD's engineer offers a perfect solution: now WinX HD Video Converter Deluxe timely updated to be the world's first multimedia solution that is able to download AV1 video and convert it to MP4 H.264/HEVC, MOV, WMV, MKV, AVI, etc. That could be the undoubtedly a competence choice for all video lovers.
Decode AV1 videos and encode them to HEVC, H.264, MP4, AVI, MOV, WMV, and others.
Save AV1 content from YouTube, Dailymotion, 1000+ sites in batch.
Transcode 4K/HD videos with GPU acceleration. Nearly original quality can be reserved.
Below are the steps to convert AV1 video for playing on Windows 10 without installing any AV1 video codec, extension or player.
After you free download the video converter on Windows 10, Click +Video button to load the AV1 video source.
Choose the video format as you want. For the best compatibility, please choose MP4 H.264 as the output format. It also enables to downscale 4k to 2k, convert AV1 to HEVC, or other format.
Hit RUN button to begin the video conversion. After a few minutes, you can open the converted AV1 video and play it on Windows 10.
Note: AV1 file is generally contained by .webm or .mkv. If you encounter any issue such as no picture, you can follow the tutorial to convert webm to mp4 first and check if the WebM AV1 video playback error is fixed.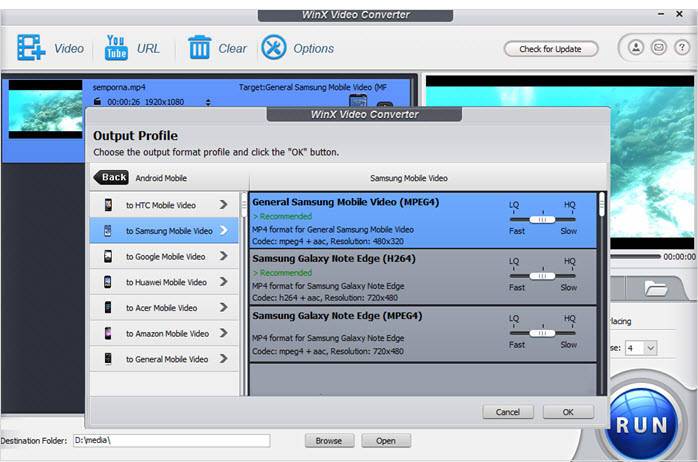 Video Tutorial: How to Enocde AV1 Video Files Using WinX HD Video Converter Deluxe