2023 Top 10 Best WebM to MP4 Converters for Windows 10/11 & Mac
We are happy to find that Safari finally lines up that experience in macOS Big Sur and iOS 15 after Google Chrome, Firefox, Opera, and IE support WebM video playback. This makes it easier to play the web-optimized and royalty-free WebM video directly in your web browser, when you head over the streaming services like YouTube, Vimeo, Netflix and the like. But you may run into a bit of a snag when you throw the web video to PC, iPhone, Android, HDTV, QuickTime or Windows media Player, unless you convert WebM to a more compatible format like MP4. That's what the article is all about. Stay here and learn why and how to convert WebM to MP4 with high quality.
Table of Contents
Part 1. What You Need to Know about WebM to MP4 Conversion?
Prior to converting WebM to MP4, you have to know that both WebM and MP4 are video file extensions or containers for video data.
For a WebM video, it normally includes video streams compressed with either VP8, VP9 or even the newest standards AV1, and audio streams compressed with Vorbis or Opus audio codec.
For an MP4 video, it generally consists of video data encoded in HEVC, H.264, or, MPEG4 alongside audio data in AAC or so.
We have to make it clear that mere file extension change from WebM to MP4 cannot solve the WebM video playback problem at all, since the codec or other data information isn't converted at all. You need to rely on third-party video converters (Best video converters in 2023), or online tools to convert (encode) .webm to MP4 file with specific codec as per your needs:
MP4 MPEG4: for video playback on the internet.
MP4 H.264: Commonly used on Blu-ray Discs & streaming sources. It is probably the most compatible with PC, mobile, media player, etc.
MP4 HEVC: 4k, 8k broadcast recording and video playback.
Generally, to get the same file size, the image quality is: HEVC > H.264 > MPEG-4. While to maintain the same image quality, MPEG-4 is half the coding efficiency of H.264 and 1/4 that of HEVC.
So whether you are on the hunt for a way to view WebM file on Windows 10/11, play WebM on iPhone or iPad, or import it to Premiere Pro, it's highly recommended to convert Webm video to MP4 H.264 to eliminate any playback or editing incompatibilities. Here we are going to share the best WebM to MP4 converter software and online tools in 2023 for you.
Part 2. How to Convert WebM Files to MP4 with Free Software?
Speaking of MP4 video converter that works on Windows and Mac computers, there are many desktop programs, from free to paid, to functional-complete ones for advanced users. Here are the best WebM to MP4 converters for Windows 10/11 and Mac.
Ease of use: ★★★★★
Output quality: ★★★★★
Conversion speed: ★★★★★
Comprehensive evaluation: ★★★★★
If converting speed and output quality matter, WinX's software is definitely a good choice, which is capable of converting WebM to MP4 on Windows (10/11) and Mac for free in a couple of minutes and deliver crisp image and hi-fi audio, thanks to the GPU acceleration, multi-core CPU, hyper-threading and high-quality engine. With 370+ video/audio codecs, it realizes video conversion among virtually any mainstream SD/HD/4K/8K video, be it MP4, WebM, VP9, VP8, AV1, H.265, H.264, MKV, MOV, Opus, or Vorbis.
On top of that, you can even download online WebM video from Chrome, Firefox, or any other browser, make a simple edit, and customize the video setting, incl. codec, resolution, bit rate, frame rate, etc at your disposal. And all the jobs can be done in just three clicks without any learning curve.
How Can I Convert WebM to MP4 Fast with High Quality?
Step 1. Load WebM video. After you free download and run the WebM file converter on your PC or Mac, you can click +Video button to add WebM file. You can add multiple clips at once.
Step 2. Choose MP4 as output format. When the output profile pops up, go to PC General Video and choose MP4 H.264+AAC. This will ensure the best possible compatibility with your computer, mobile, or gaming system. You can also tailor the WebM video to specific device like Android, iPhone, etc. This rids you of the need to tinker with a ton of obscure settings.

Tip: There is a slider located at the right side of the profile. It's up to you to choose whether to increase the conversion speed or enhance the output quality. For the best balance between speed, quality and size, you can leave the setting unchanged.
Step 3. Start conversion. Tap Browse button to set the destination folder and click RUN to start WebM to MP4 encoding process.
Note: If you don't want any loss of output quality in WebM to MP4 conversion, you can check the Auto Copy box at the right side of the main interface, then it will remux WebM to MP4 without changing any parameter settings at all.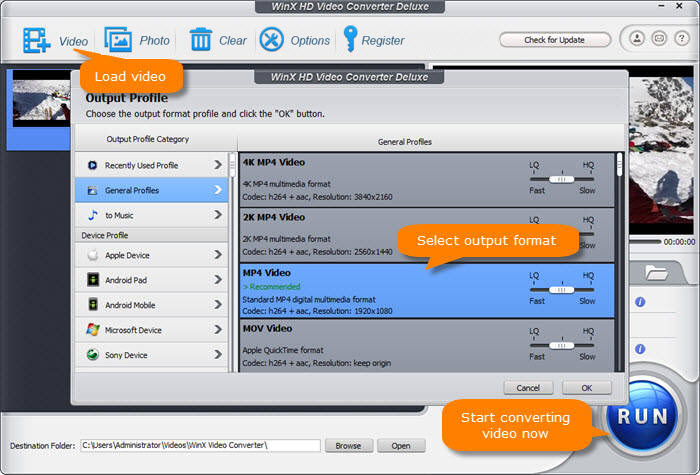 Ease of use: ★★★★★
Output quality: ★★★★✰
Conversion speed: ★★★✰✰
Comprehensive evaluation: ★★★★✰
Can VLC convert WebM to MP4? The answer is yes. Despite the fact that VLC is widely known for its flexibility: almost any type of video format imaginable can be played on the media player, you may be astonished at its quite capability of converting video files from one format to the other. With the fully-fledged media player, you can open and convert any video file like WebM, MOV, HEVC, H.264, VP9, MPEG2, MP3, MKV, WMV, etc, with no need for extra codec packs.
Since VLC isn't a professional media encoder, it doesn't make efficient use of the system's resource, so the conversion speed is relatively slow. But the output quality delivered is satisfactory. So it is still a good choice if you don't want to invest in a third-party WebM to MP4 video converter.
How to Convert Video from WebM to MP4 Freely using VLC?
Step 1. After you download and install VLC on your computer, you can run it.
Step 2. Click Media Tab > select Convert/Save to open a new Open Media window.
Step 3. Click Add button to load WebM file.
Step 4. Tap the button Convert/Save, after which the Convert Window appears.
Step 5. Choose the Video – H.264 + MP3 (MP4) from the Profile section.
Step 6. Click Browse to save the converted file to the destination folder.
Step 7. Click Start to begin the conversion.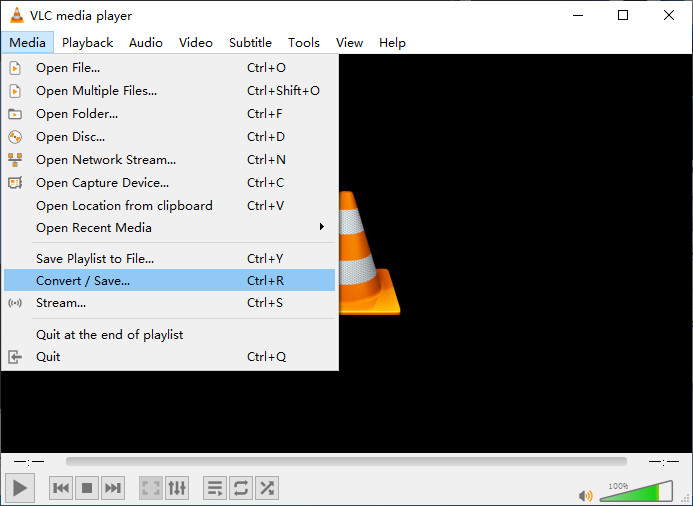 Ease of use: ★★★★✰
Output quality: ★★★✰✰
Conversion speed: ★★★★✰
Comprehensive evaluation: ★★★✰✰
Movavi Video Converter is a versatile and user-friendly tool when it comes to converting WebM to MP4, offering a seamless experience for users. One of its standout features is its excellent support for WebM, including advanced codecs such as AV1, VP9 and VP8. This ensures that you can convert your WebM videos to MP4 without compromising on quality, making them compatible with a wide range of devices and platforms.
Moreover, Movavi Video Converter 's speedy conversion ensures you won't have to wait long to enjoy your converted videos. It's worth noting that in the free version of Movavi Video Converter, there is a watermark added to the converted videos. This means that if you use the software without purchasing a license, your converted MP4 files may have a visible watermark, which can be distracting and unprofessional, especially if you intend to use the videos for any formal or public purposes. It's advisable to consider upgrading to the paid version of Movavi Video Converter to access to all the features.
Tutorial to Convert WebM to MP4 Using Movavi Video Converter
Step 1. Add your WebM file to the app window.
Step 2. Choose the desired MP4 format.
Step 3. Click Convert to start converting your WebM file.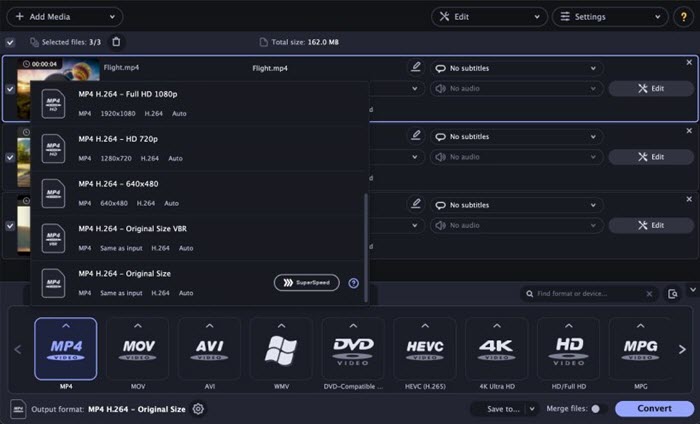 Ease of use: ★★★✰✰
Output quality: ★★★✰✰
Conversion speed: ★★★★✰
Comprehensive evaluation: ★★★★✰
Handbrake is totally free, open-source, cross-platform, and laden with a plethora of features that make it fit in the best WebM to MP4 converter list. With this tool in hand, you are allowed to process the mainstream media files, go for the presets optimized for your devices, or choose a universal profile to get either fast or high-quality WebM video conversion.
Except encoding WebM VP8 or VP9 video, Handbrake offers many other features with some challenging terminologies, such as make chapters and subtitles, add filters, change dimensions, adjust frame settings, set quality, encoder level, and more. But these features may sacrifice its user-friendliness. If you are not tech-savvy, it may intimidate you from further operation. But after you get the hang of it, you will have an enjoyable WebM to MP4 converting experience. Here are the ropes to learn.
How Do I Convert WebM to MP4 for Free on Windows 10/Mac with Handbrake?
Step 1. Free download and install Handbrake on your PC or Mac. To run the program, it's a must to install .NET further.
Step 2. Import a WebM file into Handbrake. To do this, you can click on the File option from the Source Selection, and click Open.
Step 3. Choose output format. Handbrake offers 3 output formats, including MP4, MKV, and WebM. You can also choose the presets, from General, Web, Devices, Matroska, Hardware, and Production. Here you can just choose the format MP4, and choose preset Very Fast 1080p30, which will guarantee a fast video conversion speed. But quality will be degraded to some degree.
Step 4. Optimize video encoder settings. Here are the preferred suggestions when converting webm to mp4:
Video codec: H.264 (x264).
Leave framerate (FPS) the same as source.
As to the Encoder Options, set it to Ultrafast, which will ensure fast speed, while going to the slow side you can bear will result in better quality.
Constant quality setting: 18-20 for SD video, 20-23 for high quality video, and 23-28 for 4K UHD content.
Step 5. Set the destination directory and convert. Here you can click Browse > Save as and pick your preferred distination folder. Hit the Start Encode option to complete the process.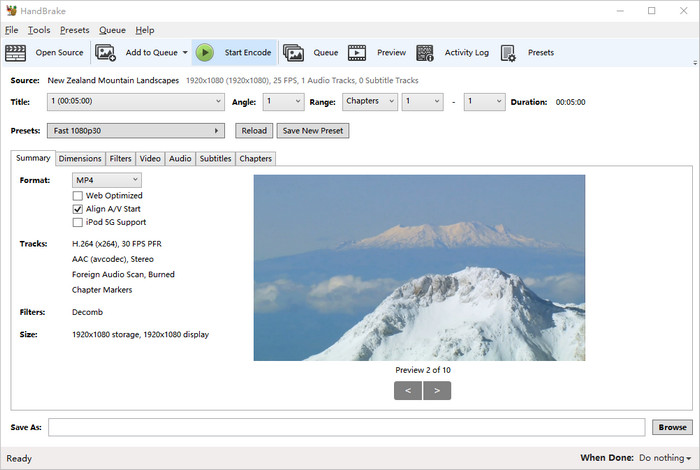 Ease of use: ★★✰✰✰
Output quality: ★★★★✰
Conversion speed: ★★★★★
Comprehensive evaluation: ★★★✰✰
FFmpeg is a superb project with command-line at its core, able to decode, encode, transcode, demux, remux, stream, and play multimedia file, no matter it is ancient or cutting-edge. But 99% of users won't have a clue how to use it or know what a command line is. You will have to work around the command lines manually, but after you learn the ropes, you will get fruitful results and enjoy a seamless experience. Here are the tutorials.
How to Convert WebM to MP4 with FFmpeg?
Step 1. Go to the official FFmpeg website to download the file. Once you get a zip folder, unpack it, which has 3 files, including a file named bin where FFmpeg is saved.
Step 2. Find Control Panel > System > Advanced. Then click Environment Variables at the bottom > Edit and paste the file path where FFmpeg is saved.
Step 3. Start to convert WebM to MP4 video with the command lines.
If you have a WebM file and want it converted into an MP4 file, without having to do any additional stream encoding without, here is the conversion suggestions: ffmpeg -i input.webm -c:av copy output.mp4
But if you need to select your codecs needed, you can use the –c flag. Here is the command line: ffmpeg -i input.webm -c:v libx264 -c:a libfdk_aac output.mp4. This will make an MP4 container with an H.264 video stream and an aac audio stream.
To change a single stream without re-encoding, you can use FFmpeg for the situation: ffmpeg -i input.webm -c:v copy -c:a libfdk_aac output.mp4. This command copies the video from WebM to MP4 without changing codec or other video parameters.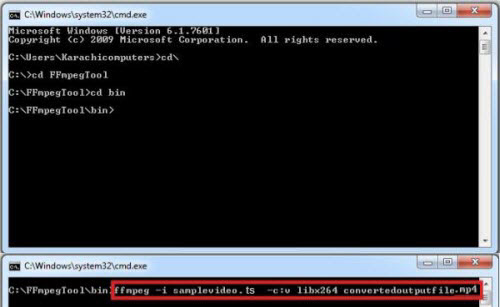 Part 3. How to Convert WebM to MP4 with Online Tools?
Besides the best desktop WebM to MP4 converting programs, you can also rely on the online tools to change WebM to MP4. In the following section, you will learn how to convert WebM to MP4 on Windows 10/8/7 or Mac with the following best online WebM to MP4 converters, without the hassle of downloading or installing third-party video converter software.
Suggested reading: online MP4 video converters >>
Advertisement:No
Safety: ★★★★★
Conversion speed: ★★★✰✰
Limit: 25 conversions per day.
Cloudconvert is a full-featured online video converter that supports extensive files, ranging from audio, video, document, ebook, archive, image, spreadsheet, to presentation. It takes you straight to the conversion process without the need for registration or wading through intrusive ads. When it comes to video conversion, it enables to convert as many as 27 formats, including WebM, MP4, MOV, OGG, TS, MXF, etc.
Superior to other online tools, CloudConvert offers many video and audio options, where you can change resolution, quality, preset, fps, aspect ratio, codec, and more. You can freely Convert up to 25 video files per day. But the conversion speed is limited to your bandwidth. So when you convert big files, it would be slow and even throw timeout error. But if the webm video is not so big, you can still give it a try.
How to Transcode Video File from WebM to MP4 with CloudConvert?
Step 1. Go to cloudconvert.com. Choose to convert Webm to MP4.
Step 2. Open the WebM file by clicking Select File. You can also add WebM file by URL, from Google Drive, Dropbox, OneDrive.
Step 3. Click Convert. Depending on your internet connection, it will take a few minutes to finish the conversion.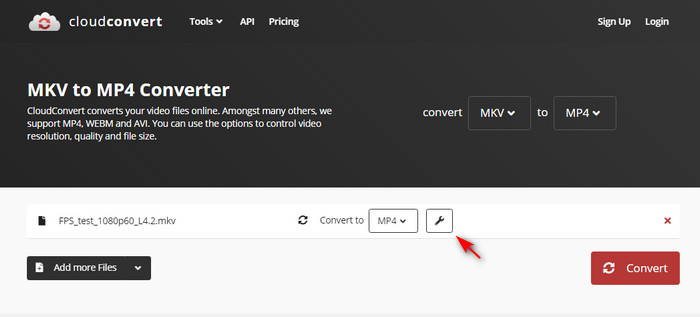 Advertisement: YES
Safety: ★★✰✰✰
Conversion speed: ★★★✰✰
Limit: max file size 1 GB.
FreeConvert is a highly-ranked online video converter which even allows you to freely convert large files up to 1 GB in size. You can convert WebM to MP4, FLV, AVI, MOV, WMV, MKV, OGV, and 3GP and optimize the video for mobile, Android, kindle, xbox, iPad, PSP and iPhone. It's also up to you to change video codec, screen size, aspect ratio, frame rate, rotate/flip video, trim the video, etc.
FreeConvert also works as an online url to MP4 converter that is able to directly download and convert video link to MP4 with ease. It uses 256 bit SSL encryption to protect the files. However, we still remind you of loading sensitive media. In the meantime, it is reported a likelihood to wreck your taskbar/processes. Even the task manager may stop working at the point. So have a try and good luck.
How to Transcode WebM to MP4 Online using FreeConvert?
Step 1.Load WebM video by clicking Choose Files. You can add the source file from device, google drive, Dropbox, and URL.
Step 2.Choose the output format as per your needs. Click the gear-shaped icon where you can adjust the video and audio settings.
Step 3.Click Convert to MP4. Advertisement: YES
Safety: ★★★★✰
Conversion speed: ★★★✰✰
Limit: max file size 2GB.
WEBM.to is a convenient online tool tailored for converting WebM to MP4 format without the need for any external software. Its simplicity and ease of use make it an attractive option for users looking to make this specific conversion quickly and hassle-free.
It also offers more file conversions except the WebM to MP4 converting. Supported files include PDF, Word, JPEG, WebP, etc. However, it's important to note that WEBM.to does come with ads, which can be a downside for those who prefer an ad-free experience. The ads may interrupt your workflow, but if you can overlook them, it is still a good choice.
Pricing-wise, WEBM.to offers two options: $8 per month or $72 annually. Overall, WEBM.to is a handy tool for its intended purpose, but users should consider their ad tolerance and usage frequency when deciding on a subscription plan. Let's check how it works.
How to Convert Format from WebM to MP4 Online with WEBM.co?
Step 1. Upload the WebM file you want to convert. Or you can simply drag and drop it into the window.
Step 2. Click the "Convert files" button. It will start uploading for a few seconds, depending on your video size.
Step 3. After the conversion, you can download the file onto your computer. Advertisement: YES
Safety: ★★★★✰
Conversion speed: ★★★✰✰
Limit: max file size 100 MB.
Convertio is another robust tool in the list of the best WebM to MP4 converters. It is very easy to use and the formats include HEVC, MPEG, MOV, MOD, XVID, and many unusual ones such as RMVB, TOD, M3V, ASF, etc. You can upload them from your computer, cloud service, or even download WebM or other online files.
Convertio supports uploading video up to 100 MB. If it exceeds the maximum size limit, it will inform you an error: File is too large! You will have to update to a premium service for bitter file conversion. The converted file won't remain in the online platform and will be automatically deleted within a day.
How to Convert WebM to MP4 Online with Convertio?
Step 1. Upload the target WebM file by clicking Choose File.
Step 2. When the upload is completed, select the output format MP4. You can click the gear-shaped icon to tweak the settings as per your needs.
Step 3.Click the red Convert button. Wait for a while to complete the conversion process. Then you can click the Download button to save the converted file.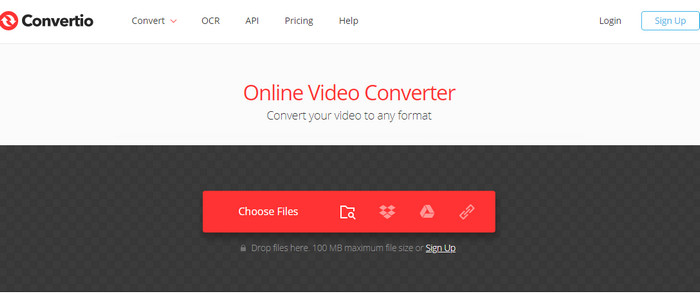 Advertisement: No
Safety: ★★★★✰
Conversion speed: ★★★✰✰
Limit: max file size 50 MB.
Zamzar has been an experienced online file converter since 2006, having converted over 510 million files over the past 15 years. It copes with video, audio, graphics, PDF, Microsoft word files, ebooks, etc, features an easy-to-use interface and super-fast conversion.
Zamzar free plan only supports video files under 50 MB, or it will stuck during the uploading process. But you can upgrade to the monthly subscription to remove the file size limit. For example, a basic subscription at $9 per month allows for 200 MB file size upload, with unlimited file conversion each day and 5 GB of online storage. To convert a WebM to a MP4 file, you can follow the steps below:
How to Re-encode WebM to MP4 Online with Zamzar?
Step 1. Choose the WebM file you want to convert.
Step 2. Select MP4 as the format you want to convert WebM file to.
Step 3. Click Convert to start the conversion.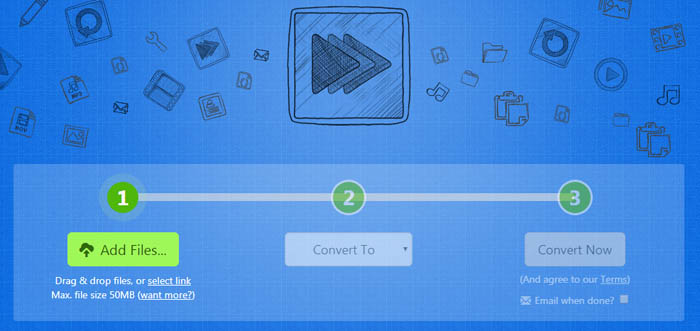 Note:
Online tools make it easy to convert a video file. But they are inferior to desktop programs in some aspects. Firstly, File size is limited to MB, and the video features are limited. Secondly, it takes time to upload a video with a larger file size and is slow to convert, since they are heavily on the internet. Additionally, they may carry ads, which is a risk that the personal info can be stolen and lead to dangerous sites. So for a stable WebM to MP4 converting experience with no other limit, downloading video converter desktop software is a much better way.
Part 4. FAQ about WebM to MP4 Conversion
1. WebM vs MP4, what is the difference?
WebM is a media file format containing VP8/9 video up to full HD 1080P/4320P and Vorbis/Opus audio. It is widely used for HTML5/Chromecast video and natively supported by Mozilla Firefox, Google Chrome, Opera, and Safari on macOS Big Sur. WebM is especially designed for the web, which a more compressed format that takes up less space for the same video than an MP4 file. While on the other hand, MP4 delivers better video quality and has wider compatibility with devices compared with WebM file. Click to see the detailed WebM vs MP4 comparison.
2. How do I convert WebM to MP4 on Windows 10?
Windows 10 doesn't offer the default app right now. But it is simple to save WebM as MP4 on Windows 10, as long as you have the right tools for the job. We recommend using WinX and Handbrake. Both of them are available on Mac and Windows 10. If you don't want any software download, you can still try the online tools from the post.
3. How to Convert WebM to MP4 in Windows 11?
Right now, VLC 32-bit app makes an entry into Windows 11's microsoft store. You can download it on Windows 11 directly and resort to its file transcoding feature to do the WebM to MP4 converting job on Windows 11. But VLC is rather a media player than a video transcoder, transcoding speed can be relatively slow especially when converting large WebM video to MP4, even though you enable the hardware decoding in VLC. It's better download professional video converter that is compatible with Windows 11 OS and features hardware acceleration tech.
4. How do I convert a .webm file to MP4 on Mac?
Streaming WebM video in Safari can be easier as long as you update to Big Sur. Mac's default QuickTime player cannot handle the downloaded WebM file. Even though it features converting ability, it only exports in MOV format. But you can still try iMovie to import the WebM file and then export the file in .mp4 format.
5. How to convert WebM to MP4 without losing quality?
As is mentioned above, any video encoding involves quality degradation. To turn WebM into MP4 without any loss of quality means the only exchange of file extension without tweaking the video codec or any other information. So if quality matters you most, you can remux WebM to MP4 using software like WinX to do the job.
But the video codec remains the same, in either VP9, VP8, or AV1, which cannot be recognized by most devices. So we still recommend you to choose the WebM video converters listed above and re-encode WebM file for a seamless playback experience.
6. Why Cannot I Import WebM to Adobe?
WebM is not well suited for editing. It is still out of the supported video format list for import. That's why you encounter "file import failure" error in Premiere Pro. You can fix the error by converting WebM to MP4 or other Adobe accepted format first.