Top Way to Compress WebM Video for Whatsapp, Ins
The video codecs used in WebM container format are usually those with high compression efficiency like VP8, VP9, AV1. That being said, the function of native codec is limited. When your WebM video is 30-min or even longer in duration, the size still needs to be shrinked. What's plus, though WebM is now accepted by most used browsers like Chrome, Firefox, Opera and even Safari, it's still not so much compatible as MP4.
To compress webm video file, check the below smart approach to make webm video smaller without losing quality.
Jump to the part you need if time is limited:
How to Compress WebM without Size Limit & Quality Loss
Download WinX HD Video Converter Deluxe to reduce webm video 98% quality kept and 50% - 80% size off!
Compress webm video (VP8/VP9/AV1) to smaller-sized yet more compatible MP4 (HEVC/H264) without input size limit!
90% compression ratio thanks to intraframe and interframe coding algorithms and entropy encoding.
Visually 1:1 ratio quality kept thanks to high compression efficiency HEVC codec and HQ engine and de-interlacing engine.
Trim videos, crop to remove black borders, lower resolution/frame rate/bit rate, etc. to further resize webm video.
Part 1. How to Compress WebM Video without Size Limit
Step 1. Free download this video compression software and install it on your macOS or Windows. This tool is 100% free from malware, adware, spyware, virus and plugins.
Step 2. Hit "+Video" button to load your webm video. Bulk compression is available and no input size limit. You can bulk import webm videos over 100MB, 500MB, 5GB...
Step 3. Choose a high compression codec HEVC as output codec. HEVC will downsize webm file with at least 50% size off while keeping virtually no quality degraded. It's a lossless compression. If your original webm size is not so large or your destination device or platform doesn't support HEVC codec, opt for MP4 (H264).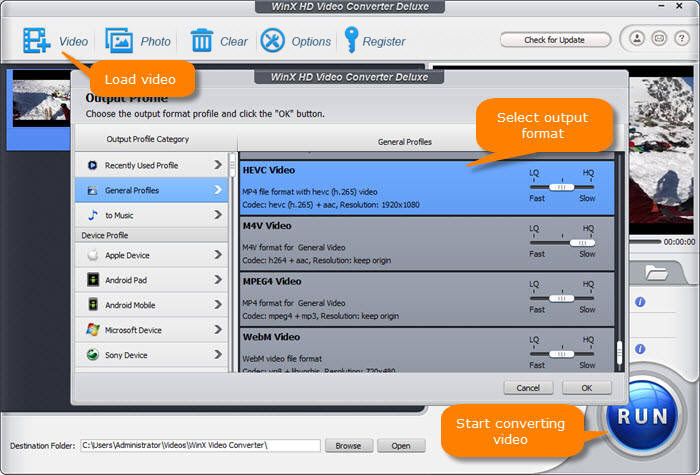 Optional: if the compression ratio is too low for you, do as follows to further compress webm video footages.
1. Cut video length (lossless compression, as well). Click Edit button in video info part on the home screen > Enable Trim to freely set the start time and End Time to cut your webm length, or drag the slider to the video section you want to keep.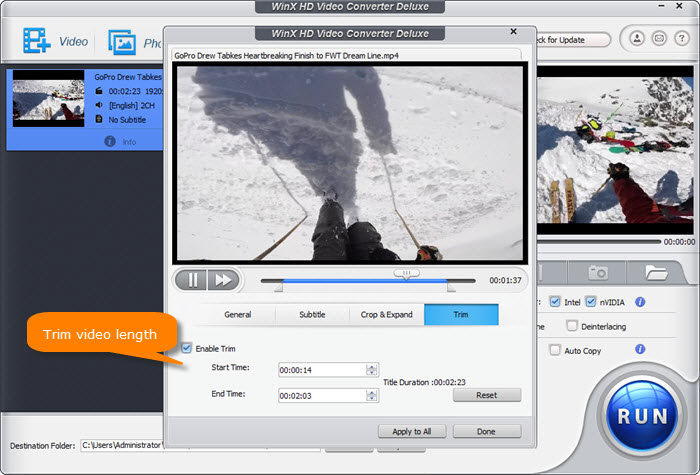 2. Adjust webm resolution, bit rate, frame rate, etc. (lossy compression). Tap Settings button in video info bar and the settings window will pop up, where you're suggested to compress 4K to 1080p, lower frame rate from 120FPS/60FPS to 30FPS, and adjust bit rate to VBR. These will further resize webm video from GB to MB. Yet, please bear in mind that do not overdo the adjustment. Or the small size will come at the high expense of poor quality.
Step 4. Click RUN button to start compressing webm to MP4 for faster sharing to Whatsapp or uploading to Instagram, Facebook with virtually no quality loss (High Quality Engine support).
Part 2. How to Compress WebM (Smaller than 100MB) Online Free
Free online video compressors are superior to compressor software in convenience. You don't have to download or install anything on your desktop. Instead, just visit its official website and then do the free video size reduction. Here recommends you with top 2 online video compressors media.io and clideo.com. Both of them are easy to compress webm within 3 steps: choose file > select format and output settings (resolution & reset size) > click "Convert". Beyond that, there are more extras needed to be disclosed before you go:
1. media.io only ingests webm video less than 100MB. It will pop up a note to let you use its shareware uniconverter if your webm is over 100MB. And the maximum input file size of clideo.com is 500MB. So for webm video footage with size less than 500MB, you can count on these free online compressors.
2. The output settings on media.io include resolution, reset size and format. What is worth mentioning is the reset size (shown in the below picture). You can freely choose the compression ratio and resulting file size from the pre-set profile. This is an ace in the hole.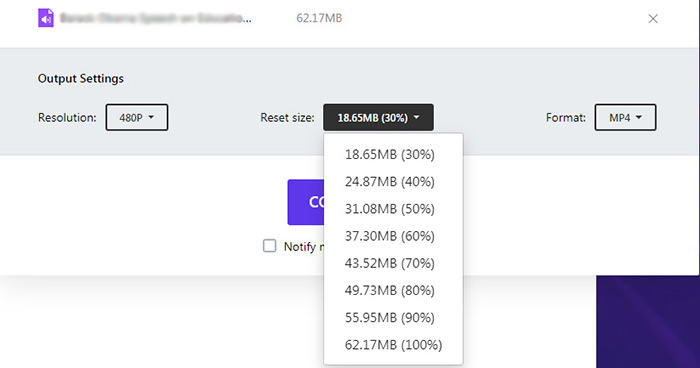 3. clideo.com wins wider popularity than media.io in larger input size. However, this site doesn't work so much stable as media.io and compressor software. When it comes to load webm video in 4K resolution at 30FPS, an error message shows up. Though network connection or browser might partly account for the loading failure, the major reason lies in clideo native compression engine. You'd better not add 4K webm video to clideo if you insist on clideo. If you have ever used any better webm compressor, please share with us and we'd like to update your ideas onto this article.