Compress MP4 Video Files More than 1 GB Online Free
It's quite easy to reduce MP4 video size using online services - choose a video to upload, compress, and download. However, you'd better know that most online MP4 compressor tools have 500MB size limit, ads, low compression ratio, and slow processing speed. Here we pick top 3 online services and offer user guides to help you compress MP4 videos for Instagram, Whatsapp, YouTube, Email, Google Drive, etc.
Related: How to Upload Large Video to Google Drive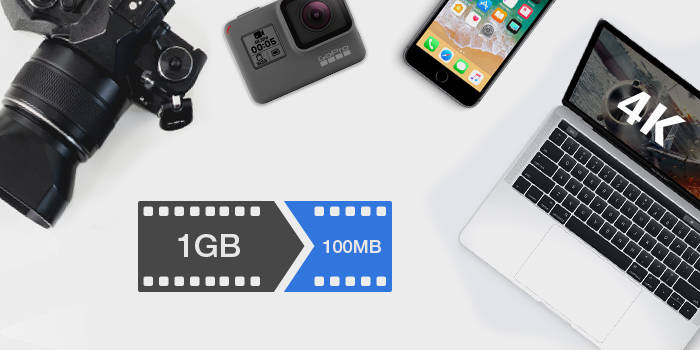 Max file size: Unlimited.
Price: Free.
Pros: Unlimited size.
Cons: Lots of redirects and ads, slow speed, 40% compression ratio.
How to Compress MP4 Online Free More than 1 GB with Freeconvert
1. Go to the video compress page of the online MP4 compressor tool, click the Choose Files button, and select the source MP4 video from the device, Dropbox, or Google Drive.
2. Click the Compress Now button to upload the source file. You can add more than one MP4 video at a time. Click the Compress More Videos to upload more video files.
3. After the upload process is finished, click the Download All button to save all the compressed videos.

Max file size: 500MB for free.
Price: $9/Mon for unlimited videos.
Pros: clean interface.
Cons: slow speed, limited size.
How to Use Clideo to Compress MP4 Online
1. Head to https://clideo.com/compress-video, click the blue Choose file button and select the MP4 video you want to compress or click the drop-down icon to upload the MP4 video file from Dropbox and Google Drive. The whole uploading process may take a long time.
2. Wait when the tool is uploading the source MP4 file.

3. Download the resized videos to your device after the compressing process is finished.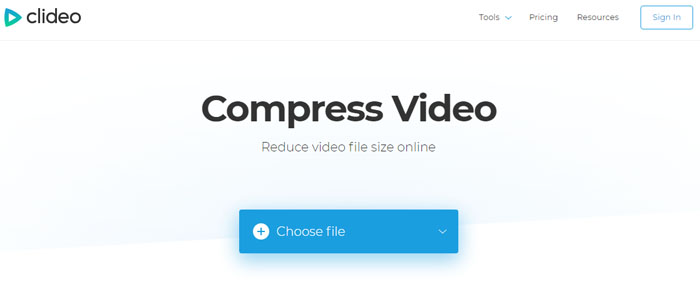 Max file size: 500MB.
Price: Limited free.
Pros: No watermark.
Cons: ads, slow speed.
How to Use Youcompress to Reduce MP4 Video Size Online Free
1. Go to the site, click the Select file button, and choose the source MP4 video file to upload. The uploading process is very slow.
2. Wait for a few minutes while the video is processed. It may take even half an hour to process a 100MB MP4 video. Youcompress is the slowest tool recommended on the post.
3. Download the compressed MP4 video to your device.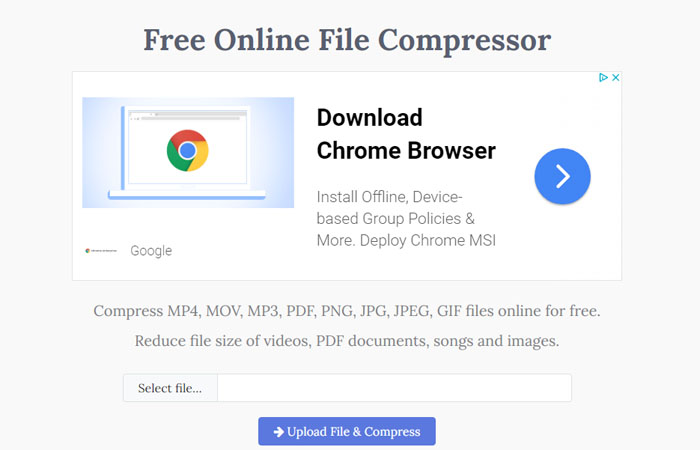 Max file size: 500MB.
Price: Limited free.
Pros: Clean interface.
Cons: ads, limited support for video format.
How to Use VideoSmaller to Copress MP4 File Size Online Free
1. Go to VideoSmaller website, click the Browse button, and identify a MP4 video file to upload. Don't click the ads below the Browse button.
2. Wait for the video being processed. You can select "Use low compression level" to get better quality but lower compression ratio. Click the Scale drop-down icon to scale video width. If you don't need the audio, select "Remove audio from video" to get a smaller MP4 video size online.
3. Click the Upload button to start uploading your MP4 videos to its server and then download the compressed MP4 file.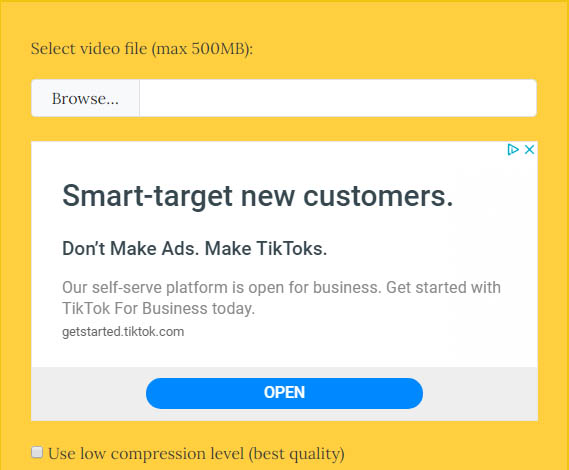 Choose A Desktop Video Compressor for Unlimited MP4 Video Compression
It seems Google prefers free online tools. In fact, a desktop program delivers much better performance in MP4 video compression, for example, WinX HD Video Converter Deluxe is much more reliable, compared to Freeconvert.com, Freeconvert, and many other online services.
• No file size limit, 1GB, 1TB, it's at your choice.
• Up to 90% compression ratio thanks to intraframe and interframe coding algorithms and entropy encoding.
• High quality output with the support of high quality engine and de-interlacing engine.
• Blazing fast compression speed with fully Intel/Nvidia/AMD GPU acceleration enabled.
• Easy to use. Make the job done in 3 steps!
Video Tutorial: How to Compress 4K MP4 Video Files